Thousands of musicians play in bars each night just waiting to be discovered by the right person. They hope and pray for their fairy godmother (or dream talent agent) to waltz in and see just how stellar they are. With so many musicians in that in-between stage — producing quality music but not quite making it big — publicity becomes everything. One feature with the right magazine or review site could send your music to the top of the charts.
With countless tracks released every day, there's no shortage of music review sites out there. We're all familiar with the giants like Rolling Stone and Billboard, but any new artist will tell you that getting your name and story on those sites is like pulling teeth when you don't have a solid PR team backing you up.
If you're looking for some publicity that won't cost you your firstborn, check out some of these sites. They've got a solid following, so if you score a review there's a good chance you'll gain lifelong fans.
I'll be honest. I write for Heart Eyes, so the magazine has a special place in my heart. I love the opportunities its given me and the artists it has connected me with. They focus on up-and-coming alternative and indie pop artists, providing a good mix of interviews, editorials and photography. If you're looking to be featured, hit me up and I'll try to put in a good word.
Check out Issue 12 – Anti-Valentines.
Pitchfork is a great in-between site that features both mainstream and indie artists. But they offer much more than just interviews and music reviews. We can't forget their festival in Chicago. Keep your eye out for the lineup.
Get a taste of Pitchfork's style with this comprehensive piece on Ariana Grande's thank u, next.
Performer is a full-service resource for musicians. They provide music reviews as well as equipment recommendations that will enhance your playlists and production quality. It's the one-stop-shop for performers, producers and music junkies everywhere.
Check out their Feb/Mar 2019 issue and see if you'd be a good fit.
I would consider Honey Punch and Heart Eyes to be sister sites. They cover practically identical genres and photographer Ava Butera contributes to both. (Shout out to Ava!) Seriously, if you're looking for incredible photos to add to your press kit, you need to reach out to Honey Punch. Look at those past galleries!
All pop is welcome here — indie, mainstream, K-POP. The Young Folks does not discriminate. Not only will The Young Folks review your album, they'll do a show review too — See what they had to say about Riot Fest. And if you're looking to dabble in television, movies and books, The Young Folks has you covered in those departments too.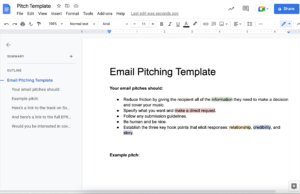 Detailed template for emailing music blogs
Want to pitch your music so people actually respond?
I get about 9 million email submissions a day to Two Story Melody. Here's the template I recommend.
Who knew great music coverage could come from Buffalo, NY? That's the surprising home-base of Elicit Magazine, a newer blog that does a nice job of balancing coverage of mainstream acts with coverage of up-and-coming artists. Their main categories are interviews (like this one with Jordy), reviews (like this beautiful piece on Heather Brave), and – particularly cool – "latest news", which is a space for newer artists to submit press releases for publication. If you're looking to submit your music, give Elicit Magazine a shot.
(And I'm just kidding, Buffalo is great.)
The Luna Collective describes itself as "an online and print magazine that shines a light on young emerging creatives. From musicians to poets, we strive to cover a diverse amount of rising artists." They feature talent across the entire creative spectrum. If you're looking to strike a chord with the young and artistic, The Luna Collective is where you need to be.
Atwood Magazine's tagline is "for the love of music," which is really what it's all about, right? They cover a ton of stuff across a really wide range of genres, from big artists like The 1975 to new indie acts like treesreach. From premieres, to interviews, to reviews, to weekly roundups of the best tunes, they do it all. They've even got a podcast. Bottom line, they're worth submitting to if you share a love of music – but they get a ton of submissions, so don't be too offended if you don't hear back.
Showcasing a diverse array of musical talent, Local Wolves has gained quite a following. When you're featured on Local Wolves, you'll know you're on your way to the top. The mags have gorgeous, trendy layouts and highlight some killer talent. Do me a favor and check out the COIN issue because objectively, it's great. But COIN has a special place in my heart, so to me, it's even better.
Music lovers, I know you could spend hours on Ones To Watch. The site provides reviews and interviews, but they also showcase some stellar video content. Once you've made it on this site, you know people will be watching. See what The Aces had to say during their Quick 6 Interview. Reach out and you might find yourself answering a quick six q's too.
Upset is here to do just that… but in a good way. They're disrupting the music scene by showcasing the greats alongside bands you may never have heard before. If you're in the indie/pop-punk scene definitely give Upset a try. They've worked with some of your old favorites like Good Charlotte, Death Cab For Cutie and one of my all-time favs – The Regretttes.
Did you really think I'd leave us off the list? Two Story Melody is unique in that we not only provide music reviews and artist interviews, but we've also started providing PR services to artists who want to get their music heard. We've got insights into the industry and the connections that will help you reach your full potential as an artist. As a contributor, I can honestly say that the experience with Two Story Melody is exceptional. The staff are so kind and they really care about artists and the stories they have to tell.