Pretty much nobody knows what they're doing when they release music for the first time.
I remember when I first decided to make a short 3-song record in 2015. Here's a rough sketch of the sequence of events:
I recorded the songs.

I Googled "

How to put music on Spotify.

"

I chose CD Baby as a distributor, since their ad was the first result.

I

started posting on Instagram

a few weeks in advance.

I got really excited.

The record came out.

I got about 300 streams and my mom was really proud of me.
Since then, I've lived in Nashville for 5 years, and I've learned a lot about what works and what doesn't work.
Now, let me be clear. I'm no expert: I'm just an indie artist with a bunch of artist friends. Most weeks, somebody I know releases music, and I get a front row seat to the methods they use. I've seen it done a bunch of different ways, and done it a few different ways myself. Sometimes releases go great, and sometimes they flop, but there's always something to learn from the process.
Also, full disclosure: there's no sure-fire way to guarantee that your next release skyrockets you to life-changing success. The worlds of streaming and social media are too complex and unpredictable for that. But there are a bunch of best practices which, combined with effort and attention to detail, can certainly load the dice in your favor.
So, without further ado, here are my top six tips for releasing music in 2021.
1. Document your writing and recording processes.
We're starting with the very beginning of the process here. When you've made up your mind to make music with the expectation to release it in the future, start documenting everything.
New artists have a potential advantage over their major-label, already-famous counterparts. If you're a new artist with a small, dedicated audience, the people who listen to your music already feel like they're in on a secret. The best way to keep fans close and make them feel like they're in on this with you is to give them behind-the-scenes looks at the way you make your music.
When I use the word "document" I mean two main things: 
First, try to keep track of all the inspiration behind the songs. When you write a song, try journaling about the emotions behind it, the people with whom you wrote it, the circumstances surrounding it, and anything else that, later on, will help fans feel a connection to it.
Second, when the recording process starts, take as many pictures and videos as you can. Try to capture the vibe of the room, the stories behind the instruments and gear you use, and the unavoidable funny studio jokes and mess-ups.
All of this will come in handy later on, because releasing music is not just about putting songs on Spotify. It's about connecting with your audience on an emotional level, giving them a look into your life and thoughts, and inviting them on the journey with you. The more behind-the-scenes content you have, the better. Start documenting everything as soon as you begin the music-making process.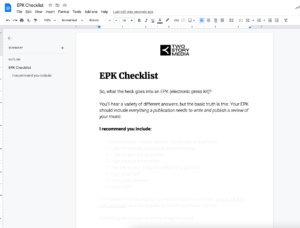 Want to get your music covered in cool publications?
I get like 9 million submissions each day from artists. Here's what you need to include in your EPK so you stand out / get covered.
2. Use DistroKid or Ditto as your distributor.
Unless you're signed to a label (let's face it; anybody reading an article titled "How to Release Music in 2021" isn't signed to a label), you'll probably be using a third party distributor to get your project out into the world. No shame. Labels kinda suck anyway.
There are a lot of options for distribution, and they all get your music on streaming sites like Spotify, TikTok, Apple Music, Amazon, Tidal, etc. The most popular ones are DistroKid, Ditto, CD Baby, TuneCore, and Amuse.
While each service has a few extra features, the main three differences between them all are speed, ease, and price.
When it comes to speed, DistroKid and Ditto are definitely the fastest. If you submit your music today, it could be on Spotify as quickly as tomorrow (we'll cover why you probably shouldn't actually schedule music to release tomorrow in the next tip.) At the slowest, it takes about 3 days for it to show up on your Spotify for Artists account.
When it comes to ease, DistroKid and Ditto are also probably the best. Their interfaces are extremely intuitive, simple, and straightforward. Everything is labeled, explained, and well-designed so that there's no issues when you're uploading your music, checking royalty payments, making changes to releases, etc. Other sites are historically much more prone to glitches and frustration. I'm looking at you, CD Baby.
When it comes to price, DistroKid and Ditto operate on a subscription model. That means you pay $20 yearly, and release as much music as you want. Most other services are pay-per-release, which, in the age of singles (we'll get to that in the next tip as well), gets to be real expensive real fast. DistroKid costs a little more for full service though, as they charge extra for distribution to Shazam/Siri and inclusion in YouTube's Content ID system.
Like I said, each service has some extra features and selling points, but DistroKid and Ditto's models are most compatible with the current climate of the industry.
Click here to give DistroKid a shot and get 7% off (so you save like a buck fifty). Click here to try Ditto.
For transparency: Yes, we are affiliated with both of them. Because they're awesome.
3. Give yourself time.
Here's a big thing: preparing to release music takes time.
I know that it's tempting to pick the closest date your distributor offers when you upload your music. I've been there. But if you only give yourself a week to get everything prepped for your release, you're almost definitely going to hear crickets when your music drops.
(Unless you're Beyoncé or Taylor Swift, in which case you can ignore this tip and actually this whole article.)
So don't rush yourself. I'd say give yourself a month of lead time to a) build some momentum on social, b) email your list, and c) prepare to nail stuff on Spotify. Which leads me to my next point…
4. Release as many singles as you can.
Putting music on Spotify for the first time is a really exciting thing. When you're uploading your music to DistroKid or Ditto, it's really tempting to choose the immediate release option. I promise you, it's better not to. Good things come to those who wait.
When you have a project finished and you're ready to release it in full, it's best to release some singles first, spaced about a month or two apart. Again, for each single, it's best to give yourself at least a month to prepare for release, build hype, and gain followers and pre-savers.
The current music industry climate, especially for indie artists, is centered around streaming, and Spotify is currently the largest streaming platform. (If you want to know more about Spotify, read this article.)
Since Spotify is such an important player for small artists, a release campaign should revolve around the best practices and strategies for Spotify exposure. And Spotify is very single-friendly.
Recently, Spotify has made it possible to submit upcoming releases for editorial playlist consideration and algorithmic playlist placement. That means that when you are about to release a song, you can pitch it to their editors for consideration on their massively popular playlists, and simultaneously guarantee that your music will be on your followers' Release Radars.
But there are a few catches: you need to submit your music for consideration at least a few weeks in advance, and you can only submit one song at a time. So, do singles, and schedule them at least a month in advance.
Aside from Spotify compatibility, the single model is great for building hype and keeping fans invested. If fans know they can expect releases from you on a regular basis, then they are more likely to keep checking back in with your social media and Spotify pages.
The single model also helps you to pace yourself, not run out of content, have plenty of time to capitalize on momentum, and develop clear points of focus for every stage of release. Your best songs will have room to breathe, and will set the context for the full project.
If you need any more convincing about why you should release singles, here's a great explanation.
5. Cascade your singles.
The traditional album cycle has undergone a lot of change recently. One of the most popular strategies these days is called "cascading" or "waterfalling." (It was allegedly started by the Chainsmokers, and has since become the go-to way for artists to release singles.)
This is a relatively new strategy, and I've heard a few different names for it. The idea is simple and brilliant:
Release your first single normally. Then, when it's time to release your second single, release it paired with your first single. When it's time to release your third single, release it with both your second and first singles. And so on.
I know it's kind of confusing. Here's a visual.

The reason this strategy is so common these days is, once again, because of streaming.
On many streaming services, when somebody clicks on one of your songs, it will automatically go to the next song on the album when that particular song ends. So, if somebody wants to stream your second single, your first single will automatically start playing when your second single is over. This means that as you get deeper into the release cycle, you keep more attention on all of your singles, instead of just one at a time.
I have a friend who did this with the singles from his last record. The first single topped out at about a million streams in the first month, and clearly started to lose traction by the end of the month. But when he released his second single, cascading it so that it was paired with the first single, that first single once again accumulated almost another million streams, along with his second single.
Cascading your releases will help to make sure that each single continues to get attention even when its own piece of the release cycle is over. It's brilliant. Thanks, the Chainsmokers.
6. Keep up with your statistics and audience.
After your first song hits the online shelves, there are plenty of ways to keep up with how it's doing. The main two websites for tracking streaming stats are platform specific: Spotify for Artists and Apple Music for Artists. Besides those, there are some third-party sites, such as Spot On Track. And pretty much every social media platform has some form of statistics tracking.
Tracking your stats is good practice for a two reasons:
First, knowing who listens to your music is really valuable information for an artist. Different demographics all consume different music, and consume music differently. Depending on how old someone is, where they live, and who else they listen to, you may be able to string together clues for a best strategy for your next release, your next tour, your social media aesthetic, and all other aspects of your artistry.
Second, you're able to see the progress you make in a very practical way. If you're a goal-setter, you can keep a close eye on your goals for followers, streaming numbers, playlist adds, and other important stats that tell you how far you've come.
It's important to note that, if you're a new artist, getting caught up in the world of Spotify streaming numbers can be both overwhelming and frustrating. Make sure not to obsess over how many people stream your music, and definitely don't compare yourself to people. Everybody goes at their own pace. The most meaningful metrics are the metrics that indicate growth, not momentary success. If you go from 100 to 200 monthly listeners in a year, then don't dwell on the relatively low number. Be proud that you doubled your audience! Growth is relative, and always worth celebrating.
Which brings us to the last tip…
7. Find time to enjoy the process.
The truth is that releasing music is stressful and complicated. There are a lot of moving parts, and it's common for it to feel like an unenjoyable hassle. But when the work is done and the song is out (and even in the middle of the release grunt work), take time to enjoy the fact that you are doing something incredibly dope: putting music into the world.
Every time I release music, I get my hopes extremely high that it will be well-received. Sometimes it is. But sometimes it's not.
For my last few releases (and I have other friends who do this), I make sure to take a moment on release day to get in my car, turn the volume up, roll my windows down, and drive for a while to my own song. I don't mean for it to be narcissistic at all; I just try to allow myself the admission that it's a really cool thing to be able to make music and have it where the world can hear it. It's essentially a gratitude ritual, and it helps music feel less like a job and more like a privilege and a gift.
So, whatever kind of music you make, while you're releasing it, find time to be proud of yourself and grateful for it. Any way to remove yourself from the world of comparison and people-pleasing in the middle of a release cycle is bound to make the process more enjoyable. And I think it probably leads to better music, too.