The hip hop culture has always been one of those movements that could make the most of the technologies available.
For instance, in the mid-2000s, Soundcloud featured many mixtapes by unknown rappers who later became some of the biggest names in the industry, like Chance The Rapper, Young Thug and Khalid.
Today, hip hop is perhaps more popular than ever, spreading through social media and becoming the soundtrack of millions of teenagers who share their videos on TikTok or Instagram.
Over the last few years, this music genre has become mainstream worldwide, thanks to superstars like Drake and Travis Scott, but also because of a subculture that seems to resonate particularly well with the youngest generations.
There's no better time than now to make a list of the best rap blogs of the year so far. Below you'll find music blogs that deal with the hip hop culture, the latest rap releases, and more.
Some of these blogs have been around for a while, gathering followers over the years and becoming fundamental voices in the hip hop culture. There's no particular order in the list below, so make sure you check them all out before choosing your favourite one.
Let's dive in!
The 15 Best Rap Blogs in 2022
In my experience, there are two different kinds of hip hop music blogs out there, so you'll have to choose which kind of blog works best for you.
The first type is hip hop blogs related to the culture in general, meaning you'll find topics not strictly related to music, like culture, tech, fashion, and so on. These are great online magazines if you want to get an overview of the hip hop landscape rather than just discovering new releases.
The second type of blog is more old school. These music websites focus primarily on music, with exclusive premieres and early reviews of works by new and established artists. These blogs can be a great point of reference for anyone who wants to know what's going on in hip hop music before anyone else.
Below you'll find both types of hip hop music blogs. They all publish great-quality content, but their targeted audience is slightly different. If you're focused exclusively on finding new music, then you may find the content of some of these blogs too "diluted".
On the other hand, if you aim at staying up to date with the hip hop culture as a whole, the old school music blogs won't give you the information you're looking for. Once again, the choice is entirely yours.
Just like with any other genre-specific music blogs, many hip hop blogs tend to discuss other related music genres too. Below you'll find a few online publications that also deal with electronic and indie music. However, most of the blogs included in the list deal mostly, if not exclusively, with hip hop and its subgenres.
Established in 2007, 2DOPEBOYZ is a fantastic blog if you're interested in keeping up with everything that's going on in the hip hop industry, but also if you're interested in discovering music by new and unsigned artists.
The mix of in-depth articles and album reviews makes 2DOPEBOYZ makes it a great option for those who want to discover this music genre and also for people looking for alternatives to mainstream hip hop.
If you have a new single or album coming out, you can get in touch with them via their contact form on the website.
Here's another online publication that's been around for a long time and proven multiple times it's one of the most important voices in the industry.
Active since 1999, HipHopDX is an unmissable rap blog if you want to delve into the history of the music genre. Their in-depth essays and album charts are knowledgeable and enjoyable, showing the editorial team's deep interest in and dedication to the hip hop culture.
They, too, have a contact us page you can use to let them know about your upcoming album.
What I like the most about UnitedMasters is that it offers a lot of information and opportunities for unsigned artists. It's much more than a hip hop blog: it's an incubator for rappers and beatmakers looking to maximise their audience.
Using this platform, you'll be able to connect with other artists and brands looking for collaborations. Whether you're an aspiring rapper or into music production, on UnitedMasters, you'll find all the tools you need to reach millions of people with your tracks.
Join this online community for free, and start exploring the opportunities it can offer you!
Based in Philadelphia, Hip Hop Since 1987 is a great blog that has a genuine approach to reviews and creative content. HHS1987 also features some exclusive releases, so you can listen to new music before anyone else by following this hip hop bog.
Make sure you also check out their Youtube channel, with some great interviews and excerpts from live events.
If you're an artist, you can find their contact details on the contact page.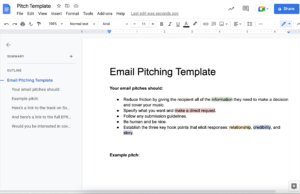 Detailed template for emailing music blogs
Want to pitch your music so people actually respond?
I get about 9 million email submissions a day to Two Story Melody. Here's the template I recommend.
The Boom Box has some great articles that deal with hip hop culture and in-depth essays on legendary albums and artists. Therefore, it's a great place to learn more about the style and culture revolving around this music genre.
Aside from a whole column dedicated to Sneakers, The Boom Box's best content is probably the in-depth articles about music. The writing is passionate and engaging, with hindsight on the history of rap and indie culture that will help you learn more about the fascinating hip hop landscape.
Rap-Up is the ideal hip hop blog if you want to stay up to date with everything that's going on in the industry.
Aside from album reviews and exclusive content by established artists, this online magazine features Rap-up TV, featuring engaging interviews with producers and rappers. Founded in 2001, Rap-up also has a quarterly print edition.
On their contact us page, you can find the form to contact the editorial team.
AllHipHop is a phenomenal source for people passionate about hip hop culture. Established in 1998, this music blog is one of the longest-running blogs about hip hop and rap and offers news about all the most prominent rappers in the business.
In general, I love in-depth articles and opinions, so AllHipHop's Opinion column is definitely the aspect of this website that resonates the most with me. Here you'll find articles on recent events but also about hip hop history, culture and evolution.
Here's another unmissable online magazine for those interested in hip hop and indie music culture. Starting in 1999, Fader was the first-ever music magazine to become available on iTunes.
An influential magazine, a record label, a creative agency: Fader covers everything a creative mind needs to stay active and engaged in the indie culture. In my opinion, this is the best website for those looking for news on hip hop culture and style rather than just music.
Still, Fader's music section is vast and all-encompassing, so make sure you check It out!
Worldstar HipHop covers everything related to hip hop culture, from the latest releases to fashion to gossip. Despite the variety of topics covered, Worldstar HipHop offers a great overview of the genre's landscape, ideal for those who want to know everything that's going on in the hip hop culture.
With a huge audience and engaged fans, Worldstar HipHop is the perfect space to promote your music. The submission process is quite straightforward, and being featured in this online magazine will undoubtedly skyrocket your next release.
HHNM is a fully independent online magazine and hip hop blog featuring a music section divided between albums, freestyle and mixtape content. They also have a premiere section with upcoming releases available exclusively on HHNM.
Check out their Submission page if you want to get your music featured on HipHop N More. The editorial team here explains the submission process thoroughly, so make sure you read the requirements carefully before submitting your track.
Run the Trap explores a variety of genres, mainly related to the underground bass music genres. I imagine this would be the perfect website for those who are not fixated on hip hop but want to explore different music genres too.
On Run the Trap, you'll find plenty of reviews of new music, making it a crucial source of information if you want to know where the industry is going.
Here's a great hip hop blog that covers mostly new and unsigned artists. If this sounds like you, then this is your lucky day.
Reviews, interviews, Q&A sessions and events: this is a music blog that's been expanding since its inception, and today offers everything a hip hop fan needs to stay up to date and on top of their game.
The live sessions and the beat sessions are what really make Underground Hip Hop Blog stand out. Go and check out these performances to see the best producers at work.
Hip Hop Wired does much more than reviewing music: it's a point of reference for anyone interested in the hip hop landscape, analysing the social, political, and cultural changes in the culture with an impartial and analytical approach.
Hip Hop Wired offers a great "tech" section where they discuss and review the latest games, audio devices and industry news.
Strictly music-oriented is their "Certified Fresh section", with great articles and playlists on new hip hop music, mostly underground.
This Song is Sick is a great place to discover new music gravitating around the electronic, hip hop, and alternative music landscape. Active since 2010, TSIS is now one of the most respected voices in the industry, thanks to exclusive premieres, genuine reviews and an engaged audience.
Do check out their contests page for regular opportunities to win prizes and get your music heard by the readers of This Song is Sick. If you want to submit a song for review, This Song is Sick now provides a dedicated page to make the process smoother.
Here's a hip hop music blog that's stayed true to itself since day one. Multiple articles published every day, early music reviews and exclusive previews: Rap Radar is the perfect blog for hip hop fans who want to know what's going on in the industry before anyone else.
Absolutely worth checking out their YouTube channel, with engaging interviews with music producers and rappers published on a weekly basis. Everything about their interviews feels so genuine and natural, with new and established artists sharing their history and views on the hip hop culture with competent and easy-going hosts.
Final thoughts on rap blogs
I hope you enjoyed this list and found a few blogs worth checking out regularly.
Right now, there's no music genre evolving as quickly as hip hop, which is why there are new blogs and websites coming out regularly. If you think I missed out on some enlightening hip hop blog, please let me know!
There are blogs more focused on the latest releases, while others publish more general news on culture and style. Furthermore, there are hip hop websites that review mostly new, independent artists. On the other hand, there are some others that deal mostly with established artists.
No matter what kind of content you're interested in, in the list above, you'll find everything you need to keep up to date with this fascinating, constantly evolving genre.
Good luck, and stay creative!