Even if you didn't know that "Frances" was based on a true story, you'd be able to tell just from the lyrics. Written with care by the North Carolina-raised CF Watkins and released ahead of her upcoming album, Babygirl, "Frances" is clearly about someone–a specific someone and not an amalgamation of various someones–and the songwriter is committed to doing her justice. In a voice thick with emotion, Watkins sings about the return of this woman, who arrived so quietly that she didn't wake the narrator up from their sleep, and tells us that it had been so long since they had seen her "outside of [their] dreams". 
With the warm, twilit glow of the music behind her (pure Americana in its sound, but with a dusky quality that sets it apart from more generic fare), Watkins sells the song's tenderness even if you don't know the story behind it. But when you do, it makes "Frances" all the more poignant and tear-jerking. Watkins explains it herself in the following interview, but let's just say there's a reason why, in the previous paragraph, I referred to "the narrator" rather than Watkins herself.
"Frances" will make you want to sway along and listen–and, when you're done, it'll make you want to immediately call your grandparents and say you love them.
What's the story behind "Frances"? Is it based on a real experience?
"Frances" is written from the perspective of my grandfather in the hospital nearing the end of his life. He wasn't an incredibly expressive or talkative person, but he and I always had a beautiful quiet bond and friendship. He was suffering from dementia, and on one of my last visits to the hospital, my Dad had told me that he was having a bad day, that he might not speak at all, and not to take it personally. As I approached the side of the bed he saw me and burst into tears. He grabbed my hand and told me he was sorry. I was very taken aback— I had never seen him cry or show much of any emotion at all before.
I asked, "What are you sorry about?" and he said through tears, "I should have told you I loved you more." I felt so confused, I had never felt anything more than adored by my Granddad. "Frances," he said, "I love you and I should have told you I loved you every day. I'm sorry." I realized then that he thought I was my grandmother, Frances. I know that it is easy to blame it all on the dementia, or the medications he was on, or the exhaustion of being stuck in a place with strangers, and machines, and terrible food–but I thought she maybe was actually there in the room with us, shepherding him through the night so he wouldn't be alone.
Who are your major musical influences?
Gosh- this question is always so hard because, SO many! The first thing I ever heard that made me fall in love with music and the idea of being a musician was when I was 7 and heard Harry Connick Jr.'s album, We Are in Love, for the first time. Through my love of his music, I eventually started exploring jazz of all kinds, like Chet Baker, Nina Simone, Doris Day, and Julie London. Now, I don't think you're necessarily going to recognize those influences in this album at first listen, but it's there: it's in the heart of the vocal melodies, in the way I learned to sing, and in the sentiment of my delivery.
Another huge influence was The Avett Brothers. I grew up in North Carolina when the Avetts were just getting started. I would go watch them play local shows almost every weekend for a couple of years in high school. I'd probably seen them 30 times or more by the time I was 21. I was very inspired by their sincerity, their powerful presence, storytelling, and the themes of home and family. They created a beautiful community through the music they made and the shows they played. I was glad to absorb all of the goodness in the messages they were putting out and I wanted to emulate that.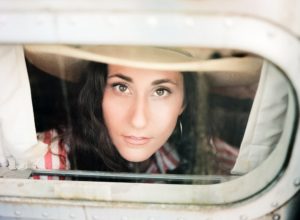 You describe your previous album [I Am New] as having a theme of "weakness", whereas your upcoming album, Babygirl, has a theme of strength and power. What inspired that outlook?
I think it was just hard for me to listen back to, I Am New. I am proud of it, I think it is a vulnerable portrayal of where I was at the time. But a record is so much more permanent than the feelings which inspired it. You know? I often write music when I am not feeling great–it is a way I heal. As soon as I write the song, the feeling shifts and changes a bit, which I'm grateful for. But the recording of the song doesn't change. I wanted this album to have reflections of that movement through the pain. There are certainly a lot of moments of pain and frustration in the songs on Babygirl as well, but I tried to focus on things that were at my core, like explorations of my grandparents, of homesickness, of female friendship. I tried to make the majority of the songs give the female voice some power rather than just expressing the powerlessness that we can all sometimes feel.
You collaborated with [multi-instrumentalist] Max Hart extensively leading up to Babygirl. How is collaborating different from going at it alone?
Yes! Collaborating with Max is some of the most fun I've had. When people talk about the thrill of going to amusement parks I cannot relate, but I feel that kind of joy in the studio with Max. On my first record, I collaborated with Daniel Levi Goans of Lowland Hum. He is also an incredibly sensitive and brilliant, brilliant songwriter and producer, one of my absolute favorite humans and artists. I have been beyond lucky with the amazing talent that I've gotten to work with.
When I am writing songs, it is very isolated. A vast majority of these songs, in fact, were written perched on top of the toilet in the tiny bathroom of my 150 square foot apartment. I was sharing it with my boyfriend at the time, and while I was a night owl, he was a morning person. Most of my writing happens in the wee small hours of the morning, so to avoid waking him up, I would quietly sneak to the bathroom and record whispered demos to eventually send to Max.
When we would finally get the demos into the studio to work on them, Max would change my whole idea of what the songs were. He was so good at challenging the ideas I had of my own limitations, and the limitations of the songs. He seemed to always have a million different ideas at once and was never too attached to any direction. We just had a great time, and a great musical chemistry. We balanced each other out and worked very hard and, as often as we could, celebrated with a slice of pizza at the end of a long day. It was like a dream come true.
What are your plans for the future?
It sure is hard to plan for the future, these days even more so. Max and I hope to start work on recording new music as soon as it seems safe and feasible to do so together. I think a helpful part of the uncertainty of everything these days, is that it forces us to let go of our expectations—to be present, to take the most thoughtful next step as each day approaches. That's all I have planned with my music. I feel certain I will always be writing songs deep into the night, and that I will always want to share them, and however that manifests I will try my best to thoughtfully embrace.
---
---