Jodie Marie's September 2020 release, "Carageen," will lull you into the currents of grief and affection. Touting a dream-like, oceanic sound, this is a track about letting yourself slip into the "waves" of life and feeling everything – even when the emotions scare you.
The verses are framed in a simple ascending melody, carrying the listener up and down with the gentle insistence of an ocean wave. Despite its underwater sound, the vocals are crisp and clear. Marie's crystal voice and relentless enunciation make mishearing the lyrics a nonissue – which is good news, because you don't want to miss zingers like "still grieving against my will" and "some kind of torture, yet sublime," which is simply good writing.
The song remains in its gentle formula – ascending melody, soaring chorus, ascending melody, soaring chorus –  until about three minutes in, at which point the sound falls into elegant disarray. This section of the song seems to hint at an inner chaos, one that spills out briefly in the collapsing chords and darkening strums. In this instance, the sound of the song catches up with its bleaker lyrics: "Cross the shoreline, how much more can I take?"
We float through this urgent instrumental section, the piano desperate and descending into its own undercurrents. Then the song pulls back for a final verse from Marie, whose voice realigns the song with a sense of calm. The piano lightens. The soundscape becomes dreamy and gentle once more. And Marie draws us to the end with a long, trembling siren call.
What do you feel is the central theme in your body of work?
I feel like I'm heavily influenced by vintage sounds from my record collection growing up. In my mind, this is what creates the main theme in my music. The sound world myself and my producers (Owain Fleetwood Jenkins, Ed Harcourt & Dan Smith) created throughout the album were inspired by artists and bands I've grown up loving and listening to. The topic in the lyrics may vary a lot from song to song, but it's the feel and vibe the songs give you that transport you to a certain era, but in such a way that it still feels modern and fresh – I really feel I've honed my own sound on this record.
Your song "Carageen" is a gorgeous exploration of water, emotion, and self – how did you begin writing it? Was it inspired by an experience?
Thank you. "Carageen" actually came to me when I was in a co-writing session with Ed Harcourt. I hadn't written with anyone else for a while, I was used to writing alone. Around that time, if I'm honest, I was feeling pretty lost within the music industry and within myself. I had previously released my debut album Mountain Echo with Decca Records in 2012, and later self-released my second album, Trouble in Mind, with my management in 2015.
By the time it came to prepare for the third record, I no longer had any representation, I felt l just couldn't seem to get back in the game, and felt I was up against a lot of closed doors. So, it was in that writing session with Ed Harcourt, that I realized that that was what I needed to write about – feeling beaten by it all, but I still couldn't seem to stop writing music, that was the thing that kept me powering through, hence the lyric "but there's a tide that drags me to shore".
I'm also deeply drawn to the ocean, I live close to the Pembrokeshire coast, in Wales, and find I spend a lot of time down the beach or just out in nature. It's a place that gives me perspective in particularly trying times and helps me focus on what really matters. That's the true inspiration behind "Carageen".
How does the soundscape of the song reflect who you are as an artist?
I'm really pleased with how "Carageen" turned out sonically. To me, it gives you a feel of being by the ocean – not just because of the lyrics, but also due to the instruments we chose to use. I think the vintage sounds I mentioned earlier that inspire me, and the lyric topic really reflect my nature as a person. I spend a lot of time at the beach, I don't necessarily write about the sea or nature a lot in the rest of the record, (like in this song), but it shows a side to my life that means a great deal to me and inspires me – whether I write about the visuals or not. This single definitely sets a calm and reflective tone to the record, but there are also more light and carefree elements to the album, in a more retro/pop style – which, as a whole give a good feel of the sound world I've created and really embody my personality.
What is your creative process like?
My creative process is always different, it's never the same twice. I can sometimes be driving and a lyric idea or a melody pop into my head when I least expect it, I then have to pull the van over and jot the idea down in a voice memo on my phone to work on at a later date. Or I sit down at the piano or with my guitar and just play and see what comes up, it sometimes starts with a simple lyric idea and it grows from there, or it can be a chord progression that sparks the lyrics after. I always feel that if the music comes first, then it has to describe to me what the lyrics will be about – for example, if you heard an instrumental version of it, you get the feel of what the lyrics might be about from the emotion that piece of music gives you, and vice versa. I always write from personal experience or from something that has happened very close to me.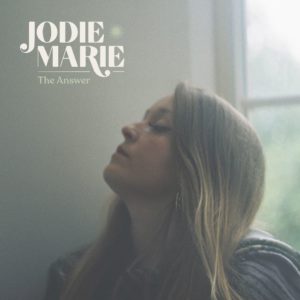 Tell us about your upcoming album, The Answer. What's your favorite song on the album? What has the creation process been like?
The Answer is a collection of songs covering all emotions really. It has its moments of reflection and sadness, but also some really uplifting moments. I wanted it to be a journey for the listener, where one moment you want to listen to a song that feels like a comfort blanket when you're alone, but also can give you a really good feeling from the lyrics but also the instrumentation used.
I wouldn't say I have a favorite song on the record, it's quite difficult to decide because they all have a connection to me because I write from the heart. But I'd say the title track resonates with me deeply on one level, but is different to the sensitivity in "Saving Grace". But then there are songs like "Hanging By A String", or "You're Gonna Miss Me (When I'm Gone)" – these are songs I've wanted to write for a long time that feel like a release, freeing me of things I've wanted to say for quite some time.
The creation of this record has been a journey – from recording songs that were written a few years ago, to writing songs literally just before recording them. I wanted it to represent life, how some moments you need to sit quietly and reflect, but also pop a tune on that just makes you feel good! I loved recording the record at StudiOwz recording studio – a studio I run with my partner, Owain, where we had the time to explore different sound worlds and really create my own vibe and the album I've been dying to make for years. I can't wait for it to be released into the world!
---
---