Deborah Stokol is the kind of artist I wish to be: someone who synthesizes their various interests and preoccupations into a fruitful, prolific career. Stokol is passionate about art, literature, and music across history, as is evident from her adaptation of one of the Canterbury Tales into a sprawling prog-folk fantasia. On her new song, she continues to show off her virtues as a songwriter: her eclectic influences, her elegant way with words, and her boundless curiosity.
Called "I Had a Long Convalescence, and I Wore Pearls in My Ears," the song is a lovely, jazz-tinged exercise in rich imagery. Even if the story itself doesn't make itself obvious to the listener, the words Stokol uses sets a mood: the narrator "wears [her] shadows like a cloak," dreams of "a symphony of blue/a wave of verdant hues," and evokes the Persephone myth with "the seeds of the ancient fruit." If it sounds like you need CliffNotes to get on its wavelength, don't worry: even if you're unfamiliar with Stokol's litany of influences, the delicate vocals and interplay between piano and upright bass make this song more than satisfying on its own right.
Tell us a little about the story of "I Had a Long Convalescence, and I Wore Pearls in my Ears" and how you set about constructing it.
A lot of different texts, images, and sounds influenced this song. We all carry around our experiences and impressions, and much of that lies in the subconscious, where we don't even know it's affecting us though it absolutely is.
To know it, I can say Persephone and her pomegranate, Adam and Eve, Icarus, the Irish blessing, wedding vows, Renaissance imagery, Yeats' "The Second Coming," Achebe's Things Fall Apart, Didion's "Slouching Towards Bethlehem," Bantock's artful, epistolary romance Griffin and Sabine, Harkness' A Discovery of Witches, and my own life inform the story and lyrics behind the piece.
I've always loved storytelling (others' and the doing of it), and I studied English and Music, went to grad school for Journalism, worked as a journalist for several years, and taught high school English and Writing for more than a decade. So all of that combined here and in other music, prose, poetry I create.
I've also always been interested in the above works and how literature and music are a conversation across time and space, that we do not need to meet authors and musicians to befriend them and they us, speaking to each other internally with an understanding of things most important and evocative in our world. I love fantasy novels because good tends to triumph over evil; there's magic, adventure, beauty, and travel; and the settings take me to places of wonder. This past January, I read and watched Deborah Harkness' A Discovery of Witches, and I enjoyed the experience and her discussion of things Medieval, alchemical, wise woman/witchcraft-related, and I saw all of these images from the work and other things I had read and thought about my own experiences as a human being, a woman, so wrote this. 
As far as the musical inspirations – that I can pinpoint – Bach, Judaism, and nostalgia are really important to me, and I know that Procol Harum, with its Bachian constructions and use of organ, plays a role, Legrand's The Umbrellas of Cherbourg, Cabaret, Joseph and the Technicolor Dreamcoat, Sting, classical, jazz, folk music, and Russian and Jewish waltzes are absolutely present here as guides.
So I wrote the melody and words in January, sang and played the piano, then produced the piece on Logic Pro at home with all the keyboard sounds as a demo then wondered if it was possible to do it in a studio. It turned out, fortunately, that it was. So in late June, after the school year ended, I recorded the singing, piano, and keyboards in Daniel Raijman's studio. He recorded and mixed. Igor Kogan played live bass, and Daniel Feldman played drums remotely and sent us a stem file. There's been a lot of relevant talk about how the pandemic has shown or reminded people that they could collaborate all over the world. The drum file came via email, so some of this was remote, and I love that. 
I also loved the play of mirrors and perspective in 16thc. Flemish painter Peter Paul Rubens' work, "Venus at the Mirror," and she's wearing the pearl earrings that the character in the novel could be wearing – or I could. Pearls are such an old image for luxury and a certain type of classical beauty that in them I found a reference to hope and magic, especially in the face of having been sick or sad and needing to "convalesce," as these characters did, but so have we all and certainly recently. So I wore a pearl necklace as a diadem, put on pearl earrings my aunt had sent me as a gift that resembled the ones in Rubens' painting and in the books, and imitated the structure of the painting. My mom took the photo!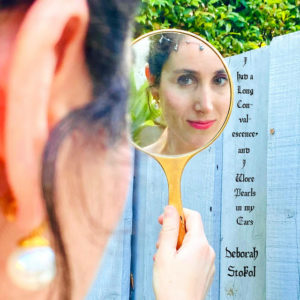 As a songwriter, you have a very distinct style and aesthetic. Is it something you took care to craft, or does it come naturally to you?
Thank you. That's nice to read. It is something that came naturally, but I have also worked hard to craft it. 
At all moments, we are internalizing information, and it comes out in our expressions. Music is a language, and language has a musicality to it, so they seem inextricable in various ways. My passion for music and language have walked together in my life, and with that, we develop our tastes and aesthetics. For whatever reason, I, also like so many others, am obsessed with the passage of time.
Time governs everything in our world, and since we are mortal and know this, much feels like a race against time. And much art reflect this, and that art attracted me. For example, the Bible's stories are always lessons about life, love, family, and faith, Greek mythology has a poignant sadness to it, an awareness of Hades and The Fates, and Rome looks to Greece, the Medieval looks to Rome, the 16th-20th c. look to the Medieval and the Greco-Roman, etc. So if I think about time, nostalgic art and specific harmonies, color schemes, and topics draw me in. That is one of the reasons that Jewish, Greco-Roman, Celtic, Medieval, poetic, fantastical, 19th c ., and 1940s, 1960s-70s folk art across media appeals to me in theme and content.
Kairos is Greek for sacred, non-linear time. Music uses time but transcends it. So I chose that as my record label's name.
As far as sound, harmony and counterpoint dictate much of what I love, which means Bach reigns supreme for me. When I listen to music, I want to step inside a world and live there. Similarly, when I make music, I want listeners to feel they're doing the same, which is why the chords and textures matter so much for me.
And this is where training has to come in. I studied classical and jazz piano for many years, sang in choirs for 15, studied these disciplines, wrote music for school plays through many levels of learning, and read and listened voraciously. Taste and aesthetics are things that combine natural inclination with environment (I guess like character?), so for me, it is also a combination of things that drew my attention, my own native interests and leanings, and then years and years of listening, viewing, reading, thinking, practicing, experimenting, absorbing, and ultimately, the way the imagination takes those things and fuses them together into something new and personal.
I studied piano, singing, theory, literature, writing, and composition formally (though I have always done it), but I am self-taught on harp, guitar, mandolin, production, and mixing.
You take a great deal of influence from literature, ranging from Greek myths to the Outlander series. Do you believe that these literary references will continue to resonate going forward, even as the modern attention span and memory grows shorter?
I truly do. Some of these stories – like The Odyssey, like the Hebrew and Christian Scriptures, like mythology across the world – have been around for thousands of years. People are still people through time and all over the world, so I think interest in specific texts waxes and wanes for sundry reasons, but we return to these tales because they show us something about ourselves as human beings – that we want to love, live, be seen and remembered, forge connections, create, have a Home. That is why comparative literature and mythology makes sense. I think it's always important to evaluate and re-evaluate texts across media and their creators – changing mores, societal values – but when we accommodate for context, we often find that humans are not so different in any given moment, after all. 
But as for memory and attention span, yes, there is an urgency here. That is part of why I am working on this bardic project. A bard is a musical storyteller who connects teaching, reporting, sharing history, poetry, singing, and playing and declares tales of great or otherwise forgotten deeds. Homer was a bard. When we say "The Song of…" (e.g., The Song of Songs / Song of Solomon, The Song of Roland, The Song of Deborah, The Song of Achilles, The Song of Hiawatha, The Song of Ice and Fire…), we mean the story of someone's life. People want to be seen and remembered and continue their legacy…this is where the term "unsung hero" comes from. It's all such an intrinsic part of being human – knowing that we will die and wanting to leave something behind to prove that we were once here. I gave a talk and performance on this at SXSW Edu 2019 called "Teaching the Bardic Tradition as a Bard." And most of the bardic tradition is the oral tradition – singing and speaking without writing and passing down stories that way. That is all about memory, specific and collective.
But one of the ways to preserve that, so we do not lose these stories and the lessons they share, is to see that we need to keep telling, singing, and sharing them because they hold something of value, something True.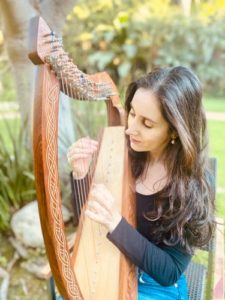 I love the rich keyboard sounds on this song. Do you have a favorite keyboard that you reach for before any others when writing a song?
Thank you! I appreciate that. Piano is my main instrument, and it's been in my playing life for 31 years, so it feels very much like a home base for me. I always reach for the actual piano, and the richer, darker, fuller the sound and strong but silkier the action, the better. I've had the privilege of playing a Bosendorfer twice or so, and that piano is a dream. I've also been lucky to play real harpsichords, Hammond B3 organs, and vibraphones, but I do not own them, so when I'm producing, I tend to reach for that organ, the Rhodes, and the celesta or glockenspiel for that music box twinkly mystical yearning sound – what you hear in this piece, actually. I love the richness they bring. For texture, I sometimes want synth swells or strings that allow me to flesh out harmony while picking out melody with precision on, say, the piano, harp, guitar, mandolin, or with my voice.
Do you have any good books to recommend?
Oh my goodness, too many! I will start with The Odyssey. It changed my life. I didn't like it as a 9th grader but then reread it as an adult. I was a high school English teacher, and I loved teaching it with new groups of students. I think everyone should read or listen to it. There's a reason it's so famous and long-lasting. It has everything (even if Odysseus is a psychopath, himself). The same thing goes with reading mythology and sacred texts from across the world.
Read Shakespeare. He's an amazing psychologist and wordsmith. There's a reason he's "Shakespeare." The ones I most recommend are Othello, The Tempest, Macbeth, Hamlet, Much Ado About Nothing, and Romeo and Juliet.  The writings of Tennyson, Dickinson, Walcott, Milton(!!), Roethke, Eli Wiesel, Emerson,  Didion, Borges.
These are some of the books that had a deep, deep impact on me: Louisa May Alcott's Little Women, L.M. Montgomery's Anne of Green Gables and Anne of the Island, Tamora Pierce's The Lioness Quartet, Robin McKinley's The Hero and the Crown and Deerskin, Ellen Raskin's The Westing Game, Susan Cooper's The Dark is Rising, Marion Zimmer Bradley's The Mists of Avalon, J.K. Rowling's Harry Potter, Rachel Portman's Seraphina, Chaim Potok's Davita's Harp.
What are your ambitions for the future?
I have many of those too! I am working on a series of singles and my second album — one of music I have put to literary works and those of the bardic tradition (including songs I have written to passages from or about The Odyssey, The Iliad, Song of Songs, Gilgamesh, and even none bardic works like Macbeth, poetry by Dickinson and Tennyson, etc.) – and its complementary album, one that tells stories of brave ladies from myth, legend, history, and my imagination (e.g. Penelope, Scheherazade, Deborah, Persephone, The Sabbath Bride, The Wife of Bath, Claire Fraser, Lot's Wife–why didn't she get a name?– and many others. Some of these are released in some version already. And we are in everything we do, so these are my take, and of course, some of it will inevitably be my lens). I want to put out some of my writing, share a podcast. I believe in all these works and cannot wait to share them.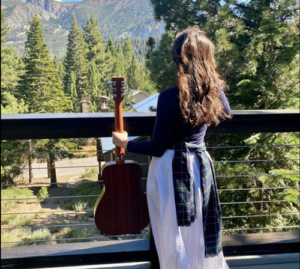 Through my life, I have found so much music and so many books that spoke to my soul and comforted me in times of need. Some of these creators lived long before my time, and some are still alive. But there are many I never met nor will ever meet, but they guided me. I want whoever will respond to my art, if it speaks to them, if it comforts them or brings them joy or meaning, to find and experience it.
Like I said before, I want people to feel that they are stepping into lush worlds in my work, that these songs envelop them in a full and colorful way. And like I said, I did other things for years, but through all of that, I studied and kept making music. I couldn't stop because it is such a driver for me. The pandemic clarified that at this time I needed to step away from full-time teaching to focus on my art, so for the first time in my life, I've had the time to give these works my focus and attention, and I admit I would like to be able to make this a full-time job.