"Working For Google" breaks out of the gate with a crunchy heap of distorted guitar riffs and a low end with a bad attitude. Hey Geronimo recently dropped a treat for all of us. The airy satire is funny, but for those of us who plummet the dive into a 9-5 gig can relate. Coffee spills that burn like hot cauldrons and endless traffic jams that dissolve in the horizon are just the nature of the beast. Hey Geronimo nails this funny take on moving through the paces of a mundane lifestyle working for the corporate behemoth, Google. All jokes aside, "Working For Google" is well-done. Hey Geronimo's single is a small treat that'll keep us satisfied while we await the release of their upcoming album, CONTENT. 
Trailing after the 9-5 corporate grind is a mess at times, and that's OK. I think?
Despite the energetic tone, the song has plenty of dark humor to go around.
Days counting down to lonely nights

I don't need to see the sun

Don't care if tomorrow comes
Throw in some fuzzy synth and some groovy surf-style vocal harmonies, and we're left with a memorable few minutes of edgy alternative rock.
Wake in the morning filled with dread

I can't escape my pounding head

Bare white knuckles, traffic jams

Fluro lights and coffee cans
What a great way to start the day! Maybe it's not the morning we're all dreaming of, but the song makes is sound ironically eventful. I never thought I'd find myself enjoying a song that glorifies the dark side of the daily grind. 
Let's Talk About the Mix
These lyrics really speak for themselves. The mix packs a powerhouse of energy and personality that can only be described with headbanging down the highway while enjoying this track on full blast. "Working For Google" has a massive wall of sound driving us along, and it's a fun ride, to say the least. One of my favourite elements is the strong low-end. Bass players are looked over too often. This track has a thread of bass lines that really help the mix gel quite nicely.

We have a full, punchy fist of sound in our faces, and it feels good. Hey Geronimo has a great sound going for them. The mix is built from splashes of bright cymbals, heart-pounding drum fills, and trippy synthetic leads that really make the song a catchy hit. Closer towards the end of the song, we get an odd little sample of what sounds like a vintage recording from the 70s.
Imagine if you can, an electronic brain operating at millions per second speed…
Sampling obscure vocal recordings either works, or it doesn't. There isn't a grey area when it comes to sampling. In this case, I think that it's a nice little touch to this song. It really matches the theme hilariously.
Hey Geronimo Announces New Album, "CONTENT" – Coming September 7th, 2018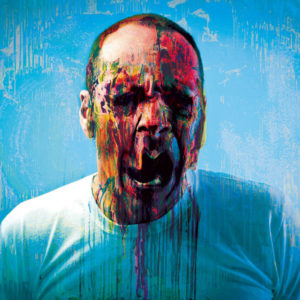 Hey Geronimo has an album release creeping right around the corner. Their new concept album, CONTENT, is scheduled to drop next Friday, September 7th. Plus, the Australian trio has a few show dates set for November, one of which is a free show in their hometown of Brisbane. CONTENT  is a giant take on the dystopian future inching toward us. As technology advances forward, what role is humanity going to play? Are we as insane as it all sounds? According to Hey Geronimo, yes. If you can relate with some of the outlandish theories of what's to come, then CONTENT might be the album to be on the lookout for. Visit heygeronimo.com to learn more about the album and their upcoming show dates.
---
Our friends at Omari are really good at helping artists get heard and listed in cool indie blogs and playlists. They've worked with big acts (Judah & the Lion) and bedroom artists alike (which is feasible cuz service starts at $77). Anyway, take a look. Disclaimers: it's an affiliate link, and yeah, they're good.
If you're tired of pitching your music yourself, if you finally want to find your audience, or if you just like us, click here to learn more.
---