"Stroll," a new song by musician and songwriter Lem Jay alongside actress and singer Charlyne Yi (you may know her from House M.D. or her extensive voice acting career), is a song that hearkens back to the ramshackle roots of twee pop. Nowadays, the term is used to describe groups like Alvvays or She and Him: standard (if very good) indie pop with the cute turned up a notch or two higher than usual. But the genre has its roots in the era of DIY alternative rock: the shaggy, kudzu-wreathed sound of Beat Happening, as well as the shambling sweetness of the C86 scene. It wasn't a polished sound, but that just made its gentle heart even more apparent.
"Stroll" doesn't sound like Beat Happening–it has more in common with the Tin Pan Alley-isms of the Magnetic Fields–but there's an appealing lack of varnish that brings to mind those early days of cassette tapes with hand-drawn covers of cats in rocket ships. The production is raw, the horns occasionally overwhelm the vocals in the chorus, and there's just a hint of hesitation to the piano solo, as though the pianist had a post-it note with "remember to be jaunty!" attached to the sheet music. But this is all clearly by design: it brings out the improvisational charm of the song, and the caramel-and-chocolate way Lem Jay and Yi harmonize tells us everything we need to know about their chemistry and skill.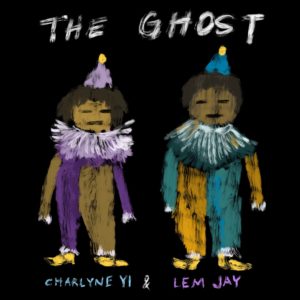 How did this collaboration come about? How did you two meet each other and get to working on this material?
Lem Jay: We met through our friend Becky Stark, who brought Charlyne to my house where we all improvised funny songs in my kitchen. After that Charlyne came over and we wrote our first song "We Don't Know How To Move On" and an instrumental for slide whistle and piano called "Tea Kettle Blues".
Charlyne Yi: It was like being kids, coming over to play. We'd vent about our feelings, then sing our hearts out. Lem Jay secretly recorded some really embarrassing footage where I'm bobbing around like a Peanuts character, playing tambourine out of time and belting out of tune.
Is there any particular story that inspired "Stroll?" There are so many finely-observed poetic details that it seems so real.
CY: Hmm… I remember taking a "stroll" for about 7 hours straight in the heat and feeling sick then seeing a silver haired woman at a bus stop. I think when Lem Jay and I write we usually have a starting point and then we are possessed by a ghost, our heads spin, we vomit words and melodies, and hit record.
LJ: The only thing I remember about writing "Stroll" is that we wanted to do a music video where we're riding horses in color-coordinated turtlenecks and blazers. Charlyne has never ridden a horse.
CY: Lem Jay has never worn a turtleneck.
Who is your greatest influence from the past, and who is your greatest contemporary influence?
LJ: George Gershwin and Haruomi Hosono.
CY: Harpo Marx and the Pixies.
For Lem: In addition to Charlyne, you've collaborated with artists and musicians like Jena Malone and Zooey Deschanel. Is there anyone you'd like to collaborate with next?
LJ: Charlyne actually asked me this a couple months ago and I said that I'd like to spend some time in my studio and try to make music by myself. Maybe some instrumental pieces. We joked that my album would be called Love Rhymes With Love.
CY: And that the cover art would be Lem Jay laying on a heart-shaped baby grand piano.
For Charlyne: are there any commonalities between voice acting and singing? Do you approach them in different ways?"
CY: Lem Jay and I were just talking about this. Personally, I like to think of something specific like accessing a positive memory, or pretending the microphone is a person I'm intimately serenading or having a difficult conversation with. Having an intention affects the inflection and energy of my performance rather than having a set and controlled way of saying or singing something.
---
---