There are many ways to discover new music, and perhaps the trendiest ones these days are podcasts and music streaming recommendations. There's no way around it: the power of the algorithms that seem to govern our lives has an ever-growing impact on our music taste.
However, if you're old school like me or simply enjoy the human touch of honest reviews, there are endless music blogs and websites dedicated to specific music genres. Some of these blogs feature fantastic in-depth articles and reviews, making music discovery an enriching experience for audiophiles and musicians.
Today I'll focus on folk music in all its forms, with a list of my favourite folk music blogs exploring all its subgenres, from indie folk to electro-folk and everything in between.
Below you'll find the list of my favourite folk blogs currently active. In this article, I'll talk about both blogs dedicated exclusively to folk music and music websites with an extensive folk section that deserves attention.
The list is in no particular order, and I honestly don't have a favourite one among the blogs mentioned below. Therefore, you'll have to go over them one by one to find the ones that resonate with you.
Let's dive in!
Here are my top folk music blogs to follow in 2022.
Just a quick note before you start. It's hard to find websites that focus on a single music genre these days, which is why most of the blogs and websites listed below cover a variety of styles, mostly revolving around the indie-folk and rock scenes.
In the same way artists tend to blend and transcend music genres with their songs, music websites today cover different styles and are open to "contaminations" more than ever before.
Some of the websites listed below cover exclusively folk music. Others, on the other hand, publish reviews and interviews of artists working in different genres, but nonetheless have an extensive catalogue of folk music reviews, interviews, and essays.
Here's a great website focused exclusively on folk music. For Folk's Sake is a UK based website that covers music from around the world, with in-depth interviews, albums and live reviews.
The website's tone is friendly and accessible, and the reviewers have a great (and typically British) sense of humour. In their "Session" section, you'll find exclusive live sessions made by independent folk artists for the audience of For Folk's Sake.
With a minimalist design and featuring passionate music writing, For Folk's Sake should definitely be on your list of best websites where to discover hidden folk gems.
Stamp The Wax is not specialised in folk music but has a vast section dedicated to this genre. This is a fantastic website for those who don't want to stick to a single music style and want to broaden their sonic horizons.
Here, you'll find everything to satisfy your creative needs: music reviews, interviews, editorials, and digital events. Plus, their "Lists" section features some fantastic articles about anything music-related you can possibly think of, including "A Brief History of Sierra Leonean Underground Dance".
After almost twenty years since its inception, Folk Alley is still one of the most reliable sources when it comes to folk, roots, and Americana music. Today, Folk Alley is an all-encompassing folk music portal with interviews, reviews, and a 24/7 radio station.
The podcast "Why We Write" features interviews with new and established folk musicians who tell their stories and explain their creative process in detail. Presented by Kim Ruehl, Why We Write invites the finest songwriters to share their knowledge and life experiences with an audience of folk music lovers.
If you have some music coming out that you think may resonate with Folk Alley's audience, you can get in touch with them easily via their Song Request form.
I'm not boasting! Since its inception, Two Story Melody's purpose has been to discover new artists and uncover hidden gems in the indie music world. We focus on promoting and supporting artists across all genres, with a particular focus on shedding light on the creative process of artists.
With in-depth reviews, interviews and essays on music production, Two Story Melody may well become your go-to music blog to discover the latest news on indie music. Ours is a website made by artists and for artists, so whether you're a musician or a folk music lover, on TSM you'll find everything to satisfy your sonic needs.
The South African website Indie Shuffle is an incredible source of inspiration for those looking for the latest indie hits across all genres. The intuitive interface and the possibility to filter specific music genres make it the ideal tool for audiophiles who want to create a unique music selection.
Indie Shuffle focuses on independent music. Honestly, I don't know how they manage to shuffle through all those releases every day, Yet, somehow they do, and we readers can enjoy hours of new music every day.
Another great aspect of Indie Shuffle is that you can create your own profile where you can save your favourite songs and interact with other users. You can easily submit your track by using SubmitHub, but make sure you check the genres they generally cover before uploading your piece.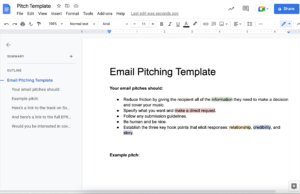 Detailed template for emailing music blogs
Want to pitch your music so people actually respond?
I get about 9 million email submissions a day to Two Story Melody. Here's the template I recommend.
The Ukraine-based website Faeton Music covers much more than just folk music, but the articles dedicated to this genre are predominant. Faeton has a useful "Artists" section that allows you to select a particular artist and find their bio and album reviews on the website.
I think Faeton Music is the perfect music blog for people who love folk but also want to explore other genres. With hundreds of reviews across various music styles, this could be the perfect blog to broaden your music horizons.
Aside from folk, Faeton Music also has an ambient music Youtube channel called Sleep Trip, which is worth checking out. You can easily submit your music via the submission form. They also tell you in real-time the chances of being reviewed (0.6%, at the time of writing).
Starting as an independent radio station back in 2004, today, Folk Radio UK is an unmissable website if you want to explore the folk and roots music scene. Folk Radio also features articles about visual arts, culture and literature, with an artistic approach to journalism that makes the articles engaging and fun to read.
What I like about Folk Radio UK is that here you'll find exclusively high-quality content written by people who are clearly passionate about what they do and want to delve deep into each album they review or artist they interview.
Apart from reviews, interviews, and exclusive tracks, Folk Radio UK has a fantastic "mixes" section, with bi-weekly shows showcasing the best folk music around.
London-based music platform When the Horn Blows is a great website featuring mostly indie and folk music. You'll see right away that the quality of When the Horn Blows is top-notch, with in-depth essays, various interviews and engaging album reviews.
Definitely check out their "Introducing" section, with interviews of independent and relatively unknown artists that just released some great music worth listening to. I was surprised to find many new and unknown artists among the ones interviewed, which proves the passion and dedication of the people involved in When the Horn Blows.
If you want to have your music featured on their website, you can find their contact details on their about page.
A great blog that focuses on the latest releases in the genres of folk, indie, and roots music. Reviews are engaging and spot on. Ear to the Ground's website may not be as impressive and flashy as the ones mentioned above, but their reviews are a joy to read, and they're better than most at finding new talents among the plethora of submissions they receive.
Another thing that differentiates Ear to the Ground is their Book section, where they review books related to the music they cover with the same passion and dedication they put into the album reviews.
Submitting music to Ear to the Ground is straightforward, but do bear in mind they're currently reviewing only 4% of the music they receive.
On Twangville, you'll find great reviews of Americana, alt-country, indie, rock, blues, and folk music. The website's minimalist approach will resonate with audiophiles looking for a reliable source that's focused on just a handful of music genres.
This is a music blog for the purists. If you're not interested in the recent experiments and contaminations of folk music, then here you'll find reviews of beautiful albums that adhere to the timeless structure of this music genre.
I particularly enjoy their "Why It Matters" interviews, with artists telling the stories behind their latest releases or how they started making music. The questions they ask indicate the interviewer's deep knowledge of and passion for the music styles covered.
Come Here Floyd covers everything indie: from indie-pop to electro-indie to indie-Stockhausen-like-electronic-minimalism. OK, perhaps not the last one, but you get the idea. The quantity and quality of music reviewed on Come Here Floyd are impressive, and the website is engaging and easy to navigate.
Come Here Floyd focuses on what it does best, meaning music reviews. Here you can listen to exclusive premieres before anywhere else and reviews of hidden gems you may not find anywhere else.
If you're an artist, you can find all the information you need to get in touch with them on their music submission page. However, bear in mind they're currently reviewing only singles.
Sidney-based music website Post to Wire is dedicated to Americana music in all its forms, and folk is undoubtedly one of the most covered genres in the blog. With albums and live reviews, interviews, and news in the indie music world, Post to Wire is an invaluable source of information if you want to learn more about folk music.
The Sidney Gig Guide page can be immensely helpful for musicians or folk music lovers visiting the city. The podcast series "Post to Wireless" offers a great overview of the best and latest indie music worldwide.
To get in touch with the editors, you can use Facebook, Twitter, or find their contact details on the about page.
Final thoughts on folk music blogs
I hope you'll find on these websites everything you need to start exploring this fascinating music genre. If you think I forgot to mention some excellent folk music blogs, just let me know!
I selected only websites that are currently active. Music blogs come and go very quickly, so it's hard to keep the list updated regularly. However, I hope you'll let me know if there's a new website worth checking out.
If you're a singer-songwriter or folk musician looking for websites to submit your music, this list will undoubtedly satisfy your needs. Most (if not all) of the music blogs above allow submitting new music, meaning you can reach out directly to them and ask to have your music featured on the website.
As you probably noticed, each music blog is a little different, with a unique style and tone, so I'm sure you'll be able to find a few you'll love. Furthermore, all blogs above feature engaging and knowledgeable articles, meaning you'll easily find great content in whichever music blog you decide to explore.
Take care, and stay creative!