Husband and wife duo We Are The Northern Lights will be the first to tell you that what seems so obvious now — crafting love songs written by, for, and to each other while traveling the country performing those love songs together every night — wasn't always. "Sometimes it's hard to see clearly what's right under your nose," says Hadar, fully aware of the irony. "It's almost like I didn't fully exist as an artist until I teamed up with Sheldon. If only we figured this out years ago; imagine where we'd be!"
But now, with the release of their newest single, "Where Your Heart Is," We Are The Northern Lights are fully aware that they are better together, and are ready to prove it to the world with their heartfelt offering. "When we wrote it, we really loved it, and immediately shared it on Facebook Live," Sheldon says. "The more we sing it, the more I realize that it's about taking risks, being open to being vulnerable, and being honest with yourself. It's about reflecting on yourself and making sure you're aligned. It's about learning to get off your ass, make decisions, and get moving."
The couple sat down with Two Story Melody while on their national summer tour to talk vulnerability, falling in love, life on the road together, and how Hadar's background in the Israeli Defense Force helps them write a love song.
---
Connect with We Are The Northern Lights on
Faceook // Instagram // Spotify
---
You both got your start in careers far from music — Hadar, you were training soldiers in the Israeli Defense Force, and Sheldon, you worked in engineering. What initially drew you to music as solo artists? How did your backgrounds in industries outside of music shape you as artists?
H: I grew up in a house filled with music, so it was no surprise that I came out singing and haven't stopped since! Family time for me was sitting around the piano testing who was quicker at finding the chords to a song. In Israel, military service is mandatory, so when I turned 18, I joined the IDF. I learned to take charge, think outside of the box and, of course, my favorite: manage people.
I wouldn't say it helped me become a better musician, but in today's industry, as a DIY musician, you have to be savvy. It's one thing to be an artist, but learning how to make a living from it so you can keep doing it is a whole other story. My army skills definitely helped with that.
S: In high school, I started playing guitar on my grandmother's half-size nylon Fender guitar and my dad's Yairi steel string, and basically not a day has gone by since then that I don't pick up a guitar. I was the song-leader at camp and worked as a roadie for touring Jewish rock musician Rick Recht, but I guess I never believed that I could become a full-time musician.
Math and mechanics always came naturally to me, so in college, when it came time to declare a major, I chose engineering and even worked at a firm for about 9 months. Thankfully, Rick did believe in me, surprised me with an offer to sign me to his label, and the rest is history. I'd say if anything, my engineering background has helped me find ways to realize our artistic vision.
For example, I'm the live sound engineer for us, so understanding the frequency spectrum, signal flow, and acoustics helps me better achieve the sound we're looking for.
What made you realize that you were meant to make and perform music together?
H: I like to think of it kind of like our engagement, which was just a conversation over eggs Florentine at our local diner in NYC. We didn't have a fancy proposal or an official engagement. We just knew we wanted to journey life together, and we wanted to throw a party, so we did. That's kind of how we "decided" to do music together. There was no "aha!" moment where we said, "Yes, this is it for us." Really it just felt like it was meant to be, so we kept doing it.
What is the writing process like? Who or what inspires you, individually and as a partnership?
H: I love writing music, and just like everything else, it's so much better when I get to do it with Sheldon. We oftentimes start by listening to other artists for inspiration, anywhere from Spotify's "Discover Weekly" to Ithaca's WithFM radio to our favorite classic songs. There are times we feel like banging our heads against the wall when we're stuck on one line that just isn't popping, and then there are times were the song is done in half a day and we feel like the best songwriters in the world.
Like everything else, it's a process, and doing it together can sometimes feels like a chore, but most of the time, I'd say it feels like magic!
S: I might hear an inspiring sound or lyric idea, but no song just materializes out of the ether for me. Step one is always to set aside some time to write. Step two is to be as honest as possible. What do I have a need to say? I learned that from Mrs. Singer in high school English…so important.
Beyond that, Hadar and I write everything. I'd say she's most often more heavy handed on the music side and I'm more heavy handed on the lyric side. We want our music to have a high bar in both, so each of us has unlimited vetoes on any idea. It can make things take longer and be more frustrating, but I think it helps keep our quality high. Beyond that, I think a music video of our writing would be hilarious. Lots of sitting upside down, pacing, snacking, tossing a stress ball, and going into other rooms.
You've both said that when you started writing songs for you and about you, a whole album came pouring out of you. Did that feel like some sort of confirmation that you were on the right path? Have you ever doubted the path that you're walking? If so, how have you helped encouraged each other to keep going?
H: Have we ever doubted the path that we're walking? Yup, pretty much every day, but for us, there's no plan B. This is it. It's just in our DNA, so the sky could literally come crashing down tomorrow and we'll be fine as long as there's music that we get to do together!
S: Songwriting used to be very difficult task for me. I was often writing all alone and my songwriting muscle was inexperienced and weak. I was a sophisticated enough listener to know that my compositions and lyrics just didn't match the quality of the songs I most loved. Now, with many, many more songs under my belt, it can still be difficult, but I'm sorta just competing against myself to see if I can come up with the most creative or communicative way to make me or the listener sit up in their seat or really feel what I'm feeling.
H. When we accidentally started writing for us, it really did feel like magic — little effort and amazing results. It was awesome and yes, incredibly affirming! This industry is tough and sometimes talent has very little to do with it, but when I have Sheldon by my side (literally and figuratively), I can play to an empty room and get off stage thinking "Well, that was an excellent rehearsal for when we have a packed house!" instead of "I'm the worst artist ever, my songs stink and nobody likes me."
If we have a bad night we talk it over (usually with a glass of wine…or two!), try to break down the frustrations, and wake up the next day ready for the next challenge. That's the beauty of being a duo, you get to share the worst and the best, and that just makes them both so much better.
S: Doubt is always a part of the equation. Is this good enough? Am I good enough? You get into the compare and despair every once in a while. I think it's important and helpful to name it. We have some good friends who have been at the top of the mountain in "the music biz," so to speak, and in those moments of doubt I've always tried to remember that they have all kinds of doubts and insecurities, even during their successful streaks.
And of course, having a fully invested partner who's also your best friend means we can help balance each other out when things get low and when we get tired of the less creative activities, or help push each other further artistically.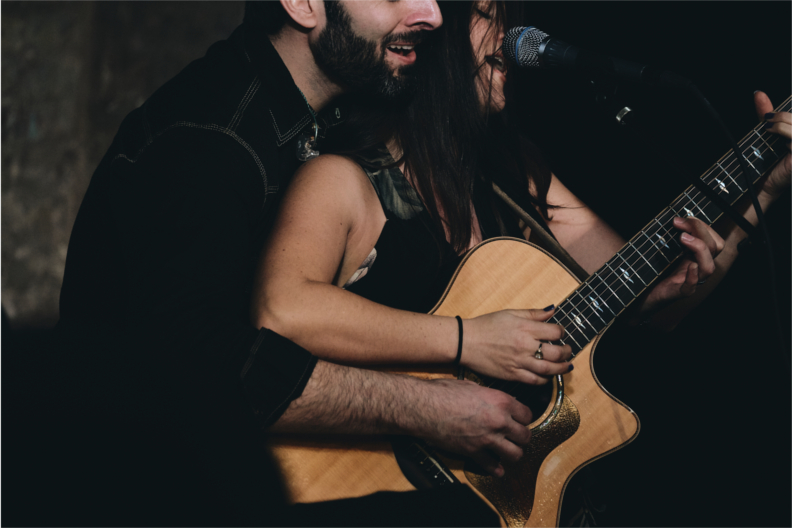 How have you grown as artists since We Are The Northern Lights' conception? How have you maintained your individual voices and influences while creating something that's a part of both of you?
S: Off the bat, I think we're better musicians and better writers. The flip side of just trying to write art that excites you is that it forces you to up your game as a writer, instrumentalist, and performer, because trying to kickstart an original band when there's so much access to so much great music means you have to be undeniably awesome to get people to pay attention.
On top of that, sonically speaking, I think this new EP still reflects our diverse musical tastes, but at the same time, it's a better reflection of "our sound." I really feel like we managed to more successfully apply our band ethos into this compilation of songs, which is to say, rather than try to aim at a sound we think people will be drawn to, we just look inward and discover our most authentic, natural, inner musical voices.
I wish that didn't sound so hilariously pretentious. But if you listen to the music, I think you can hear that Hadar grew up on a lot of Motown and I grew up on the edge of the South listening to a lot of folk music.
The other cool thing about this new music is that in searching for our authentic inner voice, we also ended up leaning into my voice at times in the composition and recording. For the longest time I was trying to sing rock and straight pop music, but people always tell me that my voice sounds like James Taylor…and it does!
It just took forever for me to look literally under my nose at my own voice and stop trying to be something or sound like someone. So we followed my voice and honestly I'm just loving finding all the nuance in the softer sounds that my voice can make.
In "Where Your Heart Is," you sing about being vulnerable and opening up. Do you ever find it difficult to bring that vulnerability to the stage or the studio day after day?
H: I've never really looked at it like that because I feel like where we are in the music is where we are in our lives. It's kind of like saying, "Is it hard to breath every day?" and the answer is no, because you do it without thinking. It's just a part of who we are. If anything, I'd say it's kind of therapeutic. Think about it: we get to pour our hearts out day after day to people who are listening, and not only do we not have to pay for it, they pay us! It's a win-win situation all around.
S: Ha! My wife, everyone! If anything, I'd say it gets easier for us. This project is all about an inward journey of discovery. I think before this project I was afraid to really let people in for fear of what they might think about what they found. Nowadays, it's a bit of the opposite. I feel like if our music doesn't resonate with you, it just doesn't resonate with you, but I'm gonna keep trying to dig deeper because I think there's real gold down there.
You wrote a song called "I'm Still Here" while retreating in a cabin in the woods near Ithaca, NY. So many bands and artists have staged similar escapes — The Band during the recording of Music from Big Pink, Bon Iver as he wrote and recorded For Emma, Forever Ago, Joni Mitchell while she was creating Blue — for their art. How did it allow you to open up and create without fear of judgment? How were you able to take that feeling with you after you left?
On the other hand, how has living in a city like New York influenced your writing?
S: First of all, thanks for putting us in the same sentence as those freaking incredible artists. There's definitely something about stories like those that appeals to the romantic side in me and I was excited to see what an experience like that might do for us in terms of coloring our sound or subject matter. It definitely helps clear out all the clutter in your brain to spend a month sipping coffee in the woods or by the lake and then just start writing.
H: I guess like everything else, especially in the music industry, you have to learn how to recharge from within, tune out the negativity around, and just do what feels right, so we did. It's not always easy taking that feeling with you once you leave "the writing retreat," but we do the best we can. Sometimes it works and sometimes it doesn't, but that just means it's time for another retreat and that's always awesome!
As for being an artist in New York, there are pros and cons, although if you ask me there are many more pros than cons. A lot of the music industry has left for LA and Nashville, and the everyday hustle of life in New York sometimes gets tiring, but the city also has the greatest energy in the world, which I find super helpful when writing. People-watching alone could be the subject of an entire album!
"Where Your Heart Is" speaks fearlessly about your relationship and the connection you have as artists and as a couple. What inspired you to write this song? How did you know that it was the one to lead off your upcoming EP?
H: Okay, the beginning of this story is a little odd but it gets better, I promise! We have lots of single friends in NYC who do online dating. They have some amazing stories and some terrifying ones. So one day, Sheldon and I were talking about what it would like be if we ever had to start dating in NYC, and concluded that we would fail miserably.
We know from friends that you have to play the game in order to be "successful" at it, but wouldn't it be so much easier if you could just ask the other person what you're feeling? That's how we came up with the idea of "Tell me where your heart is." Tell me what you want!
Of course it took a much deeper turn once we started writing, and became about us as well.
We Are The Northern Lights debuted as a band in Anchorage, Alaska, at one of Sheldon's gigs. Why do you think fans have connected so strongly to the music you make as a duo? Did the initial response surprise you in any way?
S: I mean, you gotta be pretty enamored with someone to be able to spend weeks in a van and on stage just feet from them. When we first started performing our song "Gold" it was neat to see couples reach out and hold hands, and it's not uncommon to hear some gasps or see tears on that one, but in general, yeah, I'd say we were pretty surprised that the performance as a whole was giving people this feeling.
In hindsight, it shouldn't have been surprising since we basically write and perform a bunch of love songs to one another. So for anyone keeping count, two singer-songwriters living together didn't realize they could do music together, didn't realize their set of love songs to one another was making people feel the love, and the male didn't realize he should sing songs best suited for his voice. What's wrong with us?!
H: When we started this project we knew it was going to be fun, because we got to do it together and we were really proud of the music we created, but what we didn't realize was how much people would feel connected to us. The one comment we've been hearing from audiences across the country after every single show is how much love they felt during the concert. It's funny, but we had no idea anyone else could feel it but us.
You've toured extensively, both as solo artist and as a duo. How have you managed to balance touring with songwriting, all the while maintaining your connection as a couple on the road?
S: You know, in addition to the touring, we've also gone on a lot of long trips together to far off places like Asia, South America, Africa, Europe, so it's safe to say we travel well together. And the hardest part of my solo career was always being away from Hadar for long stretches, like 8 weeks each summer. So this project actually helps us maintain our connection.
H: Touring and songwriting are two separate things and they have to happen at different times, at least for us. Driving in a van for weeks at a time, eating "road" food, and sleeping in a different bed every night can get a bit tiring. Not to mention it doesn't leave much room for inspiration!
You've got a series of singles set to be released in 2018. What can you tell us about your new music?
H: We're still figuring out the little knicks and knacks about when to release what, but I can certainly say that we are beyond psyched about it! For me our music has been "from the heart" from day one, but over the past year as we've been writing and digging deeper and deeper, I think the honesty and self-reflection in the new music has taken an even more heartfelt approach. I'm really excited to see how it resonates with people.
S: There isn't a single song in the collection that I don't really love. I'm proud of our previous releases, but I think the new tunes reflect serious growth as songwriters and artists. They're just really honest and vulnerable and sonically rich in composition, thanks to our co-producers Matt Cusson and Jack DeBoe.
I don't want to give too too much away, but we did record one sort of banger called "Hope Will Rise" as a response to the political climate in this country. We did a studio version of "Gold" that we love. And we've given sneak peaks of two other songs to some close friends and family that seem to be the runaway favorites: "Come Close" and "Wanna Be In It." Our live version of "Come Close" has a pretty neat surprise in it, but you have to either watch one of our Facebook Live concerts or come to a show to see it.
If you could ensure fans take away one thing from your music, what would it be?
H: When we write we dig as deep and as far as we possibly can, to the point where it can literally hurt. Most of the time what we find there is some form of love. Sometimes it's love that is hiding and sometimes it's love that is hurting, but in the end it's always love. I feel like the past few years have been shaded with a good amount of darkness, and sometimes it feels like we as humans aren't such great creatures, but I do believe that deep inside, we're made of goodness and of love.
That's what we're about and that's what our music is about, so if our fans take anything from our music, I hope it's exactly that.
What's next for We Are The Northern Lights?
S: Right now our focus will be on releasing the music and trying to share it with as many people as we can. We're working on a winter house concert tour, reaching out to hosts who've expressed interest, but we're also thinking about trying our first European tour.
As songwriters, we never stop writing but we've also been talking about switching up our annual writing retreat and going somewhere other than SoCal for a change.
H: More more and more of what we're already doing! People ask me if I ever get tired of writing and performing and the honest truth is, no! I really truly don't! I love every single minute of it.
All I can ask for is to keep doing this until I literally can't stand anymore and hopefully even then people will want to listen to me sing lying down.
---
---
Our friends at Omari are really good at helping artists get heard and listed in cool indie blogs and playlists. They've worked with big acts (Judah & the Lion) and bedroom artists alike (which is feasible cuz service starts at $77). Anyway, take a look. Disclaimers: it's an affiliate link, and yeah, they're good.
If you're tired of pitching your music yourself, if you finally want to find your audience, or if you just like us, click here to learn more.
---