To Americans, the stereotypical view of Australia is rife with the sort of imagery you might find in an Outback Steakhouse commercial: kangaroos, Vegemite, friendly men with big hats and Crocodile Dundee accents. But Australia is a country with a rich culture of its own, and that culture often has shades of the Gothic and the macabre. After all, Australia started life as a penal colony, and became the country it is today through the oppression and murder of its indigenous population. It's no surprise that it can get a bit dark.
Yasmin de Laine, the Australian singer-songwriter behind the haunting "Hope Forest", taps into that tradition by telling what she describes as a true story of violence and the supernatural. "My mum's moved us into a house where the tableware's alive," she begins, and as the song stalks to its harrowing conclusion she builds from that striking opening line. While the rhyming scheme can feel a bit forced at times, the lyrics are rich with grotesque imagery: "click click bugs and drip drip sounds", "rats in the walls", "that son of a bitch reached in to feed and tore away my hand".
There are all sorts of horror movies supposedly "based on a true story", but this song is the genuine article (at least in part). And even if it was all made up, even if there never was a mass murder in Hope Forest or a haunted house, this song would lose none of its riveting power.
So, for a bit of background for readers who may not know about the incident that inspired this song: what happened, and why did it inspire you to write "Hope Forest"?
In the 1970s, a man murdered 10 members of his family at a Father's Day gathering at a farmhouse in Hope Forest, South Australia. He received just eight years in prison for his crimes, then changed his name and relocated to Queensland. The finer details of the story are extremely dark. It's one of the most brutal mass killings in recent Australian history.
Shortly after the incident occurred, my mother and her small family moved into the same house, unaware of what had occurred. There was a lot of weird stuff that went down on the property. Cutlery would turn up bent, things went flying across the room, plagues of insects traveled down the chimney and swarmed the house, enormous dead rats showed up on the doorstep. It got to the point where the house was unlivable, and they left. They looked into the history of the house after leaving and found out what happened.
Whether or not you believe in the supernatural, this was obviously extremely distressing to my mother, who was just a child at the time. She told me about her experience a lot when I was growing up, and it stuck with me. I asked her permission before writing the story as it was a very dark time in my mum's childhood, which wasn't all that pleasant regardless. She wanted her story told.
How did you pace the song as well as you did?
First of all – thank you! Although it was important that I conveyed the tone of the story musically, the lyrical structure was the most important part of my approach. I wanted to portray it in a way that offered no romanticism – the event and its legacy is horrifying for everyone involved.
The song is told from my mum's perspective, from her experiencing the eeriness of her home, to finding out about the killings, to leaving the house. The ending leaves you to contemplate the intentions of your own loved ones – how do we know if those around us are capable of a similar evil?
This is a starker, more Gothic take on your country's recent history. Would you mind explaining to us Americans what it is about Australia's recent history that lends itself well to that approach?
I really love this question and it's something I think about a lot. Parts of Australian history are incredibly dark, and many would rather ignore it. We're not taught about it in school, no one wants to talk about it. In the past, I've been hugely inspired by Southern Gothic Americana and the embodiment of deeply-rooted trauma as something strange, grotesque and macabre. There are many similarities between Southern Gothic and Australian Gothic, but the latter seems to be much less recognized.
South Australia has been (reluctantly) tagged as the 'serial killer capital of the world' for many years. Even if this isn't exactly true, there's been some really horrific and strange instances of violence, particularly in the 70s and 80s. Speaking to my parents about it is fascinating – my dad says the news of extreme violence during these times was just relentless.
Adelaide has a reputation for being a bit of a 'small country town' as opposed to a bustling city, and there's a consensus that 'everyone knows everyone'. Because of this, so many people's lives have been touched by these stories. It's easy to see why people don't talk about them more. It's a deeply embedded, shared trauma for many people.
All this being said, South Australia is an incredibly safe and lovely place to live. I'm just drawn to the darker side of its history and finding out more about the unspoken.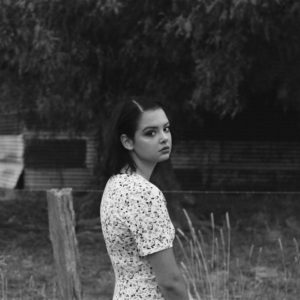 What are some of your strongest artistic influences?
My biggest influence for this project in particular has to be Nick Cave and the Bad Seeds. He's about as close to an Australian Gothic artist as you can get. I'm also strongly influenced by old-time Appalachian folk, blues and murder ballads. I think there's a bit of a misconception about country music for a lot of people – the old stuff is dark as hell.
Lyrically and from an aesthetic perspective, I get a lot of influence from Lingua Ignota. Her portrayal of biblical retribution is really powerful. Other artists I gain a lot of inspiration from include Gillian Welch, Hank Williams, Adia Victoria, Conor Oberst, Dock Boggs, Emma Ruth Rundle, Mount Eerie and Johnny Cash.
How has the current pandemic affected your plans going forward?
From a selfish perspective, it came at a super inconvenient time. I recorded three singles in January and planned to put a lot of work into launching this project and playing a bunch of shows across Melbourne and Adelaide to build a bit of traction, but lockdowns across the country began literally days before my first show. It was a huge blow and I really miss playing music live, but I'm lucky in that I've never depended on music for financial support, unlike other musicians.
Australia is doing fairly well in comparison to other countries at the moment so I can't complain too much; it's one of the benefits of being on an island off in the middle of nowhere. That being said, the uncertainty is daunting and I'm really aching without live music in my life.
What are your hopes for the future?
I mean, number one is that we get this pandemic thing under control so we can gather together and play live music again. As soon as it's allowed, I want to smash out as many shows as I possibly can and connect with other like-minded musicians. I'm constantly writing music too, some stuff better than others, so I'm also looking forward to releasing some new content. Goals are for an EP – not really in the financial position to be recording an album right now! Regardless, I just want to keep writing music and playing it as much as I can. I have a kind of fixation on productivity and I go crazy without it.
---
---