Tired of the songs you're writing? We've all been there – writing the same melody over and over, stuck in the same lyrical patterns. It's rough. But the good news is that you can break out of it. You can learn to be a better songwriter from expert teachers. Welcome to the world of songwriting courses.
The internet world offers some fantastic songwriting courses to help you perfect your lyrics, refine your melody, and dive into music theory.
Here's the top 11 best online songwriting courses of 2022:
(Quick note – some of these links are affiliate links.)
I'll walk through each course and detail what's included. Sound good? All right, good.
Here's to becoming a better songwriter!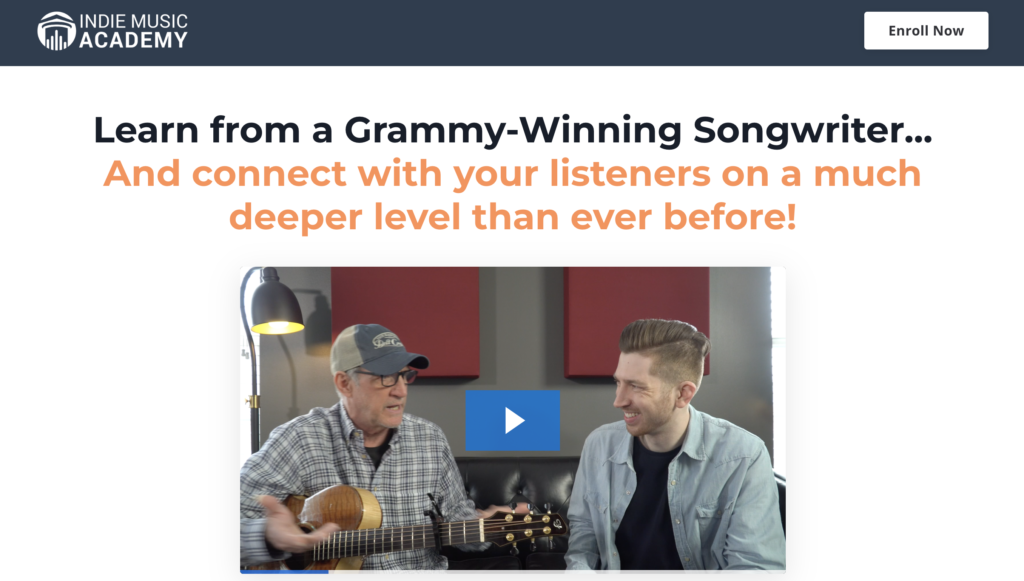 Steve Leslie is a Grammy-award-winning songwriter, a former Professor of Songwriting at Belmont University in Nashville, and has had a 25-year songwriting career with cuts by Kenny Rogers, Mark Chesnutt, George Strait, Darryl Worley, Rhonda Vincent, Neal McCoy, Ricky Skaggs, Darius Rucker, and more.
Long-story-short, it's safe to say he knows a thing or five hundred about writing good songs.
In The Fine Art of Songwriting, he shares a huge (and hugely helpful) swath of his knowledge across 33 "daily video lessons" on topics ranging from "How to write a chorus that knocks it out of the park" to "How do I know if I need a bridge?" to "The craft of melody writing".
Basically, when you take Steve's course, you'll get to walk through every element of the songwriting process with guidance from a proven master. That's pretty intense / pretty awesome. My take: This isn't necessarily the course to take if you've never written a song before – but if you're in a bit of a songwriting rut or you want to step up your game and finally write songs you're proud of, this is probably the course to take.
You can sign up for The Fine Art of Songwriting here.

A lot of universities offer some great courses, but they're pretty pricey. This course is through Udemy, an online teaching service aimed at adults and students which has thousands of courses spanning all kinds of different topics. Plus, it's very affordable.
This particular course is one of Udemy's best sellers and almost 6,000 people have taken it. It's normally priced at $49.99, but as a new member, you can get the course for only $12.99. It's by Tom Worth, the guy behind Pro Songwriting Coach; he's had 55 cuts for a bunch of artists, so he's walked the walk.
The course is made for beginner songwriters as well as intermediate songwriters. The course is designed for someone who wants to try to make a career out of their writing. It also focuses on commercial songwriting, specifically how to write a song that would play on radio. There's a vast range of genres throughout the course as well.
It consists of 6 videos, 4 articles, 21 downloadable resources, full lifetime access, and a certificate upon completion. After reading some reviews, people shared that this course is fairly basic, so you'd definitely want to check this out if you're just starting out. Another user also shared that the lessons on phrasing and melodic repetition were the "golden nuggets" of the course.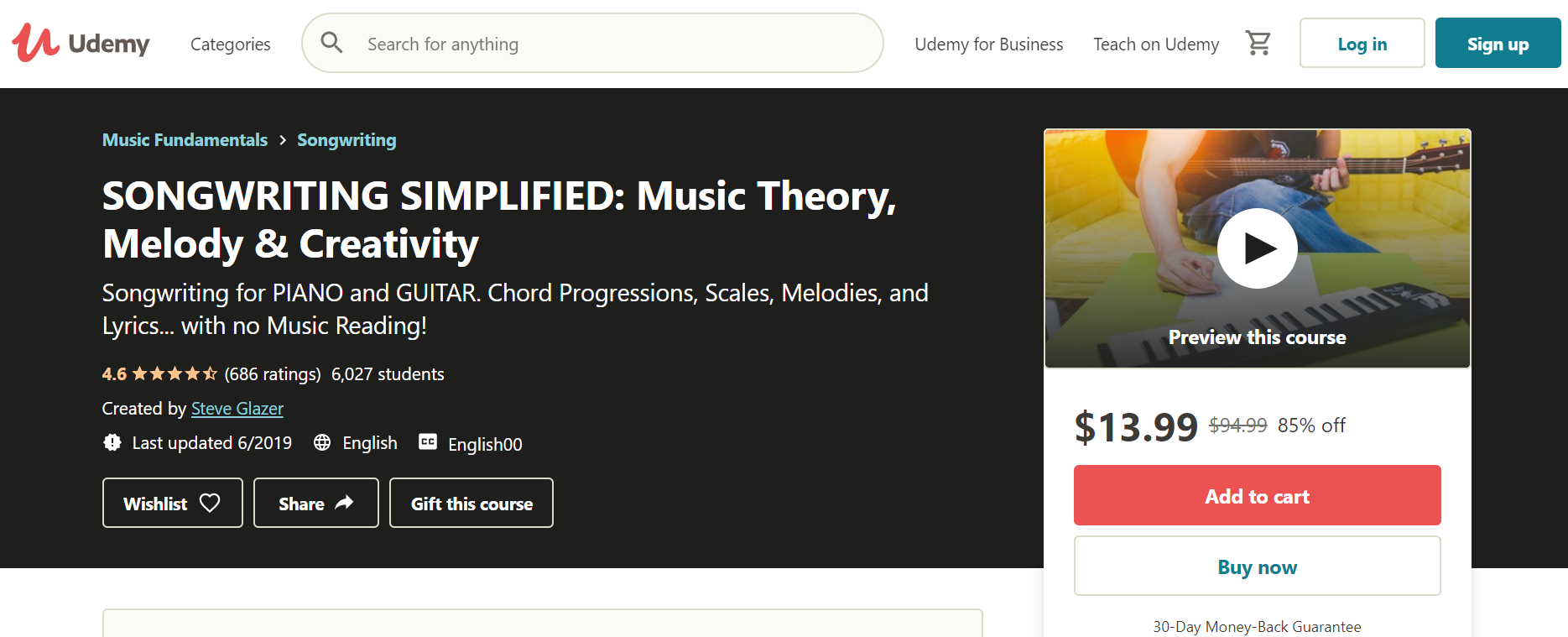 This specific course is awesome if you're brand new at the whole songwriting thing. You don't have to have any music theory experience or know how to read music to take this course. The only requirement is that you know either basic piano or basic guitar.
Songwriting Simplified is a more expensive course and it's regularly $94.99, but you can take it for just $13.99 as a new user. Throughout this course, you will learn step-by-step how to write a song and by the end, you'll have written a full song. It's taught by Steve Glazer, another pro music coach.
It includes 4.5 hours of video, 1 article, 38 downloadable resources, full lifetime access, and a certificate upon completion. A reviewer described this course as "invaluable, engaging, and insightful."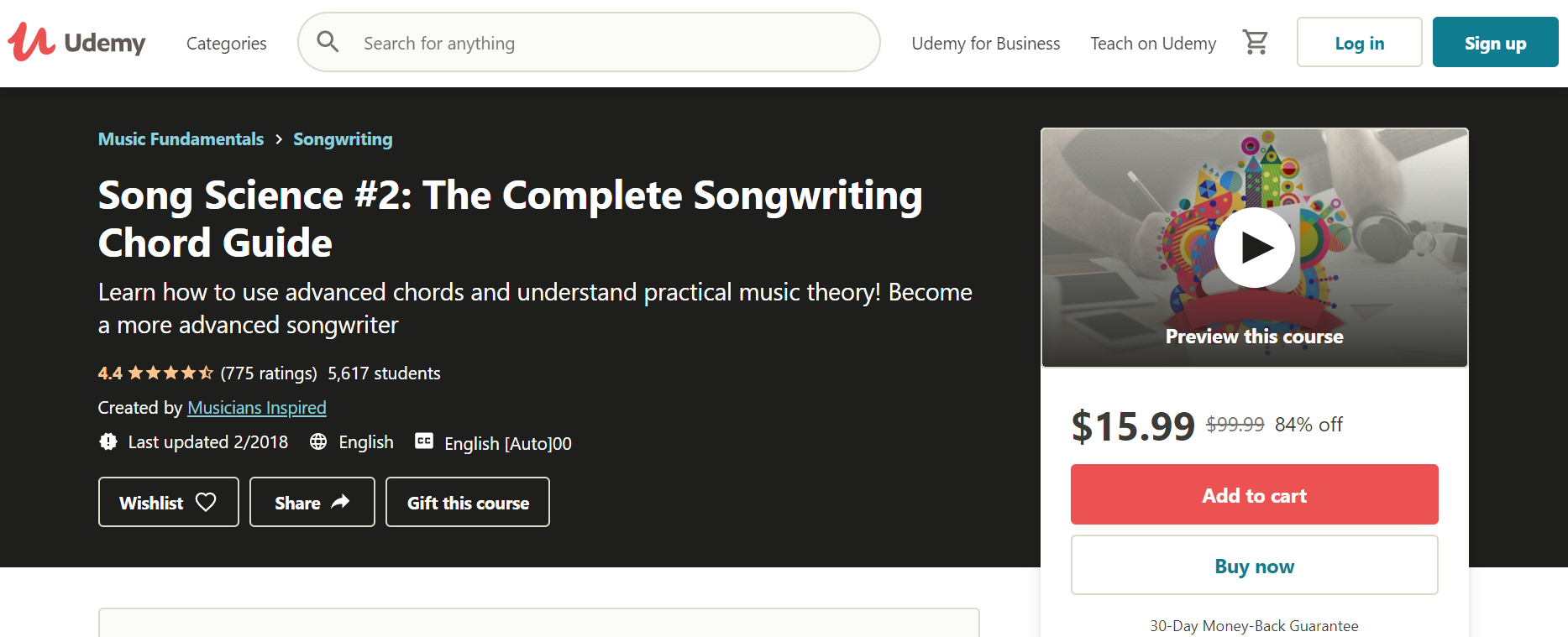 Udemy overall has the most affordable courses, so if you're looking on a budget, these are the way to go. This course has a bit of a different focus though. While it's still a songwriting course, it focuses on the instrumental part, analyzing chords and how to use them in a song. It's created by the folks at Musicians Inspired (who have a bunch of other great courses, too).
This course has the same price sale as the course above, so you can get this one for $12.99 as well. In the course description, it explains that it takes you through tons of chords showing you how to structure them and how to fit them into your song. You will also be breaking down songs and analyzing how the songwriters used advanced chord concepts.
Song Science #2 has 2.5 hours of video, 1 article, 1 downloadable resource, and full lifetime access. This course is pretty short, so if you're looking for something quick but still packed with great information, this is a great course. A reviewer of this course said that if you have an everyday familiarity with scales and chords, this course will help you "move your songwriting forward."
This specific course through Coursera is awesome, because since it's a specialization, there are multiple courses built into one. It's offered and taught by a professor from Berklee College of Music, Thaddeus Hogarth, so you know it's legit.
The specialization consists of four different courses you will take: Guitar for Beginners, Singing Popular Music, Songwriting: Writing the Lyrics (which I will talk about later), and Introduction to Ableton Live. While all four courses aren't specifically centered around songwriting, all of them will help you on the path of the songwriting in some way.
Here's the four main topics you'll gain from this course:
T​he basics of playing the guitar, including chords, scales, strumming and picking patterns.
B​asic songwriting tools and techniques to augment your songwriting.
H​ow to sing in your preferred genre and style healthfully, using proper breathing and vocal techniques.
H​ow to record, edit, and mix music productions that include MIDI and audio to create professional sounding recordings of your music.
The courses are all beginner level, and because there's four to complete, it will take about 5 months to finish all of them. This all-in-one specialization is a fantastic way to sink your feet in lots of different areas so that you can songwrite and even do the rest yourself.
Also found through Coursera, this course is offered and taught by a professor from Michigan State University, Bruce Taggert. While it's specifically centered around music theory, it gives you an awesome knowledge base to write great songs.
In this course, it takes you the basics of music theory including pitch, rhythm, meter, notation, scales, keys, key signatures, meter signatures, triads, seventh chords, and basic harmony. By knowing how music is notated and created, it will definitely help you when you songwrite. At the end of the course, you should know all major and minor keys, how to read and write in treble and bass clef using standard meters and rhythmic values, and how to notate and harmonize a simple melody.
Getting Started with Music Theory is a beginner level course and will take about 12 hours to complete.
This next course is offered through an online teaching service called Coursera, but the course itself is offered by Berklee School of Music through the legendary Pat Pattison (or, as I may or may not affectionately refer to him, my guy Pat Pat) who we've written about before. Obviously that means it's legit.
The pricing is so nice, because if you want, you can take this course for free. You get access to the lessons and you can do it all yourself for free. The part that you pay for is the certificate and the quizzes and assignments that go with the course. If you want to dive deeper, do some homework, and get feedback on your skills, I would suggest paying for it.
Songwriting: Writing the Lyrics gives you four main ideas about songwriting:
Define and identify the point of view, form, and the "who, what, where, when, and how" in a song
Utilize the various rhyming techniques to evoke specific emotions in a song and define the difference between
Assonance and Consonance rhyme
Identify whether a lyric is stable or unstable through the use of line lengths, number of lines, stressed and unstressed syllables, and melody
Use phrasing to clarify your ideas
Those are some awesome things to learn in the songwriting realm. This course is beginner level and takes approximately 26 hours to complete. Another cool thing about this course is that it can be added to a specific specification that you are looking to complete. Putting multiple courses together can help you complete The Singer Songwriter Specialization or the DIY Musician Specialization.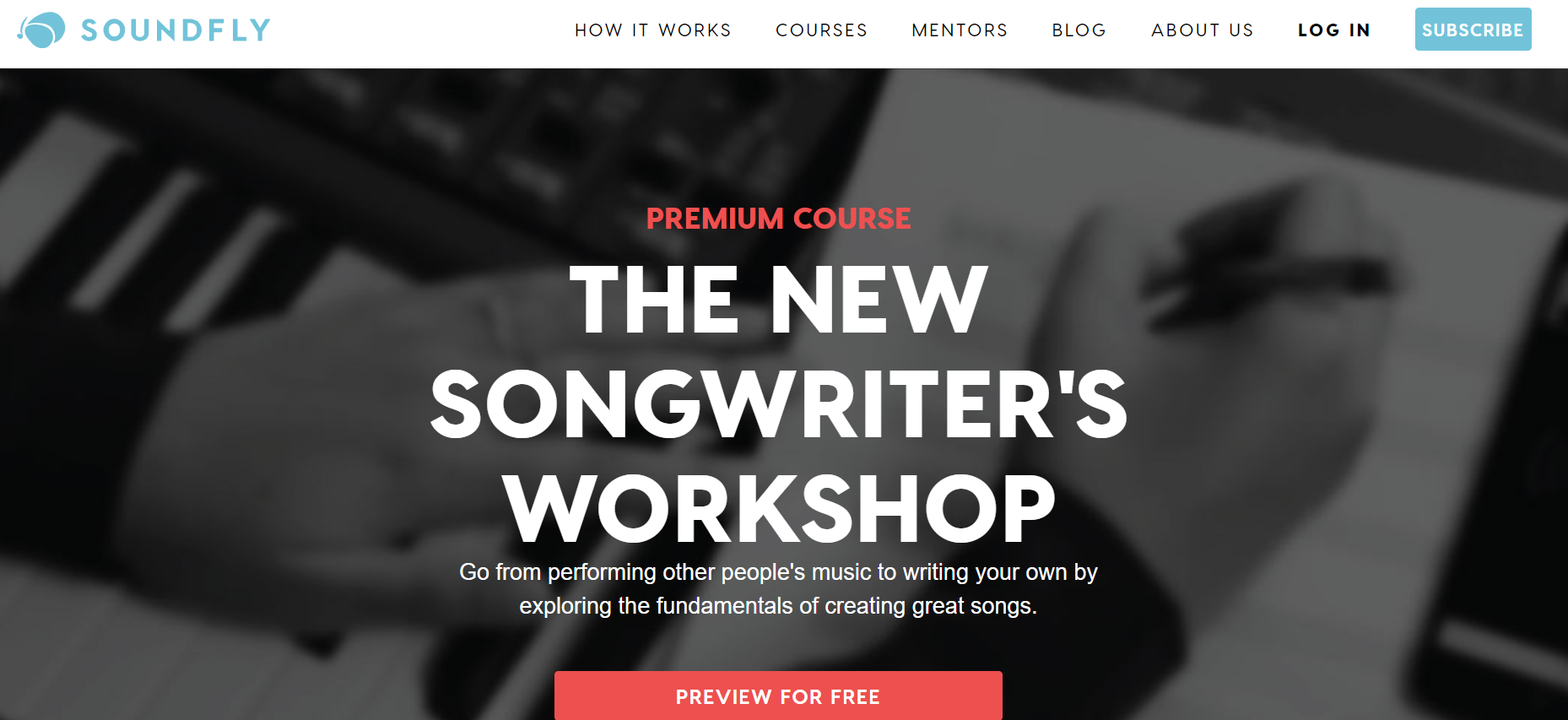 Through Soundfly.com, this course is offered under a monthly membership of $39, which isn't bad at all. The workshop is focused on songwriters who are just starting out and what to take it to the next level. The songwriter professional teaching the course lays out melody, harmony, and lyric strategies. It's a great place to start, and it's taught by Oli Rockberger, who among an impressive list of accomplishments notes that he's played keys for John Mayer.
If you take this course and decide you love it and want to continue with some more Soundfly courses, there's an opportunity to buy a membership that comes with some awesome benefits. For $499, you get a personal Soundly mentor that will work with you and mentor you on every course you take. Plus, you get unlimited access forever to every single other course. It sounds like a lot of money, but when it's unlimited and you get personal help, it may just be worth it.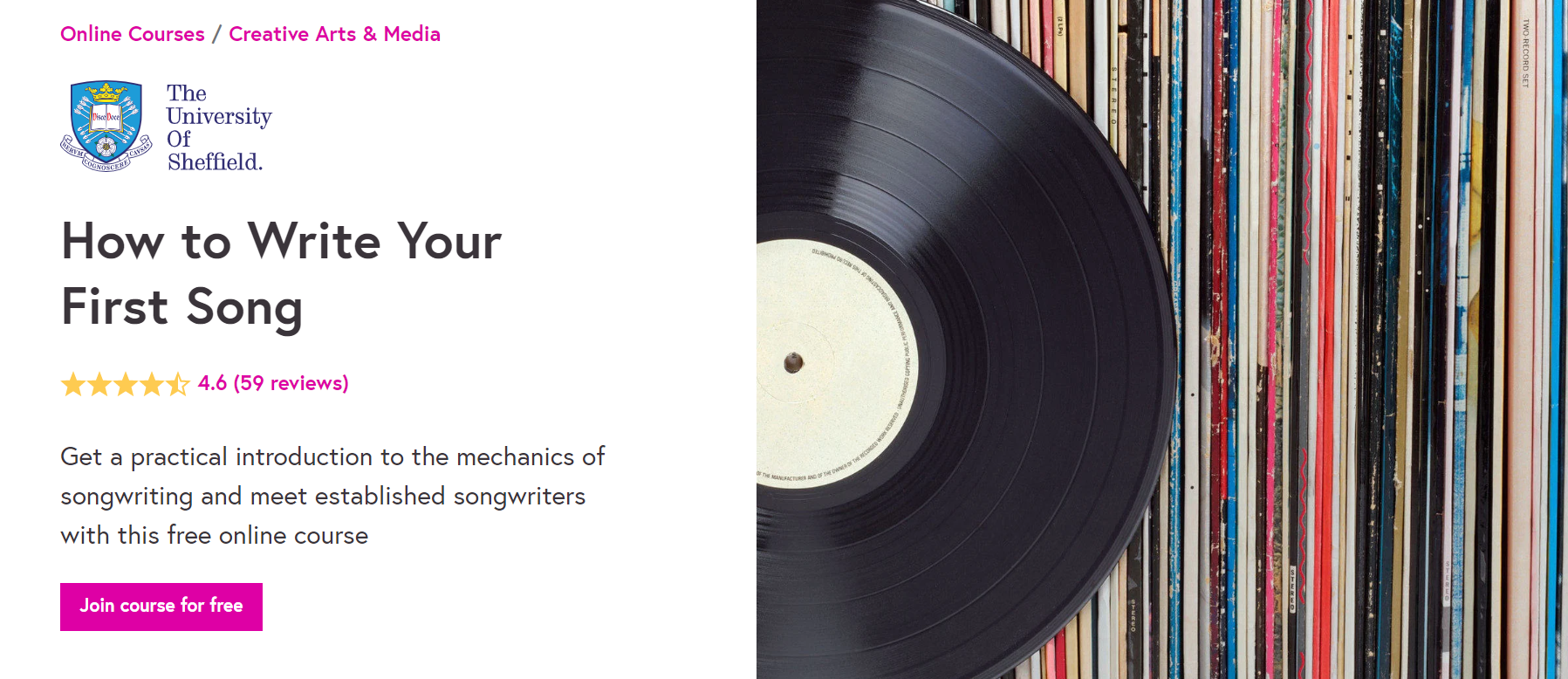 Offered on the website Futurelearn.com by the good old University of Sheffield, How to Write your First Song is a super affordable and great place to start. It's free for 8 weeks, and you can purchase extra time and a few more benefits for $69. The topics covered in this course are:
Setting words to music
Time and pitch
Working with melody
Chords and chord progressions
Song forms
Arranging your song
Plus, by the end of the course you'll be able to set words to rhythm using the concepts of metre and scansion, describe the different chord types and progressions used in popular songs, explore how songs can develop when different lines and instruments are added to the accompaniment, Identify the ingredients of an effective melody, explain the most commonly used song forms and structures, and combine these fundamental musical elements to come up with a song of your own.

Found on Skill Share and taught by a film composer, this is a quick 30-minute course that consists of 8 videos that dive into chord progressions, melodies, and lyrics, taught by composer Lauren Buchter. It's a great one if you're wanting a short, productive lesson.
Through Skill Share, you can get your first month free and with premium, it costs $15 dollars a month or $99 paid upfront for the year. It's a beginner level course, but some prior knowledge of music and the ability to record is helpful for the final project.

This last course is through Udemy, which I mentioned a few times earlier in the list. It's aimed for beginners through more experienced songwriters, so you don't have to be coming in with any prior knowledge. It's offered by UK group Academy of Music and Sound, and it's a four week free course that specifically dives into how to get your brain flowing to write lyrics. The four weeks are split up by these topics:
Week 1 – 'Show, Don't Tell' – Journalling & Sensory Writing
Week 2 – 'Collecting Inspiration' – Art as Theft & Mining
Week 3 – 'Storytelling' – Narrative & Metaphor Creatio
Week 4 – 'Keeping it Real' – Prosody & Finishing a Song
This seems like it would be an awesome course for someone who was experiencing writer's block or a songwriter who didn't know where to start. Each week helps you become a better writer, gain inspiration, and tell a story through your lyrics.
All of these courses have special aspects to them that will help you in a new and different way. With so many options, you can pick which one caters to your personality and artistry, which is super helpful.
Now all you need to do is sign up for one, and you're on the way to writing your first hit song.