TL;DR: Here are our top 10 music distributors for indie artists in 2022:
Read on for a more detailed analysis.
Record labels were once your ticket into the music industry. Everyone wanted that record deal, and then they knew that if they got it, they were on their way. Now, things are different.
It's 2023, and it's easier than ever to get your music out there.
That's basically what music distribution is.
Want to have your music showing up on Spotify, Apple Music, Amazon Music, et all? These days, distributors do the vast majority of the legal and technical work for you; you just have to get your song ready to release. Thousands of songs have been released through music distributors by independent artists just like you. And there are now more music distributors than ever for indie artists like you to choose from.
So, how do you choose which one you want to partner with? Which one will help you stand out in the crowd and be the perfect fit for you?
Here are the top nine music distributors – and what they can each do for you as an artist.
(Also, note for legal purposes: Some of the links below are affiliate links 🙂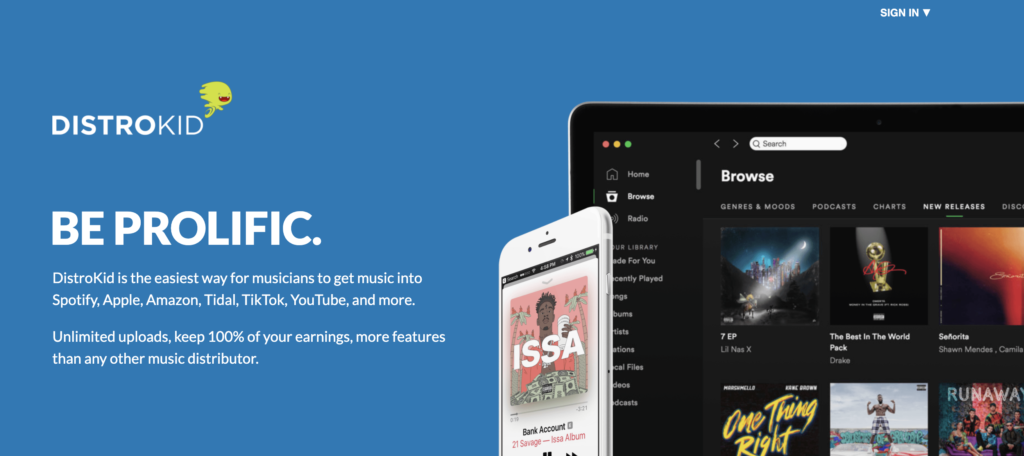 Pricing: 19.99 / year for unlimited releases
Distrokid is, in my eyes, the most affordable and accommodating music distribution platform for indie artists. They offer some tools and benefits that put them way ahead of some other distributors – and, I'll be honest, I just like them. They're the distributor that I use, personally.
Editor's note: If you're interested in the details, we wrote a full review on DistroKid.
Distrokid was one of the first distributors to upload your song to Tik Tok, which is cool (although a bunch of other distributors do this now, too). Still, with the rate of popularity that Tik Tok has reached, having your song as a Tik Tok sound is a big deal.
Distrokid's coolest features
Music Gateway shared two other benefits of Distrokid that really stand out among the others. One of them is easy access to mechanical licenses if you want to release a cover song. It can be hard for artists starting out who may not be strong in songwriting yet to get the rights to release a cover song, but Distrokid makes it easy. Another awesome tool is the ability to split revenue between unlimited collaborators. That way you can make sure your producer or other writers get credit. This is a huge bonus if you're releasing music with a team.
Other cool features include:
10x-20x faster time-to-platform speeds than other distributors. To be transparent, it's hard to know if this claim is true, but I will tell you releases appear in your Spotify for Artists profile pretty wicked fast.
Instant Spotify verified checkmark. Legit.
Easy Spotify pre-save setup.
And a bunch more.
With an unlimited subscription plan that's only $19.99 per year, the pricing puts them way ahead – you can literally release an infinite amount of music for that price, which is awesome. Many of the other distributors make you pay per single or album, and it even costs more than the monthly fee with Distrokid. Based on the price, tools, and benefits, they're our top choice in 2022.
Use our affiliate link to get 7% off your signup (so, like a dollar… but still) by clicking here.

Pricing: 14.99 year for unlimited releases
TuneCore recently reached out to me with a huge update: They've changed their pricing model… and the new version is awesome.
They were one of the OGs in music distribution (alongside CD Baby), and their older model reflected older thinking – they used to charge 19 per year per song. Obviously, that added up fast.
Now, though, they've gone to an ultra-affordable model that's ideal for indie artists. For 14.99, you get pretty much everything you need to release as much music as you want, and they even avoid nickel-and-diming you for things you'll probably want, like YouTube monetization. You can read a press release breaking down the pricing update here.
TuneCore's coolest features
Pricing model aside, one of the notable features TuneCore offers is their publishing administration, available for a one-time fee of $75 (as Pro Musician Hub notes, TuneCore is one of only a few distributors that offer this). The publishing administration allows artists to receive 100% of the revenue from downloads of their songs. Through that, you can collect full royalties on all of your music plays. Most distributors take something out of your revenue, so this is a huge benefit.
Another feature is TuneCore's sync and master licensing (also available for that additional fee). With these licenses, you can get your music on video games, TV commercials, and movies. Plus, they make sure you get paid for it. It's hard to achieve on your own, so this offer makes the process really smooth.
Last but not least, they also offer TuneCore Social. When you register with TuneCore, you can immediately download the app that helps you post alerts about new music and see detailed analytics of who's seeing your posts. Some other distributors offer social media tools, but this one is definitely the best.
Other cool features:
Unlimited (and free) releases to social platforms
Cover art customizer (for use during the upload process)
Access to comprehensive sales data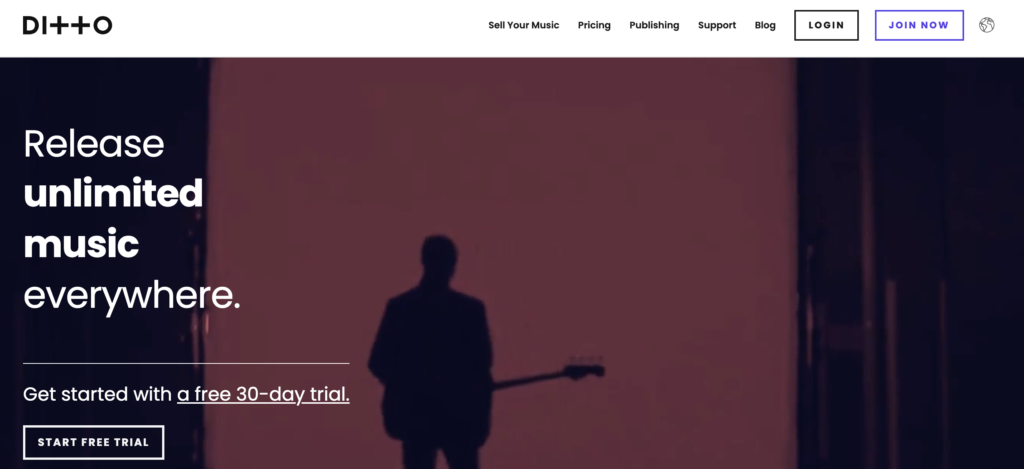 Pricing: 19.99 / year for unlimited releases
Ditto Music, like Distrokid, offers an unlimited plan at the lowest tier for $19.99 a year. It's definitely another more affordable route you can take (which we highlight in our dedicated Ditto review).
A specific feature of Ditto Music is the reason that it stands out from the others: RLIAB, which is an acronym they've made up that's short for Record Label in a Box.
Ditto Music's coolest features
Record Label in a Box is a feature specifically for a record label owner, but it offers some really awesome stuff. You can choose from a professional, premium or enterprise tier, and they all offer different tools. The boxes come with pre-made contracts, an online management service to keep track of your money, and licenses. Basically, everything you need to start a label and manage yourself as an artist or other artists.
Other cool features:
Ditto Music is a great distributor to choose if you're planning to pursue some of the business aspects of the industry along with being an artist yourself. They have a very affordable plan for a label who has 5 artists, and with the RLIAB tool, you'll have everything you need.
Give Ditto Music a try here (you can try it free for 30 days).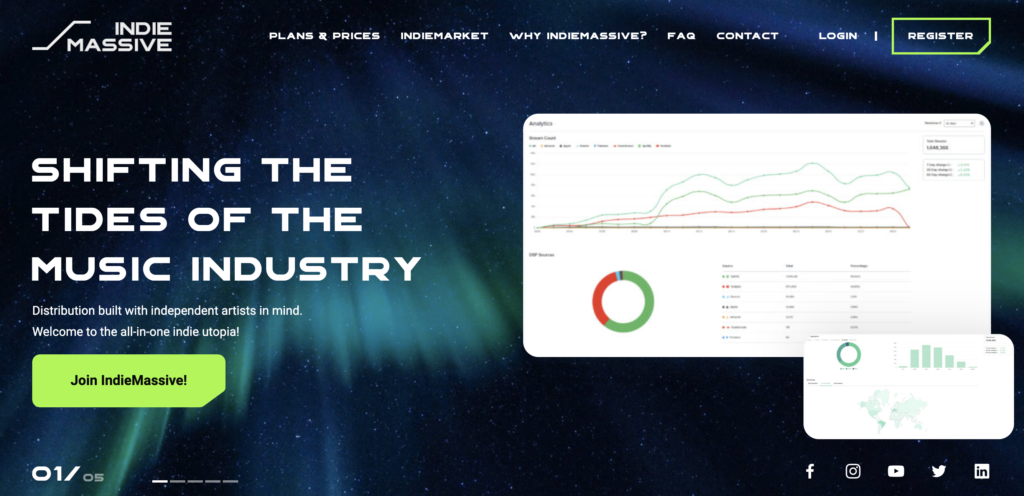 Pricing: 39.99 / year for unlimited releases
IndieMassive is a newer player in the music distribution space. Like the three distributors I've discussed so far, IndieMassive also works on a yearly subscription model; pay 39.99, and you can distribute as many songs as you want each year while keeping 100% of your royalties. It's a solid offering, if a bit pricier than the competitors listed above.
But the main selling point that makes these guys an appealing option for indies is that they offer access to what they call their "IndieMarket". Essentially, this is a collection of services from TikTok marketing to Spotify streaming growth, delivered by companies that IndieMassive has vetted for legitimacy. If you sign up for distribution, you get discounted access to all of it.
IndieMassive's coolest features
What I've just described may be the coolest feature IndieMassive offers; they call IndieMarket "every service an artist could need, all in one place," and it's definitely a helpful (and affordable) resource if you're looking to market your music but aren't sure where to turn (which is relatable).
Other cool features:
Unlike with other distributors (cough DistroKid cough), there are no hidden fees. The upfront price gets you everything.
Collaborator splits
You keep 100% of your royalties.
If you're a label, they offer a competitive plan for unlimited releases / unlimited artists/
They claim they'll respond to customer service requests within hours, 24/7 (other distributors usually take days).
All told, while IndieMassive's base plan isn't the cheapest you'll find on this list, they do offer a range of cool benefits that some of the lower-priced plans can't match.

Pricing: Completely free
Like IndieMassive, Boost Collective is a new, up-and-comer in the music distribution space – and when I say new, I mean like they literally launched their offering last year, in 2022. So, why include them on this list? Answer: Because they've got a really interesting (and, if you're an indie artist on a budget, potentially very appealing) model.
The company's pitch is that artists pay $0 upfront to distribute music. Like, that's it, no catch, it's totally free to use. Instead of making money on distribution, they company makes money on extra add-on services like Spotify promotion (the thinking being that, once you're in, you'll buy other offerings). The result is that musicians maintain full copyright ownership and can release as much music as they want – again, at no cost.
Boost Collective's coolest features
That pricing model is really the crux of it. Here's the reality: Most releases never recoup distribution costs. In other words, if you're just getting started with your artistry, you're almost definitely not going to be collecting huge streaming checks with your first few releases, so the idea of paying nothing to get started is pretty compelling.
On top of that, the company also offers a suite of additional services; they actually avoid labeling themselves as "just a distributor", preferring to call their platform "a solution to help artists with all aspects of their careers".
Practically, that means they offer things like:
Spotify playlist promotion (meaning they'll place new releases on their curated playlists)
A cover art creation tool
A Spotify canvas creation tool
A mastering tool
Plus they offer the standard distribution benefits we've come to expect, like rapid 2-day delivery to stores, free ISRCs, and scheduled release dates.
Honestly, I'm very interested to track with this company and see how the model works for them; it feels like this could be the DistroKid of the 2020s as artists move toward high-frequency release schedules.
Give Boost Collective a try here.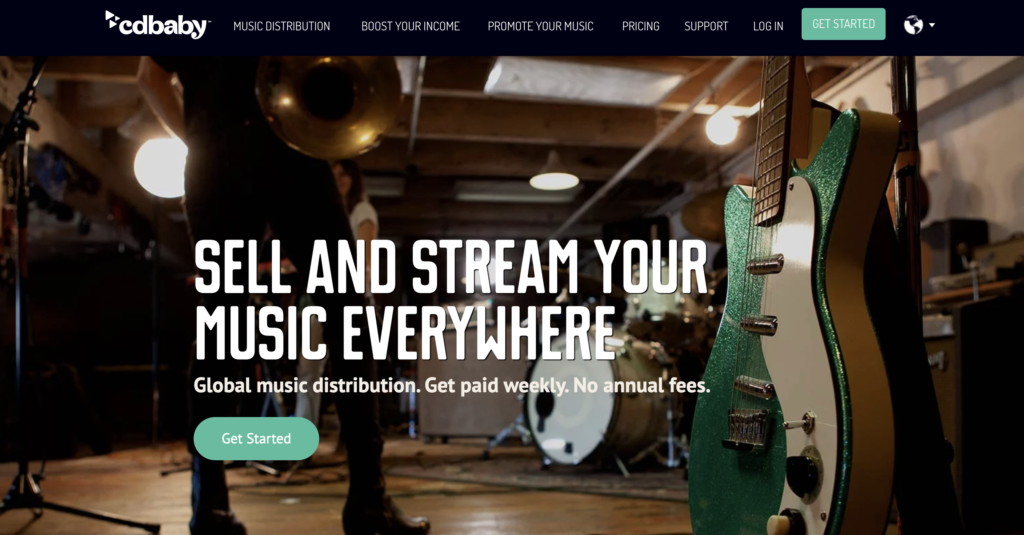 Pricing: 9.99 / album
As Ari's Take notes, CD Baby was the original music distribution service – they were the first to offer "open-to-all" distribution to iTunes. Those were the days, huh? And they're probably still the one you hear the most about. Unlike TuneCore, they don't require you to re-up every year to keep your music out there.
While there are definitely some distributors that have passed it up (in my opinion, at least), CD Baby still offers some great things for indie artists – and they might be the things that you're looking for.
CD Baby's coolest features
Probably the most notable thing they offer is CD and vinyl distribution. Sure, physical distribution may seem outdated, but trends are always changing. Vinyls are really popular right now, and CD Baby makes it super easy to create. Who knows, CDs might make their way back in a few years.
Like TuneCore, publishing administration and sync and master licensing is offered. Those two features are important to consider. Unlike Distrokid's unlimited subscription, CD Baby makes you pay a one time fee for each song and album. While that does cause the money to add up, it can help when it comes to signing up for royalty collection.
Other cool features
Free pre-save campaigns with Show.co (Show.co has a bunch of other cool marketing tools, too).
Worldwide monetization – supposedly they're one of the best platforms for this.
They'll affiliate you with a PRO (performing rights organization) in the US and Canada.
Something you should consider is that CD Baby does take 9% of your commission, while others take none. The features they offer are great though, so it's definitely your choice.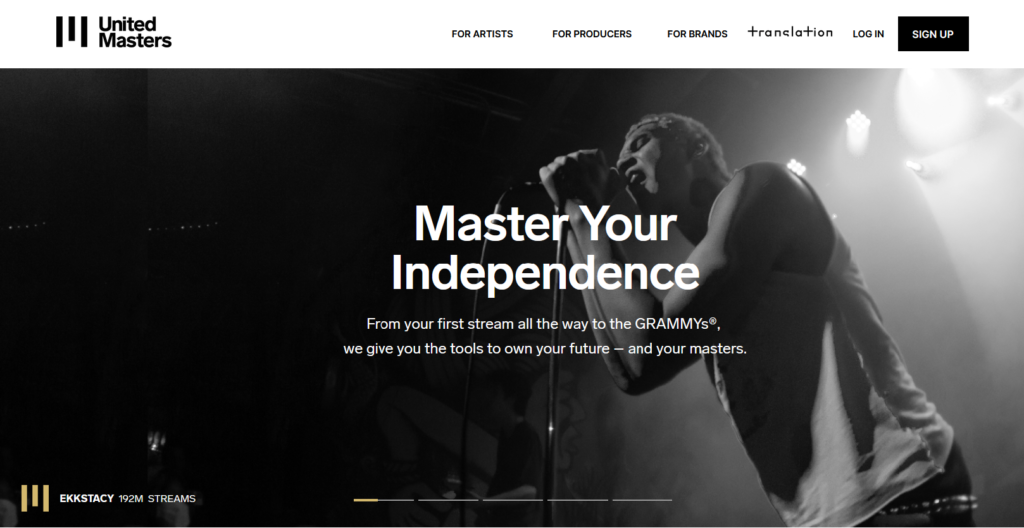 Pricing: Free for 12 releases / year

United Masters is interesting because it's a digital incubator that provides independent artists with everything they need to skyrocket their careers, connecting musicians and brands to create a successful synergy between all players in the market.
They offer up to 12 releases per year for free while keeping 10% of royalties. If that's not enough for you, you can upgrade to their "SELECT" subscription for unlimited releases and 100% royalties at $59.99/year
UnitedMasters' coolest features
Like other music distributors, UnitedMasters offers a free option to get an idea of how the platform works. The paid subscriptions offer great value for money, with plenty of marketing tools and education material you can use to maximise your audience.
UnitedMasters feels more like a community than a music distributor, as they encourage collaborations and cross-promotion between artists. If that's what you're looking for, then UnitedMasters is the best in the game.
Intuitive app and website
And the big one – potential partnerships with big brands worldwide
Overall, UnitedMasters is a great option for an artist who has a lot of music to release and already has a decent following.
Give UnitedMasters a spin here.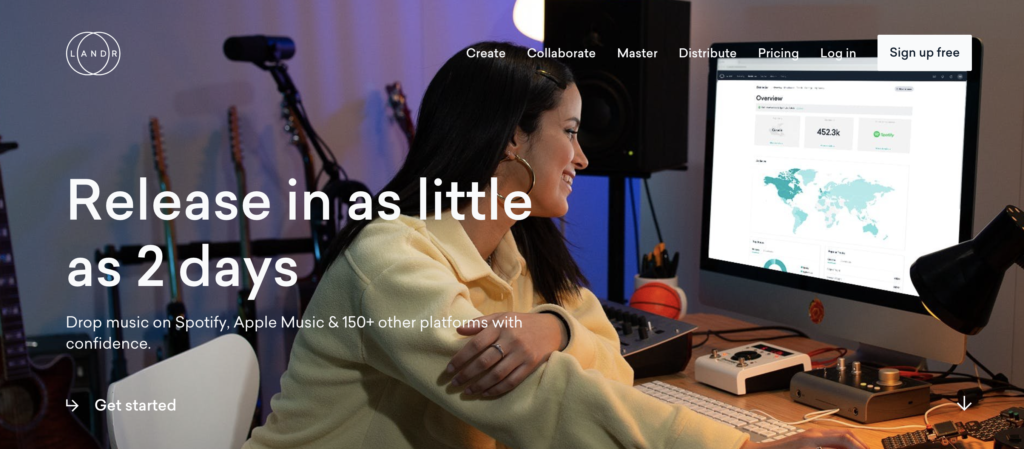 Pricing: $20 / year plus $5 / per single, $19 per album.
LANDR is the robot of all music distributors. Their website is smooth and a little less hype-y – and they have some unique features for artists as well. It's worth noting that not only are they a distributor, but they also master your music for you. (Actually, that's probably the main thing they're known for.) It's also worth noting that they're more expensive than many of the options on this list, because they charge both an annual fee and a per-release fee.
LANDR uses AI tools to analyze the track you produced and figure out what processors you need to choose to finish cleaning up your song (ex. Compressors, EQs, etc.). Sounds cool, right? So, not only can you distribute your music from them, but you can make it sound really professional all on your own – hypothetically. (I've tried their mastering service and it's… not bad. I'll leave it at that.)
LANDR's coolest features
As far as distribution goes, you get to keep 100% of your rights, they take care of the licensing for cover songs, and they give you lots of tools to promote your music. You can choose between three different plans if you want to purchase mastering and three different plans for distribution. It may seem like a lot since you have to purchase more, but having those tools there for you is really helpful.
Other cool features:
You get access to their "Artist Success" team. Apparently, these folks review your track's metadata to make sure it's all correctly added, then work to get your track through within two days. That's fast.
Automatic setup with Spotify for Artists
Detailed statistics on song streaming and performance
Give LANDR a try (for music distribution) here.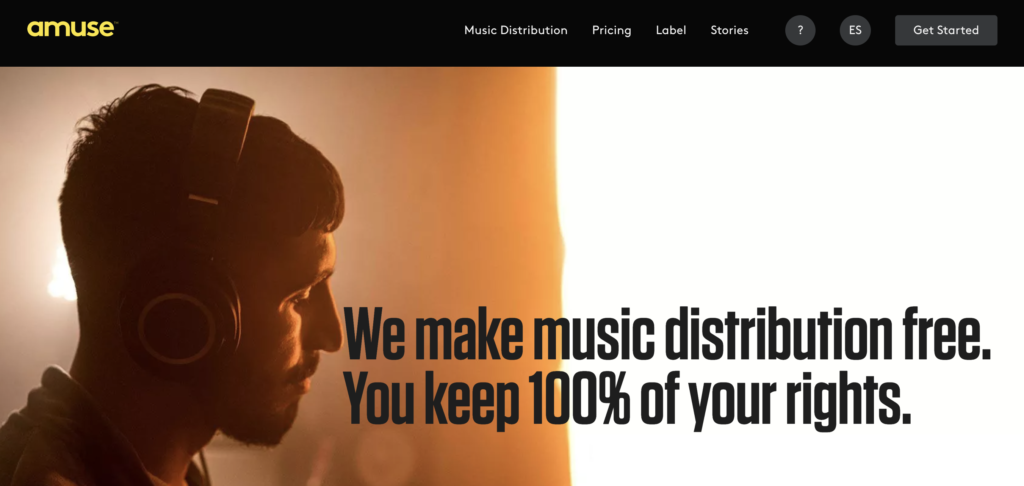 Pricing: Free for 12 releases / year
Amuse is interesting, because their lowest plan is 100% free for 12 releases each year. That sounds like a great deal, but is it actually good? Well, yeah, for the most part. You can release for free – but there are a bunch of features you won't get access to. Importantly, you won't get a YouTube Content ID, you'll have to wait four weeks to get your release out, and you won't get to pick a specific date at the outset.
If you want to upgrade, their "Boost" plan (basically, the entry-level) is 24.99 per year for unlimited releases, and gives you access to all of the features you miss out on with their paid plan. But most artists use this distributor because it's free.
That brings up a question, obviously: How does Amuse make money if they're mostly free?
Answer: The platform is a label as well as a distributor, so they make a lot of their money from signing artists. They use the data from who is using them as a distributor to find artists to sign. If your music does well, that could be you.
Amuse's coolest features
The pro subscription gives you access to early release, licenses, marketing and branding tools, and more.
You keep 100% of your royalties and masters (unlike with CD Baby)
They have a cool app where you can track your royalties and splits
They have an easy pre-save tool, but it's only for paid accounts
Long-story-short, Amuse is an interesting one to check out. It's obviously very affordable.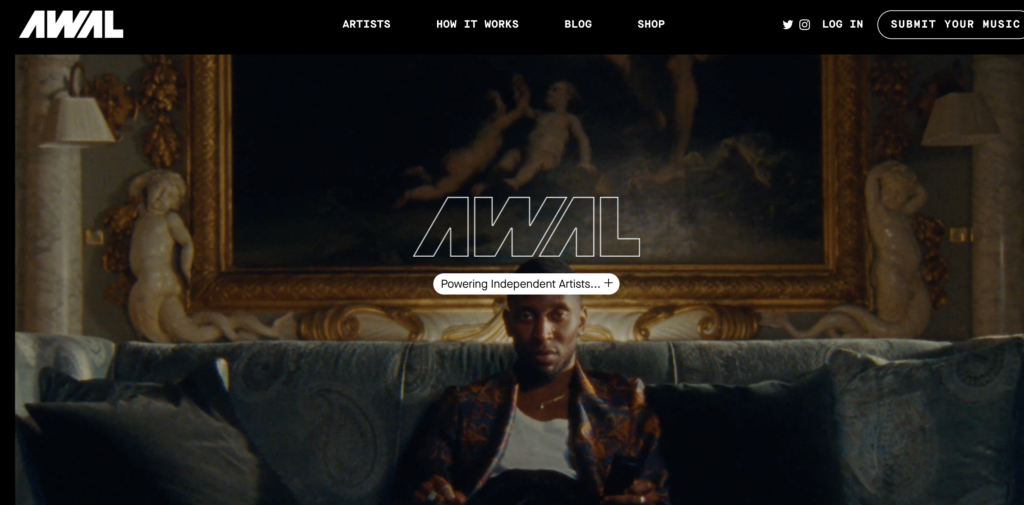 Pricing: Royalty-based. This is basically a publishing deal.
AWAL is under Kobalt, a publishing company that collects royalties for songwriters. They have some pretty big artists including FINNEAS, girl in red, and Lauv. They offer a lot of similar features and tools to the distributors above, but there is one downfall. While CD Baby takes 9% of your rights, AWAL takes 15%.
This is basically a publishing deal that could lead into major label support. But few artists qualify for it; you have to submit music and have it approved, and the team has to think your music / artistry has the potential for commercial success.
AWAL's coolest features
There are no fees to use AWAL. It's up to you as an artist if you want to pay for a distributor that doesn't take a percentage of your royalties, or use a free one that does. AWAL was built to work with a small group of artists, so if you get in and start having success, they work really closely with you.
You actually have an AWAL representative assigned directly to you to help you refine your strategies or anything else you need.
They help you with sync licensing, give you analytics, and they also have an A&R team that helps find opportunities they think would fit you as an artist. If they see momentum, they will help fund a project you're working on as well. While you only get 75% of your commission, AWAL would be a great fit if you're starting to see traction and are looking to work closely with someone to help you reach the next level.
There isn't necessarily a music distributor meant for every artist to use. I mean, that's why there's so many. It's entirely up to you and which one you think best fits you as an artist and what you are trying to pursue.
Final thought: Every distributor offers something unique.
Some artists may not need what LANDR offers. Some may be a great fit for AWAL.
My (biased) take is that most indie artists will be well-served by what Distrokid offers. But the truth is that, if you choose wisely, you'll find that whichever music distributor you choose will launch you into doing what you love.
Good luck!