Yes, DistroKid is legit.
It's a fair question, especially if you're just looking into music distribution. But to be honest, I think it's pretty much been answered at this point.
The platform has been around for a while now, and it's widely recognized as an industry leader (in fact other distributors have copied the DistroKid model).
Questions of legitimacy aside, I actually think that for the majority of indie musicians, it's the best music distribution service on the market at the moment.
No, it's not perfect. There are a couple of really annoying things about the service that we'll get into shortly. And if you dig through Trust Pilot, reddit, or random internet comments, you'll quickly find there are plenty of stories that make DistroKid look not-so-great.
But the truth is that every distributor has its downsides and bad stories, and, honestly, DistroKid's are pretty few and far between. The company has a very cost-efficient model, especially if you're looking to release a lot of music. And from what I've seen, they really do have indie artist's interests at heart.
If you want to give DistroKid a try, click here.
Now, full disclosure: I'm an affiliate with DistroKid, so if you click that link and end up using the platform, I'll get a small commission and you'll get 7% off your purchase (so, like $1!). Fun fact, though, you can only become an affiliate with the company if you actually use their service – and I do. Because, again, their service is good.
With that said, you came here for a detailed review. So let's get into the details.
What is DistroKid (and what does it do)?
DistroKid is a music distribution service.
"Ah," you think. "That's great. But… what?"
Right. If you know what "music distribution" is, that made sense. But if you don't… well, why would you?
Totally understandable confusion. If you're new to releasing music (or if you're getting back into it after a long hiatus), it's easy to get dragged down by digital jargon. Don't worry, though. The concept's actually pretty straightforward:
Music distributors like DistroKid help you distribute your music to online stores, streaming services, and (more rarely) physical stores.
It's a little more complicated than this, but the easiest way to say it is that DistroKid helps you get your music onto Spotify. And Apple Music, Amazon, YouTube Music, Tik Tok, and basically any other digital listening platform.
The second key thing DistroKid does is help you to collect your mechanical royalties. I'm not going to dig into how the different types of royalties are calculated here (if you're looking for that info, Ryan at Indie Music Academy has a helpful guide) but I do want to note that DistroKid doesn't just put your music out – they also pull some of your money in.
Why is DistroKid popular?
DistroKid is popular for three reasons:
1. They were one of the first platforms to switch from a pay-per-release model to an annual-fee model.
OG music distribution platforms (like CD Baby and Tunecore) made it possible for anyone to get music online. But they charged a fee for every song or album. So, if you wanted to release music consistently, things got expensive quickly. For example, CD Baby's entry-level price for a song is $9.95. If you're planning to release 12 tracks in a year, that adds up to $119.40. If you pay for full monetization, you're looking at a lot more than that.
DistroKid changed the game with an annual subscription model. With their offering, you could release the same slate of singles for $19.99. You'll pay that every year – but if you're making a lot of music, it's still a good deal.
2. They don't take a cut from your royalties.
Depending on who you are, this might be the bigger deal. Traditional distributors take a cut from your royalties; CD Baby, for example, takes 15%.
DistroKid takes nothing, which means what you make is all yours.
3. They have a weirdly-cool, 90s-inspired vibe.
I mean, check out that logo.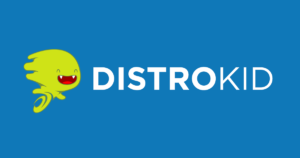 I don't know what the heck that is, but I like it.
Obviously, this company was bound to become popular.
What's it like to upload music to DistroKid?
It's pretty easy.
First, you've got to create an account, which means you've got to pay the $19.99 yearly fee.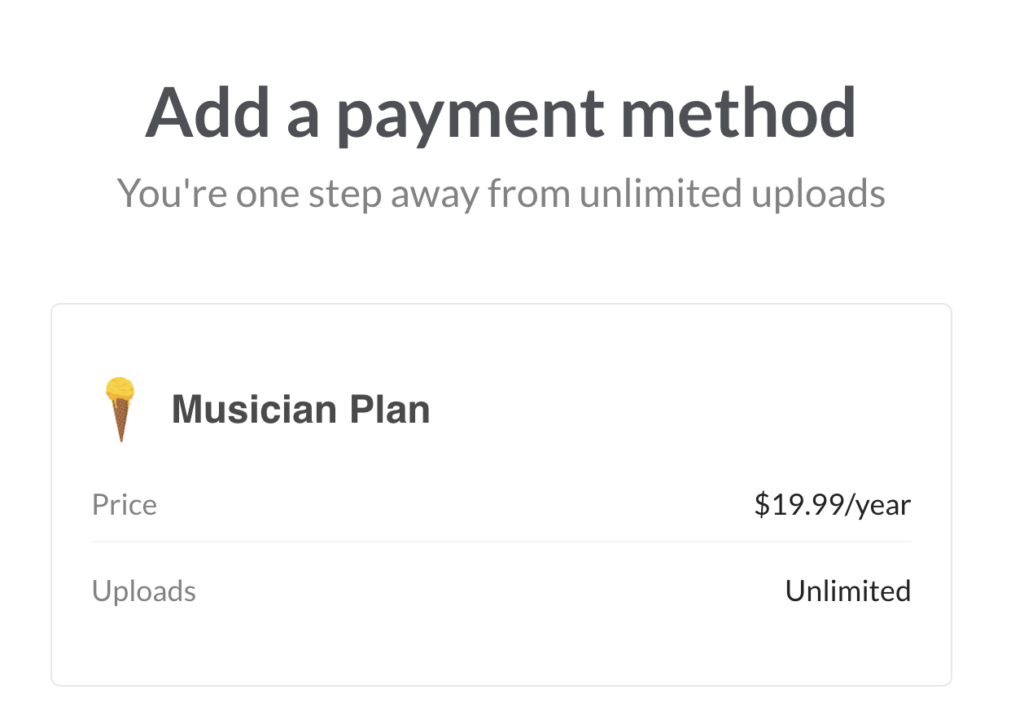 Once you've paid, you'll be set up to upload whatever you want. The button to add a new release is visible right in the top menu (it's literally the first option):

When you click that, you'll walk through a fairly straightforward wizard with a bunch of checkboxes and options. A couple of examples from this screen (it's kind of a long screen):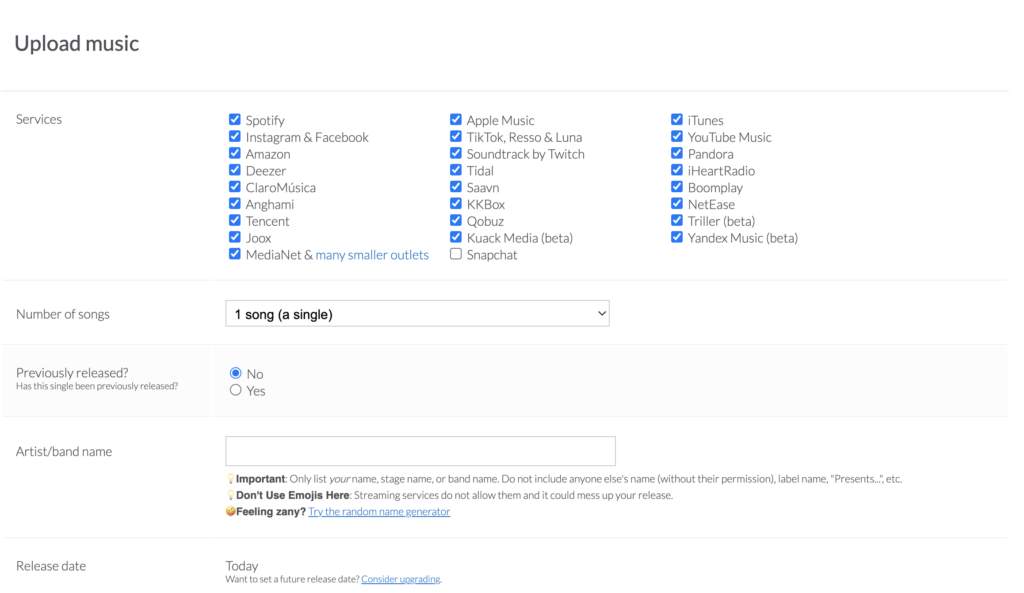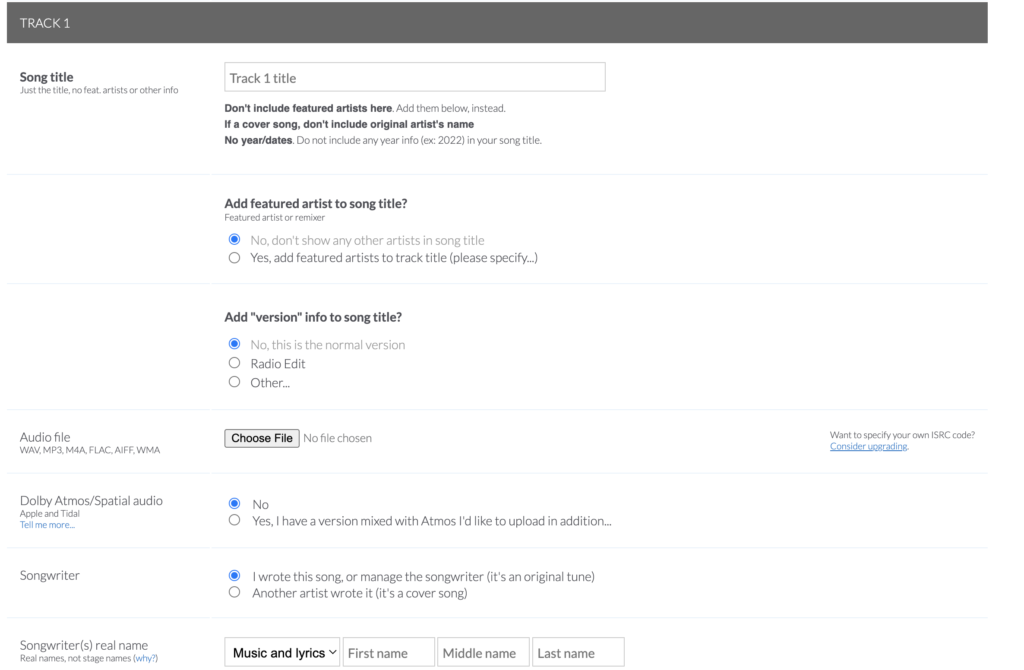 All of this is pretty standard stuff for a music distributor in 2023; virtually everyone will let you release to every streaming platform, including Tik Tok. So far, this is par for the course.
But let's talk about what sets DistroKid apart next.
What are the benefits of DistroKid in 2023?
While working on this article, I asked my brother, Tom, to give his take on DistroKid; Tom's an indie artist in Nashville who's used DistroKid for his own releases for the past three years, so I wanted his opinion on what sets the distribution service apart.
This was the first thing he texted me:
"So simple / intuitive / no flare. Takes about 2 minutes to release music. CD Baby takes about 10 years."
Thanks, Tom.
For real, though, I think that's my favorite thing about DistroKid, especially compared to other distributors I've tried:
1. Their release process is super fast.
Tom was exaggerating about CD Baby, obviously. I've used CD Baby for multiple releases, and their process only takes nine years.
Just kidding.
But it is true that other distributors tends to take longer. For reference, one artist I'm working with has had a release "In Review" in Ditto for a couple of weeks. That's not a bug – it just takes Ditto's team time to review. (I still like Ditto, though.)
With DistroKid, it usually takes about a day for a release to get approved. For a product that costs $19.99 per year, that's pretty good.
2. They don't take any of your royalties.
This model is increasingly catching on, but it's not ubiquitous, and it's definitely still important enough to note.
3. Split payments option
Want to share a percentage of earnings with a bandmate, producer, or songwriter? With Distrokid, the process is straightforward and fast, and you can choose to share your profits only on a specific song, single, or album while keeping the rest for yourself. If your collaborators don't have Distrokid, the platform automatically sends them a 50% discount code. For people who are already Distrokid users, the process is 100% free.
What are the cons of DistroKid?
Okay, here's where we stop it with the butterflies and rainbows and start to throw some dirt on DistroKid. Truth be told, the platform does have a few aspects to it that, for lack of a better word, suck.
1. There are way too many upsells.
Go back and look at those images above, and you'll consistently see options with little blue links that say "Want x? Consider upgrading."
Basically, DistroKid makes you pay extra for almost anything cool, including the ability to specify your own ISRC code, the ability to edit the name of your record label, the ability to set a specific release date, the ability to set an iTunes pre-order, and the ability to blink your own eyelids.
Bottom line, if you're serious about marketing your music, you'll almost definitely need to upgrade to the Musician Plus plan, which is currently priced at $35.99 per year.
Oh, and you'll have to pay extra fees any time you want a YouTube Content ID.
Annoying.
2. Support can be annoyingly hard to reach.
You can reach support – but it might take some effort. Let's turn to Tom again for a fun story:
"Their system bugged and made one of my releases get stuck on approval stage. I knew something was wrong because usually it takes a day, and they send an email that says they either approved it or disapproved it. But after a a week and a half, nobody had contacted me, and when I tried to contact them, there was almost no way to do it. Had to make a Twitter and DM them, and they didn't get back for a few days."
Rough. Sorry, Tom.
In DistroKid's defense, they do have a pretty extensive Help Center with lots of FAQs (and to throw Tom under the bus, you can email them if you click through their support wizard correctly).
But it is annoyingly not-straightforward to access actual, live help.
How does DistroKid compare to TuneCore and CD Baby?
I know we just threw some dirt on DistroKid, but like I mentioned before, every distributor (and every company – and every person!) has their issues. I think DistroKid stacks up pretty well against the field, including some of the most popular alternatives like TuneCore and CD Baby.
DistroKid vs. CD Baby
The big differentiators for DistroKid here are the yearly subscription model and the full royalty rights. Again, CD Baby is $9.95 per single and $29 per album – and that's before they try to upsell you. DistroKid is cheaper upfront, plus you get to keep all of your royalties, whereas CD Baby takes a 15% cut.
DistroKid vs. TuneCore
Ha, this is pretty great. Both DistroKid and TuneCore have written articles titled "How We Are Better Than Them" – take a look.


Actually, both of these articles do a pretty good job of laying out the benefits of the two offerings. But I think DistroKid wins this one pretty easily, because TuneCore charges a fee for each release each year. That adds up really quickly.
The one cool thing TuneCore has over DistroKid (at least for the moment) is a social-only offering where they distribute to Tik Tok, YouTube, Instagram, and a few other platforms for free.
If you're primarily focused on blowing up on Tik Tok, that's an appealing option. Otherwise, I'd probably opt for DistroKid.
Who is DistroKid best for?
It's time to wrap things up. If you've read this far and you're still wondering, "Yeah, but is DistroKid right for me?", here's my answer:
DistroKid is probably right for you.
It's best for artists who are planning for multiple releases each year and who care about keeping their royalties.
If you're pursuing a passion project and are only going to release one single or one album this year, you may want to go with CD Baby; it may end up being more cost-efficient.
But if you're trying to push into building your streaming numbers with steady releases (i.e., grow a music career), I think DistroKid is probably your best option.
Again, it's not the only option. I've focused on comparisons against CD Baby and TuneCore here, but there are plenty of other distributors to look at. And DistroKid certainly has its warts.
But for all of that, it's still my personal favorite. And Tom's too.
So, let me queue up that affiliate link one more time if you want to give them a try and save a dollar:
You can give DistroKid a try here.
But whether you do or don't us DistroKid – and however you choose to release your music – congratulations on making it. The work is worth it, and your art matters.
Good luck.