TL;DR: Here are our top 8 music distributors for indie artists in 2020:
Read on for a more detailed analysis.
Record labels were once your ticket into the music industry. Everyone wanted that record deal, and then they knew they were on their way. It's 2020, and now it's easier than ever to get your music out there.
Want to have your music showing up on Spotify, Apple Music, Amazon Music, et all? These days, distributors do the vast majority of the legal and technical work for you; you just have to get your song ready to release. Thousands of songs have been released through music distributors by independent artists just like you.
So, how do you choose which one you want to partner with? Which one will help you stand out in the crowd and be the perfect fit for you? Here's the top 8 music distributors and what they can do for you as an artist.
Distrokid is definitely the most affordable and accommodating for indie artists. They offer some tools and benefits that put them way ahead of some other distributors. Distrokid is one of the first distributors to upload your song to Tik Tok, which is the coolest and most relevant offer. With the rate of popularity that Tik Tok has reached, having your song as a Tik Tok sound is a big deal.
Music Gateway shared two other benefits of Distrokid that really stand out among the others. One of them is easy access to mechanical licenses if you want to release a cover song. It can be hard for artists starting out who may not be strong in songwriting yet to get the rights to release a cover song, but Distrokid makes it easy. Another awesome tool is the ability to split revenue between unlimited collaborators. That way you can make sure your producer or other writers get credit.
With an unlimited subscription plan that's only $19.99 per year, the pricing puts them way ahead. Most other distributors make you pay per single or album, and it even costs more than the monthly fee with Distrokid. Based on the price, tools, and benefits, they're definitely the best choice.
Use our affiliate link to get 7% off your signup (so, like a dollar… but still) by clicking here.
Ditto Music, like Distrokid offers an unlimited plan at the lowest tier for $19.99 a year. It's definitely another more affordable route you can take. A specific feature of Ditto Music is the reason that it stands out from the others: RLIAB (Record Label in a Box).
Record Label in a Box is a feature specifically for a record label owner, but it offers some really awesome stuff. You can choose from a professional, premium or enterprise tier, and they all offer different tools. The boxes come with pre-made contracts, an online management service to keep track of your money, and licenses. Basically, everything you need to start a label and manage yourself as an artist or other artists.
Ditto Music is a great distributor to choose if you're planning to pursue some of the business aspects of the industry along with being an artist yourself. They have a very affordable plan for a label who has 5 artists, and with the RLIAB tool, you'll have everything you need.
TuneCore and CD Baby are fairly similar in terms of what they offer and the price. TuneCore does have a few features that are unique to them though that really help independent artists.
One of the features is their publishing administration. Pro Musician Hub said that TuneCore is one of the only few distributors that offers this. The publishing administration allows artists to receive 100% of the revenue from downloads of their songs. Through that, you can collect full royalties on all of your music plays. Most distributors take something out of your revenue, so this is a huge benefit.
Another feature is TuneCore's sync and master licensing. With these licenses, you can get your music on video games, TV commercials, and movies. Plus, they make sure you get paid for it. It's hard to achieve on your own, so this offer makes the process really smooth.
The last feature most helpful to indie artists is TuneCore Social. When you register with TuneCore, you can immediately download the app that helps you post alerts about new music and see detailed analytics of who's seeing your posts. Some other distributors offer social media tools, but this one is definitely the best.
As Ari's Take notes, CD Baby was the original music distribution service – they were the first to offer "open-to-all" distribution to iTunes. Those were the days, huh? And they're probably still the one you hear the most about. There are definitely some distributors that have passed it up, but CD Baby still offers some great things for indie artists.
Probably the most notable thing they offer is CD and vinyl distribution. Sure, physical distribution may seem outdated, but trends are always changing. Vinyls are really popular right now, and CD Baby makes it super easy to create. Who knows, CDs might make their way back in a few years.
Like TuneCore, publishing administration and sync and master licensing is offered. Those two features are important to consider. Unlike Distrokid's unlimited subscription, CD Baby makes you pay a one time fee for each song and album. While that does cause the money to add up, it can help when it comes to signing up for royalty collection.
Something you should consider is that CD Baby does take 9% of your commission, while others take none. The features they offer are great though, so it's definitely your choice.
Spinnup is an interesting one, because while you're an independent artist not under a label, this distributor is run by Universal Music Group. This definitely could have some downfalls, but it also creates a lot of opportunities as well.
Through Spinnup, UMG puts your music on a ton of playlists on streaming platforms. Along with that, they send your music to industry professionals with the chance of being signed by one of them. If that's the route you're interested in taking, that's a pretty awesome opportunity.
The pricing is similar to CD Baby and TuneCore, and you do get to keep 100% of your royalties and commission. They offer some social media and analytics tools similar to some other distributors that are helpful too.
Overall, Spinnup is a great option for an artist who has a lot of music to release and already has a decent following. UMG definitely uses it as a way to find new artists, and their website shows that 80 artists have already been signed.
---
Want to learn how to promote your music once it's out? I wrote a book to help.
It's called How to Promote Indie Music (pretty straightforward, I know), and it's based on four years running a music blog and three years of experience doing indie PR. It covers deep strategy and tested tactics to do indie promo well on the channels that matter most. And it helps you cut out the tactics that won't work. Basically, it's a roadmap to getting your releases heard.
If you want to learn how to promote your own stuff or if you've got nothing better to do, you can download the first chapter for free via the form below.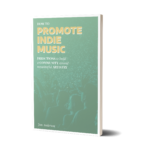 (If you want to cut to the chase and get the whole book, just click here.)
---
LANDR is the robot of all music distributors. Their website looks very futuristic, like you traveled to another world. Anyway, along with a really unique website aesthetic, they have some unique features for artists as well. Not only are they a distributor, but they also master your music for you.
LANDR uses AI tools to analyze the track you produced and figure out what processors you need to choose to finish cleaning up your song (ex. Compressors, EQs, etc.). Now that's awesome. So not only can you distribute your music from them, but you can make it sound really professional all on your own.
As far as distribution goes, you get to keep 100% of your rights, they take care of the licensing for cover songs, and they give you lots of tools to promote your music. You can choose between three different plans if you want to purchase mastering and three different plans for distribution. It may seem like a lot since you have to purchase more, but having those tools there for you is really helpful.
Amuse is interesting, because their lowest plan is 100% free. That sounds like a great deal, but is it good? Overall, it seems like it is. You can literally do everything for free, and if you wanted the pro subscription, it's $5 a month.
This platform is a label as well as a distributor, so they make their money from signing artists. The distribution part is still free though. They use the data from who is using them as a distributor to find artists to sign.
The pro subscription gives you access to early release, licenses, marketing and branding tools, and more. This would be an interesting one to check out. It seems helpful and obviously very affordable.
AWAL is under Kobalt, a publishing company that collects royalties for songwriters. They have some pretty big artists including FINNEAS, girl in red, and Lauv. They offer a lot of similar features and tools to the distributors above, but there is one downfall. While CD Baby takes 9% of your rights, AWAL takes 15%.
There are no fees to use AWAL. It's up to you as an artist if you want to pay for a distributor that doesn't take a percentage of your royalties, or use a free one that does. It seems like AWAL was built to work with a small group of artists, so they work really closely with you. You actually have an AWAL representative assigned directly to you to help you refine your strategies or anything else you need.
They help you with sync licensing, give you analytics, and they also have an A&R team that helps find opportunities they think would fit you as an artist. If they see momentum, they will help fund a project you're working on as well. While you only get 75% of your commission, it seems like AWAL would be a great fit if you're looking to work closely with someone to help you get started.
There isn't necessarily a music distributor meant for every since artist to use. I mean, that's why there's so many. It's entirely up to you and which one you think best fits you as an artist and what you are trying to pursue.
Every distributor offers something unique.
Some artists may not need what LANDR offers, but they definitely need what Distrokid offers. Choose wisely, and you'll find that whichever one you choose will launch you into doing what you love.
---
My buddy Ryan (creator of the academy) has distilled a ton of his experience into the most impactful insights that indie musicians need to actually make their music a business.
Per the course name, the material covers the 20% of knowledge that will give you 80% of your results – stuff like the different types of music copyrights, how to get paid through distribution deals, correct percentages for contracts, and more.
Basically, it's what you need to know if you're serious about making music for a living, taught by someone who's done this at labels and as an indie artist himself.
If you're interested in building your music business the right way,
click here to check it out
.
---