Are you an artist looking to submit/promote music? Or perhaps you are a music fan? We've compiled the ultimate list of the best indie blogs of 2023!
Santa Rosa records is a Texas-based indie label, publishing company, recording studio, and curator of obscure music from around the globe and across all genres.
The selection of music in this blog is fabulous. Each post is concise and to the point. There is also a section dedicated to interviews exploring artist's creative processes in more detail.
If you are an artist and have something you think Santa Rosa Records would dig, shoot it their way.
Make yourself a cup of coffee and enjoy reading this blog made up of interviews, reviews, previews, mixtapes and … books! The choice of including literature is probably due to the fact that one of the editors (Jon) is also a writer and PhD candidate.
Various Small Flames is dedicated to sharing the music from independent artists, especially home recordings and DIY labels, so send them your tunes!
"Chances with Wolves is not a radio show, it's a state of mind."
Chances with Wolves is your ultimate mixtape provider. Get on SoundCloud and follow them – you won't regret it.
The website counts 388 mixtapes episodes and has a store where you can buy branded t-shirts as well as cassette mixtapes.
Each mixtape is about 2 hours long and most tracks on them are funky and, as some of the Soundcloud users observe – "dope."
What's more indie than obscure music, right? Obscure Sound is all about turning up gonna-be-hits. The blog's been around since 2006, when then-PopMatters-writer Mike Mineo decided to strike out on his own to cover emerging music.
If you're an "emerging" artist, this is a good site to submit to. Reviews are short, sweet, and to-the-point, and there are a bunch of good playlists that you'll likely get added to if you get approved.
Plus, Mike just has good taste.
Indie is not a genre covers news, reviews, live events, new album recommendations and interviews. Scroll down at the bottom of the web page and you will find out that indie is really not a genre, with different sections dedicated to pop, rock, electronica, singer-songwriter, post punk, psychedelic and punk.
The website started in Germany in the summer of 2011 and soon grew into an international project. It won the top 50 alternative music blog award!
Send them your music by using the about/contact page.
Alex, Adam, George and Stephen will help you unearth new music every week with their UK-based indie music blog. The website also includes a radio and indie central music TV. As one of the editors explains in the introductory YouTube video: if you are one of the biggest fans of the smallest bands, you want to subscribe to indie central music.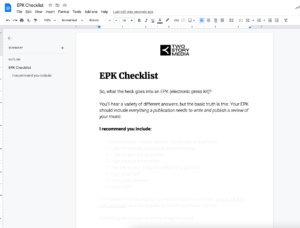 Want to get your music covered in cool publications?
I get like 9 million submissions each day from artists. Here's what you need to include in your EPK so you stand out / get covered.
Whether you are an artist or a music fan, Cougar Microbes is a blog you should check out. With a team of 11 writers, the website covers interviews, introduction of new artists and live events. Cougar Microbes also posts a music video from a different artist every week, if that's your thing
If you want to submit your music to this blog, you should do so using MusoSoup.
Atwood Magazine has an obvious passion for music. From their about page:
"We are celebrators of creativity. Atwood Magazine is an independent music journal dedicated to providing authentic writing, engaging, insightful editorials, and unique perspectives on music."
They "aim to showcase not only incredible creation, but also the stories behind them."
With features on up-and-coming independent acts getting placement beside industry stars, Atwood is a great platform to get your indie music heard.
"Owls are nocturnal and wise, like our readers" – explanation from the blog owners on the choice for giving the name to the project.
With its numerous freebies such as ticket giveaways, The Owl Mag is the music fan's delight. Although these freebies and the live shows reviews are San Francisco-based, the blog will allow you to discover new music from all over the world.
Founded by Montrey Whittaker and Blake Edwards, Earmilk is an online music publication based out of the United States and Canada. With Dance, Hip-hop, Indie, Electronic, Experimental and Pop articles, Earmilk covers all tastes and genres.
Like Cougar Microbes, Earmilk uses the SubmitHub platform for its music submissions. So artists, what are you waiting for? Send your music their way!
Indie Shuffle is of the belief that humans are better at picking good songs than robots. We totally agree (at least until the machines take over). The site's updated a ton, and it's more sound-focused than music-focused. That means minimal write ups, but tons of tunes, so there are tons of chances to get featured.
Interestingly enough, the founder went on to create SubmitHub, which – pro tip – is another great place to submit music to.
The Girl at the Rock Shows (named via the Blink-182 track, obviously) is focused on what you might expect: concert reviews, and mostly rock concert reviews.
As she puts it, "I don't want to just write about the music, I want to write about the crowd, the mosh pits (or lack there of), the fashion… I want to write about everything that the mainstream music bloggers will not write about." If that's not indie, I don't know what is.
The blog also covers albums, too – more in the past year than ever, because, you know, Covid. So, if you've got a full-length rock album dropping or a live show you want covered, it's worth a submission.
At number thirteen we've got GorillavsBear, a Texas-based music blog with a name that immediately had me picturing a pretty epic showdown. In addition to music, the website comprises a photographic collection of the team's favorite artists. Check out the GorillavsBear Polaroids in the New York Times.
Thanks to this blog, I discovered what 'Modern Yacht Rock' is. Go and google it. Or better go and listen to the mixtapes.
The cool thing about The Line of Best fit is that they're focused on indie music discovery – and they do it well. From their about page: "For more than a decade we've been one of the world's most trusted voices for music discovery, read by millions of fans every month, in search of their new favourite band. " If you can't tell by the spelling, yep, they're based in the UK. But they cover worldwide.
Alfie, founder of the well-named Alfitude, has been reviewing new music since 2010. That's an absolute age in the indie music blog game, where passion-project publications are quick to fade out.
The consistency has earned Alfitude a following from some of the largest and most influential record and publishing labels around the world, including Republic Records, Atlantic, Columbia, and yeah pretty much anyone who's anyone. If you're looking to get your music in front of major tastemakers, this is a good place to pitch it.
A wide range of genres is accepted – including pop, indie, R&B, experimental – so there's a good chance that, if your stuff is good (and we both know it is), you'll fit.
Note that Alfie takes submissions via Submithub and Groover.
Ear to the Ground is a thoughtful blog focused on up-and-coming artists, primarily in indie folk, indie rock, indie pop, Americana, singer-songwriter, and other genres that sound good when you add the word "indie" in front of them. Founded by Greg Jones and Matt Simon, the publication puts out a steady stream of high-quality coverage, including round-ups, reviews, and interviews. Note that to submit to them, you need to go through SubmitHub.
Aquarium Drunkard is one of the older indie music blogs out there; founded in 2005 by Justin Gage, it's long been committed to providing quality coverage of quality music. Stylistically, this outlet is a bit more intellectual than some of the publications listed above – they walk an interesting blend of elitist arrogance and endearing earnestness that somehow works really well.
As they put it: "Digging globally, AD bridges contemporary sounds with psych, jazz, avant-garde, folk, garage, funk and beyond. For heads, by heads."
I guess the takeaway is that if you're a "head", it's worth a look.
Love the ethos of this one: "This Isn't A Competition, It's A Collaboration." If you like reading thoughtful takes written by old-school music bloggers (I mean the kind of people who really care about music enough to sit in their rooms alone listening to it and writing about it for an obnoxious amount of hours), you will like HI54LOFI.
As explained eloquently here, they take submissions through SubmitHub.
As the blog's name might suggest, Indie88 is a fantastic source of information for indie music lovers. Starting as Canada's first indie music station, the platform evolved to become a creative hub, with in-depth music reviews, news about bands big and small, pop culture and articles on Toronto's local lifestyle.
Take a look at what they broadcast and write about, and if your music is in line with their style, get in touch with them.