Long-story-short, here are my top 14 music business podcasts to listen to this year:
Creative Juice
DIY Musician Podcast
The Music Marketing Manifesto Podcast
The New Music Business
The Modern Musician
The Music Blueprint
Female Entrepreneur Musician
Progressions: Success in the Music Industry
Bobby Owsinski's Inner Circle
The Music Biz Weekly
Unstarving Musician
The Six Minute Music Business Podcast
Song Exploder
Broken Record
For the details, keep reading.
I've always been an avid reader of both music business books and articles. I simply love the medium: the way you can be mesmerised by the passion and expertise of the author and completely switch off from everything else around you.
Last year, when my daughter was born, reading for longer than 10 minutes at a time became almost impossible. I just didn't have the time or the energy to read the latest news on the music industry and technology or to stay up to date with the new trends in music marketing.
My profession requires me to stay up to date and be aware of all the things happening in the music industry – so I had to find an alternative way to get the knowledge I needed without compromising family time.
That's how I discovered music business podcasts. Don't get me wrong; I was listening to podcasts even before I became a father. But I wasn't listening to music-related radio shows.
Given that the podcast industry is booming, there's an incredible amount of great content online these days: from podcasts for songwriters to music marketing tips to artists' interviews.
However, what I'm interested the most in is the music business. Hence, below you'll find a list of my favorite music business podcasts, covering a variety of topics like marketing, social media, revenue models, and new technologies.
Let's dig into them.
A little bit about these podcasts
In the list below, you'll find podcasts which are focused on one or more sub-fields of the music business. These are the most common topics you'll find in the podcasts below:
Marketing & social media strategies for artists
Career development
Technical audio tips (equipment, mixing & mastering, and so on)
Interviews with famous artists
How to run a music business
New technologies
Revenue streams
Touring strategies
Creative tips
As you can see, the music industry is a multi-faceted business. First of all, if you haven't yet, you should identify the kind of career you intend to pursue. Defining whether you want to become an artist or a music business manager will help you choose the podcasts that will resonate with your career objectives.
The podcasts I chose for this article cover a bit of everything, providing useful information for people working in all aspects of the music industry. However, you may want to cherry-pick the ones that are more in line with your passion or field of expertise.
While this list is numbered, truthfully, it's in no particular order, so make sure you check them all out before making a final decision on which shows to follow. I chose podcasts that are available on all the most popular audio streaming platforms because, if you're like me, you want your favorite podcasts to be available anytime, anywhere.
With over 200 episodes, Creative Juice is one of the most popular and established music business podcasts. Hosted by Kyle Lemaire, aka Circa, and Jack McCarthy, Creative Juice has a friendly, easy-going approach to the music industry while providing tons of valuable information to independent artists.
Topics covered on Creative Juice range from the latest technologies like NFTs and blockchain to marketing and touring tips, so this could easily become your go-to radio show whenever you need to gather information on a particular topic.
The DIY Musician Podcast is produced by the music distributor CD Baby. It covers a variety of topics, but it's mostly focused on how artists can monetise and make a living out of their passion. Because of its pragmatic approach, the DIY Musician Podcast is ideal for those who need information on how to make money through music without getting lost in the jungle of new technologies.
The resources available in both the DIY Musician podcast and website are everything a musician needs in order to succeed: from marketing tips to music licensing, social media strategies and interviews with successful indie artists.
Hosted by music marketing expert John Oszajca, the Music Marketing Manifesto Podcast is an invaluable source of information for artists trying to build a career in the music industry. With step-by-step guides, interviews with industry experts and crucial topics for artists, this radio show is a Bible for independent musicians across all genres.
A former major-label recording artist, John Oszajca delves into the topics that define an artist's career in a friendly and informative manner, with established guests that bring their experience and knowledge to the table every week.
Ari Herstand has been one of the most important voices in the independent music industry for a decade, thanks to his fantastic website Ari's Take and the book How to Make It in the New Music Business.
Ari's podcast is engaging and fun, but most of all, it delves deep into topics that musicians must know exceptionally well if they want to succeed. From analysing different business models to the most extravagant and effective social media strategies, Ari interviews artists and entrepreneurs that give their crucial opinions on the music industry today.
Hosted by Michael Walker, The Modern Musician Podcast is perfect for new artists looking for marketing tips and effective online strategies. What differentiates The Modern Musician Podcast from other radio shows is how each episode focuses on a single topic, starting from the basics and getting deeper, making it ideal for both novices and music business pros.
The format is accessible, and the information provided is easy to digest. Michael Walker is a great host who can make the most out of each topic, and the questions he asks his guests are the ones all independent musicians need to know about.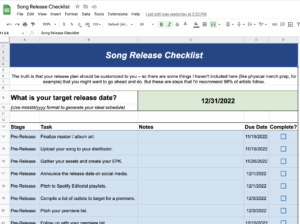 Song Release Checklist (21 Steps)
Here's what to do when you put out music… and exactly when to do it.
Hosted by Taylor Swift's former manager Rick Barker, The Music Blueprint Podcast is designed to help you navigate through the music industry by offering valuable tips and analysing the latest industry trends.
Given the notoriety of the host, it shouldn't come as a surprise that the guest speakers are the crème de la crème of the industry, and with a career spanning over three decades, his bits of advice are always spot on.
The Female Entrepreneur Musician Podcast aims at providing informational and inspirational tips to aspiring female artists. Here you'll find interviews with artists and entrepreneurs who share their views on this constantly shifting industry and give all the necessary information to succeed.
Empowering female artists is something many people talk about, but very few actually do something about it. The Female Entrepreneur Musician Podcast wants to offer an all-encompassing guide to all female artists and entrepreneurs trying to carve their path into the male-dominated creative industry.
With Progressions, Travis Ference identifies the critical point of artists' careers and explains in detail how things are done in the music industry. From technical episodes focused on mixing and mastering to recording tips, from NFTs to the types of record deals you should sign, here you'll find everything you need as a musician to achieve success.
What I like about Progressions is the friendly approach to even the most delicate and complex topics. The host does a great job at making information accessible to anyone without making the podcast sound like a beginner's guide to the music business.
Producer, engineer, and writer Bobby Owsinski hosts this fantastic music business podcast where every week he discusses everything about the music industry with both independent artists and worldwide known music managers.
Each episode of the show is extremely informative, also thanks to the host's calibre. Bobby Owsinski is a music industry guru and expert in many fields, from music production to marketing and new technologies.
With over 500 episodes and counting, The Music Biz Weekly podcast hosted by Michael Brandvold covers everything music-related, with a particular focus on artistry and the tools available for the DIY musicians these days.
Michael Brandvold is a music marketing expert working for the likes of Kiss, Madonna, Ozzy Osbourne and many more. His experience in the field, combined with a passion for the latest technologies in the music industry, makes this music business podcast a great source of information for artists and creative entrepreneurs.
In Unstarving Musician, the host Roberto R Hernandez does a great job at discussing all the most critical aspects of an artist's career and invites exceptional guests who offer tips on marketing, creativity and finance management.
The Unstarving Musician gives a passionate overview of the music industry and focuses on the creative side of things, highlighting the importance of a creative lifestyle in an artist's career path; however, you'll also find tons of practical information on how to reach your fans and build an audience.
By the title of this show, you should be able to guess what I love about it. Instead of discussing a topic for hours, the host Wade Sutton goes straight to the point with short episodes that give all the information you need on hot topics in the music industry.
This is a great radio show if you don't have much time but want to stay up to date with everything that's happening in the music industry. The insights provided in these short episodes are extremely valuable for beginners and professionals alike.
The Song Exploder podcast is not about the music business as such, but its unique format makes it interesting for artists across all genres. In this show, artists are invited to take their songs apart and analyse their sources of inspiration and ideas behind the piece.
Steve Reich, Robert Plant, Franz Ferdinand, and many more participated in this project. For people interested in music, this is a unique opportunity to explore the creative side of artists renowned worldwide.
If a podcast gets to interview, among others, Rick Rubin, Red Hot Chilli Peppers, and Neil Young, then you know that its quality is top-notch. This is mostly a podcast about artistry and how successful musicians handle their careers.
Broken Record is an inspiring and helpful podcast that gives you the chance to listen to the voice of worldwide-known artists and learn about their careers, from the behind-the-scenes to creative pits to succeed.
Final thoughts on music podcasts
I hope this list will help you find all the information you need to kickstart your music career. If you think I forgot about some great music business podcasts, please do get in touch – let me know what I'm missing in the comments below.
Needless to say, I don't listen to all these podcasts on a regular basis. Among them, there are a few which I listen to weekly, while others I check every now and then to see if they published something new and interesting. It's hard to keep up to date with all things happening in the industry, and I had to make a choice that'd allow me to be informed while not taking too much of my time.
My suggestion is for you to choose two or three podcasts that really resonate with you and check out the others occasionally.
Spending a lot of time gathering information in the music industry will eventually drain you, so make sure you don't overdo it.
That said, if I had all the time in the world, I'd undoubtedly listen to all these amazing music business podcasts! These fourteen shows will provide you with all the information you need, regardless of your career path.
Good luck, and stay creative!