The mastering process is the final step in music post-production. It ensures the song will be suitable for playback on all audio systems and formats by adding compression, EQ, limiters, automation, and other effects that help your song achieve the industry standards necessary to make it a commercial hit.
Although mastering engineers have been the backbone of the music industry for decades, over the last few years, there's been an increasing demand for automated mastering services, which can deliver a mastered track in minutes.
Online mastering services have become the perfect solution for independent artists who can't afford a professional studio to master their songs. So in this article, I'll analyze which are the best online mastering service tools out there and help you find the one suitable to your needs.
Let's dive in!
What is an online mastering service?
An online mastering service is an online program designed to analyze your tracks and apply pre-established mastering chains to improve the sound quality of your songs and get them ready for distribution on different streaming platforms or physical formats.
Despite being an automated process run by a sophisticated AI, online mastering also allow a certain degree of customization that lets you adjust your song's sound and make it unique.
12 Best Free Online Mastering Services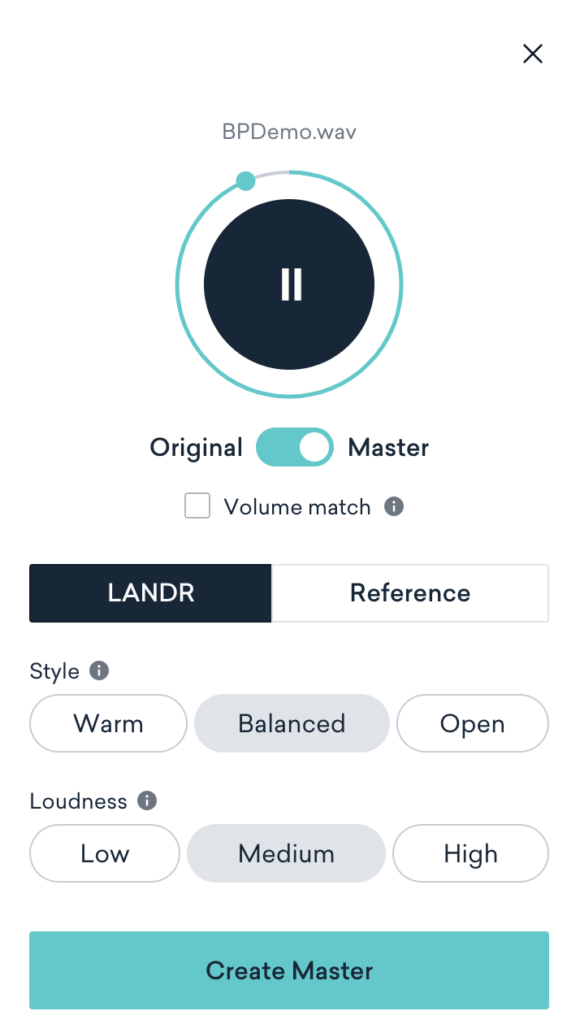 Okay, note upfront here: LANDR probably doesn't strictly qualify as "free," because to actually download your master, you'll need to pay $10 or choose a "studio" plan that delivers unlimited masters, a cool software bundle, and distribution for $12.50 per month (which, honestly, is a cracking deal).
But they do allow you to sign up and master a demo for free, so I'm counting them on this list because I made the list and I make the rules. Sorry.
Anyway, pricing stuff aside, these guys are probably the industry leaders in online mastering. They're one of the first companies I heard of in this space, so it's safe to say they get a lot of hype. Having tried them myself, I'd say the buzz is mostly warranted.
Their mastering program falls into a middle ground between automated and customizable. You can get real feedback on your mix beforehand, which is potentially helpful. But you don't get full EQ dials or anything, although you've got options to adjust the style between "Warm," "Balanced," and "Open," and to set the volume anywhere from low, to medium, to high.
Maybe the coolest feature, though, is that you can upload a track to use as a reference for your master. If you upload a finished track, their AI will take the mastering choices from that track into account, so that you get something close to the reference as a finished project.
Pretty neat.
If you're interested in mastering multiple songs, I'd say their Studio plan is worth looking at. (And yes, I'm an affiliate with them, because I think they're legit, so if you sign up for that plan I'll get a commission). Again, if you choose that option, LANDR will distribute your track to Spotify, Apple Music, Amazon Music, etc. (so they basically replace CD Baby or DistroKid or whatever), plus they'll give you access to Ableton Lite and they'll provide a ton of sweet samples and VSTs.
Pros
Solid AI processing for industry-standard masters
You can upload a reference track as a basis for your master
Lots of cool bonuses if you choose the Studio plan
Cons
Not as customizable as some of the other options (no EQ dials, etc.)
Not technically free (free trial lets you see what your song will sound like, but you have to pay to download)
The bottom line is that, if you're looking for online mastering, LANDR is probably worth checking out. Here's the link again.
MAZTR was born in 2016 and designed by audio engineers and musicians as a free resource for home recording artists to master their songs in the cloud.
You upload your song by dragging and dropping your files and choosing your genre and intensity. After that, MAZTR's intelligent algorithm analyzes your track and adds all the necessary enhancements.
For those who like to tweak things by themselves, MAZTR allows you to take more control of your mastering process, offering a 12-band EQ, multi-band compressor, stereo widener, and a limiter tool for you to customize your post-production process.
If you need to convert your audio files into MP3 for mastering, MAZTR offers a wide selection of free resources, including an audio file converter, audio file editor, and tag editor, among others.
MAZTR offers four different plans:
Free: unlimited previews and downloads of 192 kbps MP3; two projects and 50MB Max file size per month.
MP3: Unlimited 320 kbps MP3, three projects, and 150MB max file size; $4.99 monthly or $49.00/year.
PRO: Unlimited 320 kbps MP3, unlimited 16-bit and 24-bit HD WAVs, five projects, and 300 MB max file size; $9.99 monthly or $99.00/year.
Pro Plus: Same as the PRO plan plus unlimited projects, unlimited track storage, and 5000MB max file size; $19.99 monthly or $199.00/year.
If you're not ready to commit but want a Hi-res mastering service, you can pay a one-time fee for each mastered track; with the single plan, you get a 320 kbps MP3 download and 16-bit or 24-bit download for $4.99.
Pros
Affordable plans.
One-time fee option.
Cons
All Hi-res options are only available in the PRO plans.
Like Landr, CloudBounce is not strictly free, either, but you can create a free account and hear what your master sounds like before you pay anything for it.
And unlike Landr and a few of the other options on this list, CloudBounce is pretty much just a mastering platform. If you give their website a quick scroll, that fact shows pretty obviously; they come across as mastering engineers, not music-industry-do-it-all-ers. It shows in their product, too; rather than having a button or two, they have a range of genre options to choose from that allow you to tweak different aspects of your track's audio.
They've worked with a notable list of musicians and have a range of industry connections, including Abbey Road Red, MixMag, Focusrite, and CD Baby (which means that if you're affiliated with any of those platforms, you might be able to access discounts).
Here's what their plans look like:
Pay-as-you-go: $10.90 per track (you get it in hi-res WAV and MP3)
Infinity: 21.90 per month (features are the same as the pay-as-you-go plan, but you also get lifetime cloud backups of your tracks)
Infinity annual: $219.99 per year (functionally it's the same as the monthly plan, just a little cheaper on a per-month basis)
Again, you can get started with the platform for free, but you'll have to pay to download your master.
Pros
Pretty flexible / customizable for an online platform.
Cons
You have to pay to download your master.
The social music platform BandLab is known for offering music production tools accessible to everyone online, including an outstanding DAW and a variety of publishing tools. It shouldn't come as a surprise, then, that they also offer an instant mastering service.
BandLab Mastering supports audio and video formats in WAV, MP3, or MP4. Once uploaded your file, you can select between four preset mastering settings:
Universal: a natural dynamic and tonal balancing perfect for rock, pop, electronic and alternative genres.
Fire: punchy lows and midrange clarity for trap, Hip-Hop, experimental, and reggaeton genres.
Clarity: pristine highs with light dynamic expansion for acoustic, classical, RnB, and singer-songwriter genres.
Tape: for a warm saturation with analogue dynamics suitable for jazz, alternative indie, and alt-rock music.
BandLab's mission is to create communities by breaking the technical and geographic barriers with free unlimited services. That's why they offer a complete package of tools for music creators so that all you'll need to worry about is making music.
Pros
All features are available for free.
Unlimited masters.
Fast mastering process.
Cons
Not much room for mastering customization.
Major Decibel is an independent online mastering service, a project founded and run by a single person experienced in developing custom audio processing. As an independent company, Major Decibel aims to satisfy the needs of independent artists looking for a quick and affordable solution for their music.
If you wish to enhance your audio before sharing it online but are not ready to work with a professional mastering engineer just yet, Major Decibel offers you two songs for free every month without registration or subscription.
With the free service, you can choose between three mastering intensity levels: Low, Medium, and High; High sacrifices some dynamic range in favour of a louder, punchier sound, while Low focuses more on the dynamic range rather than loudness.
Additionally, you can subscribe to their Premium Mastering Pass for additional post-mastering equalization options: Warmer, Warm, Neutral, Bright, and Brighter; Hi-res file formats including FLAC and WAV.
You can get the Premium Mastering Pass for $6 monthly for single artists and $14 monthly for studios or labels.
Pros
Competitive prices.
Two free masters each month.
They're always listening to feedback for improvements.
Cons
No one-time fee for Hi-res masters.
Music Gateway wants to make the mastering process available to everyone with their online tool, offering unlimited mastering and downloads for free and access to all Music Gateway features.
This is a time-saving tool that can help you enhance your songs, allowing you to spend more time creating and promoting your music. That's why Music Gateway also offers other services like Artist Pages, free distribution to Spotify, Apple Music, and more.
For your master, you can select between warm, balanced, open styles and low, medium, and high loudness. If you're looking for a specific sound, you can upload a reference song, and the AI will match that sound for you. Once your download is ready, it will remain in your account for 14 days.
They offer three premium plans if you want to expand your promotion opportunities:
Adventurer Lite: for new artists, it offers 500MB of music storage and a 50/50 sync licensing split. You can get a 14-day trial then it's $7.50 monthly.
Influencer Pro: for professional artists looking for distribution and promotion alternatives, it offers up to 15GB of music storage and a 75/25 sync licensing split. The Pro plan is $22 monthly.
Unlimited: Access to everything on the previous tiers, plus dedicated support and unlimited music storage. The unlimited plan is $37 monthly.
Pros
Unlimited masters.
Reference track feature.
Cons
The mastering process is slow, and you can only upload one song at a time.
To upload old tracks on MP3, you'll need to convert them to WAV, AIFF, or FLAC first.
Founded by Dirk Ulrich, CEO of Brainworx and Plugin Alliance, mastering.studio was developed to create an affordable, easy cloud solution for artists and producers looking for a professional mastering service.
With mastering.studio, you can upload up to 100 tracks, which will be stored for 12 months. You can only download your master three times, so make sure you back up all your songs or be ready to pay for additional downloads.
Mastering.studio offers three mastering styles: London for jazz and alternative rock; LA for Hip-Hop and rock; and Miami for electronic and pop.
Mastering.studio has three available plans to choose from according to your needs.
CD master: it's the free plan, and you get a 16-bit, 44.1 kHz WAV, perfect for CD mastering.
Artist streaming: you get a 16-bit WAV, 48 kHz WAV optimized for streaming platforms for $2.99 per track.
Label quality: you get 24-bit, 96 kHz WAV suitable for Hi-res streaming at $6.99 per track.
Pros
Preview your track before paying for the service.
Cons
You cannot adjust any settings on the mastering styles.
No batch uploads.
MasteringBox is a mastering service designed by professional sound engineers to detect your track's dynamic and spectral characteristics and apply the necessary adjustments, as an audio engineer would do.
The interface in MasteringBOX is easy-to-use with a drag-and-drop feature to upload files and master them instantly. You can upload multiple tracks to master your full album in minutes. MasteringBox provides a fast and high-quality mastering solution for artists and labels.
With MasteringBOX, you get one free master per day, or you can choose to upgrade to one of the four premium plans for unlimited mastering:
Basic: free M4a and MP3, loudness and EQ control, ID3 tag editor, and cover art for $7.99 per month.
Pro: same as basic plus 3 WAV downloads per month, for $12.99 per month.
Unlimited: includes free WAV and HD WAV downloads plus everything on Pro for $24.99 per month.
Studio: for professional use, everything on the previous plan, for $49.99 monthly.
Pros
One compressed master daily with the free plan.
You can upload, edit and master simultaneously.
Cons
More expensive plans than other competitors.
Ian Knowles is a full-time programmer, producer, and performer who has been making music his whole life. He is the creator of Blackbox audio mastering software and the Summit limiter plugin.
Ian Knowles Mastering is a web mastering service. No software is required: the process is fast and ideal for mastering demos and streaming releases.
The service is still at an early stage and only offers automated mastering in 16-bit, 24-bit, and 32-bit WAV. You can't choose any pre-established styles and can't preview your track before downloading. However, it's free and offers an easy-to-use solution for those looking to find out how their music would sound with proper mastering.
Pros
Fast mastering process.
Easy-to-use interface.
Cons
No mastering styles to choose from.
The site is currently a work in progress, featuring limited functionalities.
AI mastering is an AI-powered free online audio mastering service that quickly improves your music sound quality. It balances the loudness and the dynamic range of your track with a sophisticated limiter to get your tracks ready for distribution in no time.
AI mastering service is free with unlimited mastering that allows you to upload up to 250MB or 15 minutes of audio that will be stored for three days. For those working with videos, you can upload an MP4 video file and master the audio only, choosing between:
Easy mastering: automated process with a target loudness fixed.
Custom mastering: you can target loudness mode, ceiling mode, oversampling, and select output format and sample rate.
Pros
100% free.
It supports video files.
Cons
Wavemod is an online mastering service for audio and video where you can try it all you want until you're happy with your mastering; no registration is required. Once satisfied with the result, you can pay and download the track.
Wavemod optimizes your audio for streaming platforms like Spotify, Apple Music, and Bandcamp. With their online mastering algorithm, it can find the best audio enhancement based on your song's mood and genre.
You can batch upload up to 20 files of 200MB maximum per file, which is helpful when you want to upload full albums.
To get your download, you pay $1.49 per minute of audio, an average of $4 per song, without subscription fees or extra features.
Pros
No subscription fees.
Batch upload available.
Cons
No customizable settings.
Maastr is an automated mastering engine built by a team of sound engineers to streamline the mastering process and allow everyone to get world-class mastering in minutes. With the collaborative projects, you can share notes and pinpoint sections of the mix that needs to be refined.
You can try their service for free and pay for a single download or choose between three plans:
Home Studio Wiz: full master previews, project collaborations, paid WAV downloads, and limited dynamic and colour settings for $10 monthly.
Studio Expert: same as Home Studio, plus free MP3 downloads and multiple dynamic and colour settings for $20 monthly.
Industry Pro: everything in Studio Expert, plus free WAV download for $50 monthly.
Pros
Batch upload track.
Projects collaborations.
Cons
Better customization behind a paywall.
No free downloads.
Higher price than other services.
Final thoughts on online mastering
Online mastering services are tools designed to help speed up the mastering process and in no way can replace the human touch of an expert audio engineer.
For now.
Something you can't get from an online mastering service is feedback about your original mix. A human engineer will tell you if you need to mix your track again or give you an opinion as to what you can expect from your mastering, but of course, that comes with a price.
Leaving all those things aside, using online mastering services is very useful for independent artists, who can easily make their songs ready for publication without spending a fortune. Whether using a free mastering service or a subscription program, rest assured the tools above will provide you with professional mastering results.