TL;DR – I'd recommend these five courses if you want to grow on Spotify:
I'll personally vouch for all of these course creators; they're all good people and good at what they do. And I'm convinced that if you put any of their insights to good use, you'll see results.
That said, if you're looking to learn Spotify marketing and have a limited budget, you've got to pick your spots. So we'll offer a breakdown of each course in a little more detail below. Keep reading for that!
The impact of Spotify on artists' revenue streams and marketing approaches is enormous.
Before the pandemic, revenues coming from the streaming platform were, for many artists, irrelevant, especially when compared to album sales and incomes from touring. Covid-19 changed all that, and it caused artists of all levels to focus their attention on a streaming platform that can provide a regular source of income even in dire times.
However, understanding how Spotify's algorithm and playlists work – and how to get people to actually listen to your music – is, in all honesty, pretty darn confusing. As a result, there's a ton of music that sits on Spotify and never gets listened to.
Forever.
But, thankfully, there are plenty of great teachers out there who have done the hard work and who offer insights on how musicians can make the most of the biggest music streaming platform worldwide. I'm a firm believer that, with the right approach, you can actually get meaningful (real) streams.
So today, I'll look into some of the most interesting Spotify courses available. These programs can give you all the information you need to maximize your audience and increase your streaming revenues.
Let's dive in!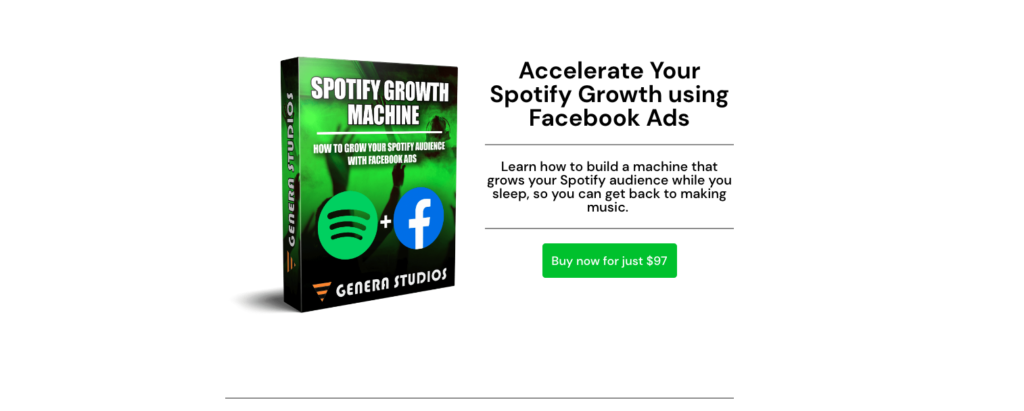 This is Andrew Southworth's course, and I'm a big fan of Andrew Southworth. He's a master at Facebook ads for Spotify promotion.
Unsurprisingly, with this course, you'll learn how to use Facebook ads to get your music heard by the right audience, encourage fans who listen to your songs more than once to save them, add them to their playlist, and start following you on Spotify.
The Spotify Growth Machine course approach is quite simple: Andrew's of the opinion that playlist listeners are less likely to become your fans, and they might hear your song and just forget about it in minutes. So his course aims to create carefully-tailored Facebook campaigns to help you target the most likely interested in your music.
In this course, you'll learn how to trigger the algorithm and drive people who already have Spotify to your page on the platform; plus, it'll give you some tips on strengthening your relationship with fans.
Pricing
The current price is $97 instead of $397, and with the 14-day trial period, you can get a refund if you are unsatisfied.
What Andrew teaches
This course has video guides with step-by-step instructions and provides access to a private community group where you can ask questions not covered in the class. (I'm in the community myself and the discussion is pretty lively.)
With Spotify Growth Machine, you can learn the following:
How to show your song to people who have Spotify and are likely to enjoy your music.
Get results fast and cut the cost of your ads.
The differences between the campaigns to promote a song and campaigns to get more people to follow you on Spotify.
Retarget the audience who has already shown a strong interest in your music. Lower your ad costs for future campaigns and strengthen the relationship between artists and fans.
Create a successful Spotify playlist to promote your music.
Pros and Cons
Pros:
This is the best course for learning conversion campaigns that I've personally taken.
Go through all the content at your own pace.
Learn how to run effective and affordable ads.
Access a private and active community group of like-minded artists.
Grow our fanbase on Spotify AND Facebook.
Cons:
You still have to pay for your advertising, in addition to the price of the course
There's no guarantee this strategy will work for you.
You can give the Spotify Growth Machine a shot here.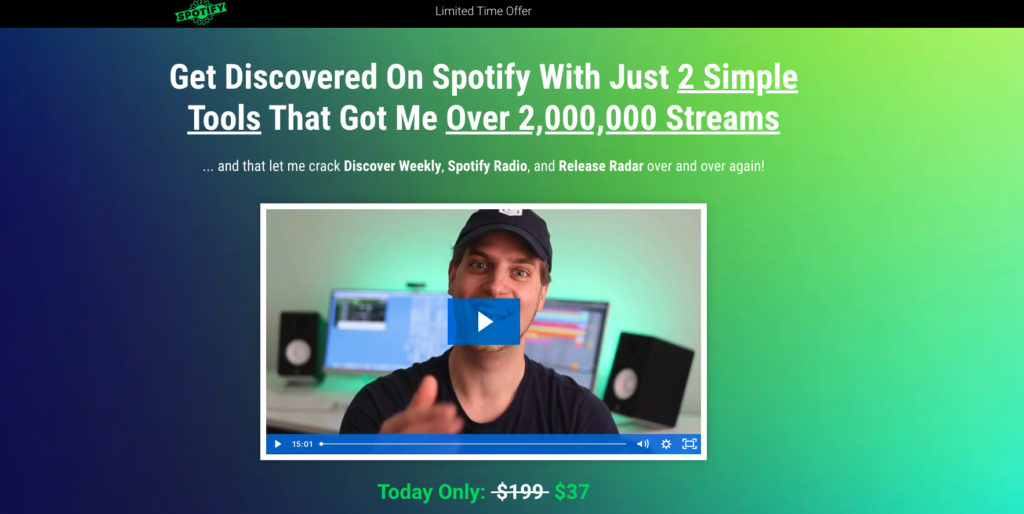 The Spotify Growth Engine is from John Gold (founder of Hypeddit). It's similar to Andrew's course in that it teaches Facebook conversion ads – and it's similarly named, which is pretty confusing ha.
In the course, you'll get access to videos that show you how to set up a Facebook conversion campaign using John's software, Hypeddit. The product doesn't run your ads for you; instead, it gives you an easy-to-follow plan for running your campaigns. So, even if you are starting from scratch, you can begin getting streams from real listeners!
The course also has a lot of extras, like a private Facebook group where you can get one-on-one coaching and other bonuses like "the biggest Spotify hacks", live training with Rick Baker, and more. Some of these you have to pay more for, though.
Pricing
Right now, they have a limited-time offer for just $37 instead of $199. A great deal to start growing your presence on Spotify! And if you feel the course is not what you were looking for, you can always ask for a full refund.
What John teaches:
Once you pay for the course, you'll get access to a portal to find all the tools you need to start running your ad campaigns, including exclusive content that will show you how to set up ads. As with Andrew's course, you'll also get into a community of like-minded artists (via a Facebook group) that includes Hypeddit coaches who can help you solve common problems.
You'll learn the following:
How to set up a conversion campaign in Facebook ads.
How to create basic ads.
How to optimize your campaign.
Pros and Cons
Pros:
You can watch hours of content at your own pace and whenever you want.
Learn more about the Spotify algorithm and how to run effective ads.
Join a vibrant community of artists. Regardless of whether you have a free version or pay for the VIP Coaching, you'll have access to a large community of musicians who share the same ideas and goals you have.
It's a good balance between simple and effective. Andrew's is more detailed, but this is the nuts and bolts.
You can use the same template for each new release without having to keep paying for the promotion.
Cons:
Again, the course price doesn't factor in ad costs or the cost to use Hypeddit (which is $9 per month).
Campaigns still have to be run and managed. Even though the program has some valuable information to help you set up your ad, you still have to run the campaigns yourself. If you want to avoid paying the membership fee for weekly coaching, you'll have to figure out problems on your own or through the Facebook group.
It's a little too simple in spots. I got stuck with pixel issues my first pass through. (Although maybe this isn't a con, because I did eventually figure things out with help from John's other resources.)
Give the Spotify Growth Engine a try here.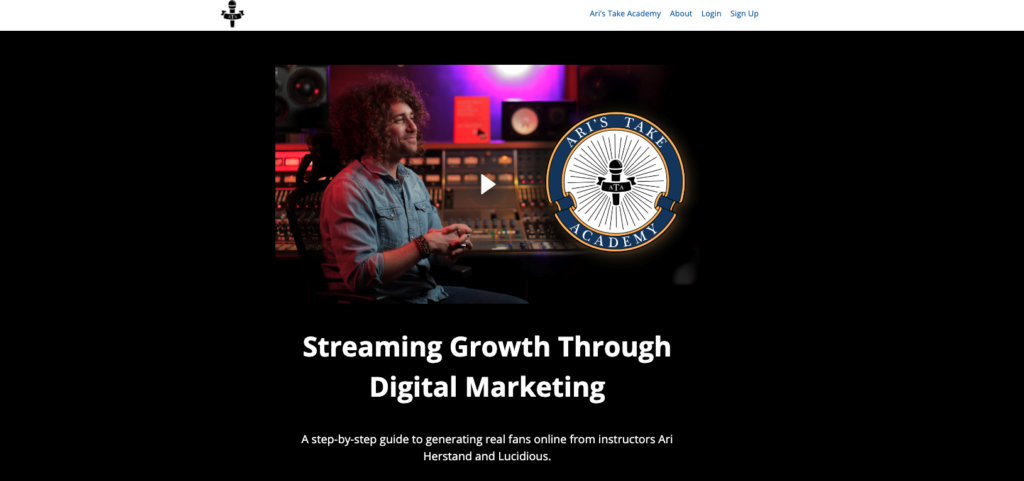 Ari Herstand's courses are a must for anyone serious about a music industry career. They're expensive but extremely valuable, offering plenty of material and Q&A sessions with successful artists.
Full-disclosure: I didn't take this particular course, but I'm currently doing the Advanced Sync Strategies course by Ari's Take Academy, and it's fabulous.
This Streaming Growth course focuses on Instagram and how it can be used to engage with fans and maximize your online audience. Similar to the Spotify Growth Machine course, this Ari's Take program uses the power of social media ads to attract listeners to your Spotify profile.
Notably, Ari co-teaches this one with Lucidious, an independent rapper who attributes his success to learning ads.
The course starts from the assumption that you want more than just streams: You need loyal fans, the kind of like-minded audience who eagerly waits for your next release and supports you throughout your career. Labels and band managers won't be able to build your fanbase unless you already have a solid marketing strategy in place. This is what this course is about.
Pricing
Currently, enrollment is closed, but you can sign up for their email newsletter to be the first one to know when the academy will accept new students.
The price of this course is $997, but there's a monthly installment option that allows you to pay $99 per month.
What Ari and Lucidious teach:
In this course, you will get bonuses and six chapters with lessons about:
How to set up an ad account, assign page ownership and admins, navigate through the business manager dashboard, and a couple of lessons about Facebook Pixel Creation.
Crafting your music and video content, plus setting up your profile.
Setting up your ad, defining your audience, data tracking, Spotify and Apple Music growth, etc.
Managing your ad performance, analyzing results and growth, and creating long-term goals.
Bonuses like How to get on Spotify playlists, use chart metrics to find playlists and editors, get all your music royalties, etc.
Live Q&A sessions
Pros and Cons
Pros:
Join the private group to ask anything you need.
Access to all the material for at least one year.
Lessons are short and on point, which saves you a lot of time.
Cons:
Applications only open twice a year during a month, so if you want to get in, you have to subscribe to their email and wait.
No refund option.
Obviously, this one's really expensive.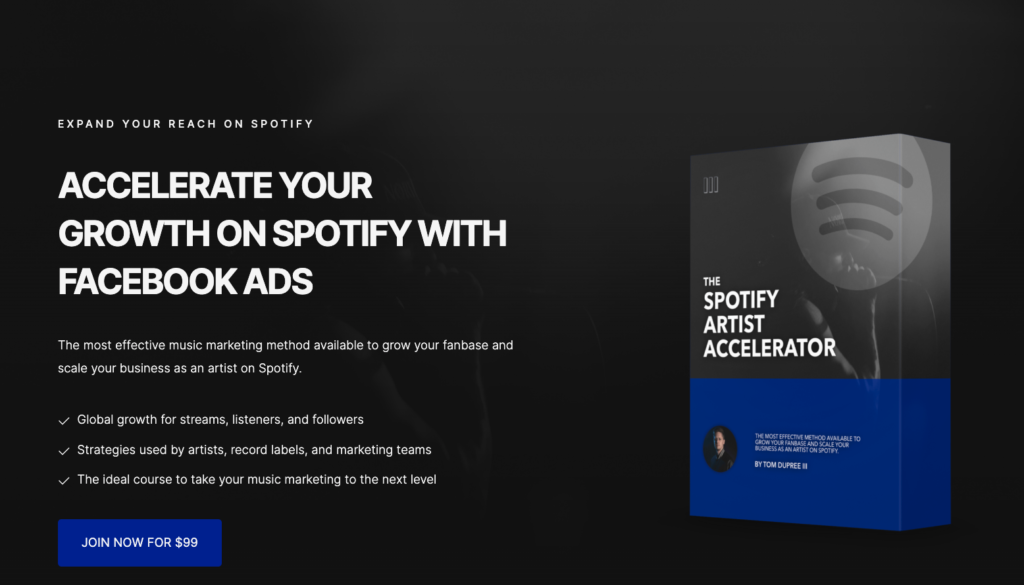 I'm a big fan of Tom Dupree III, too. He's a good dude. Also, he's very smart.
His course is also on paid advertising for Spotify promotion. It offers strategies used by artists, record labels, and marketing teams, and the promise is similar to the one in the course above: Once you've learned how to use ads on Facebook and Instagram to grow your business as an independent artist, you'll start seeing streams growing right away.
True fact.
Pricing
Currently, you will find a limited offer of $99 instead of $297. Also, if you are not satisfied with the course, you have a 14-day guarantee to get a full refund, as long as you completed only 25% of the course.
What Tom teaches:
The Spotify Artist Accelerator gives you instant access to five modules with more than 50 video lessons and course discussions within an exclusive online community.
There's a lot of info in this course, for example:
Introductory part with additional resources, what you will need, and what to expect.
Creating a Facebook Business page, setting up Facebook Business Manager setup, making your ad account, Setting up a Facebook pixel, etc. Learn to advertise on Instagram, Facebook, and Spotify.
Creating a Brand Awareness campaign and Brand Awareness ad level, creating Traffic and growth campaigns.
Analyzing your results, creating custom content, refining ad set targeting, and automating your growth.
Creating a Spotify Release campaign, Release Campaign examples, and adding new songs – the Snowball method.
Targeting specific territories for growth and adjusting your budget
Pros and Cons
Pros:
Access to all the course materials for a lifetime.
Take the course as many times as you want, ask as many questions as you want, and reference any video you want whenever you want.
Fourteen-day guarantee, and if in that time you didn't complete more than 25% of the course, you will get a full refund.
Free sample video to see the potential result in just less than a month!
Cons:
Just like with every course, there is no guarantee it will work for you.
Try Tom's course on Spotify promotion here.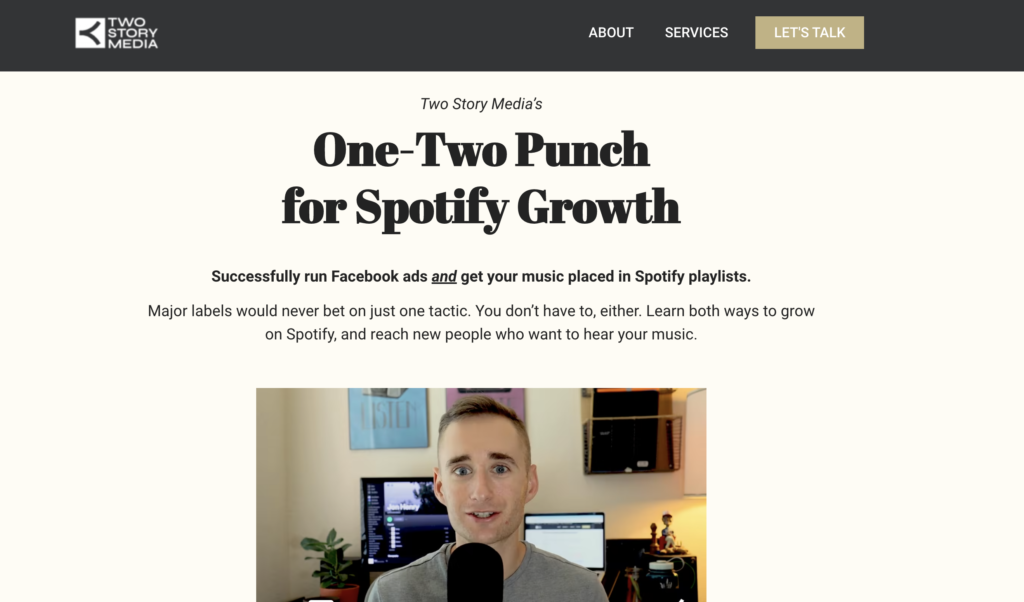 Last but not least, I'd be remiss if I didn't mention our brand-new Spotify course. I'm biased, but I think it's pretty good.
Our One-Two Punch for Spotify Growth is a course that will help you find new listeners by using both playlists and Facebook ads.
Here's the rationale: As you'll notice, most of the courses above focus pretty explicitly on ads. That's a super effective way to get engagement on Spotify, no doubt – but there's no doubt that playlists are worth working on, too. Spotify is literally built on playlists, after all.
I think, if you use ads and playlists in tandem, you get the benefits of both worlds.
Pricing
The course runs at $97.
What we teach:
The One-Two Punch for Spotify Growth is built in five modules, with more than 20 videos to help you get started and grow your presence on Spotify:
We offer an introduction about the correct mindset for Spotify Growth, including how the algorithm works and the biggest success factor for more streams.
Everything about Spotify playlists, how to get into the most popular ones, and how to find curators and work toward achieving long-term goals.
How to find your ideal fans, optimize ad campaigns, and avoid wasting your money so you can automate your growth.
How to choose the right method for your needs and get clear next steps for your growth on Spotify.
Pros and Cons
Pros:
Clear and honest approach
Accessible price and unbeatable 60-day refund guarantee
You can do it at your own pace.
Cons:
Apart from the course, you need around $300 a month to spend on your ads.
As always, there's no absolute guarantee it will work for you.
Try the One-Two Punch for Spotify Growth here.
Final thoughts on Spotify courses
Look, all of this info is available online if you dig for long enough. The value of these courses is that they walk you through, step-by-step, and put you on the path quickly with minimal mistakes.
And that matters. Because, even in a world where numbers are idolized past the point of reason, the reality is that Spotify matters. It's one of the best ways to get people to listen to your music.
Getting a grip on how Spotify works and learning the best strategies to get real growth on the platform can really make a difference in your career. I'm confident in all of these courses; here's hoping you find one that suits your needs.
Good luck, and stay creative!