Want to skip the long read and get straight to the point? Here's a list of my favorite picks for 2023's beginner-friendly violins!
I personally think that the sound of the violin is the most beautiful out of all other musical instruments. But it's also just as challenging to play! And sadly, many aspiring players make it even tougher for themselves by investing in fancy violins that sound great but aren't the easiest to play. But with so many options out there, you can easily get overwhelmed and end up with an instrument that doesn't fit your needs or skill level.
But don't worry, I've got your back! In this article, I'll introduce you to the seven best violins for beginners. I've done my research and picked out some of the top models that are affordable, easy to play, and produce a great sound. Whether you're an adult just starting out or a parent looking for the perfect instrument for your child, this list has you covered. So, without further ado, let's dive right in. Make sure you stay tuned until the end!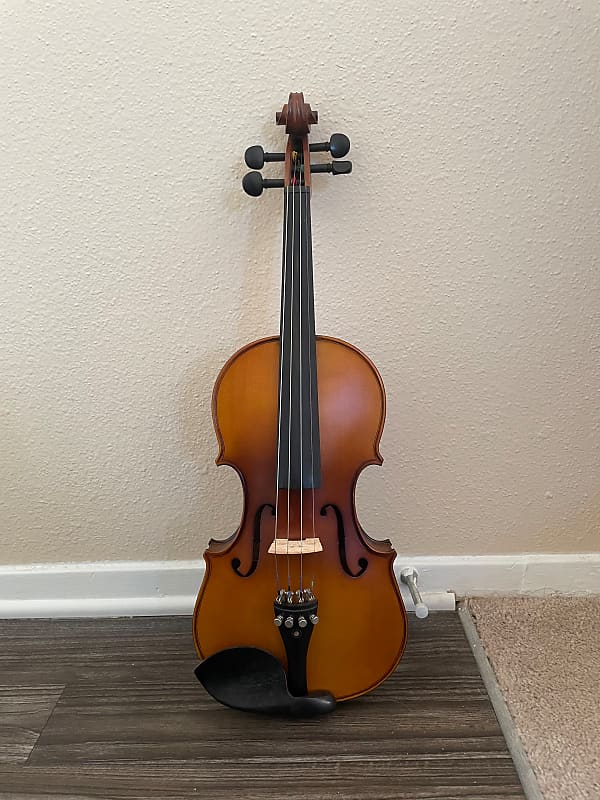 Price: $149.99
Pros
Really affordable
Clean and crisp acoustics
Available in four sizes
Comes with a complete starter kit on Amazon
Backed by a one-year warranty
Cons
Quality control issues in some pieces
Bows have some room for improvement
First off, I've got the Cecilio CVN-300. It's made with a solid spruce top and maple back and sides, which are common tonewoods used in the construction of violins. The fingerboard and pegs are made of ebony — a durable and dense wood that's often used in higher-end violins. It comes with a lightweight hard case, a bow, and a rosin, making it a great package for beginners who don't have access to all the necessary accessories.
One feature I love about the CVN-300 is that it includes four fine tuners which can make tuning the violin much easier for newbies. The tailpiece also has a built-in chin rest to make it comfier for players who aren't used to playing violins.
In terms of size options, the Cecilio CVN-300 comes in four sizes: 4/4 (full size), 3/4, 1/2, and 1/4 — making it the perfect choice for kids and adults alike!
But here's a bit of a downside. Some users have reported issues with the quality control of the instrument, with some violins arriving with broken or loose parts. However, this seems to be a relatively rare occurrence and Cecilio does offer a one-year warranty on their violins.
Overall, the Cecilio CVN-300 is a solid buy for beginner to intermediate-level players who are looking for a decent-quality violin at an affordable price. It's got some nice features like the four fine tuners and built-in chin rest and comes in as a complete package with all the accessories you need. Aside from the quality-control woes (which is a non-issue thanks to the one-year warranty), the Cecilio CVN-300 is worth a look.
Price: $1,085
Pros
High-quality materials and construction
Easy to play and handle
Good sound for an entry-level violin
Cons
Does not come with a bow or case (sold separately)
The Yamaha AV5 is an entry-level acoustic violin that's designed with beginners in mind. It's a solid choice for anyone who is just starting out and looking for a well-grounded instrument that doesn't cut corners to bring the price down. One thing that's certainly not been compromised is the playability. It's easy to handle and has a comfortable feel, which is perfect for newbies who are still getting used to holding and playing the instrument. The sound is also impressive with high resonance and crystal clarity — something you can always expect from a premium acoustic brand like Yamaha.
The Yamaha AV5 is made of high-quality materials, with a spruce top, maple back and sides, and an ebony fingerboard. The quality of the materials is apparent in the sound of the instrument, and it's designed to last for years with proper care and maintenance. The AV5 also has a pleasing aesthetic, with a warm and natural finish that shows off the wood grain. It's a great-looking instrument that you'll be proud to play and show off in any setting.
It comes in different sizes which lets you choose the one that's right for you. The sizes range from 1/16 to 4/4, which means that both children and adults can find the perfect fit.
I personally love the Yamaha AV5's hand-carved top, which is a sign of its quality craftsmanship. This means that the top of the violin is shaped and refined by hand, rather than being mass-produced by machines. Hand-carving is a labor-intensive process that requires a lot of skill, and you'll only find this type of build quality in the highest-end violins like the AV5.
The only potential downside to the Yamaha AV5 is that it doesn't come with a bow or case, so you'll need to purchase those separately. That, on top of the relatively high price tag, pushes this violin out of the budget of many new players. But if you can afford the AV5, you'll certainly get good enough value for your money with this reliable and premium-quality instrument. Have a look here!
Price: $130.95
Pros
Easy to play, great for beginners
Good sound quality for an entry-level violin
Comes with a bow and carrying case
Very affordable
Cons
May not be as durable as some other violins
If you're a bit shook by the price point of my last recommendation, don't worry — not all my favorites are that boujee. Some are a complete gold mine in terms of sheer value for money, and the Stentor Student I is a prime example of just that. For just a little over a hundred bucks, you get a complete entry-level outfit including a 1/2 size violin, a lightweight carrying case, a wood bow, carrying straps, and even a handy backpack to store it all in a convenient and portable way.
It's a budget-friendly option that's designed to be easy to play with high-quality sound and construction. I personally love its satin finish which gives it a smooth and attractive look. You'd never guess how affordable it is at first glance thanks to its premium aesthetics and feel. It's also got some top-tier playability thanks to its comfortable feel, which is ideal for newbies who are still getting used to holding and playing the instrument.
The sound of the Stentor Student I is very impressive for an entry-level violin. It's warm, resonant, and has a clear tone that makes it a pure joy for the player. This is due in part to the quality materials used in its construction, including a solid spruce top, maple back and sides, and an ebony fingerboard.
Another great feature of the Stentor Student I is that it comes with a bow and a lightweight case, so you don't have to purchase these separately. This is a nice touch that makes it a more convenient and budget-friendly option for beginners.
The only potential downside to the Stentor Student I is that it may not be as durable as some other violins. Some users have reported issues with the bridge and tailpiece coming loose over time, but these are relatively easy to fix with some basic maintenance and adjustments.
In conclusion, if you're a beginner looking for an affordable and reliable entry-level violin, the Stentor Student I is definitely worth considering. Check it out here!
Price: $239.25
Pros
High-quality construction
Beautiful finish
Excellent sound quality
Cons
Relatively pricier than other intermediate-level violins
The Stentor II 500 is a step up from the Student I model and is designed for intermediate players who are looking for a higher-quality violin that delivers a more refined sound. This violin is made with premium materials and has a beautiful finish, making it both functional and aesthetically pleasing.
I'm a fan of the Stentor II 500's sound quality. The maple back ans sides and the solid spruce top work together to produce a rich and warm tone that is well-balanced across all four strings. The sound is also more nuanced and expressive than what you would get with an entry-level instrument, allowing you to create a wider range of tones and textures in your playing.
Next, let's talk about the Stentor II 500's construction. The violin is made with high-quality materials that are handpicked especially for their tone and durability. The fingerboard and pegs are made of ebony, which is a dense and durable wood that is resistant to wear and tear. The tailpiece and chin rest are also made of hardwood, ensuring that the violin can withstand the demands of regular playing.
The Stentor II 500 also has a beautiful finish that gives it a classic and elegant appearance. The varnish is carefully applied by hand, resulting in a smooth and glossy finish that enhances the natural beauty of the wood.
So if you're an intermediate player in the market for a high-quality violin that can deliver a refined and expressive sound, you can hardly go wrong with the Stentor II 500. Sure, it's more expensive than its predecessor, but I still see it as very reasonably priced considering the quality and playability of the instrument.
Price: $259.99
Pros
Warm and expressive sound
High-quality construction and materials
Suitable for a wide range of playing styles and genres
Cons
May require setup and adjustments before playing
For the last spot on my list, I'm going with the Cremona SV-175! It's a popular violin that's meant for students and intermediate players who want a well-rounded violin at a reasonable price point.
The Cremona SV-175 has a warm and full sound that's well-suited to classical music, fiddle tunes, and other genres. The violin's tone is perfect for both solo and ensemble playing. The outfit includes high-quality strings that further enhance its sound quality.
The construction of the Cremona SV-175 is also top-notch. It features premium materials, including an ebony fingerboard, pegs, and chin rest, and a maple bridge and tailpiece. These materials not only look great, but also help to improve the sound and playability of the instrument. The violin is finished with a gorgeous oil varnish that gives it an elegant and classic appearance.
Another thing I love about the Cremona SV-175 is that it comes with a number of accessories to help you get started. This includes a high-quality bow that is made with real horsehair, a lightweight and durable case that has backpack straps for easy transport, and a rosin to keep your bow in good condition.
One bone I'd pick with it is that it may require some setup and adjustments before it's ready to play. And as you can imagine, that's not ideal if you're a beginner looking for the path of least resistance to stay consistent in your violin practice. This is not uncommon with violins at this price point, but it's worth keeping in mind if you're looking for a super simple "pick up and play" setup.
With that said, feel free to have a closer look at the complete outfit here!
Final thoughts on violins for beginners
As a music enthusiast and a violin player myself, I know how important it is to have the right instrument when starting out on your musical journey. I hope this article has provided you with a helpful guide to the five best violins for beginners.
Remember, the most important thing is to have fun and enjoy the process of learning. With dedication, practice, and the right instrument, you'll be amazed at how quickly you can progress. Don't give up, keep playing, and most importantly, keep pursuing your passion. The world needs more beautiful music, and you can be a part of it.
Good luck and happy playing!