Looking for an acoustic guitar amp?
Here's our quick list of seven that are worth checking out:
Want more details on each option? Keep reading.
Not going to lie, when I first got a guitar back in high school, I had no idea that there were amps specifically designed for acoustic axes.
I mean, you think of amps being for electric guitars, right? I did.
So I plugged my Ibanez Zebrawood acoustic-electric (she was a beaut) directly into my friend's Line 6 Spider amp, smashed some power chords, and thought to myself: "Huh, that doesn't sound that bad."
Things could only go up from there.
Eventually, I got a Fender Acoustasonic Combo amp as a Christmas present and found out that acoustic guitar didn't have to sound awful when amplified. As it turns out, with the right setup, you can plug in and play to a crowd, even without a direct line into a full-on sound system.
And that's the thing – often, a full-on sound system just doesn't make sense for a given situation. There are plenty of scenarios where acoustic guitar amps are useful: Jamming with friends, busking, house shows, and even some small-room gigs. And there are a lot of amp options out there, too. What you require from your amp will vary depending on where you are and what you're trying to do.
It's a bit confusing, but there are two pieces of good news: 1) If you're a singer-songwriter, you don't have to settle for being drowned out or plugging into an electric guitar amp, and 2) we've put together a list of some of the top options to look at.
Note that while this list is ranked, the order is kind of arbitrary. I've got the Fender Acoustasonic 40 first, for example, not because it's objectively better than the AER Compact 60 (it's not!), but because at its price point it's suitable for a wide range of scenarios. I've tried to cover a wide range of products across different budgets; take the ranking of each with a grain of salt.
Okay. With that said, based on our research, here are the eight best acoustic guitar amps to check out in 2023.
| Price | Power | Inputs |
| --- | --- | --- |
| $199 | 40 watts (outlet required) | 2 – 1/4, XLR combo |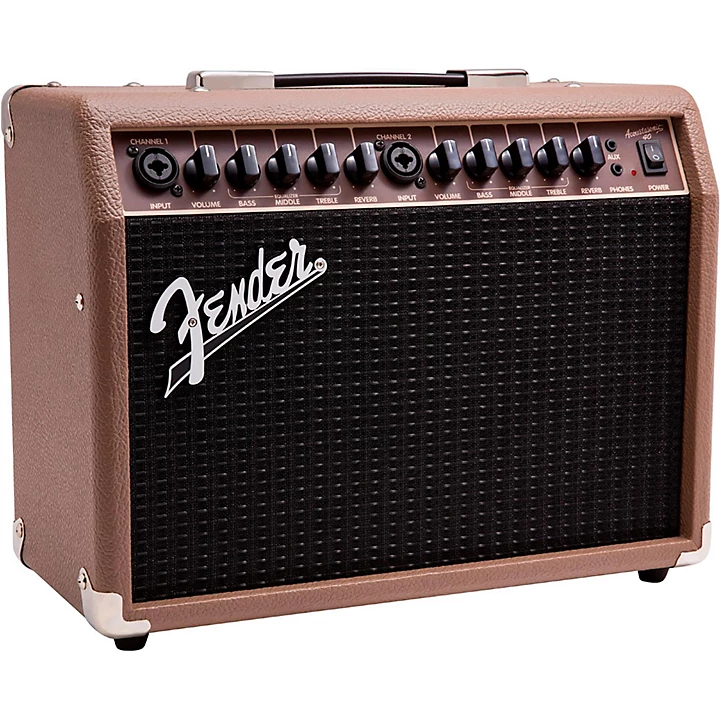 This was the first amp I got that was designed specifically for acoustic guitar. I still think it's pretty great.
The notable thing about the Fender Acoustasonic is that, like some of the other models on this list, it has an input you can use for another guitar or vocals. In other words, if you're a coffee-shop-songwriter type, this little guy is all you need to mic both your voice and your guitar. And with a range of EQ controls and reverb settings, you can make yourself sound pretty good.
That said, this isn't a high-end piece of equipment. It's meant to get you going, not provide you with arena-level mix control or special effects. You can't control the guitar tone all that much past basic EQ-ing. Same thing for vocals. Hopefully you sound good anyway.
But hey, I've always felt that reverb does wonders. And at this price point, this amp puts out some quality sound.
Pros
Pretty darn affordable.
40W is a decent amount of power for an entry-level amp.
Two lines in, so you can mic your guitar and vocals.
Easy to carry. This is about the simplest live-show setup you'll ever have.
Cons
No special effects, just basic EQ
You can check out the Fender Acoustonic 40 here.
| Price | Power | Inputs |
| --- | --- | --- |
| $579 | 60 watts (outlet required) | 3 – 1/4, XLR combo, 1/8 (aux) |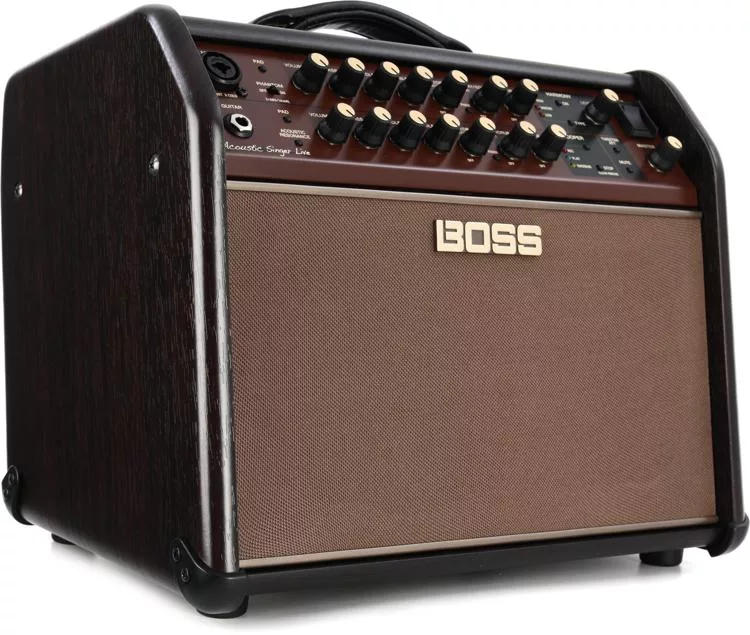 This one's a little bit of an upgrade over the Fender – both in terms of features and in terms of price.
While the Acoustasonic only offers EQ and reverb, the Boss Acoustic Singer Live offers a whole lot more. As the brand explains, you've basically got "the power of the BOSS VE-8 pedal in a portable PA." Practically, this means you can do thing like add vocal harmonies, loops, and a range of effects, all through the range of settings on this single amp.
Check out the performance video for an example.
I still might prefer a standard pedalboard to this, just because you have a bit more flexibility that way. But it's clear that If you take full advantage of all of this, you can do some pretty cool stuff.
Pros
Clear, full tone (and the ability to adjust with different settings).
Multiple inputs so you can mic your guitar and your vocals.
Loop functionality (including vocal loops) so you can fill out your one-person performance.
USB output, so you could record your set to your computer if you wanted to.
Cons
The included foot switch is kind of cheap.
You can check out the Boss Acoustic Singer Live amp here.
| Price | Power | Inputs |
| --- | --- | --- |
| $1,399 | 60 watts (outlet required) | 2 – 1/4, XLR combo |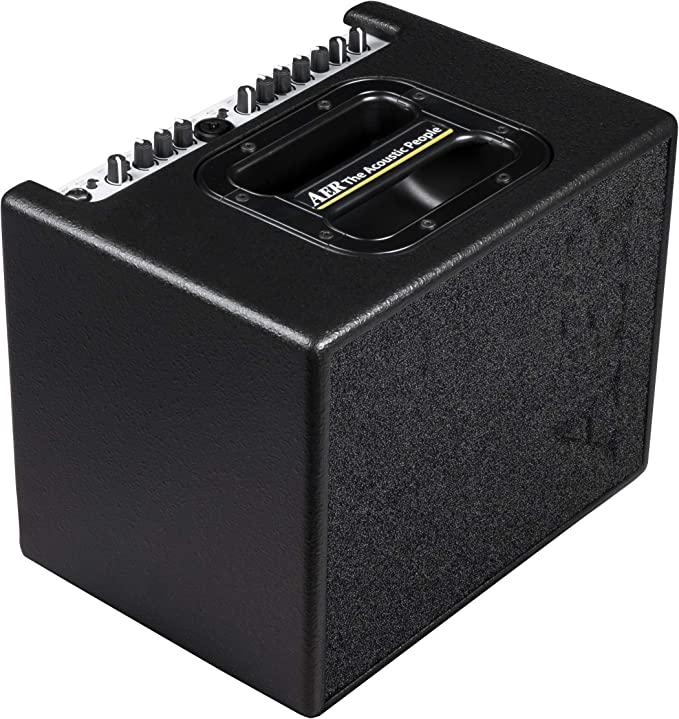 Now we're moving even higher up the ladder to a little amp that packs a punch (and a ton of sound quality) into a remarkably small frame.
It's called the "Compact" for a reason; it's just over 10″ high and around 13″ wide. But it powers a surprising level of volume with a depth of tone that's really impressive, although perhaps not a surprise – AER's tagline is "The Acoustic People," so it makes sense that they'd deliver a nice acoustic amp.
Watch that video and you'll see some of the amp's cooler features in action. The delay, for example, is based on Tommy Emmanuel's Alesis Midiverb 2 Delay effect, and you can do some pretty neat stuff with it.
The main thing here, though, is that this things just sounds really good. If you're looking to light up a room with acoustic guitar, it's worth looking at.
Pros
The delay effect is a lot of fun to play with.
Great range of tone – you can get bright and warm sounds, all with plenty of clarity.
Two inputs so you can mic guitar and vocals.
Small, light, and really easy to carry.
Cons
I can't really find much to critique. It's a pricier option, but it's high quality.
You can check out the AER Compact 60 here.
| Price | Power | Inputs |
| --- | --- | --- |
| $589.95 | 60 watts (batteries) | 2 – 1/4, XLR combo |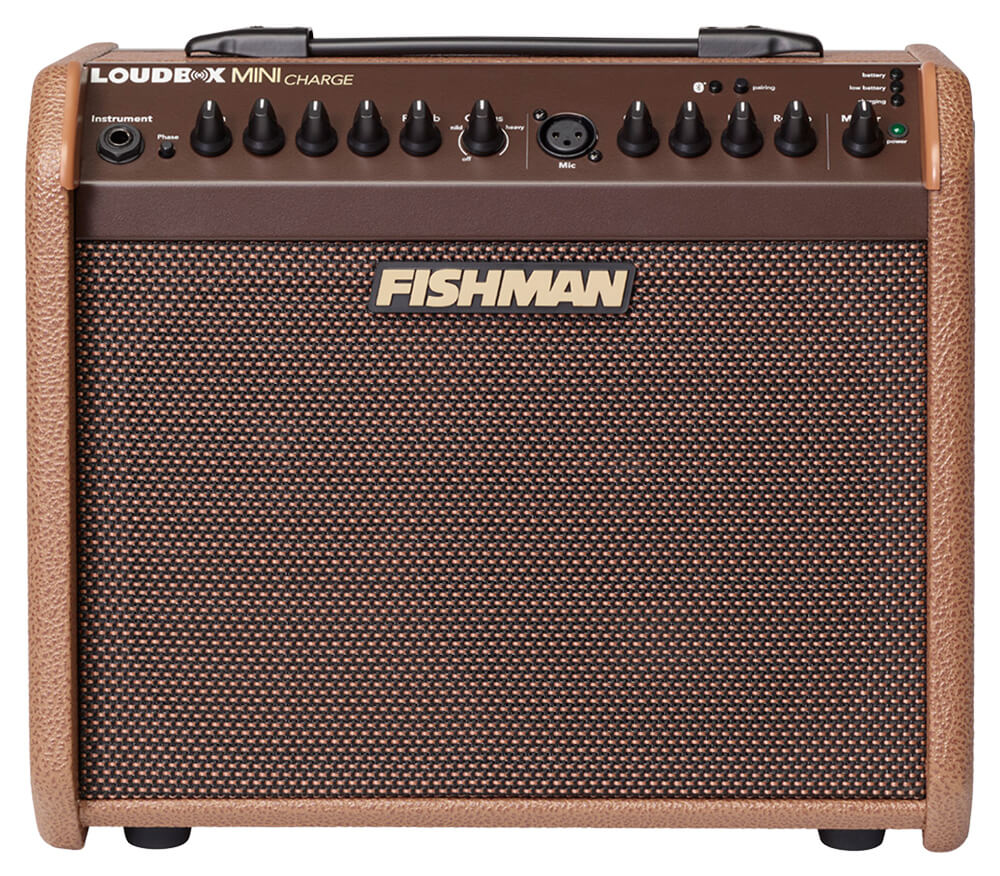 Now we're getting into the realm of buskers. If you're playing on a street corner or a subway platform, you may be hard-pressed to find an outlet – which is why amps like the Fishman Loudbox Mini Charge don't require them in the first place.
That's right. This little guy is battery powered, so you can finally cut the cord.
It's rechargeable and can give you 12 hours at an average volume or 4 hours if you turn it all the way up.
Sonically, this amp isn't at the level of the AER, but it does pretty well. You've probably heard Fishman electronics in action before, and they don't disappoint in this model.
Effects-wise, there isn't as much flexibility as is built into some of the higher-end options on this list, either, but you do get controls for EQ, reverb, and chorus settings – which, in my opinion, is enough to get you going, especially if you're on a street corner.
Pros
Battery powered, so you can busk without needing a power cord.
Multiple lines in to mic guitar and vocals.
Bluetooth connectivity, so you can add a backing track.
Fishman preamps are typically well-designed.
Super portable.
Cons
You don't get too many effects with this one.
You can check out the Fishman Loudbox Mini Charge here.
| Price | Power | Inputs |
| --- | --- | --- |
| $199 | 20 watts (outlet required) | 2 – XLR combos |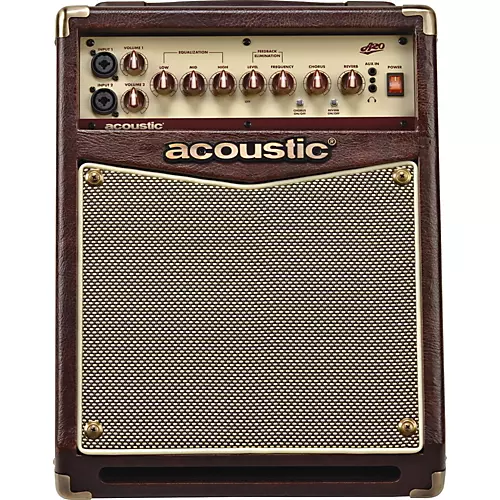 Next, we're stepping back down to entry-level pricing with the Acoustic A20, a mini offering from a brand focused on acoustic sounds. (It's in the name, right?)
Surprisingly, despite the reduced price point, the tone on this thing is pretty great.
You have options for EQ on both channels, and there are also dials for a chorus effect and reverb. Altogether, that makes this option surprisingly flexible for around $200.
There are really only two drawbacks. One is that, at 20W power, it's obviously not the loudest amp on the market; it'll work nicely for quiet coffee shops, but if you're in slightly bigger rooms with more ambient noise, it may be more of a stretch. Two is that a few people have reported an annoying amount of high frequency noise – but this seems to be the exception rather than the norm.
Pros
Affordable price point.
Nice range of effects and tone options (and it sounds good for the cost).
Two lines in for a mic and an instrument.
Direct out to a PA system if you so choose.
Cons
Not the most powerful option on this list.
You can check out the Acoustic A20 here.
| Price | Power | Inputs |
| --- | --- | --- |
| $209 | 10 watts (batteries) | 2 – 1/4, 1/8 |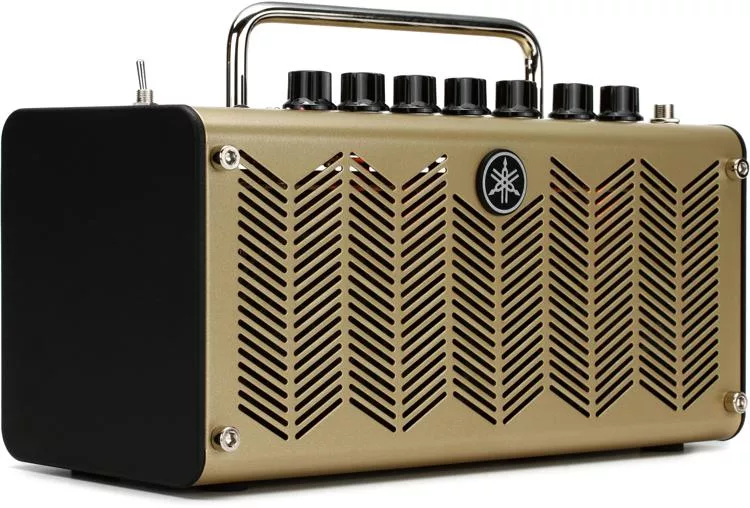 This one's a little different from the other options we've reviewed so far.
The Yamaha THR5A probably isn't the best product for playing a live gig with (although you can, if you want to, set it up at street corner and jam without the necessity of an outlet). It actually runs on eight AA batteries and goes at 10 watts, so it's not the loudest amp you'll ever use.
Still, if you're traveling and want to bring the ability to play along without lugging out a full setup, the THR5A is an interesting option. It's ostensibly designed for use with acoustic and silent guitars.
It lives up to its name and actually comes with a respectable range of sound adjustments, too, including condenser, tube, and nylon mic simulations, delay, reverb, and modulation effects. All told, you can get a decent sound out of it.
It may not be fit for your next packed gig, but if you're looking for a practice amp, it's a solid option.
Pros
Battery powered, so it's portable.
Impressive range of effects for this price point.
Cons
Tone doesn't compare to some of the other models on this list.
Only one instrument input.
Not that powerful; it's only 10 watts, after all.
You can check out the Yamaha THR5A Acoustic Modeling Combo amp here.
| Price | Power | Inputs |
| --- | --- | --- |
| $599 | 30 watts (AC or batteries) | 6 – 2 x 1/4, XLR, 1/8, 2 x RCA |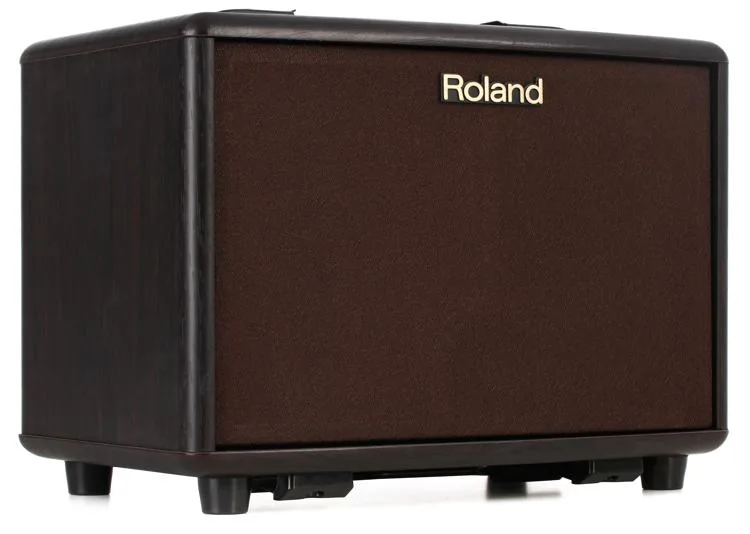 And last but not least, we've got the Roland AC-33.
This is a bit of an older amp (it came out over a decade ago), but I've got it on the list because 1) Roland is worth looking at and 2) can be powered with both AC and batteries. This makes it flexible for a range of performance situations, a factor which is only enhanced by an impressive array of inputs and effects.
To see it in action, check out this video (but warning: you will be taken back to the 2010s).
The tone still sounds good today, though. It's also worth noting that because the amp's a bit of an older model, there are a ton of used versions available; you might be able to find a good deal that knocks the price down a good bit.
Pros
Can run on AC power or 8 AA batteries.
Chorus and reverb effects, plus looping functionality, give you a wide range of tones.
Lots of inputs, so you've got everything you need for a one (or even two)-person show.
Cons
Not the most powerful amp at this price point (but hey, you can get it used without much trouble).
You can check out the Roland AC-33 here.
Final thoughts on acoustic guitar amps
Whether you're looking to busk with a battery-powered amp or light up a stage with beautiful, clear tone, I think you'll find one of these options helpful. There are options for every scenario; you can make your acoustic guitar sound good, and you don't have to be drowned out.
Just don't make my mistake and settle for Line 6 Spider.
Now get out there and jam. Here's wishing you good luck!