I recently had the good fortune of testing out the new Universal Audio DLX and LX microphones, and my overall takeaway was this:
Both of these new mics are pretty sweet.
The idea with both models is to emulate signals from classic mics, like the Neumann U 87, the LD-37A, the AKG 414, and a bunch of others, with the sales pitch being that a single mic gives you the flexibility of an entire mic locker.
I'll unpack how the Sphere DLX and LX deliver on that pitch in more detail below, but the long-and-short of it is that they both perform impressively, to my ears at least.
Overall, my preference is for the DLX, which, at around $1,500, is the pricier, larger, and more flexible of the two, boasting lower self-noise and 38 mic emulations against 20 for the LX. But if your budget is capped at $1,000, the slightly smaller LX is a solid performer in its own right.
You can check out the product page for the DLX here and the page for the LX here.
And if you're looking for more details on the performance and functionality of these mics, keep reading.
Quick backstory on my review
If you don't care about the backstory, feel free to skip this bit ha, but if you like context, here it is in the interest of transparency: I first heard of the Sphere DLX and LX mics thanks to Glow Marketing, who reached out and offered to let me try the new UA products out in exchange for a review. I was actually in the process of working on some songs for a solo project, so I decided to use the mics toward that end.
I was super pleased with the results.
As a second disclaimer, my own modest mic locker is oriented much more toward the budget end of things, so I don't have a Neumann U 87 or a Sony C-37A sitting around to compare the DLX and LX directly against. But, then again, maybe that's the point – if you've got a bunch of classic mics sitting around, why get a modeling mic in the first place, right?
Okay – with those things noted, let's get into the performance of the products.
The overall feature sets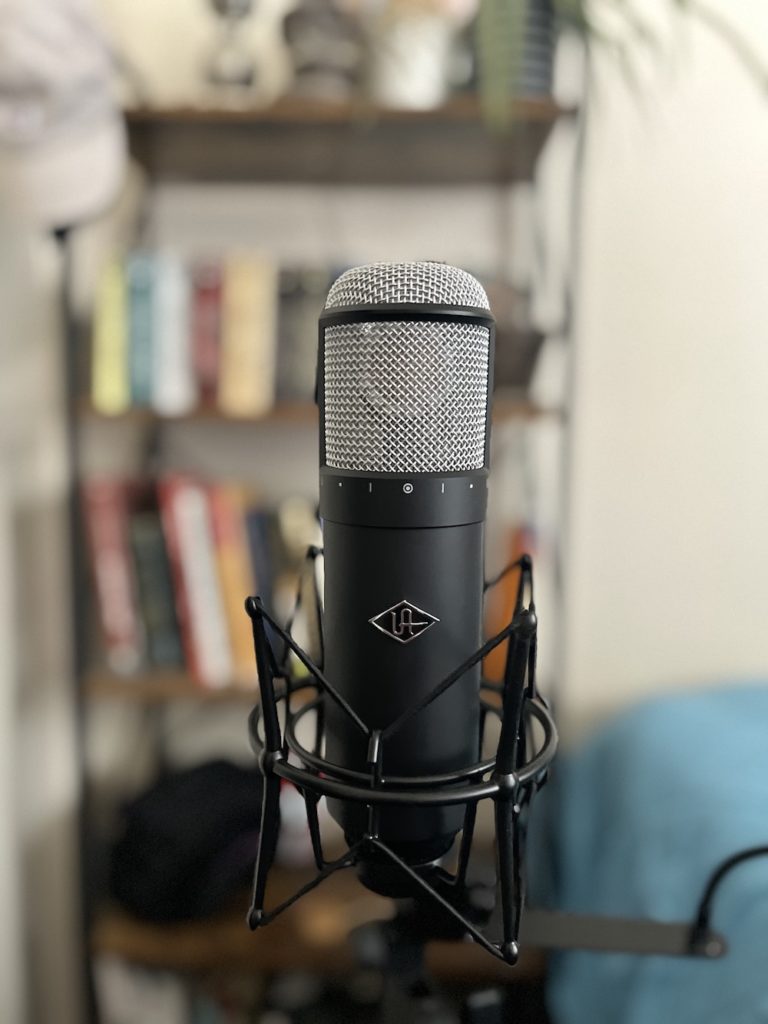 Both of mics function pretty similarly, but there are a few differences.
Sphere DLX
2.5″ by 8.9″
1.7 lbs
Includes modeling for 38 mics (full list here)
7dB of self-noise
Comes with a 25′ cable and a shock-mount
Sphere LX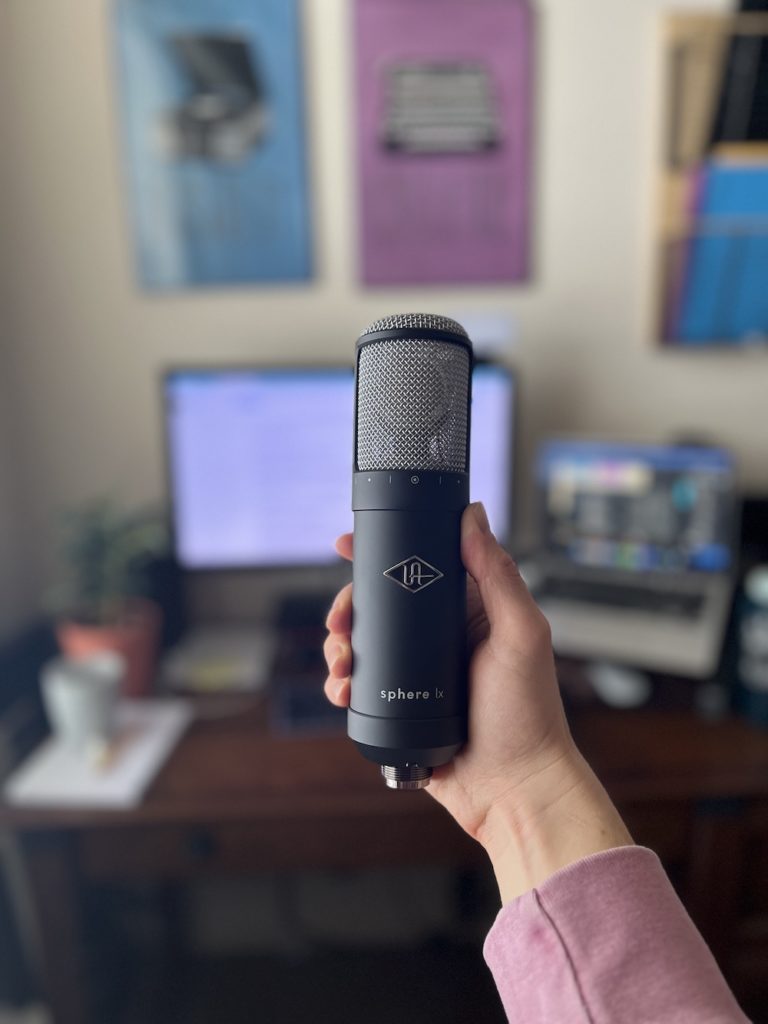 2″ by 7.7″
1.2 lbs
Includes modeling for 20 mics (full list here)
10dB of self-noise
Comes with a 10′ cable (and no shockmount)
It's obvious from those specs, but there really is a noticeable size and weight difference between the two models that, fair or not, impacted my perceptions of the mics' quality. Both are well-crafted, but the DLX just felt very solid.
Also, the DLX comes with a gain switch; you can set it back 20dB so that the mic can handle louder inputs (like drums) without clipping. The LX doesn't have this option.
Setting up the mics
The mics each come in durable, soft-shell cases with plenty of room for all of the accompanying components. The DLX case is large enough to make the handle an important addition, and that extra space is needed – as you'll see in the specs above, the DLX comes with a shock-mount and a longer cable (25′).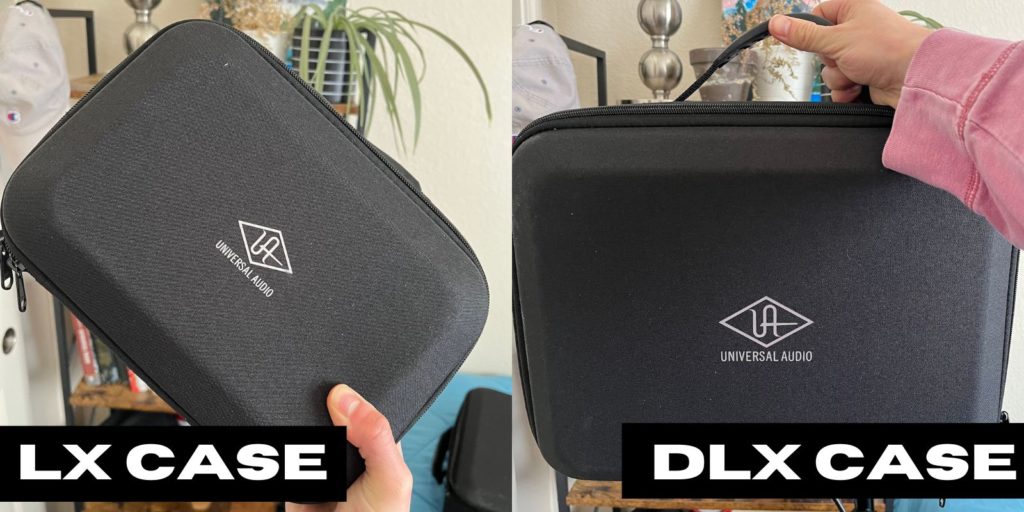 Inside, everything was packaged neatly, but I was a little nervous about getting the mics set up, for two reasons.
1. I typically record vocals in mono. I've done dual mic setups for guitar and instrumentation, but I literally don't own another single mic that records in stereo.
2. My DAW of choice is Studio One (thanks to my first ever audio interface, an old Presonus AudioBox). I wasn't sure how easily the Sphere plugin would play with things.
As it turns out, my worries were totally unfounded. I downloaded the Sphere Mic collections through the UA Connect app and it loaded with no problem; all I had to do was pull the plugin onto a track, and the full power of Sphere's mic modeling technology was at my disposal.
And the cable made setting up the mic itself easy. It's a stereo XLR, so it divides into two male inputs that plug into your audio interface. To make things as clear as possible: This means that if you want to unlock the modeling capability, you'll need to be using an audio interface with at least two XLR inputs. (I was using the UA Volt 2 for this project.)

How did the modeling work?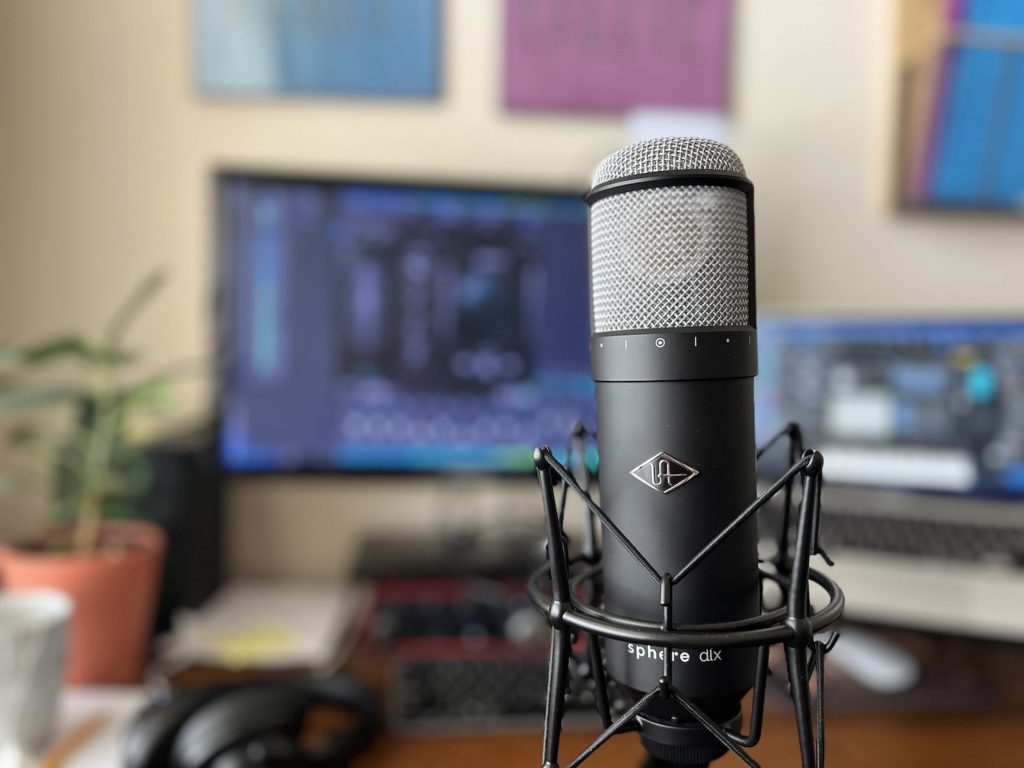 I'll reiterate what I said at the outset of this review: To my ears, the modeling worked great.
I played with a bunch of different virtual mics for my vocals, bouncing between the LD-47K, the LD-67, and the LD-12 before settling on the LD-12 for my project. I eventually went with the LD-414 Brass version for my acoustic guitar.
You can actually set things so that the modeled signal is recorded directly into your DAW or leave it so that it can be digitally altered; I left mine like that, because I wasn't sure if I'd change my mind later.
Also, as you can see in the screenshot below, the Sphere plugin offers the ability to tweak a large range of settings, but after messing around a little, I ended up leaving dials at their defaults. I've got what I guess could be described as an "airy" voice, and I thought the default LD-12 modeling captured my tone well without cutting out the lows and mids or making things sound too sharp.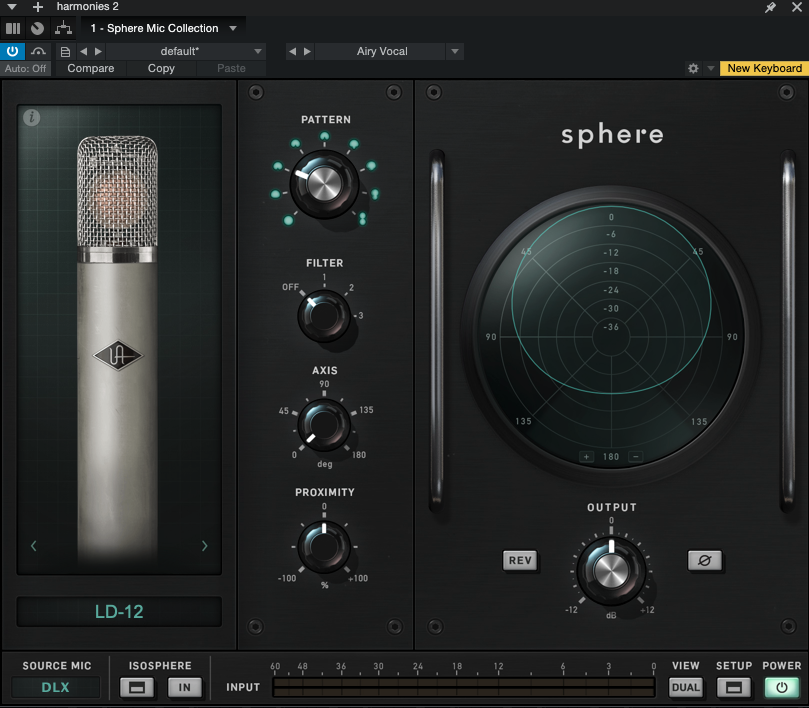 Here's a shot of the the entire mic locker:

It's also worth noting that you can adjust filtering to mimic different acoustic treatment. As someone who records from a spare room with a good bit of street noise and subpar sound treatment, I found this super helpful for getting things a bit quieter.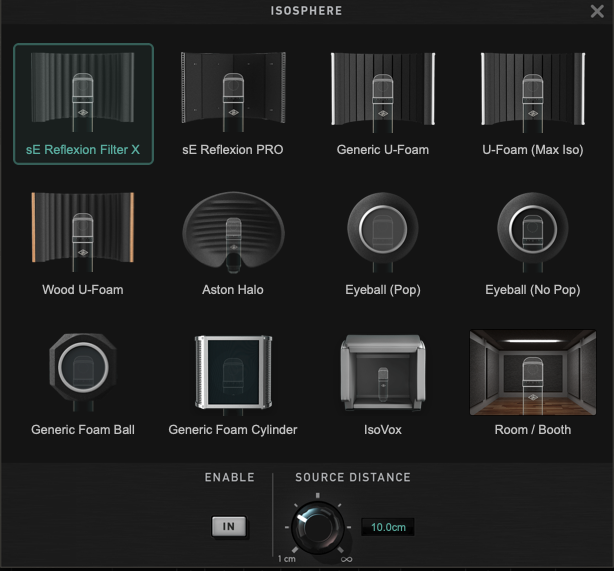 While I messed around with all of these settings for the better part of three days, I still felt like I was only scratching the surface. There's just so much flexibility in these products that my feeling is, with a trained hand, you could coax nearly any sound from them.
On that note, I tried recording variations of the different mic models to add to this review, but honestly my vocals are limited, and you get the best idea of the different sounds by listening to UA's version of testing. Here's their video where they scroll through a few of the modeling options:
You can hear the difference, right? It's pretty cool, and while my own vocals aren't as impressive as whoever's singing in that video, I could hear the same effects on my own takes.
As far as latency goes, I didn't run into any issues – although I'm my own audio engineer, so I wasn't flipping around in real-time through the mics while I was recording takes. Maybe if I'd switched mics mid-stream I would've heard something. But still, I expected to hear some kind of delay in my monitor as a result of the plug-in, and I really didn't, which made for a pleasant experience.
Here's the demo I ultimately ended up with. Vocals and guitars are all through the DLX and LX mics, run into the UA Volt 2 (which I reviewed separately here).
My mediocre musical abilities aside, I was really pleased with the quietness of the mic's signals and their respective abilities in capturing the (annoyingly) breathy texture of my vocals.
And that leads me to maybe the best compliment that I can pay these mics:
Thanks to the flexibility and quality packed into these products, they made my little recording project a lot more fun.
The bottom line on the Sphere DLX and LX mics
If you've read this far, you can probably gather that I'm a fan of these mics. I'm honestly just blown away at the range of sounds they're able to capture.
I guess if you're running a huge studio, you might prefer to have the original models of all of these mics, rather than just the modeled versions. But my take is that, if you're a smaller-scale producer or the owner of a bedroom studio, these mics are a shortcut to a whole world of sound. They're great for unlocking tones that a single, standalone mic just can't access.
Again, given the choice, I'd opt for the DLX over the LX, because it comes with 18 additional mic emulations. But both of these products are solid, and if you're on a budget, the LX is an impressive value in its own right.
You can check out the DLX here and the LX here. And here's hoping that, whatever mic (or mic emulation) you choose, you get out there and make meaningful music.
Good luck!