Need to know our top picks for beginner electric guitars right away? Here's the perfect list for 2022!
But, picking out an electric guitar isn't as simple (or boring) as simply grabbing the top name out of a list. It's about your personality, preferences, and the type of player you aspire to be. For that, you'll have to get to know these electric guitars a bit more. In this article, we'll give you an in-depth e-tour of the details, pros, and cons of our selection.
So, without further ado, let's begin!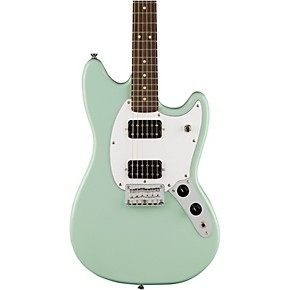 Price: 190 USD
Pros
Relatively small-scale design that's ideal for young players
Affordable price point
Beginner-friendly and fun to play
Cons
Cuts a few corners on build quality for its low price
As a beginner player, we'd suggest caring less about the details of an electric guitar's performance and specs, and more about how it makes you feel. At the end of the day, you'll only feel drawn to keep practicing if the experience is enjoyable, right?
That's exactly why the Squier Bullet Mustang deserves the top spot on this list. The market doesn't have many (or dare we say, any) beginner electric guitars that are objectively more fun to play than this one.
Firstly, that's because its dimensions are designed to be easier to handle for younger players. You'll notice the slightly smaller scale right away. But, don't let that downplay the guitar's performance capabilities. Pair it with an overdriven amp and the two humbuckers will give you a run for your money, even as you advance your skill level a bit!
The pair of humbuckers is joined by a hardtail bridge, which is a pretty common combo found on many guitars regardless of the genre. You could play rock, jazz, pop, metal, or country, and this guitar would be the last thing to limit you!
It's a complete package combining ease of use, an audibly pleasing tone, and sheer playing pleasure that's ideal for beginners. If you're looking to get your hands on the Spier Bullet Mustang, grab one here.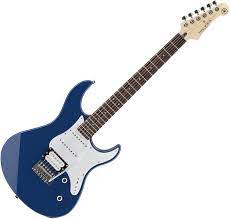 Price: $309.99 USD
Pros
Highly versatile, can be played across all genres
Massively popular
Excellent construction and build quality
Reliable brand name
Cons
Has a relatively higher buzz noise
The tone could be slightly thicker
The Yamaha Pacifica PAC112V has been in the market for over 20 years, and it's certainly a treat for all beginner players. You could ask 10 experienced players for a recommendation and there's a high chance that the majority of them would suggest this one. That's because it has a reputation for being one of the most well-rounded beginner axes you can grab!
And it's not just hearsay either, the guitar has top-tier build quality, high playability, and premium tonewoods. Plus, the huge brand name of Yamaha makes it even easier to recommend.
Like all other guitars from the brand's 30-year-old Pacifica series, the 112V has a strong emphasis on independence, performance, and playability. It has a C-shaped, 22-fret neck that's relatively more user-friendly for starters. The contoured alder body combined with Yamaha's excellent construction makes the instrument feel super premium in the hands.
But with that said, the model is known to have a noticeably high buzz, but you can still expect quick dynamic response and a thick mid-range with its single coils and one alnico V humbucker.
As you evolve into a more experienced player and start slamming those massive, pro-like bends, you may run into some tuning problems. But, that's probably the least of your worries as a beginner, which makes this guitar the ideal pickup for most newbies!
Think the Yamaha Pacifica 112V deserves to be shortlisted? Check it out here.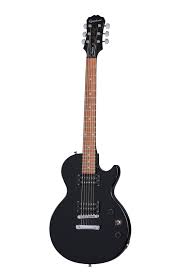 Price: $400 USD
Pros
Highly versatile P-90 soapbars
Vintage aesthetic
Solid build quality
Has a pretty high skill cap for a beginner's electric guitar
Cons
The neck may be a bit too fat for young players
The Epiphone Les Paul Special is another solid choice for new electric guitar hobbyists. The wonderful sound and tone will make you feel like a pro even while playing the most basic melodies on it.
The best part is that there aren't any real downsides to this one unless you have a particular pet peeve against fat necks. Besides that, it's got a premium build quality, high playability, and all that at a pretty low price. It even looks pretty clean and badass, so it's pretty hard to fault absolutely anything about this piece of art!
Its P-90 soapbars are famous among players for their versatile nature and offer very distinct treble characteristics of the late 50s. They're also great at slightly advanced performance metrics like harmonic complexity, sustainability, and tonal balance, which means there's still enough longevity in this "beginner's guitar" to last you years — or maybe even decades.
The design is very distinguishable with its vintage 50s vibe, complete with its solid mahogany body and Pearloid dot markets along the fretboard. You get those 22 iconic medium-jumbo frets. Keep in mind though, they may be a bit too thick for young hands so be sure to give it a test run if you fit that demographic.
If you're interested, feel free to add one to your cart here.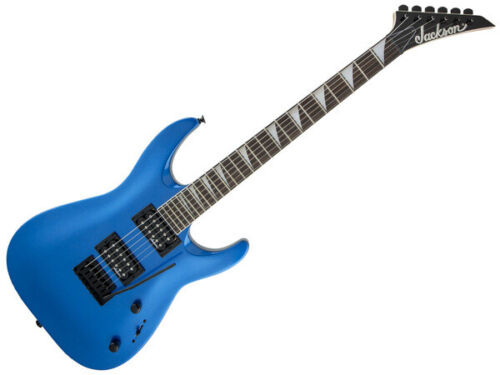 Price: $200 USD
Pros
Well-optimized, speedy neck for superb shredability
Solid hardware
Great-sounding humbuckers
Awesome for distorted tones
Sharp design
Cons
Not very versatile, mostly suitable for rock and metal
At number four, we've got the Jackson JS22 Dinky. It sounds, feels, and looks phenomenal — which are the three major qualities that any novice looks for in a brand-new ax. Jackson seems to have hit it out of the park with the JS22, and at the excellent price of just 200 bucks, it feels more like a gift to newbies!
It's the perfect companion for any beginner looking to advance their playing within the genres of metal and rock. That's because it's optimized for fast playing and distorted genres. Since it's not the best pick for something like jazz, the target audience for Jackson's JS22 Dinky is fairly limited. But, if you do happen to be a rock or metal fan, it's certainly the way to go.
The neck is as speedy as it gets, allowing you to practice even the most challenging solos. The sharp metal stylings will even make you look cool doing it, and let's be honest, every beginner can appreciate that.
But, with that said, if you're still not sure about what your main genre is going to be, the JS22 Dinky probably isn't the safest bet. In that case, you're better off with a more versatile choice that can not only ace distorted tones but also clean ones (like the Squier Bullet Mustang listed on top).
But, if you're already convinced to buy this metal and rock champ from Jackson though, grab one here!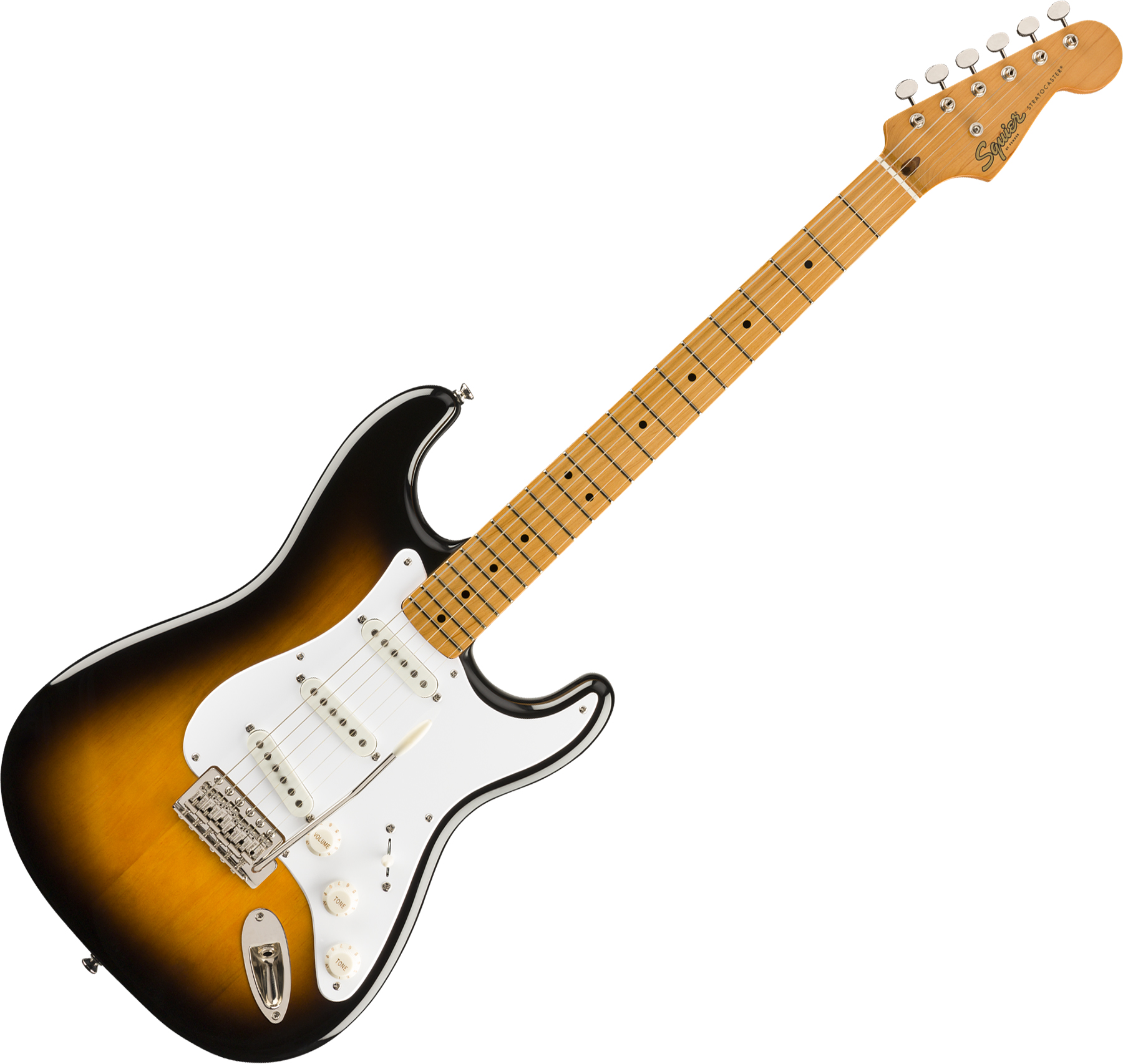 Price: $449 USD
Pros
Affordable price point
Great value for money
Wonderful pickup sounds including glassy tones and 'quacks'
Cons
Younger players may prefer a shorter scale length
Here's another masterpiece from Squier — the Classic Vibe Stratocaster '50s! It's a relatively affordable entry-level electric guitar that still gives you access to the classic features of a Stratocaster series instrument.
Strat guitars have been admired for decades, and they've earned their reputation for being some of the most iconic guitars that the industry has to offer. The Stratocaster '50s, in particular, is one of the most value-for-money variations you can get in the current market scenario.
Like any other Strat, it's versatile enough to play blues, punk rock, jazz, funk, and every other genre under the sun!
The guitar is beginner-friendly, but even seasoned pros will find enough range and playability to put all their skills on display with the Squier Classic Vibe Stratocaster '50s. This means you never really have to buy a new "big boy" guitar down the line (as long as you use your Strat with the care and respect that it deserves).
Its 3 Alnico single coils are wired in 5 positions, making the guitar versatile enough from the neck pickup, all the way to the bridge pickup, and the positions in between.
Its fretboard and C-shaped neck are both maple accompanied by a lightweight alder body. The 9.5-inch fretboard makes it a comfortable fit for both lead and rhythm players. The versatility is further bolstered by its tremolo bridge that's synchronized to be vintage-style.
Overall, it's an excellent pick for some multi-dimensional playing practice so it's definitely worth a closer look. Check it out here!
Price: $249 USD
Pros
Durable build with a bolt-on neck
Easy to repair and adjust
Relatively easy to play for beginners
Cons
Might require a pro setup
If you're a hobbyist who has just decided to start taking your passion for music a bit more seriously, the Epiphone Les Paul-100 might be the perfect place to start.
You get a heavy, solid tone from the mahogany body paired with its maple top offering the player a heavy. Everything from its visuals to its delivery is classic, and that's a rare quality to find in a beginner's ax.
Unlike most Les Paul models that have a glued-in neck, the Les Paul-100's neck is bolted-on, giving it stronger build quality that's much more likely to withstand the test of time.
If you'd ask us, durability is a huge factor to look for in a beginner's guitar. That's because you'll always have a sense of nostalgia attached to it, which is why you'd want it to stay in good shape forever!
Plus, a bolt-on neck is also easier to adjust and repair — so that's a win-win!
The Les Paul-100 also has a rosewood fingerboard that's designed to be easy to play. Despite that, you get wonderful output from its open-coil humbucker pickups.
If you feel like this one deserves to be shortlisted — we agree! For a small price of $250, there are very few options that can compete with this all-rounder. Find it here!
Price: $233.99 USD
Pros
Very sturdily built alder body
High versatility for handling slightly-distorted and clean tones
Gorgeous maple fingerboard and matte finish
Cons
The tuning knobs could be of better quality regardless of the low price
The last guitar on our list is the Squier Affinity Telecaster! It's commonly found as an integral part of beginner kits that include an amp. It's an excellent choice for hobbyists and new players, as well as professional guitarists who want a casual ax for rough jam sessions.
Since it belongs to the budget category of beginner electric guitars, you can't expect it to sound as premium as the Fender series big shots. Still, you get way more than what you bargained for with this "budget" guitar! After all, it's bold, iconic, and has been the go-to choice of legendary players like Clarence White, Jimmy Page, Keith Richards, and Buck Owens.
The Affinity Tele consists of a bolt-on neck, an alder body, and the scale length of a classic Fender. With its bright, crisp tones, solid lows, and magical highs, the guitar is best-suited for post-rock, blues, country, jazz, and other genres that mostly consist of cleaner tones.
With all that said, the guitar does have some caveats — as you'd expect from any budget-category instrument. Even though the highs are powerful, they're not quite as sharp as the ones on a Strat-style guitar (such as the Bullet Mustang on the top of the list).
We'd recommend looking elsewhere if you plan on pursuing a genre like hard rock, screamo, or metal unless of course, you give it a try in a nearby store and it feels like it's meant for you.
We also think that the pickups come out to be slightly thinner than a standard Fender Tele, but you probably wouldn't be able to notice that as a beginner.
Plus, these slight issues are probably worth the hefty discount on the price, especially if you've got a tight budget to work with! You can shop for it online here.
Final thoughts for the beginning of your electric guitar journey
Shopping for a brand-new electric guitar is an extremely thrilling and exciting journey. Even the all-time greats like Stevie Ray Vaughan, Jimmy Hendrix, and Eric Clapton have wholesome, unforgettable stories about how they picked and got their hands on their first guitar. At the end of the day, it's best to go with a guitar that chooses you — and not the other way around. If one of the items on the above list made you feel that way, be sure to give it a closer look and try it out. All the best!