Here's our quick list of the 10 best music business blogs to read and follow in 2022:
Water & Music
Ari's Take
Damian Keyes
Hypebot
Ditto's Unsigned Advice
DIY Musician
Bandzoogle Blog
TuneCore Blog
Symphonic Distribution
Two Story Melody
For the brief on each blog (i.e., why we picked each one), keep reading.
In such unpredictable times for the music industry as a whole (or for Earth in general, I should say), it's not easy to understand how to get your songs heard or make your music business successful.
But, if it makes you feel better, things were no different when I started working in the music industry back in 2011.
Back then, we were living in this sort of limbo between the collapse of physical album sales and the rise of music streaming. Industry music revenues were at their lowest, and most people in the business had no idea how to move forward. It was also a time when artists experimented with all sorts of new technologies to get the music to their fans while trying to make a living out of it.
Some experiments were successful. I remember admiring the courage and intelligence of Trent Reznor when Nine Inch Nails released Ghosts I–IV for free under a Creative Commons license while allowing fans to buy ultra-limited and expensive edition packages. Despite the success of Ghosts, no one else managed to understand the rapidly shifting market of the period, and even Nine Inch Nails haven't used the same formula ever since.
If anything, the music industry today feels even more unpredictable. As a record label owner, I find it hard to keep up with everything that's happening and am always worried I may miss out on what will come next.
But, if you're an unsigned artist, music producer, or record label owner like myself, then the hard truth is that you must keep up to date with everything that's going on in the music industry these days.
Whereas the path toward success was relatively straightforward until a decade ago, today's musicians and producers must find their own marketing formula to maximize their audience day by day. It's not just about making music anymore: it's about how you reach your fans that makes the difference.
This is why today I'll talk about music business blogs and websites that I believe can help you better understand the current music landscape. I've been following some of these blogs for years, and they helped me define music marketing strategies, understand new technologies and learn new techniques to improve my revenue stream. In these blogs, you'll find everything you need to take your career to the next level.
Let's dive in!
The Best Music Business Blogs to Follow in 2022
First, let me clarify a crucial aspect of music business blogs.
Essentially, there are two kinds of music business blogs:
Blogs that focus primarily on tips on how to make the most of the tools at your disposal.
Blogs that focus on new technologies and the music industry situation from a macro perspective.
If you're an independent artist, I'd assume your main goal is to increase your audience and revenues. In that case, you'll probably be more interested in the former kind of music business blog. On the other hand, if you want to start or already own a music enterprise, like a record label or booking agency, you'll find more valuable information in business-focused blogs.
Regardless of your career path, you shouldn't neglect one or the other type of blog, as both approaches can provide you with some essential information you can use to achieve success. For example, implementing new technologies into your social media strategy can help you successfully launch a new single; on the other hand, knowing how artists use their social media will give you ideas on how to improve your business strategy.
Let's start with a personal favourite of mine. Water & Music is a business website that covers everything musicians and entrepreneurs need to navigate through the music industry sea. For all the drummers reading this: Water & Music articles are long, complex and require some basic business knowledge to make the most out of the information provided.
Jokes aside, trust me: they're worth the effort.
Water & Music business model is also worth mentioning. It considers itself a decentralized autonomous organization (or DAO) and offers a subscription plan of $20/month or $200 a year for full access to all its articles and essays. If you want to dive into the music industry and understand the latest technologies before anyone else, make yourself a present and subscribe to this fantastic website.
Ari Herstand started his music business blog back in 2012, and today, Ari's Take is one of the most authoritative voices in the industry. Articles on Ari's Take are informative, easy to digest and offer everything unsigned artists need to make money with music.
Aside from his successful music blog, Ari also wrote a book all artists should read, entitled "How To Make It in the New Music Business", and hosts the excellent podcast "New Music Business, with Ari Herstand".
Damian Keyes is a Welsh entrepreneur, educator, and music industry specialist, and his website and YouTube channel offer valuable information for wannabe rockstars. With a music career spanning three decades and over 180K subscribers to his YouTube channel, Damian provides hindsight about the music industry and how to make the most of new technologies.
Damian started The British Institute of Modern Music (now known as BIMM Institute) and has written two successful books, The Rule Breakers Guide to Social Media and Stop Selling Music: Career Changing Lessons for Musicians. His online music academy, called DK-MBA, has helped over 10.000 artists succeed in the rapidly changing music industry.
Since 2004, the music business blog Hypebot has featured news on everything music-related: from the latest technologies to how artists should use social media. This website is a reliable source of information that'll help you keep up to date with the tech and business solutions available at your disposal.
Particularly interesting is the DYI section of Hypebot, where they offer plenty of information for artists to upgrade their online presence and maximize their music revenues. However, Hypebot's articles don't only focus on tips on how to increase your audience but offer advice on how to improve your songwriting skills, how to read a record deal, and much more.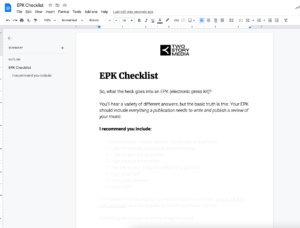 Want to get your music covered in cool publications?
I get like 9 million submissions each day from artists. Here's what you need to include in your EPK so you stand out / get covered.
As you go through this list of blogs, you'll notice that some of the best music business blogs are run by music distribution companies. This shouldn't come as a surprise since it's in their interest to have artists aware of their possibilities and who can make the most of the tools at their disposal.
Ditto's Unsigned Advice is excellent because it gives practical information on how you can maximize your reach. From tips on music distribution to how to best use social media to attract new fans, Unsigned Advice is perfect for musicians who don't want to delve into the business side too much and just want to optimize their music marketing strategy to achieve success.
DIY Musician is owned by CDBaby, another music distribution platform, and the articles included in this blog are particularly useful for independent artists looking for ways to do things themselves. Here you'll find step by step guides on how to release your next album, how to organize your first post-pandemic gig, learn more about NFTs, and much more.
What I like about DIY Musician is the friendly tone and the down-to-earth approach even to the most complex topics. Articles are generally short but packed with information, making them ideal for those looking to get the most valuable information as quickly as possible.
For 23 years, Bandzoogle has been a lighthouse for independent musicians. Its practical and informative articles empower artists with all the tools necessary to succeed in the music industry, with a friendly approach and a team of writers who live and breathe music daily.
You'll find all sorts of topics in this blog, from music marketing tips to how to design a website for your band. You can feel this blog is made by musicians for musicians, which is what I think makes the articles included in it so valuable and engaging.
Here's another blog run by a music distribution platform. TuneCore did a fantastic job at creating an all-encompassing music platform with articles, masterclasses, tutorials and more.
Their Survival Guide has enough material to keep you busy for years to come. Described as "Advice on how to navigate music distribution, publishing, marketing, and promotion", the TuneCore Survival Guide offers introductory essays on all crucial aspects of an artist's career, from how to use social media to online music distribution.
Active since 2006, Symphonic Distribution is a trustworthy voice in the constantly shifting music industry landscape. It offers plenty of digital solutions for artists, ranging from marketing management to music distribution to sync licensing.
Symphonic Distribution's blog focuses primarily on explaining the tools artists have at their disposal and how they can make the most out of them. The articles' content is easy to understand, and the tone is friendly, making Symphonic Distribution a great source of information for independent artists.
Last but not least, our fantastic blog! Aside from music reviews and interviews, our website features a Music Promotion column with tips on how to best use music streaming platforms, social media, and new technologies to skyrocket your career.
At Two Story Melody, we want new and unsigned artists to fully understand the infinite possibilities the current music landscape offers them by providing practical tips and reviews that'll help them independently outline their career paths.
Final thoughts on how to increase your music industry knowledge
I hope this list will help you skyrocket your music career, whichever path you choose. Regardless of your career stage, in the blogs mentioned above you'll find the right tools to move forward, make intelligent decisions, and try new effective strategies.
If you're an experienced musician and think you know everything that's necessary to stay on top of the game, let me reiterate that the music "game" is changing as we speak. Many artists don't change their marketing strategies because they think they'll work in the long term. Unfortunately, that's a theory proved wrong more often than not.
Going back to Nine Inch Nail's Ghosts I–IV, I believe Reznor and co. decided not to reuse this marketing strategy again because, by the time their next album was ready, the music landscape had already changed. This is precisely how you should plan your publications and music career.
I will end this article with a couple of suggestions based on personal experience.
First of all, you can't know everything. Remember that your main objective is to make music, so make sure you spend your time wisely and focus on what's most important. Going crazy about how to make the most of this NFT revolution won't take you anywhere if you don't actually publish music, right?
Choose two or three music business blogs you particularly like, bookmark them on your favorite browser, and check them once or twice a week. That's all. Don't spend hours looking for news online every day because it'll drive you insane. The music landscape is constantly changing, and following each development will just distract you and stress you out.
Make music you love and make it ready to be published. If you keep up with the latest trends in the music industry by reading a few articles per week, you'll be able to create a unique marketing formula to reach your fans and a new audience with your music.
Good luck, and stay creative!