If you're an indie musician, you've gotta be into the business of music.
A lot of musicians don't want to be bothered with the business aspects of what is often an artistic and creative endeavor. And that's understandable, because making music is deeply personal, emotionally-charged, and seemingly transcends the world's mundane demands. But when the album is complete, and you emerge out of your trance-like stupor, the reality of taking that music and making a living from it can become a stark, overwhelming reality.
In this case, the good news also happens to be the bad news: there's only one way out of this conflict between making music and making a living. As Robert Frost so eloquently penned, "the only way out is through." And by educating yourself on the business-side of your craft while practicing the tried-and-true techniques of music's brightest business minds, you can fuse your love for making music and your need for a lasting career together.
The books reviewed in this list are thought-provoking, evergreen resources that'll help you navigate the complexities of the music business. Enjoy!
Here are our top 8 music business books:
I'll walk through each of these books in more detail. Ready? Let's jump in and get reading.
---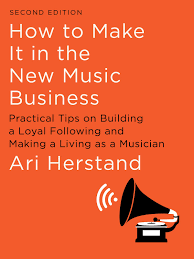 Are you interested in mastering any of the following music business skill-sets as a modern musician?
Social media marketing
The art of merchandising
Authentic fan connection
Perseverance in a turbulent industry
How to tour effectively
How to capture all the royalties you should be getting
If you nodded along yes to any of these crucial competencies, then How to Make it in the New Music Business has some pleasant surprises in store for you.
This was the first music business book I read, and I still think it's my favorite. Ari's got a ton of knowledge, but he presents it in a super-relatable way.
This book appears in music school curriculums everywhere, and experts herald it as the "best book of its kind." Forbes claims that it's "an indispensable and comprehensive manual on how to navigate the modern music business," and for good reason. Ari's wealth of knowledge across all aspects of the music industry is borderline staggering.
Ari Herstand Is also known for his blog, Ari's Take (which you should totally check out), and his podcast, The New Music Business, where he picks apart the industry's brightest minds to empower aspiring musicians to have successful careers. The subject matter is broad, far-reaching, and most importantly, it's relevant to what's happening in the world today.
If you're looking to start a pile of music business books, How to Make it in the New Music Business will serve as a sturdy foundation.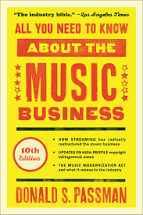 The Los Angeles Times calls this best-selling title "The Industry Bible."
Written by a music attorney, this book isn't necessarily tailored to the fledgling musician as much as it familiarizes its readers with the music business's legal matters. The first edition is old, but it's regularly updated – the recently published tenth edition of All You Need to Know About the Music Business addresses the paradigm shift of the music business' primary metric from record sales to streaming plays:
"For the first time in history, music is no longer monetized by selling something—it's monetized by how many times listeners stream a song. And that completely changes the ecosystem of the business, as Passman explains in detail."
This book has made its rounds in the music industry since first being published in 1991, and with its latest edition addressing music streaming, it's no less valuable a read than it was nearly thirty years ago.
Here's an Amazon reviewer to give it to you straight:
"This is another of the most useful and important books on the music business. I have bought the updated version of this book four times since it was first published, and keep it close to hand for all my music business and legal matters. A must-have."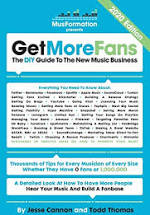 Have you ever asked yourself how to grow your fan base? I'm guessing that question comes up for you fairly often, and rightfully so. Growing a fanbase is hard. It's an essential question with unclear and elusive answers.
Most music business books (particularly those focusing on building fanbases) contain generic advice that sounds more theoretical than it does practical and proven. And that's precisely where Get More Fans separates itself from the shelf. Simply put, this book walks through the techniques, steps, and methods aspiring musicians can follow along with from day one.
So if you're struggling to amass a following as a DIY artist, Get More Fans will undoubtedly get you thinking in a more productive direction.
Let's turn to a reader who had this to say on Amazon:
"If there's a better book on marketing—hell EVERYTHING related to doing business as a band—I've never seen it, and I've halfway-read most of them. I read them halfway because they were all full of the same general, dated, you-can-do-it malarkey. If you know a music dreamer—or are one—this book is for them. After reading it, they'll either realize they want to keep their art for themselves, or they'll have a clear, but not at all easy, path to take it further. It's a completely new day for professional musicians, and Jesse Cannon can show you the way."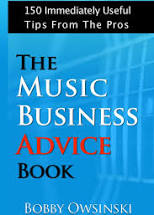 If you're someone who doesn't have the free time to curl up on your couch and leaf through a thick music business book from front to back, then The Music Business Advice Book should be on your list of pick-ups.
This highly informative book, written by a prolific music industry insider who's authored more than twenty titles on the multifaceted music industry, is formatted into bite-sized chapters from topics discussed on the author's popular podcast, Bobby Owinski's Inner Circle.
The Music Business Advice Book features palatable and polished nuggets of wisdom from some of the music industry's brightest minds. Pop it open for a few minutes and walk away with a juicy tidbit or an instructional anecdote from hundreds of fascinating and insightful interviews.
His highly-touted blog and podcast are invaluable resources for musicians, producers, people interested in the music business, and even hobbyists. The Music Business Advice Book borrows highlights from all of Owinski's various channels and compiles them into a compelling, accessible music business resource.
Here's an Amazon review that sums up what you can expect:
"I assumed this book would be interesting, and it certainly is. I didn't expect it to be so helpful. I've already pulled a half dozen tips from this book that I plan to use to make my life easier (and earn more money). And I'm only halfway through. A real treasure chest of a book."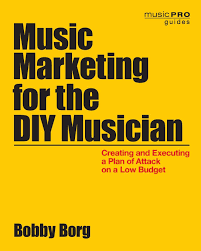 There isn't a more positively reviewed music business book across Amazon's entirety (5-stars across the board). People who read this book invariably end up loving this book. Here's why:
For starters, it's written by an insider who's giving modern music marketing advice, as opposed to a music journalist's hot-take from before music streaming was the epicenter of the industry.
The music industry model was changing back in the early 2000s and has since undergone a series of twists and turns since then. This wildly unpredictable path means that music business and marketing advice needs to be continually updated, so it doesn't read as painfully outdated.
Music Marketing for the DIY Musician does a great job providing the leading-edge of practical music business insight. It's written with all of the new-age features of the music business in mind, helping its readers navigate their way through on a modest budget.
Here are a few thoughts from a satisfied reader from the sea of five-star Amazon reviews:
"This book is a must for anyone trying to devise a marketing plan. Perfectly suited to professional services but really applies to any service type business. Before, I couldn't really say that I had a marketing plan, I was just doing what he calls "random acts of marketing". Some of them, it turns out, were good things to do but they weren't enough to constitute a purposeful plan. This is a brilliant book with many, many nuggets of wisdom. Don't waste your time reading all these reviews, just buy it."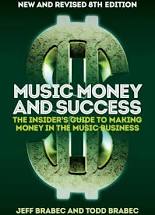 This title follows the common theme amongst most music business books, admonishing aspiring musicians to learn the business-side as well as they know the music-side. The key differentiator with Music, Money, and Success is that the authors uncover every possible avenue to publish your music beyond the obvious, including ringtones, advertisements, and even interactive toys.
The authors also bring a unique blend of professional experience to bear in the book. Jeff is an Entertainment Law attorney working as the Vice President of Legal Affairs at BMG. At the same time, Todd used to work for ASCAP (American Society of Composers, Authors, and Publishers) and currently teaches Music Publishing at USC. Calling them industry insiders almost doesn't do them justice.
This five-star review perfectly captures the book's utility to aspiring musicians:
"It's amazing that two people could know as much about music and the business as the authors. It's doubly amazing that they have woven it all into one thoroughly readable book. The authors, who are well-known in their own right, have mastered the art of providing authoritative information without being overwhelming. A comprehensive table of contents and index make for easy navigation. Everything is here: business cases, music history, contracts, sample contracts, royalties, listings of organizations, and copyright nuance."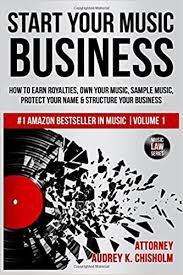 Written by a nationally renowned attorney with deep experience representing movers and shakers of the music industry, Start Your Music Business is a book that unpacks all of the legal nuances involved in starting your music business.
You'll learn about the various types of royalties you should be earning through music publishing down to how you should think about structuring your business.
If nothing else, this book will equip you with a sheet of sturdy, intellectual armor that will protect you from "getting chewed up and spit out by the industry machine."
Here's what an enthusiastic reader had to say about it:
"This book taught me what I thought I knew about making an LLC and starting a business. Very concise and clear on the do's and don't. Very glad that the author didn't beat me over the head with 500 pages of big words and circle talk. Just the facts, then the application."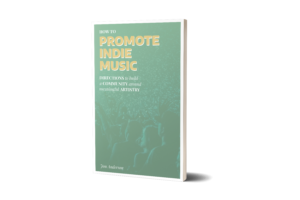 It's time for a little plug of our own (some shameless self-promotion never hurt anybody, right?).
It's called How to Promote Indie Music (pretty straightforward, I know), and it's based on four years running a music blog and three years of experience doing indie PR. It covers deep strategy and tested tactics for doing indie promo well on the channels that matter most. And it helps you cut out the tactics that won't work. It's a roadmap to getting your releases heard.
If you want to learn how to promote your stuff or if you've got nothing better to do, you can download the first chapter for free via the form below.
(If you want to cut to the chase and get the whole book, just click here.)
So, there you have it: Our top 8 music business books.
Thanks for taking the time to scroll through our list. I hope these are helpful for you as you build your career. (They will be.)
Happy reading! Now get out there and make music – then make your music a business.
---
---
---
My buddy Ryan from Indie Music Academy can help. Three stats that might impress you: He's built a system that adds 1,000 subscribers to his mailing list each month and converts them into paying fans. He has 27K monthly listeners on Spotify. He's gotten artists streamed for more than 1 million minutes. He has the 892nd coolest hair in Nashville (and lots of people have cool hair in Nashville).
Basically, he's legit and he knows how to build a music business. He's put together an awesome course that will give you a solid digital marketing foundation to do the same – from setting things up to turning subscribers into true fans.
If you're ready to get more fans and make your career sustainable,
click here to check it out
.
(And if you're on the fence, just click through and read the reviews. They're impressively good.)
---