Songwriting is freaking hard.
At least, it is for me. Maybe you're in the same boat. Or maybe you write a hit a day, like Ed Sheeran, in which case you should probably stop reading this article and go work with Justin Bieber or something. For the rest of us, though, there's good news: songwriting is a skill and it can be improved. You can learn how to write more and better songs.
If that's one of your goals in 2021, these songwriting books can help. These authors have studied songwriting extensively. They've (almost all) written hit songs that you probably know. They can articulate the tips and techniques that make songs, you know, good – and they pretty effectively explain how to incorporate those things into your own writing.
Ready to get reading? Here's the full list of the best books on songwriting to read in 2021:
---
Want to get some structure and maybe an angle of attack first? I'm with you. I've broken my recommendations down into three categories.
First up: the best songwriting books for melody writing.
Melody in Songwriting: Tools and Techniques for Writing Hit Songs

The Songwriter's Workshop: Melody

The Songwriter's Workshop: Harmony
Next, the best songwriting books for lyric writing.
How to Be a Hit Songwriter: Polishing and Marketing Your Lyrics and Music

Writing Better Lyrics

The Craft of Lyric Writing
Finally, the best comprehensive books for songwriting:
How Music Really Works : The Essential Handbook for Songwriters, Performers, and Music Students

Tunesmith: Inside the Art of Songwriting

Songwriters On Songwriting: Revised And Expanded
But take these however you'd like. A few caveats. First, these aren't ranked in a particular order (in other words, I'm not saying Songwriters on Songwriting is my #1 or #9 – it's just a really solid book). And then second, a bit of personal advice: books are helpful. But the best thing you can do to grow as a songwriter is to write songs. It's like learning to fly a plane- reading the manual helps, but at some point you'll have to take off. Yeah, that's cheesy, and no, I've never flown a plane, but you get the idea.
Read these books, but also write a lot of songs.
---
All right. With all of that said, here are my nine best books for songwriters.
First up is Jack Perricone's essential guide to melody in songwriting. Like quite a few of the books on this list, you know this one's legit because it's published by the Berklee press and it's used in their songwriting classes. Here's the description:
Melody is a subject too often neglected in the teaching of music. This unique resource gives melody the attention it deserves, and proves that melody writing is a skill that can be learned. Through proven tool and techniques, you will learn to write interesting melodies, how melodic rhythm influences rhyme, what makes harmony progress, and the many dynamic relationships between melody and harmony.
Pretty dope. Note that the content is fairly "heady." It's less an intuitive explanation of melody in songwriting and more of a technical how-to guide. In other words, it's kind of dry and you won't be able to get away with skimming if you want to get anything from it; in fact, you may have to read sentences twice to get the meaning.
But it's absolutely helpful if you're willing to focus in.
This one's another hit from the Berklee Press, founded material from some of the school's most popular songwriting courses and compiled by Jimmy Kachulis, a Berklee professor.
(I swear I'm not biased toward Berklee – they just crank out a ton of good material.)
I think Kachulis' take is interesting:
I wrote the books and courses to give writers the same sort of daily training that instrumentalists get. Instrumentalists practice their instrument every day; if there's a day that goes by they feel the difference. So I wrote these dozens and dozens of little exercises to give people the skills that they can practice on a daily basis.
The book is meant to be participatory, meaning there a lot of little prompts and assignments for practicing the techniques discussed. Most versions come with a CD, which has complementary audio material to help you practice (it used to be delivered via a CD and is now available online).
Overall, I'm a fan of this one because of its hands-on approach. You've got to write songs to get better at writing songs, and this book gets that.
Our guy Jimmy is back, this time with a book on harmony.
Okay, I know this is technically one of my "melody-writing books," but a) it's good, and b) harmony writing is an indispensable part of melody writing. Some of my favorite melodies are my favorite melodies because of their harmonies. Hello, Beach Boys.
Anyway, here's the brief:
Kachulis covers a variety of topics, including: colors of chords and keys, chord embellishments and progressions to enrich your palette of colors, dozens of ways to modify your harmonies and progressions, the most common chord progressions used in hit songs, and more.
Long-story-short, this is a great companion book to the Melody tome; you can't go wrong getting both.  Like Melody, it comes with audio accompaniments to help you practice.
All right – we're into the first of the lyric writing books. This is also the first book on our list that deals with marketing music in addition to making it. Here's the brief:
You've written what you think is a great melody, what you hope is a strong lyric, and you've cut what sounds to you like a killer track. But how do you know if it's a hit? And what do you do with it if it is?
It's pitched as being for "advanced songwriters," but this is actually probably a level lower than the previous handbooks we've looked at. Molly knows her stuff, though. She's a professional songwriting coach with serious credits to her name. From her about page:
Twelve of her clients are Grammy winners, seventeen more are Grammy nominees, and so far, with Molly's help, 7519 other writers/artists just like you, have placed their work in movies, TV shows, video games, on CD's, in commercials, and their tracks are downloaded all over the web.
So yeah, she knows what it takes.
---
Want a book on music promo for after you write your hit song? Good news: I wrote one.
It's called How to Promote Indie Music (pretty straightforward, I know), and it's based on four years running a music blog and three years of experience doing indie PR. It covers deep strategy and tested tactics to do indie promo well on the channels that matter most. And it helps you cut out the tactics that won't work. Basically, it's a roadmap to getting your releases heard.
If you want to learn how to promote your own stuff or if you've got nothing better to do, you can download the first chapter for free via the form below.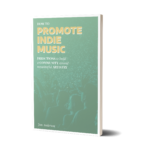 (If you want to cut to the chase and get the whole book, just click here.)
---
Ha. Pat Pattison. That's a classic name.
Anyway, we're heading back to school at Berklee (where Pat Pat teaches), this time for a deep-dive into lyric writing. As you might expect, this one's a bit more academic. The brief:
This revised and updated 2nd Edition provides effective tools for everything from generating ideas, to understanding the form and function of a song, to fine-tuning lyrics.
It's been in print for over two decades, so it's stood the test of time, but it's also revised and updated so it's super fresh. If you've ever been stuck on ideas for songs, this is a helpful resource.
This is another one that's been around awhile for good reason. Sheila Davis was one of the original experts on pop song lyricism and this is one of the first mainstream books on the subject. It's absolutely still relevant.
The brief:
How to combine songwriting talent with various techniques to create lyrics with commercial hit potential. This book also defines more than 100 literary and musical terms and supplies advice and quotes on the creative process from more than 50 experts in the music industry.
Fair warning: the quotes from experts are pretty dang entertaining.
This is the book for people who have lots of phenomenal ideas on themes but are having trouble communicating them in ways that aren't a little lame. (If you want a peak at the introduction, it's online here.)
Ah, we've finally arrived at a school that's not Berklee. Thank goodness. In fact, I don't know this for sure, but my guess is that Wayne Chase and Berklee folks don't get along too well, because Wayne Chase opens his book with this image:
In case you're wondering what the heck that means, he just crossed out the whole idea that you need to know how to read music to write music. If you're a Berklee traditionalist, you might be mad. If you're most modern musicians, you're probably already a fan of this guy.
This is our first general songwriting book, and, accordingly, it's a pretty high level approach to understanding music. From the brief:
The 2nd edition focuses on how to seize the attention of listeners and move them emotionally. This book provides in depth, visually oriented, easy to understand text and graphics covering every important aspect of music making and lyric writing.
That's right. Every important aspect.
If this book has a drawback, it's that it's a little broad.
But it's packed with useful advice that'll help you understand music better, including a bunch of helpful theoretical approaches that you don't need to read music to understand. If you're interested, Wayne's posted the first six chapters on his site.
Jimmy Webb is a bit of a legend: the guy started churning out hits when he was twenty one and never really stopped. His book is a bit legendary, too:
With a combination of anecdotes, meditation, and advice, he breaks down the creative process from beginning to end–from coping with writer's block, to song construction, chords, and even self-promotion. Webb also gives readers a glimpse into the professional music world.
Yes, this book includes both meditation and self-promotion advice. Don't worry, it's presented in a way that's self-aware and occasionally hilarious. And Jimmy's overall philosophy on songwriting is priceless – if you're looking for a framework to think about songs from, this book is it.
The final book on the list is by Paul Zollo, who's written about songwriting in publications ranging from Rolling Stone to American Songwriter to Oxford Press. But really it's by Tom Petty. And Paul Simon. And Bob Dylan. And Lenny Kravitz. And Brian Wilson. (Hello again, Beach Boys). And pretty much anyone else you think is phenomenally good at songwriting.
In these pages, sixty-two of the greatest songwriters of our time go straight to the source of the magic of songwriting by offering their thoughts, feelings, and opinions on their art. Representing almost every genre of popular music, from blues to pop to rock, here are the figures that have shaped American music as we know it.
As you'd expect, these people have some good things to say. It's worth your time (and it'll take some of your time – the hardcover edition is 730 pages).
All right, one last bonus book if you've made it this far: The Addiction Formula. This book covers a lot of the ground that's been tread before it; it purports to teach you the basics of what makes popular music popular. What sets it apart (and earns it a spot on this list) is the fact that it's written entirely for the modern, DIY digital age.
Findeisen is a self-described "creative weirdo from the middle of nowhere," which is to say he's pretty dang relatable for most indie artists trying to write songs today. And he definitely gets modern music.
The 60s are OVER! Songwriting today is a very different experience than it was when the Beatles were on the air. By combining Arrangement, Harmony, Melody, Rhythm, Lyrics and Production in one deviously simple technique it is the first songwriting book that speaks to an all-writing, all-producing DIY generation.
Look, if you end up writing songs like the Beatles, Findeisen might complain, but I won't. That said, The Addiction Formula is a nice addition to any collection of songwriting books for 2021. So we've included it in ours.
---
There you have them: the 9 (or 10) best songwriting books to read in 2021. Hope they're helpful! (They will be). Now get reading.
And more importantly, keep writing.
(And last: if you've got any other book suggestions that have really helped you as a songwriter, feel free to throw them my way either in comments or via the contact page. I'm all about it.)
---
Our friends at Omari are really good at helping artists get heard and listed in cool indie blogs and playlists. They've worked with big acts (Judah & the Lion) and bedroom artists alike (which is feasible cuz service starts at $77). Anyway, take a look. Disclaimers: it's an affiliate link, and yeah, they're good.
If you're tired of pitching your music yourself, if you finally want to find your audience, or if you just like us, click here to learn more.
---