Here are the top TikTok promotion services for artists in 2022:
Before I get into each firm, I want to note that I've only tried one firm on this list; the rest of my analysis is based on my informal survey of what's out there (using the sophisticated research techniques of Google search and email). I strongly recommend doing your own research before working with a TikTok promotion service – even if you choose to work with one of the services listed here. But my hope is that this article is a good starting point to help you clarify your goals and narrow down your options.
Another important note I want to add: Before you purchase promotional services, make sure you know what you're getting. (I'll cover this in more detail below.)
And now, without further ado or any more annoying notes, here are the top TikTok promotional services in 2022.
Playlist Push is well-known in the Spotify promotion game (we recently ran a campaign with them and got great results), but they've recently expanded their offering to include TikTok promotion, too.
Here's the basic gist of how their promotion works:
First, they have a massive network of over 3,500 TikTokers. Out of that network, they send your song to the creators they think will be the best fit for your promotion. Then, the creators to which your song is sent are paid to make videos to your music.
Unlike for Spotify promotion, there's no "review" – creators simply have to make a video to earn their payout, which means that results are fairly predictable. Campaigns start at $350 and go up from there.
The end result: Influencers make videos using your music. And hopefully, things grow organically from there.
On the artist side, the process is automated and very smooth. You won't get a ton of hands-on, human communication, but you'll get constant updates from their well-designed platform as your promotion runs. And you also get easy access to support if you need it.
The bottom line: This is one of the best options for running a TikTok influencer promotion for your music.
To give it a shot, click here.
Indie Music Academy is led by my friend Ryan Waczek. They're currently my top recommendation for Spotify promotion, and this year they began offering TikTok promo, too. Unsurprisingly, they do a good job with it.
Like most of the other services listed here, IMA runs influencer-based campaigns. Packages are available for original "sounds" or for song clips (which means that you can promote your music on TikTok even if you don't have your own TikTok profile). Functionally, the process works like this:
You provide Indie Music Academy with the sound or song you want to promote.
You choose the level of reach you want.
Indie Music Academy sends your song / sound to relevant influencers.
Influencers use your song / sound to make videos.
You get in front of a bunch of new eyes and ears.
The "Starter" level campaign runs at $697 and guarantees that you get in front of a cumulative audience of at least 250k; this means that Indie Music Academy will book you with one or more influencers whose audience reaches that number.
If you don't get booked with influencers / you don't get videos made, you get a guaranteed refund. Pretty good stuff.
You can try a campaign with Indie Music Academy here.
YouGrow are good guys. I've spoken with Matt (who's on their Spotify team) and Luka (head of the TikTok team) and have always been impressed with their work. They're incredibly prompt communicators and very professional.
The company is based in the Netherlands, which can be a pro or a con depending on what you're looking for; their network, from what I've found, really is global. If you're looking for international promo, that's a boon. But I'm also of the opinion that it's not quite as strongly developed in the US as the two firms I've listed above (although they'd probably disagree).
Campaigns start at only $77, which is solid. These guys use both TikTok ads and influencer-based promotional campaigns. I tried the ads-based approach (what they call "account and video promotion") and the results were solid: Our client got around 1,400 followers for about $200. Engagement rates weren't high, but the raw numbers were impressive. You can read my full review of the experience here.
I haven't tried on of YouGrow's influencer campaigns, but here's how those work, in the company's words:
"Once we receive your song, we pitch it to our network of creators who then create videos with your music, which generate hype around your track and encourage other creators to use your music simply out of influence from the original creator."
That end result – other creators using your music – is ultimately what you're hoping to generate from paid placements. With YouGrow, you've got a shot at making it happen.
Run a TikTok promotion with YouGrow here.
Omari is one of my go-to promo companies on every platform, TikTok included. We recently reviewed their Spotify service in detail, showcasing real results from a real campaign we ran with them. Omari is a good dude, and his company is above-board; they have integrity and they care about artists. And yes, I'm an affiliate with them.
As you'll see if you check out their promotional page, they run influencer-based TikTok promotions. Here's how they explain their process in their FAQs section:
"We have a network of TikTok influencers with popular channels. We review your song, give some feedback on it, then send the influencers your material. They are only including your song in original video content they create for their channel. If they like your song, they'll request it from us to add to their channel. We'll cross-check the request to make sure it's a good fit, then we'll approve your song for them to include in a post! "
That's exactly the right way to do things – you'll notice that they're not promising likes or follows. Results may be variable, but they'll be organic, and you are guaranteed a certain level of reach.
If you want to run a TikTok promotion with Omari MC, click here.
Okay, the four TikTok promotion services listed above are all geared toward musicians / artists. Upfluence is not. That's not really a knock. They're built to work with pretty much any brand, from mega corporations to small businesses to, yes, musicians. And they actually have a different suite of tools than any of the agencies I've mentioned so far.
Here's how they work: They give you software that helps you discover influencers that will be a good fit for you, using a deep database of creator info. This means you'll work with influencers directly, which can potentially lead to long-term relationships with creators – something the agencies above won't really give you.
But it is more work and they are pricey; you'll need to contact their team for a quote.
It's also worth noting that in addition to TikTok, they run Instagram, YouTube, Twitch, Twitter, and basically every other social media platform promotions, too. In other words, they're legit – they get the influencer game.
I don't have direct experience with Pearpop, but George (the founder of Playlist Push), told me they were a company worth checking out. From what I can tell, their model is interesting – you basically upload a project pitch and then receive submissions from creators until your target view count is hit.
For instance, here's a project that Sean Paul uploaded:
"Using at least 15 seconds of the song "No Lie" by Sean Paul featuring Dua Lipa, create a transition video to show your favorite date night outfits – this could be solo, with a friend, or as a couple. Be sure to time your transitions to the beat and most of all, have fun!"
~70 creators responded with videos. Cool stuff, right? The downside is that this gets pricey pretty quickly (Sean Paul's campaign was 10k). If you're on a budget, you may want to look elsewhere – but at least it's nice that the end-result metrics are guaranteed.
Like Upfluence, Pearpop is not directly designed for musicians; they work with virtually any kind of business. And, like Upfluence, it's clear that they get the influencer game.
Ah, Fiverr – the wild west of music promotion (and pretty much any freelance service). I've included Fiverr on this list because I'm naively optimistic; I harbor the belief that someone on this site can provide you with incredibly affordable, absolutely legit results. I've used Fiverr enough to know that it can happen.
But in no world will I claim to know who your best bet is.
Omari reviewed a few Fiverr services and recommended Chocolate Land and Taylor Red; both of these offerings are basically individual creators offering to post to their own popular TikTok accounts. Personally, I'd probably opt for a multi-influencer campaign instead, but hey, these are affordable.
If you want to sort through the jumble of Fiverr TikTok promotions for the gold, click here.
TokUpgrade has been around for a while and offers affordable and effective promotions for every social media platform. Through an advanced automation system, they claim they can grow an audience organically and boost your content better than anyone else.
Although I haven't tried their services myself, I like that they explain the promotion process in detail on their website and feature a list of businesses and content creators they collaborated with over the years.
They offer two different tiers, Standard and Premium, and you can choose to pay either weekly or monthly. Finally, TokUpgrade claims 57% of their users upgrade to their Premium version eventually. If you're on a budget, this could be a valid option.
For my ninth and final TikTok promotion service, I'm calling out Plugged Promotions. I'll be honest: I don't know these guys very well, and by that I mean I literally just found them on Google as I was researching TikTok agencies.
But I've included them on this list because, after digging, they seemed legit, and they also run influencer-based campaigns as opposed to bot-follower / bot-like scams, which sets them above 75% of the TikTok promoters in the world.
They offer really affordable options; their entry-level campaign, for 20k-75k views, is $150. So, again, I can't personally vouch for these guys, but if you want to give them a shot, at least you won't be risking too much money.
Give Plugged Promotions a try here.
Okay, those are my top-recommended TikTok promotion services in 2023.
But before you click through and start a campaign with any of these services, it's probably worth sticking around to discuss a few important concepts – because the truth is that "TikTok promotion" is an overly broad term, and most TikTok promotions aren't worth your money.
Here's an important question to answer if you want to clear things up and spend your money wisely…
What is a TikTok promotion?
There are really three kinds of TikTok promotion. Two of them are legit. One of them is a scam. Let's take a look at each.
1. You pay TikTok itself to show your video to new fans using their "promote" feature.
This is very legit; it's literally TikTok's ad engine, created and run by the company itself. Here's how they explain it in their official support documentation:
"Promote is an advertising tool you can use in your TikTok app to help you get more people to discover your videos, guide more people to your website, and improve your chances to gain followers. This means that your video will be displayed as an ad for the time that you Promote your video."
They go on to explain how to run a promotion. It's very easy, and it's available to literally anyone running any account. The drawback: As with Facebook's "Boost" feature, it's expensive and not necessarily effective. You're giving TikTok the keys to your campaign, and they're not particularly good at driving (plus they kind of want to take your money).
But you will get real engagement.
2. You pay an agency to connect you with influencers.
This can be legit; it depends on the agency you work with and the TikTokers they connect you with. You'll often see this advertised as "getting your song in front of [a certain number of] followers."
Here's the way this works: An agency has a network of TikTok accounts or TikToker contacts. They pitch your song to their network. Some TikTokers decide to use your song in a video, which means that their followers hear your song.
That's that. But there are a lot of nitty-gritty details to this on the other side of the curtain that impact the outcome of the promotion.
Some TikTok promotion services run their own massive TikTok accounts, so they have full control over which songs are placed.
I'm more skeptical of these firms. On one hand, they can literally guarantee results, since everything is within their control. On the other hand, because their accounts are literally built to run ads (i.e. place songs and products), their followings tend to be less engaged.
Other TikTok promotion services pay curators to make videos.
Playlist Push is an example of this model. Submitting to third-party curators works and it's legal, but the exact results you'll get are more variable, because the agency doesn't have direct control over what gets made.
I usually opt for these agencies, though, because the placements they do get tend to be to more engaged audiences.
3. You pay an agency for a set number of followers or likes.
Avoid this type of promotion. It's nearly always a scam.
Companies that promise a certain number of followers or likes are basically selling you bot clicks. They're creating fake accounts and then having them follow people or like posts. Some of these agencies barely even try to hide that reality – just look at the sales page for UseViral: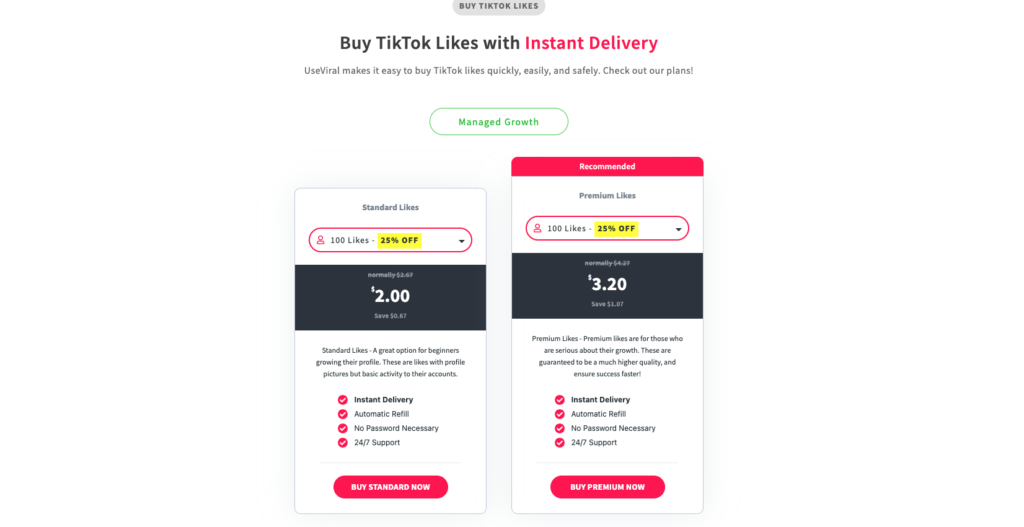 Sorry if the text is small (you should be able to click and blow it up), but it literally says "these are likes with profile pictures but basic activity to their accounts." In other words: these are likes from bots or fake accounts.
That's ridiculous. You should never pay for likes from a bot account, because it'll jack up the way TikTok perceives your profile in their algorithm. Translation: Paying for followers or likes might give you a quick ego boost, but over the long run, it'll hurt you more than help you.
(Full disclosure: I know this from personal experience. I've bought social followers before, and that act of stupidity almost ruined my account.)
So, those are the three types of TikTok promotions.
Aside from Fiverr, the options listed above focus on the second type of promotion listed above: paying an agency to connect you with TikTok influencers. This method is not a scam, and it has the potential to be very beneficial for your music. It can also be less expensive than using TikTok's official promote feature.
All right, we've covered a lot of ground, but I hope it's been helpful as you think about promoting your music on TikTok.
Final thoughts on TikTok promotions
Last but not least, here are a few final words of advice.
1. Know what you're going for.
I think some artists have this idea that, if they throw money at TikTok, they'll go viral and their worries will be over. This is not true.
Here's the truth: TikTok isn't the best platform for every artist. Yeah, it's a huge platform, but a lot of the songs that blow up are the ones with quick-hitting, dumb-funny hooks. If you're making music that requires more than 10 seconds to appreciate, you should probably focus on other avenues for promotion. And before you ever pay for a campaign, you should know what you want to get out of it.
Set specific goals and look for a promotional company that'll help you reach them.
2. Contact the company before paying them money.
Rule of thumb: Wait until you hear from a real person before paying for a service online. There are some exceptions to this rule (I'll vouch for Playlist Push and they don't give you much human contact), but, in general, it's a good one to follow.
3. Ask about their curator network.
If you do get in contact with a TikTok promotion service, ask them what their curator network is like. They'll probably hit you with the overall size (1,000 creators!), but try to get a little more specific – ask how many creators they have in your genre, and, if possible, if they can send you a few examples of TikTokers your music will be sent to.
The whole value of these services is in their network of creators; the more you understand about the network going in, the better you'll understand the value you're getting.
All right, that's all I've got.
I hope this article was helpful as you consider your options for promoting music on TikTok, and I hope you find the right partner that gets your song to blow up.
But hey, even if you never go viral, I hope you keep making music and connecting with people who care about it.
That's what's most important.