TL;DR – Here's my list of the top website builders for musicians in 2022:
Bandzoogle
Squarespace
WordPress + Elementor
Wix
Weebly
Duda
dify
Webflow
And here's a quick summary of the highlights:
Most musician-friendly builder: Bandzoogle
Most flexible builder: WordPress + Elementor
Best all-around builder: Squarespace
Best builder for selling merch: Weebly
Okay, let's get into the details.
First of all, I'm a musician (albeit not a super talented one), so I'm writing this from a place of empathy. I get that building a website can kind of suck, and that you'd rather be spending time working on the music. That's fair. But the good news is that it's easier than it's ever been, even if you have no coding experience.
And if you're a musician, you need a website. I'm confident these tools can help you make a good one.
As to the platforms, seriously, those top three are🔥  – and honestly, aside from that, I don't have overly strong opinions. I've built in all of these platforms except for dify, and based on my experience, pretty much any of them can work when you use them correctly.
Still, there are a few key features that set each website builder apart. We'll get into that below, and we'll also account for factors like price and hosting setups.
Oh, one more thing before we start…
What is a website builder?
Great question, my fictional musical friend.
A "website builder" is a platform that allows users to build a website without requiring extensive knowledge of HTML, CSS, PHP, Java, etc.
There are a bunch of jargon-y terms for this (WYSIWYG, anyone?), but basically, any tool that gets you a working website without the prerequisite of an abundance of technical knowledge qualifies as a website builder in my book.
All right – with that said, let's dive in.
Here are the top website builders for musicians in 2022.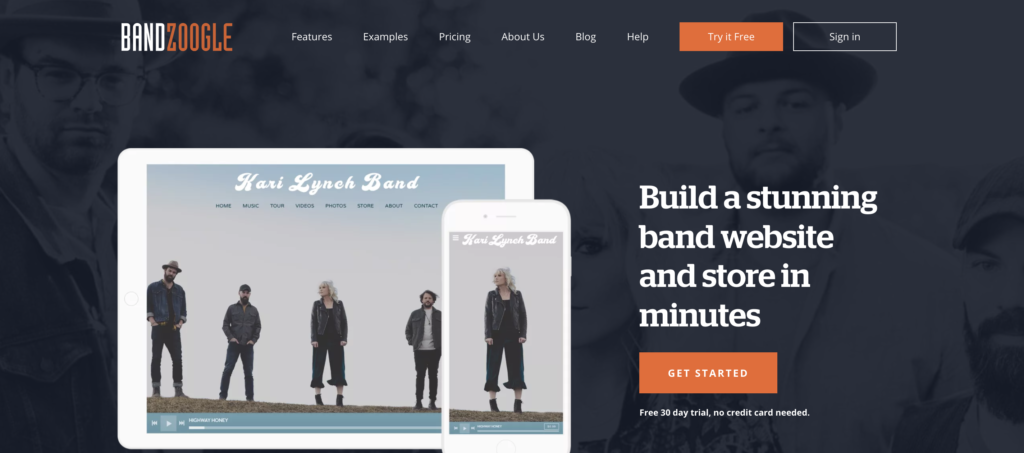 Entry-level price: $8.29 / month (billed annually)
Free trial: Yes, for 30 days
Hosting: Included
Domain name: Included
The overview
You'll see Bandzoogle pop up on nearly every list of top musician website builders because it's (more or less) the only website builder that's specifically designed for musicians.
That's a pretty cool thing for two reasons:
Bandzoogle's support team understands the needs of musicians; most of them are actually musicians themselves. This tends to make support better.
The entire platform has been designed to work for musicians.
That second point is crucial.
I like to use a LEGO analogy. Using a platform like WordPress (which I'll discuss shortly) is like trying to build the Millennium Falcon by opening a tub of 100,000 randomly assorted LEGO pieces. You have the potential to do pretty much anything – but it'll be complicated and it might take you a while to figure out what should go where.
Using Bandzoogle is like getting the Millennium Falcon LEGO kit. You'll have all of the pieces you need and the directions to put them into place. You won't have unlimited flexibility, but you'll definitely end up with something that works.
The best features
Because it's designed for musicians, Bandzoogle has tons of features you'll probably love:
Preset EPK layouts
Built-in email service provider to start building your list
Easy social integration
But my favorite / the coolest is their built-in suite of selling tools that make merch sales easy – and they charge no commissions.
That's awesome.
The bottom line
If you're looking to build a website to represent your musical project professionally, you can't go wrong with Bandzoogle. It won't give you unlimited flexibility, but it absolutely comes with everything you need, and it's designed for musicians.

Entry-level price: $12 / month (billed annually)
Free trial: Yes, until you turn it on. Basically, you can build out your site for free.
Hosting: Included
Domain name: Included
The overview
Fun fact: I've built a bunch of sites on this platform and my dad's personal blog uses it.
Squarespace is now positioned mainly as an ecommerce site builder, but it absolutely works for musicians (who are running ecommerce businesses too, really). It's got it all – selling tools, email integration, templates – and it's also got one of the easiest-to-use interfaces driving everything. (The ease of use was the main reason my dad chose Squarespace for his site after going back and forth between it and WordPress.)
It's no surprise that the platform is immensely popular. In my opinion it owes a lot of its current success to the fact that it was one of the original front-side website builders. Launched in 2004 as a "drag and drop website builder for the public," it quickly picked up steam as an alternative to more technical platforms like Drupal, Joomla, and WordPress.
The best features
Squarespace kind of does it all. Here's a smattering of what they offer:
Tons of ready-made templates
Built-in analytics
SEO features
Sales suite
It's worth noting that you won't get every tool on their entry-level tier; you don't get the ability to sell products, for example, until you upgrade to "Business," which is $18 per month.
The bottom line
Squarespace is popular for a reason: It's easy to use and plenty powerful. It will give you pretty much everything you'll need for your musician website. It is slightly pricier than Bandzoogle, though.

Entry-level price: N/A
Free trial: N/A
Hosting: N/A
Domain name: N/A
The overview
Sorry, I realize those bullet points above aren't remotely helpful. Here's the thing: WordPress (unlike every other platform on this list) is open-source. In other words, it's not owned by a corporate entity, it's just open to the public. In practicality, that makes it incredibly flexible, but it also puts the onus on you to build things correctly.
I actually love this. In fact, the site you're on right now is built on WordPress.
Getting set up is pretty easy. You'll need to choose a hosting provider – I recommend SiteGround, whose plans start at $3.99 per month. If you do it a certain way, that's all you'll need to pay to get your site going, which makes WordPress the cheapest option on this list.
While WordPress is working toward being front-end controlled via blocks – kind of a Squarespace rip-off – in my opinion, they have a long way to go. That means you'll also need a plugin like Divi or Elementor if you want to make WordPress a genuine "website builder".  Once you've installed these, though, the possibilities really are almost limitless.
The best features
WordPress is great for its flexibility. You can do pretty much anything here. And while knowing how to code helps, there are tons of plug-ins (third-party packages of code) that add additional functionality.
It's also the cheapest option on this list.
The bottom line
If you're willing to undergo a steeper learning curve, WordPress + Elementor offers a ton of flexibility at a low price point.
Get started with a WordPress site here.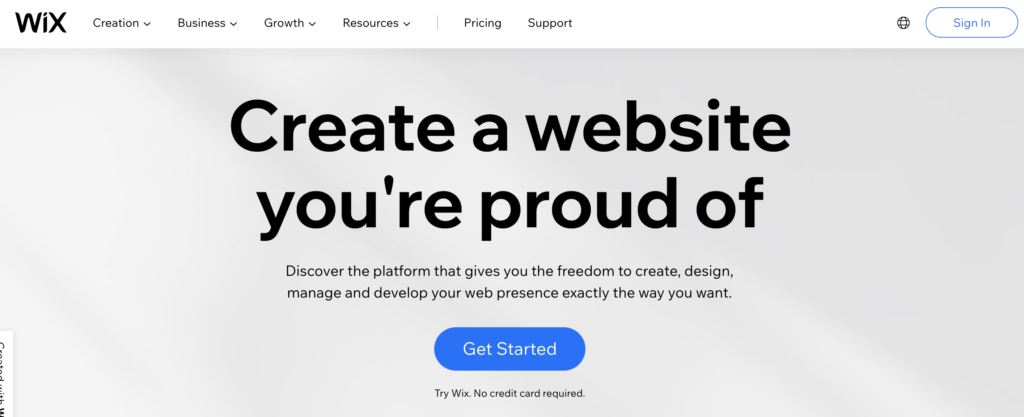 Entry-level price: $14 / month (billed annually)
Free trial: Yes, for 14 days
Hosting: Included
Domain name: Included
The overview
Truthfully, I find Wix and Squarespace to be pretty darn similar, at least when it comes to the features that you'll need as a musician.
Wix is kind of the second-spot player in the general website-builder world; they're like the Burger King to Squarespace's McDonald's, the Target to Walmart, the Dreamworks to Pixar. You get the idea.
That's not even an indictment of quality; I actually like using Wix a little bit more than I like using Squarespace. Their interface is pretty smooth, and they offer enough flexibility to make site building both easy and powerful.
The best features
Wix has a pretty strong suite of features to promote Events (i.e., shows!). You can sell tickets relatively easily right from your website, and they also have some built-in promotional tools through the Wix Events platform.
Cool stuff.
The bottom line
If you're looking at Squarespace, I'd say it's worthwhile to look at Wix, too. Run a free trial on both and see which interface you like better, then go with that one. (Although it is worth noting that Wix is a smidge more expensive.)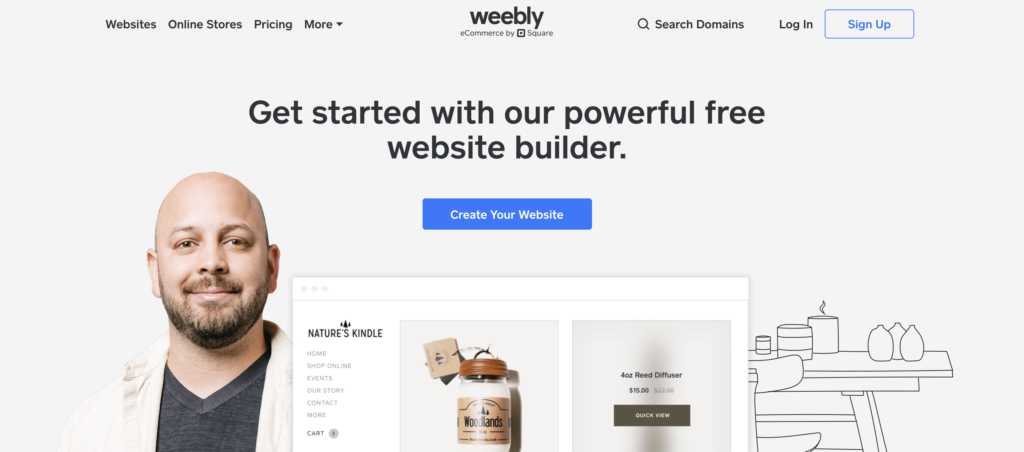 Entry-level price: $6 / month (billed annually)
Free trial: Yes, for 14 days
Hosting: Included
Domain name: Included
The overview
Weebly used to be thoroughly uninteresting to me. I built a couple of sites on the platform several years ago and found it a little clunky. As a result, I viewed it as a clear third-place player, a couple of steps behind Squarespace and Wix. But I've recently taken a closer look, and two major things have changed my mind:
Weebly is pretty darn affordable. You can get a custom domain going for only $6 per month; that's half of what you'd pay Squarespace, which is appealing.
Also, Weebly is now owned by Square, the online payments company. Practically, that means that Weebly went from being a lame ecommerce option to one of the best ecommerce options in the website-builder game.
While I still don't view Weebly on quite the same level as Squarespace and Wix, I've now decided that it's worth consideration, at the very least. And from what I've seen, the building interface has markedly improved, too.
The best features
If you're looking for an affordable ecommerce solution, Weebly is definitely worth playing with. Again, we're talking $6 per month, and for that you get:
A shopping cart (to sell merch)
Unlimited items
Shipping labels (pretty cool)
One note with Weebly is that it's more guided and it offers less design flexibility than other options (as this helpful comparison article makes clear). They use a very structured editor, which makes design easy but less customizable.
The bottom line
If you're looking to launch something quickly and affordably without the need for a ton of customization, Weebly is worth checking out.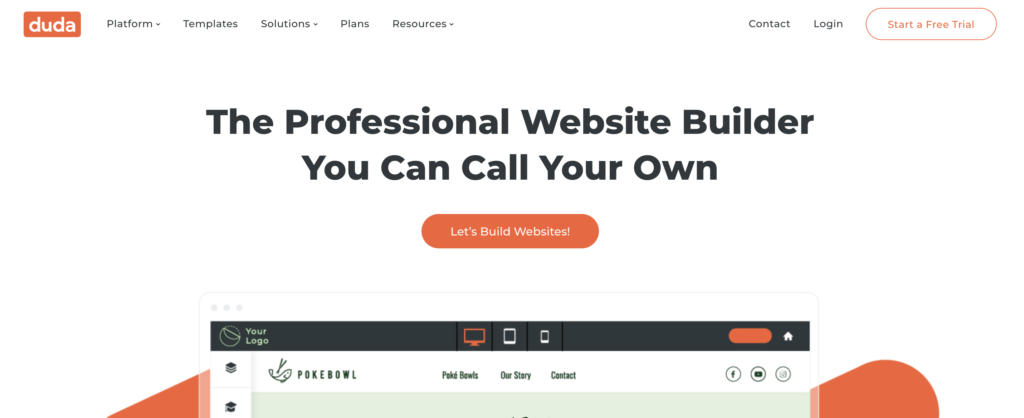 Entry-level price: $14 / month (billed annually)
Free trial: Yes, for 14 days
Hosting: Included
Domain name: Included
The overview
Duda is interesting in that it's positioned as a website builder for agencies, rather than for individuals. At the marketing agency I used to work at, we used Duda as a white-label solution to build sites; we had a portal where we could view all of the sites we'd built and control things from a high-level.
Pretty cool for selling website development services. Not as great for building your own site for your music – but it still works.
Duda prides itself on being "developer-friendly," which basically means that it's very customizable for a builder and a little less intuitive for users. That said, this is a platform in growth mode, so it's worth keeping an eye on.
The best features
Again, this isn't great for musicians, but Duda's coolest thing is that it lets you white-label its platform, meaning you can brand the builder and content management system itself to your own taste.
The bottom line
If you're planning on selling website development services to other musicians, I'd recommend choosing Duda. If you're not, it's probably better to go with one of the other options on this list.

Entry-level price: 5% commission per sale
Free trial: N/A
Hosting: Included
Domain name: Not included
The overview
This is the only platform on this list that I haven't personally used, so take this summary with a grain of salt. But, from what I've seen, dify is more of a store platform than a true website builder – think BigCommerce or Gumroad. You can build pages, but the main point is to sell things (merch).
Accordingly, things are billed differently here. You're charged 5% commission per sale – no monthly subscription fee.
The best features
The coolest thing thing about this platform is that it's built to be D2C, meaning that dify will allow you to upload designs, then print on-demand when customers buy, then take care of the shipping. So all you have to focus on is driving sales and making music.
That's awesome.
The bottom line
From what I can tell, this platform is great if you want to set up a page to sell merch. If your website is about more than merch, this may not be the best solution for you. But hey, what do I know.

The overview
Webflow is a good platform, but it's probably not for you. Their whole pitch is that they're the best website builder for designers and developers, and that's because they run on unique functionality – the platform actually generates code using a visual designer.
The focus is on flexibility and ability, not necessarily ease of use. As Tool Tester explains, "the product itself is like a fusion of a website builder with a CMS." I've seen the interface compared to Adobe products, like Photoshop and Illustrator.
Translation: You can do almost anything with Webflow, but there's a relatively steep learning curve.
The best features
Webflow can do pretty much anything you'd like, from ecommerce, to flexible design, to complex immersive experiences. It's very robust.
The bottom line
If you're a designer / developer and a musician, then you absolutely should consider this platform – but if you're looking for something easy to use, I'd probably go with one of the other options on this list.
Final thoughts on musician website builders (and your website)
Hopefully, this review of the top website builders for musicians has been helpful for you. If you're considering building a website for your music, my advice is: Yes, do it!
And don't worry to much about the tool itself.
(If you're wondering what should actually go on your musician website, I wrote a post that should help.)
The truth is that the website builder that you choose doesn't matter too much. You're picking between Pepsi and Coke and a generic grocery store brand. If you forced me to pick a website builder for you, I'd probably push you toward Bandzoogle, just because they're designed specifically for musicians. But most of these platforms offer similar functionality, and there are plenty of other website builders out there, too. Bottom line is that, if you dive in, you can't go wrong.
The key is to get started.
So get started! Now! Go for it!
And here's wishing you good luck.