Want to find Spotify playlist curators?
These seven tools make it a heck of a lot easier:
Want to know which tool is right for you? Keep reading.
The idea behind tools to help you find Spotify playlist curators
If you're an artist looking to get more streams on Spotify, you've probably realized that there are two basic promo tactics you can try: 1) running ads to your songs and 2) pitching your songs to Spotify playlists.
Both tactics put your music in front of new ears. Run good ads, and you'll see highly engaged streams (albeit at a fairly high cost). Get on a good playlist, and you'll see an ego-boosting spike in streams (albeit probably with lower engagement rates). A lot of music marketers heavily favor one of these methods and deride the other. But I'm of the opinion, based on personal experience, that while both methods have pros and cons, they ultimately both work (and, actually, I think they work best when run in tandem).
I might be boring you at this point. If you're reading this, here's the takeaway you probably care about, put simply:
No, playlist pitching isn't a scam, and yes, it definitely can work.
But it takes a ton of work.
You've got to find playlists that are a good fit for your music, then you've got to find the contact info of the curators for those playlists, then you've got to reach out to those curators asking them to include your music in their list. And you've got to do all of this in a world where the average response rate on a pitch is, at most, 5-10%. (Usually, it's lower.)
In other words, you've got to pitch 100 playlists to hopefully get your song placed on five of them. It's a numbers game, and it takes a long time.
That's where these tools come in.
Basically, the tools listed below help you to do the first two steps in the process I just walked through: 1) Find relevant playlists for your music, and 2) find contact information for the curators of those playlists.
How the tools work
Each tool works slightly differently, but in general, the premise is this: You input some kind of search criteria, and the tool gives you a list of playlists / curators that match. Say you're making sad bedroom pop, for example; in most of these tools, you can plug that exact keyword into a search bar, and the tool will spit back a list of relevant playlists to pitch.
Cool, right? Hey, I think it is. And if you're trying to get your music on Spotify playlists, this is an objectively awesome way to save a ton of time.
Okay – with all of that context laid out, let's get into the list of the tools that actually do this stuff.
If you're looking to find Spotify playlist curators, here are the top six tools I'd recommend checking out.
| Free tier? | Artist Tier Price |
| --- | --- |
| Yes | $15 / month |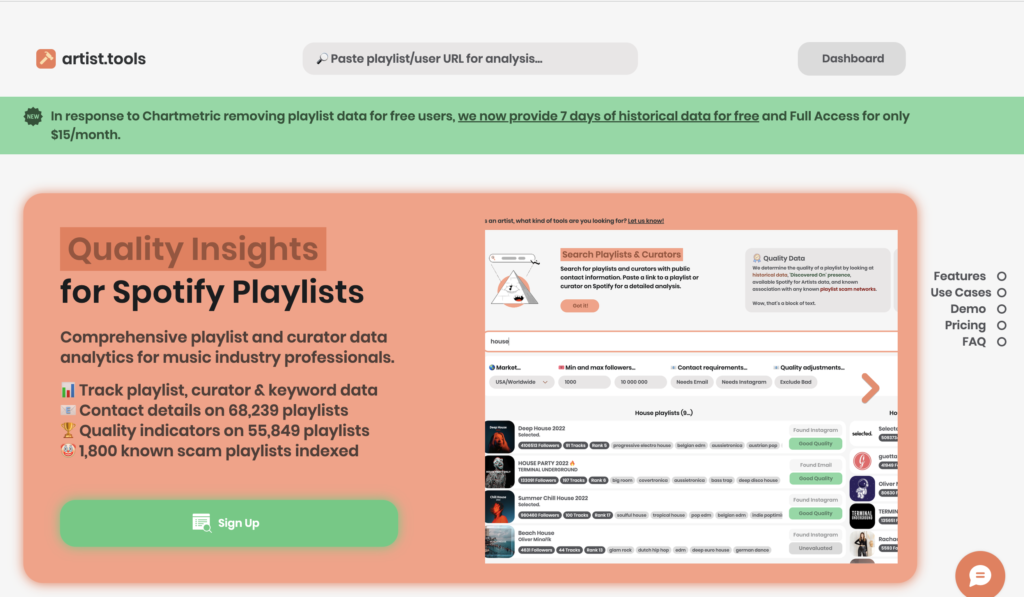 The brief:
This one's my favorite. It's the one I use personally. And yes, the link up there is an affiliate link.
Backstory: I've been using artist.tools for about a year now to run my own playlist pitching campaigns and to check Spotify playlists for quality. It's been great, and it keeps getting better.
Seriously, the functionality keeps improving. When I first signed up for this, it was basically a search tool, and it was honestly kind of limited. Since then, it's become increasingly powerful, which makes me increasingly glad to spend the $15 per month on my subscription. I've emailed back and forth a good bit with Aaron, the founder, and he does an awesome job of asking for and incorporating user feedback on the platform. His dedication to serving artists' needs really shows.
I'll stop gushing now and get to the features, but yeah, I love the ethos of this platform.
Key features:
Search by artist, user, playlist, or keywords
Access curator contact info
Built-in playlist quality analyzer (with the option to hide "bad" playlists from search results)
Robust filtering (including by number of followers, geography, and contact info)
Curator outreach templates (with links to compose in Instagram and Gmail)
Keyword ranking checker (so you can see where a playlist ranks for specific search terms)
All told, artist.tools makes it super easy to find playlists, check them for quality, and reach out to their curators. I'm a fan.
Click here if you want to give it a try.
| Free tier? | Artist Tier Price |
| --- | --- |
| No | $19.99 / month |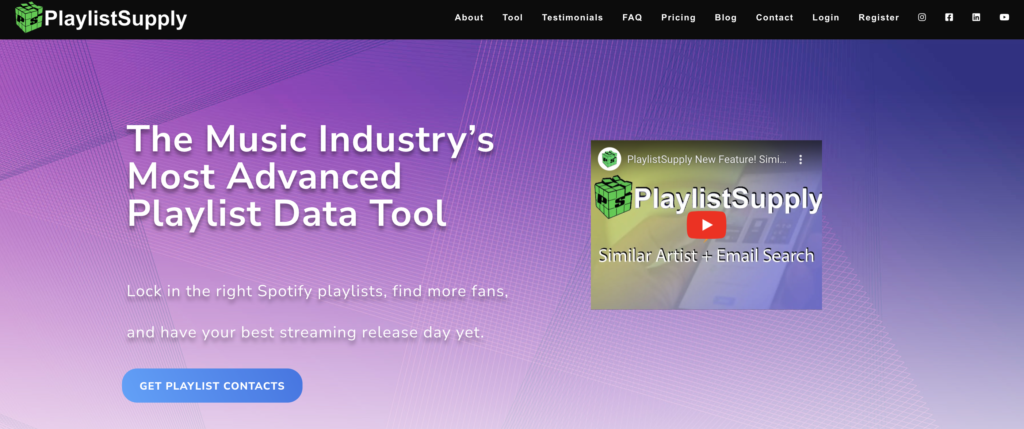 The brief:
PlaylistSupply is another great option for finding curator contact information. I had a call with the team behind the platform recently, and I was pretty impressed by how robust the tool's search functionality is; basically, any way you can think of to find a playlist, you can try on PlaylistSupply.
I've got it listed in second place for two reasons: 1) it's $4 more expensive per month than artist.tools, and more importantly, 2) it doesn't offer a ton of data yet on playlist quality (although the team told me they have plans to build that in the works).
Long-story-short, this is another great option, and it'll probably keep getting better.
Key features:
Find curator contact info
Search by keyword
Search by artist (plug in an artist and see all of the playlists they're "Discovered on")
Real-time search engine (so results are always up-to-date)
See playlist follower count and playlist popularity score
PlaylistSupply is a great option if you want to use imaginative search techniques (rather than focusing solely on keyword-based searches).
Click here if you're interested in checking it out.
| Free tier? | Artist Tier Price |
| --- | --- |
| Yes | $8.99 / month |

The brief:
I'll be honest: This tool looks sweet, but I haven't personally tried their paid version. I've got a free account, though, and it does pretty much everything you could want – but you've got to pay to see a lot of the info.
The platform basically works on a "Credits" system. You can do unlimited searches, but you only get a certain number of credits (3 / month with the free plan, 20 / month with the first paid plan), which let you "unlock" playlist data.
To illustrate, here's my free plan's search results page. You can see that any playlists below the top three search results are grayed-out, and that I have to "Unlock" data for a couple of the playlists if I want to see data like curator contact info, follower growth, what kinds of tracks they place, and so on.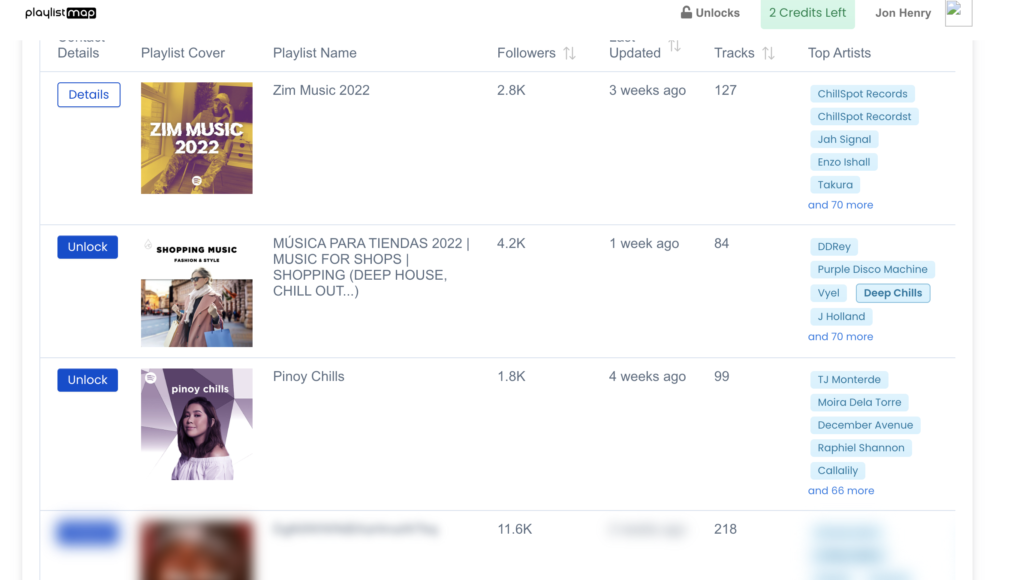 When you do "unlock" a list, though, this tool gives you all the data you'd want.
Key features:
Search by music genre, artist name, or playlist name
Get access to curator contact info
See playlist data (like follower growth, type of tracks listed, and how often tracks are added)
If you want to give Playlist Map a try, click here to check it out.
| Free tier? | Artist Tier Price |
| --- | --- |
| No | $39 / month |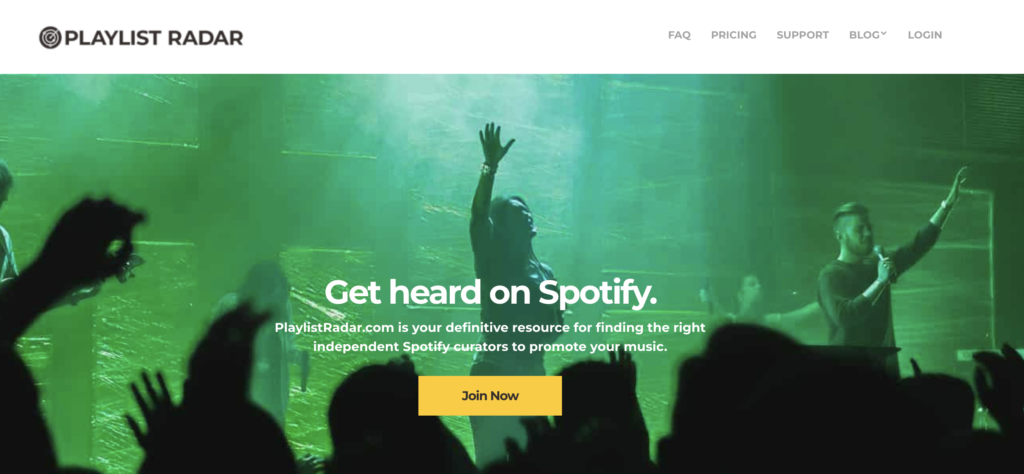 The brief:
I haven't tried this tool personally, either. But based on my understanding (which is based on a reading of their FAQs section), it works a little bit differently from the tools I've listed above. Instead of relying on live calls to Spotify's API to provide search results, this tool gives you access to a static database of Spotify playlist curators.
This approach comes with benefits and drawbacks.
On the plus side, it seems like you get more detailed information this way, especially in terms of curator contact info. Most tools scrape Spotify playlist descriptions for mentions of Instagram handles or email addresses; from what I can tell, Playlist Radar goes further. It seems like their team manually appends other contact info (including SubmitHub profiles, links to any known social media accounts, websites, etc.).
On the downside, information is inherently a little bit more limited and runs the risk of being outdated – because rather than getting live results, you're getting a curated database, which means you're subject to the limitations of the people curating the database. In other words, you probably won't find every good-fit playlist on here, and you won't find live data like follower growth curves.
It's a give and take.
Key features:
Really robust curator contact info (including channels that most other tools miss)
Search by keyword, similar artists, and genre
Click here to give Playlist Radar a try.
| Free tier? | Artist Tier Price |
| --- | --- |
| No | $24 / month |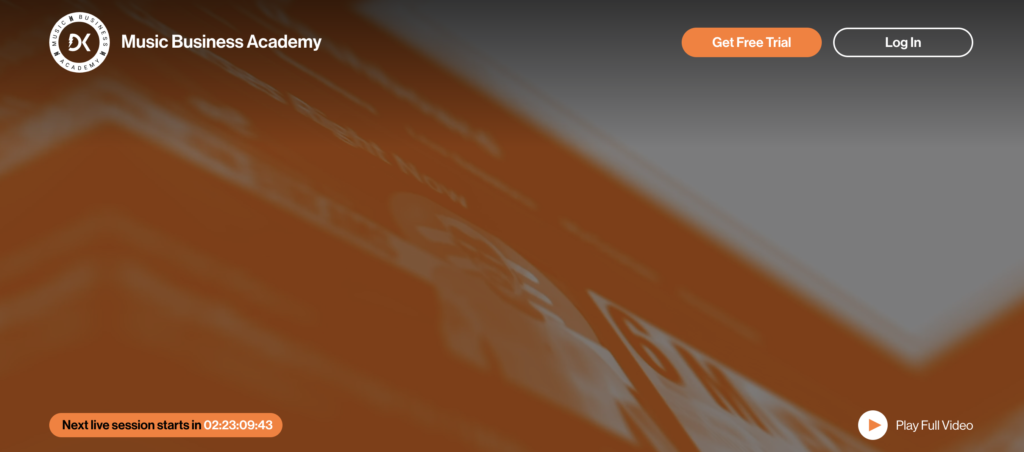 The brief:
This one's a little different, because it's not available as a standalone tool – to get access to Sonar, you've got to sign up for DK-MBA, the membership site of music marketing guru Damien Keyes. Basically, that means that if you opt for this platform, you'll also get access to a tidal wave of educational content.
I've been a DK-MBA member for a couple of months, and the catalogue of courses that Damien has built is legitimately impressive. There's a ton of good stuff in this membership.
That said, I do think the tool itself pales a little bit in comparison to the options I've outlined above. It gives you access to curator info, but the search functionality isn't incredibly robust and the playlist quality data isn't great, either.
Still, if you're looking for music marketing educations and a playlist research tool, this one's worth a look.
Key features:
Search by genre, keyword
Get access to playlist curator contact info
Live results
Click here to learn more about Sonar.
| Free tier? | Artist Tier Price |
| --- | --- |
| No | $78.50 (one-time) |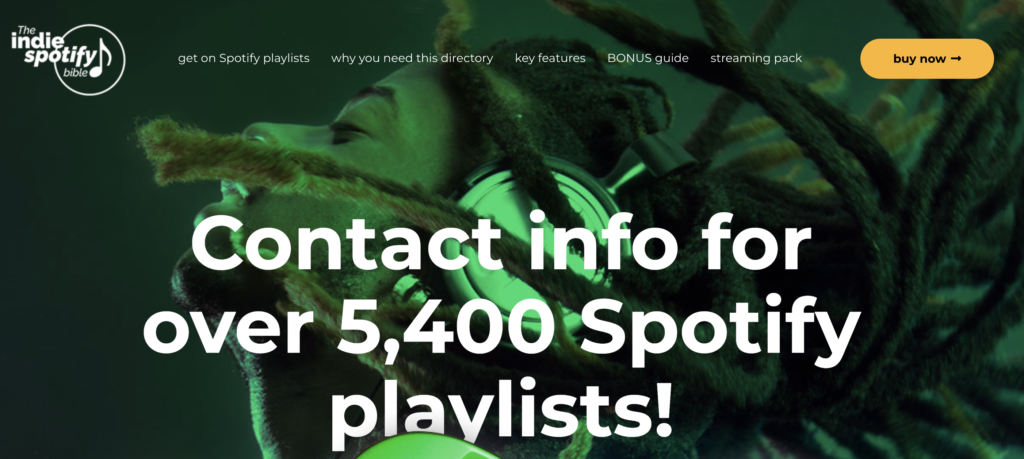 The brief:
The Indie Spotify Bible was actually the first tool I ever used to find playlist curator info. My background is in music blog PR, and I'd used the Indie Bible (a collection of music blog / music industry contact info) for years – so when I started getting requests from my clients to pitch playlists, using the Spotify Bible was an easy next step.
Like Playlist Radar, the Indie Spotify Bible provides a static database rather than results from a live query. For the price I've listed in the table above, you're getting a .pdf download of thousands of Spotify playlists with curator contact info. This is a great starting point if you're just getting into pitching.
The drawbacks, though, are that the format (a .pdf) isn't super searchable, and the info goes out of date pretty fast. There's an online database version of the Spotify Bible, too, which I like better – but I still didn't find its search function to be very robust, which is why I ultimately decided to use Artist.Tools, instead.
Long-story-short, this is a worthwhile option if you're looking to avoid monthly costs or if you're looking to bundle curator contact info across other platforms (like music blogs). But if you're just looking for Spotify info, this isn't the most robust offering in terms of the data it provides.
Key features:
Contact info for over 5k playlists
Genre-based categorization
Delivered as a .pdf
Check out the Indie Spotify Bible by clicking here.
| Free tier? | Artist Tier Price |
| --- | --- |
| Yes | N/A |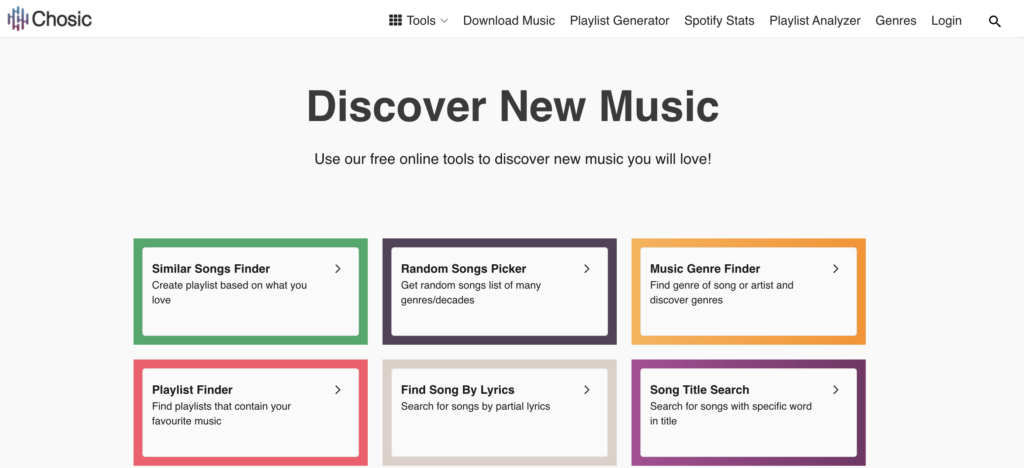 The brief:
And, last but not least, we've got Chosic.
As you'll see from the image above, Chosic isn't really a tool to find Spotify playlist curators; it's actually geared toward Spotify listeners rather than artists.
That said, it can be a helpful resource, especially if you're looking for something that's totally free. I'd specifically recommend checking out their Spotify playlist analyzer, their Playlist Finder, and their search tool for Top Spotify Playlists. None of these tools will give you curator contact info, but they will help you find interesting playlists – and from there, you can do some digging yourself to make pitching possible.
Key features:
Search the most popular playlists in the world
Find playlists that have similar music
Find songs and artists that are similar to you (and then mine their playlist info manually)
Click here to check out Chosic.
Final thoughts on finding Spotify playlist curators with these tools
All right, those are the seven tools I'd recommend checking out if you're looking to find Spotify playlist curators.
I'll close with one final thought: Don't give up.
Look, in all honesty, pitching playlist curators is an absolute grind. Even with the help of these tools, you'll likely spend hours emailing and DM'ing people, only to hear a) nothing back, b) a lame rejection, or c) a request for money.
I'm sorry in advance.
But if you can push through, you can find playlist curators that legitimately like you and your music. And, over time, you can build a solid network of contacts that give each of your releases a real boost. Seriously, imagine having a list of 50 curators who have placed one of your songs before that you can reach out to every time you release a new single.
Playlists matter, and getting on playlists is doable and worthwhile, even if it takes work.
All of that said, I think what matters the most is that you keep making music. Keep pushing, but don't forget that streaming numbers are only part of the journey. Music is worthwhile in and of itself.
Here's wishing you good luck.