Spotify for Artists is the other side of Spotify – the side behind the curtain. It's the place where artists can access tools and data that help them understand how music reaches new listeners. And in doing so, they can determine what strategies to implement to grow their fanbase.
Cool stuff. But whether it's your first time using Spotify for Artist or you've already been releasing music on the platform, it can be hard to navigate through all the statistics Spotify provides you with. So, in this article, I'll explain Spotify for Artists: what it is, how to access it, and what data you should analyze. Plus I'll offer a few tips on optimizing your Artist profile.
Let's dive in!
What is Spotify for Artists?
First things first: Spotify for Artists is a free service by Spotify for artists and their teams. It offers all the resources you might need to grow your Spotify audience and skyrocket your musical career, providing reliable data about your listeners: Who are they? Where are they? What do they listen to?
Spotify for Artists also provides tools to promote your music within the platform to attract new followers and listeners. You can pitch your new releases to editorial playlists or create a marquee campaign to get the word out about your music.
From Spotify for Artists, you can also manage your artist profile, which is like your homepage on Spotify, where new followers can find all your tracks and albums, follow you, and learn more about you.
What's great about Spotify for Artists is that it shows how your music's performing. Your streaming stats aren't a black box; now, everyone who has music distributed to a streaming platform can easily access this information.
How to access Spotify for Artists
The first thing you need is to get access to Spotify for Artists. If you work with a distributor or label, they can give you access to your Spotify for Artist. Ask them to send you an invite, sign in with your Spotify account, or sign up if you don't have an account.
It's important to know that you need to have your music on Spotify or a release coming out to claim a Spotify for Artist profile.
Work with your distributor if you have not released songs on Spotify. Spotify includes a list of suggested companies for music distribution in case you don't have one yet. We've got a list of the top distribution services, too.
Music distributors will get your music on Spotify; even if you're not signed to a record label, you need to use a distributor.
You cannot upload your tracks directly from your Spotify for Artist page.
Once you get an invite or have claimed your artist page, you can log into your Spotify for Artists and use the tools they provide. If you're on a label or are being given access, ensure you have Admin or Editor access to see all your data and edit your artist profile.
What should you analyze in Spotify for Artists?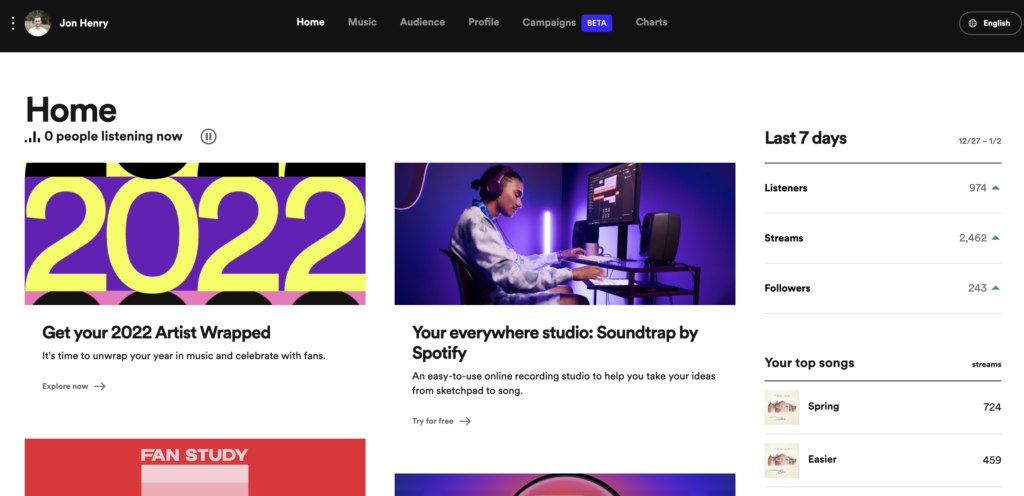 Now that you're on the home page of your Spotify for Artist, what do you do? You'll notice there are updates from Spotify, news, and tutorials. You can take that road and dive into their tutorials. Different tabs on the top take you to other sections of your portal.
Before moving on, remember you can access Spotify for Artists from the web browser or the mobile app, available for iOS in the App Store and Android in Google Play. Most features are available in both web and mobile versions.
Spotify for Artist's Home
Your first stop is the Home tab. Just by exploring this section, you'll have enough insights into your music, tips, and news to get an idea of how you're doing on Spotify. Explore the news section that offers updates on every new feature that Spotify for Artists offers.
Your home tab will also show you a summary of your followers, listeners, and streams in the last seven days. With this, you can have a quick look at how your audience is growing. (Some people *cough not me* have been known to look at this obsessively every day.)
This section will also show your top songs and top playlists, along with the accompanying numbers of streams.
Analyze your Music data
In the Music tab, you will find a list of all your songs, including songs on Spotify, new releases, playlists, and scheduled releases.
If you look at the Song tab, you'll see a list of all your songs released on the platform: the total of streams, listeners, and saves. You can filter by period, week, month, the last 24 hours, or the lifetime of a song and order the list by the number of streams, listeners, views, and saves.
Next to your songs, there are different parameters:
Streams are the number of times a person listen to your song. Spotify counts a stream after someone listens to your song for 30 seconds. This value tells you how many times a user has listened to your song on Spotify.
Listeners are how many people have listened to your music in that period. It's normal to have fewer listeners than streams, meaning one person can listen to a song many times. By dividing the number of streams by the number of listeners, you can get an average repeat rate for each track.
If you use Canvas on any of your songs, the number of times someone watches it will display on Views. Canvas is a short video that people will see on the mobile app while streaming your songs. Creating a Canvas for your tracks is quite simple, and it can help you get more streams.
Saves means how many times a person saved your song to their library. If you divide the number of saves by the number of listeners from that song, you'll get an estimate of how many people that listen to your songs are saving it. In other words, the save rate of a track.
The Releases tab displays your all-time releases, providing information on the release date, total streams, and views. You can also filter by different periods for your research purposes. Your live stream count will show in this section when you release a new song.
In the Playlists tab, you'll see all playlists your music has been added to, who made the playlists, how many listeners it has, and the total streams of your music from each playlist. You may also view the number of streams each song received if you have several songs in a playlist.
Here you have three sections for each type of playlist:
The Spotify algorithm creates algorithmic playlists after analyzing a listener's habits and others with similar tastes to your listeners. It includes the Discover Weekly, Release Radar, Daily Mix, On Repeat, and Repeat Rewind playlists.
Spotify editors curate editorial playlists. These are the hardest playlists to be added to, and you need to pitch your new releases to them from the Upcoming tab.
Spotify users create listeners' playlists, which you can submit by contacting the owner or with the support of playlist finders.
Analyze your Audience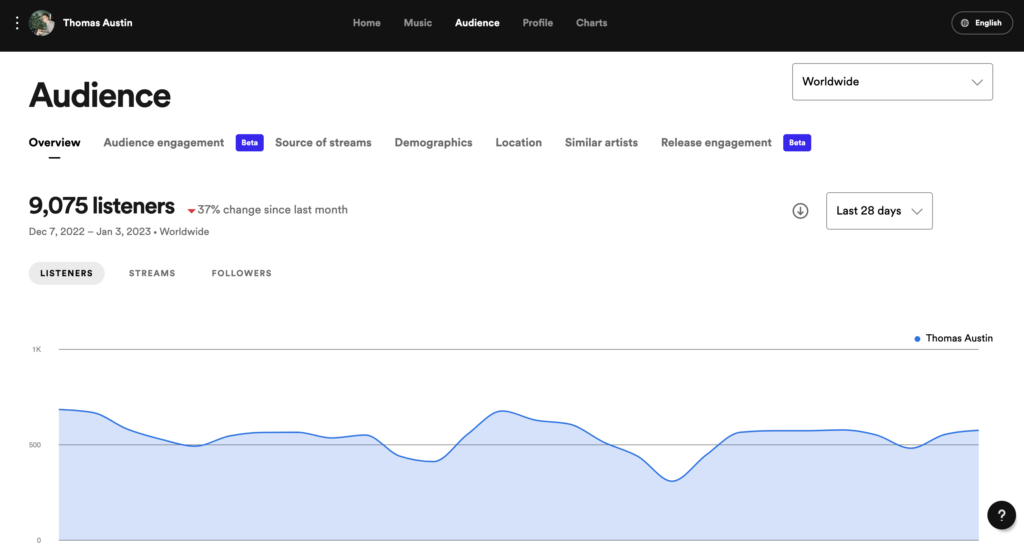 The Audience tab is where you will find out who your audience is. The primary tabs in this section are Listeners, Streams, and Followers. You know what a stream is: the number of plays a song gets. The streams tab will show your total streams on a selected period.
Now let's break down the differences between a listener and a follower.
A listener is a user who streams your songs. They can be your fans or a new listener who found you in a playlist. If you select the listener tab, you will see how many users listened to your music in a specific period.
A person who finds your music, visits your artist profile and clicks the "follow" button becomes your follower. They could listen to your music or not. The total number of followers will display at the top when selecting the Followers tab.
By default, you will see data from the last 28 days, but you can change it depending on what you are looking for. No matter which tab you choose, the rest of the data will be the same. You will get insights on your source of streams, demographics, similar artists, and the top countries and cities your songs are being streamed from.
Source of streams
Have you ever wondered where your streams are coming from? You can finally get the answer thanks to Spotify for Artist. This section shows what percentage of your streams come from each source within Spotify. Learn what is working better for your music. If it's a playlist, what type of playlist? Are they streaming from your artist profile? Having this data will help you understand if it's worth pitching your song to playlists or trying different methods.
Demographics
In the next section, you can see your listener's gender and age. Learn who listens to your music: female, male, non-binary, or nonspecific gender. Find if your music is more prevalent among a younger or older audience. It will help you approach your marketing campaigns differently and decide between a TikTok and a Facebook campaign, for instance.
Listeners Also Like
Spotify will identify which artists your listeners and followers listen to based on the algorithm and other trends. Use this information to aim at more playlists and for future collaborations. If you appear on their Listeners Also Like, they might already have an eye on you and will be more likely to accept a collaboration proposal.
Top countries and cities
The last part of the Audience tab will provide you with a list of the top countries and cities where your music is streamed. You may learn that you are very popular in Moldova, where you've never considered touring before, and develop new ways to connect with fans in new areas.
How often does Spotify for Artists update?
If you're worried about how old the data you are reviewing is, you should know that your statistics are updated daily at 8 PM UTC. However, for new releases, you will see your live stream counts update every two seconds for the first seven days. After that period, the updates will continue daily.
Optimize your artist profile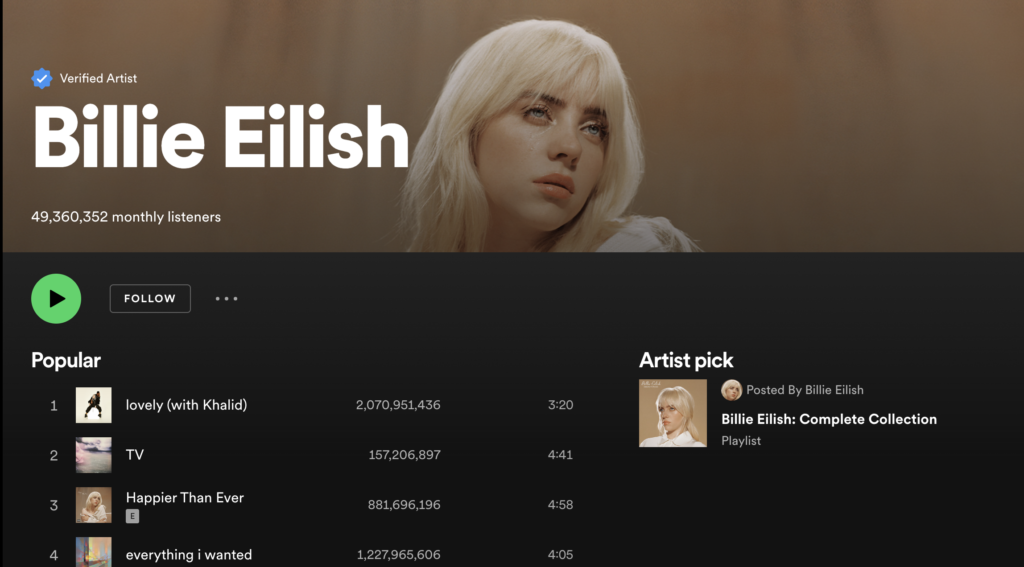 The last tab on your Spotify for Artist dashboard is Profile. It's the section you should go to first after getting access to Spotify for Artist and getting verified because this is where you will customize your artist profile, what users will see when looking for your page.
Here are a few tips on the minimum your artist page should have.
Add images
Select a photo for your avatar, make sure people can see your face, and consider size for users listening on mobile phones, as this will show results when people look for you. The header should also have an image. It will show at the top on the desktop and web player.
Your photo will be the first impression a new follower will get from you. Next, they'll want to know about you.
Write a compelling Bio.
You don't need to make up things to look more interesting. Tell people who you are and how far you've come or where you come from. Be honest; people like to know who their favourite artists really are. You have 1500 characters to write your bio.
You can talk about artists you have collaborated with and tag albums or songs. Use the bio to add your social media links to drive your followers where they can stay in touch with you.
Add Artist pick and playlists.
Use the Artist Pick to display your latest release, favourite album, playlist, or tour dates. Customize it with a personal message and a picture, which will show on your artist profile for 14 days.
Display playlists on your artist page. Add the editorial playlist you try so hard to get featured on, your "This is" playlist or a playlist with music you enjoy for your followers to learn more about you.
Final thoughts on managing Spotify for Artists
Spotify has added many useful tools for artists, and I don't doubt that we will get more in the future. It's cool stuff.
Learning to read the data is essential if you want to create a successful marketing strategy on Spotify. However, don't focus too much on data: instead, use it to learn about your music and your audience and find solutions when you feel stuck. Adjust your strategy, and see the impact of your marketing efforts.
Good luck, and stay creative!