Ever wondered how to email music blogs? Hey, good question. Getting a review in a tastemaker music blog can be a big plus for an artist's portfolio. But getting featured is hard. Let's discuss.
I definitely can't speak for everyone, but I do have a few personal preferences I've developed over time based on the avalanche of song and artist submissions that crush my inbox each week.
Here are my best tips to get your music featured in a music blog (with examples of almost-totally-real music email submissions).
They're some of the things I look for in a good music pitching email, and they'll give you a good shot at standing out from the crowd.
1. Actually read the music blog.
My least favorite submissions are spam (although these can be pretty hilarious, admittedly – I've gotten some golden ones).
My second-to-least favorite submissions are the ones that clearly show a mass-targeted, copy-and-paste effort with no regard for the vibe we've built. There's something to be said for music submission email templates, but if they're clearly unedited, they tend to feel a bit out of touch.
Like "Please consider this song for review" with no other context. That's fine, but it also doesn't give much of a reason to actually consider the song. Or, worse but funnier, "Hey, I love the heavy metal work you guys feature. Please consider covering…" (We don't tend to feature heavy metal, so… I mean, we might, but it's definitely not a staple).
My favorite submissions, though, are from people who clearly took the time to engage with our site and the music we cover.
"Hey, I love your philosophy at Two Story Melody. The way you seek to uncover the story behind songs is really cool. The song I'm submitting actually has a pretty interesting story behind it…"
Honestly, it's partly due to ego, but just knowing that somebody takes the time to read our About page means a lot. I always read through a personalized email, at the very least.
2. Personalize your submission.
This kind of logically follows; you've read the blog, now put what you've read to use. Here are a few tips to do that:
Include the editor / author's name. If you can find it, it does make a difference. My ears perk up when I hear "Jon". They don't when it's just "To whom it may concern". If you can't find a name, no worries – address the blog's team in general.
Include a note about your appreciation for the blog's coverage / style, and mention why you think your music is a good fit. Something like, "I love the heavy metal work you guys feature" (but the blog actually does feature heavy metal work).
Include a shout out to a previous article. "Loved your piece on Tyson Motsenbocker. The music I'm sending actually covers similar themes..." Side note: I'm always ultra-impressed when an artist or PR person digs up a post from a few years ago. That's effort.
3. Be clear about what you want.
Another rough habit: sending a novel of an email with an unclear request subtly edged in somewhere along the way.
I get it – artists want to give full context to their work. I really respect that, and I work really hard to honor it in our coverage. But logistically, it's really hard to sort through a ton of lengthy emails to get to the heart of requests. If you make it easier on an editor, they'll be more inclined to listen to your music.
General tips for clarity:
Don't include more than four or five paragraphs in your email submission. If you really want to get more context across, throw in a link (and be clear about where it links to).
Add any links that are relevant. The easier you can make it, the better – it's time consuming to Google everything. Industry standard format is to include the full URLs (spotify.com/artist-link instead of artist link), just because clicking links in emails is known to be kind of sketchy.
Include a clear request. It sound simple, but it's important. Don't be vague about what you want – a lot of artists say things like "I'd love to talk to you about my music." Again, I totally respect that request; it's just less clear. Make it easier by asking for coverage of the specific piece of art you're promoting. "Would you be interested in doing a review of this song?"
4. Don't give up.
Last thing: please don't take radio silence to mean that your music is bad. Look, your music might suck – but more likely, music blogs aren't replying to you because they're swamped with submissions.
On SubmitHub, we get between 20 and 50 submissions a day. Here on the site, we get anywhere from 2 to 12 per day. Other blogs get a lot more. Listening to each one would literally take more time than any one person has. Trying to keep up feels like living that scene from Drake and Josh where they're preparing sushi on a conveyor belt, but sushi just keeps coming.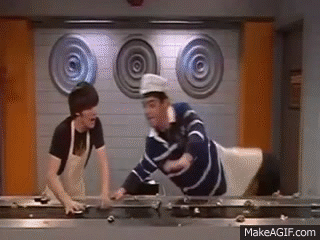 I'm sure somebody else did that skit first, but I'm a millennial.
Anyway, that metaphor isn't meant to register as a complaint; I love listening to music. It's just to say that there's a decent chance that, when you email a music blog, your stuff gets buried under an avalanche of other stuff – even if your music and pitch are phenomenal.
Don't give up. Follow up. Follow up again. Keep sending your stuff to other blogs. The sad reality is that a three to five percent response rate is pretty normal, so if you email 100 music blogs you should expect to get three responses. Push through.
If you care about your music, your music is worth it.
And when you've gotten a few coverage opportunities, the reality of the industry is that more tend to follow as people hop on the bandwagon. That's even kind of the idea behind Hype Machine.
5. Here's a music blog submission template.
Last (and also probably least), I'm putting this out there as a starting point. It's intentionally pretty open-ended because I'm against copy and paste. Please: take the time to customize, as much as you reasonably can.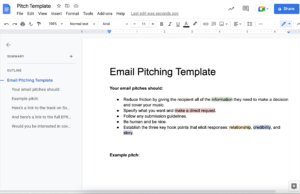 Detailed template for emailing music blogs
Want to pitch your music so people actually respond?
I get about 9 million email submissions a day to Two Story Melody. Here's the template I recommend.
So, there you have it: my tips to emailing music blogs for actual coverage.
Here's hoping they help. For a list of some of the best indie music blogs to submit to, give this post a read.
Last but not least, here's a shameless plug for our PR service where we do the submitting for you, if you're tired of playing the game yourself.
One more time: Good luck.