8 Tips for Killing the Instagram Game
(If you're on a time crunch, here's a TL;DR.)
Create an authentic brand
Have a compelling header
Do at least one weekly live performance
Always have a backlog of content
Use Stories often and well
Collaborate with artists who are similar to you
Use hashtags
Pay to promote your best work
---
These days, it's never been easier to make your own music; Garageband is free, microphones are cheap, and vocal tuning, gridlines, and stock plugins cover a multitude of sins. It seems like everybody and their best friend's estranged aunt has released music at some point, and even though it's not always very good, you'd better believe it's on all the major streaming platforms.
Right alongside the growth of music creation, music promotion outlets have never been more accessible. Ever since the internet gave life to countless music blogs (you're on one right now!), playlists, and radio stations, it's never been more crucial for artists to build and maintain an online presence. And while all social media platforms are important, one has clearly asserted itself as the most vital for artists to take advantage of: Instagram.
Thanks to living in Nashville, my Instagram feed is crammed with musicians trying to stand out. But, if I'm being honest, between the paid-advertisement acoustic covers of "Fix You" and the bios that say "_____ is now available on all streaming platforms," not a lot of them do. More often than not, artists' attempts at self-promotion completely miss the mark, and between you and me, the ones who seem to be trying the hardest can often come across as a little bit annoying.
But you and I both know your music is different. For one thing, you're actually pretty good at your instrument, and your voice is somewhere between Adele, Jason Derulo, Ariana Grande, and Zac Brown. You also write songs that make people think, or dance, or cry, and when people who hear your music say, "What was that?" they mean it in the best way. And don't even get me started on how dope your hair is.
The problem is, it's bound to take more than your wealth of raw musical talent and good looks to promote your music on Instagram. It's going to take strategy, planning, and creativity. It's definitely going to take time, and might even take a little bit of money. But if you do it right, you are guaranteed to build a meaningful brand, an engaged fanbase, and an independent career that thrives in the age of labels not being cool anymore. And you'll do it all while still being your authentic non-annoying self, falling right into the green zone.
Here are the top eight ways to promote your music on Instagram.
---
Whether you're a country singer, a jazz pianist, a pop writer, a rapper, an EDM producer, or a church choir member, you are most likely aware of the aesthetic that goes with your genre. As much as you want to stand out, you don't want to confuse anybody, either. Probably don't use grunge-inspired filters unless you're a rock guitarist. Maybe go easy on the intense, busy fonts if you're an acoustic singer-songwriter. And please, please don't just assume that typing in all lowercase letters is right for you.
The best Instagram content (like the best music) is honest, true-to-life, and relatable. If you're funny, post funny pictures with funny captions. If you're quirky and have an artsy photoshoot with your friends every other day, don't be afraid to own it. You're trying to promote your music on your own Instagram, so be yourself, not who you think you should be. Authenticity is always, always better.
This includes your profile picture, bio, and website. It's the first thing people see, and should make people want to see more of you.
Profile pictures give you little room to work with, but that just gives you all the more reason to get creative with them. A few key things include keeping yourself at the center, keeping the background solid enough that you stand out, and using your most on-brand photo. If you're a band or a musician, think about using a logo or a headshot of some sort, because squeezing other people or instruments in such a small space can be difficult to do well.
Your bio is your first chance to say something about yourself to people visiting your profile. You don't have many characters to work with, so it's probably best to be short and sweet. If you have an original one-liner that always gets a laugh, now's your chance to use it. Or, if you're going for a more professional aesthetic, just tell people what you do and where you do it. Bios are also pretty much the only place on Instagram where it's not weird to use emojis, but be tasteful, and don't overdo it.
Your website is self-explanatory. Here's a small guide to Instagram link etiquette.
Video content is the number one way to showcase what you do uniquely well that puts you a cut above everybody else, so unless your cover of Coldplay is played on a didgeridoo or a flugelhorn, think about switching it out for an original song, or a cover not many people have done before. And if you're a musician – especially an acoustic guitar player – the more live you can get your performance to look and sound (easy on the reverb if you're mixing the audio separately), the more it will showcase who you are. Trust me on this one.
This is your chance to show people what you can do. Whether it's posting a video of yourself playing one of your favorite songs, or sharing an intimate songwriting workshop on IGTV (Instagram's section for videos over one minute long), or going on Instagram Live to show people how you produce your music, it's important to have video content that proves how good you really are. And you and I both know you're really, really good.
This cannot be stressed enough: always be prepared for at least your next two weeks of posting. To promote your music on Instagram, things like fresh photoshoots, release hype graphics, and in-studio or on-stage pictures aren't too hard to stock up if you take your artistry seriously. Of course you will want to leave room for spontaneity (after all, you're pretty funny, and your life is interesting enough to warrant a few random updates each week), but when things are slow or if you're building up to a release, it's always best to be prepared.
Be strategic with your backlog, too; if you're like me, you won't always remember to post every day, so schedule your posts out beforehand (platforms like Hootsuite and Buffer make it super easy). Also, while I'm at it, here are the best times to post each day, just to make sure your hot content goes up at a hot time.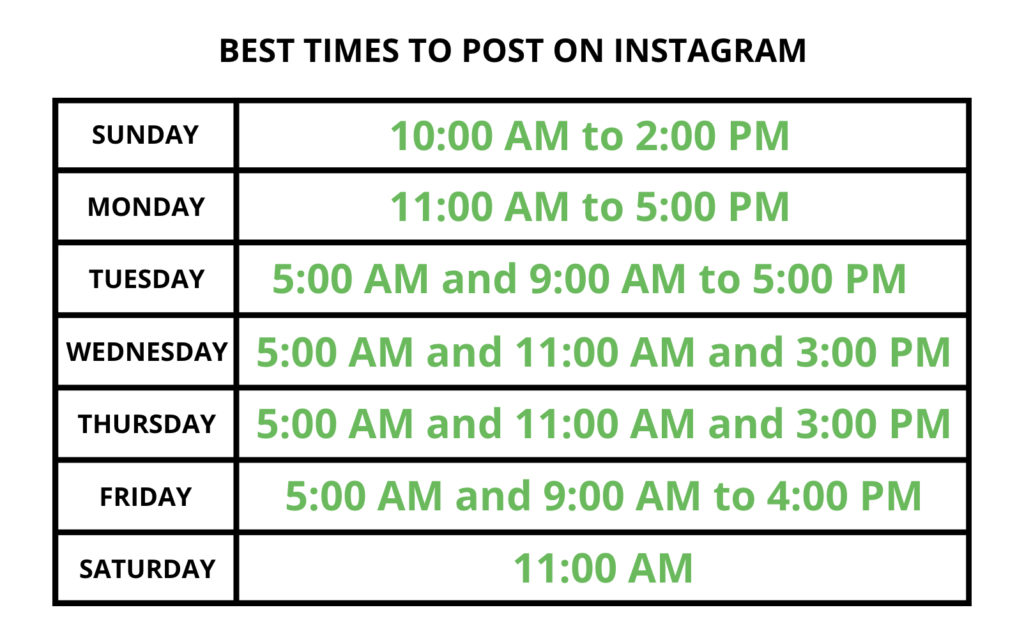 Posting on your normal feed too much is unfortunately pretty annoying; if you want to be constantly updating your fans, try posting on your Story instead. There's not really any etiquette for Stories, so you can make them as long or as short as you want. It's also far and away the best place on Instagram to talk, make jokes, or create a daily series without it getting too irritating for your fans. Generally, the people who watch your Stories already love everything you do, so give them looks at everything from cooking, to bonfires, to new music. You're not just a musician; you're a real person, and a pretty cool one.
Another feature of Instagram Stories is the music sticker; if you release music with companies that distribute to Facebook and Instagram (Distrokid and CD Baby, for example), then the world will be able to attach your music to Stories, including lyrics, cover art, and the full, unobstructed audio. It's a massive advantage that not a lot of indie musicians use yet, so if you want to promote your music on Instagram, hop on the train before it becomes cool.
Do you have friends who are trying to make music for a living, too? Of course you do. Instagram is the perfect place to make their fanbase your fanbase, and vice versa. If you're a drummer, collab with a bassist. If you're a singer, collab with a producer. If you're a flugelhorn player, you're on your own.
In all seriousness, we're in this together. If you have more than just your face in a post, people are more likely to engage with it, and it's a good way to show that you're a social butterfly who surrounds yourself with talented people. And the more collabs you do, the more people will want to collaborate with you, and soon you'll be all the way up the collaboration ladder.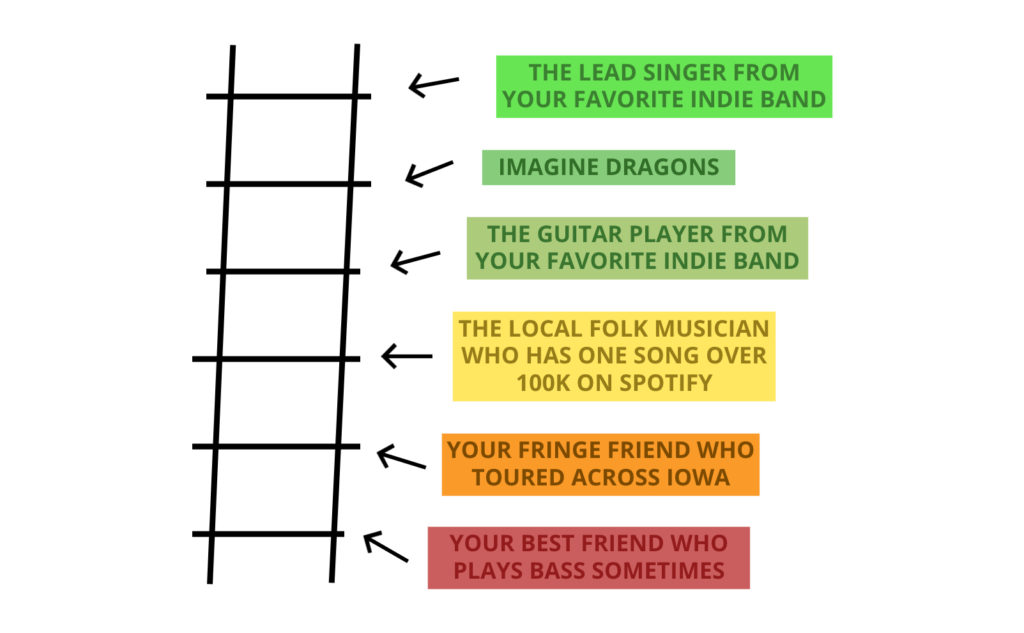 I hate doing it, you hate doing it, and everybody's best friend's estranged aunt hates doing it. But if you want to promote your music on Instagram, it has to be done.
Hashtags are still one of the best free ways to get your content to a wider audience, and as painful as it will be to see a block of ugly text and symbols beneath your heartfelt, carefully written caption, indie artists need to do it. There is a slight way around having it look unbearably ugly, though; if you publish a post with a caption, you can add the hashtags as a separate comment, and it will 1) Look a little bit better, and 2) Still work as well as if you had put them in the caption. Try popular hashtags that relate to what you do, but also try some more obscure ones that only have a few thousand hits. There's a better chance of seeing your post at the top of #arkansasindieartists than at the top of #music.
Another trick you can use is to create your own unique hashtag, use it for everything you post, and tell your fans to use it when they post about you. That way, you'll garner a mass of content in one location that is exclusive to you, and it's easier to track when people post about your music.
Nobody wants to pay for promotion, and it isn't always necessary. But if you keep finding that your content isn't reaching as many people as you (realistically) would like, then by all means, give it a go.
Instagram has an incredibly accurate advertising algorithm (which borders on creepy most of the time), and it's yours to use if you have a little extra cash in the marketing budget. But if you spend money, make sure you're spending it on the content that you are most proud of, or is most unique to you. Once again, your acoustic cover of everybody's favorite sad song "Fix You" is incredible without a doubt, but let's be honest: you have better things to spend money promoting. Original music, release hype graphics, and unique, double-take-worthy content are pretty much the only things you should bother boosting. And once you've boosted a few things, check the analytics to see which ones performed the best. Then try that kind again.
---
In the end, it isn't easy to promote your music on Instagram, and it can be soul-sucking. But there's good news; you're up to the task. Take these tips and run with them. Make them your own, find out what works for you, and be as authentic as you can. I promise that you're only a few more posts away from that coveted blue checkmark. And then it's all fame and fortune.