As an independent artist, you're the one responsible not only for your creative output but also for your online presence. This is a characteristic of the times we live in when record labels and band managers no longer look after the artists' interaction with their fans but rather focus on their large-scale exposure. The connection with your fans is something that'll always depend on you.
Is this necessarily a bad thing? Absolutely not. Your audience will stay with you even if your record deal goes wrong or if you change manager: your audience is your most valuable asset, so you should learn how to best interact with it and magnify your exposure over time. This is why, for the last decade, we have seen the rise in popularity of music marketing platforms, offering a unique solution to all your marketing needs.
Today I'll talk about Hypeddit, one of the most popular platforms for artists looking for ways to fine-tune their online marketing strategies.
If you're familiar with websites like ToneDen or feature.fm, another two well-known tools for music marketing and fan growth, you'll understand how Hypeddit works and what it offers; with tutorials, courses, and software that can help you increase your fanbase quickly and efficiently.
Let's dive in!
What Is Hypeddit?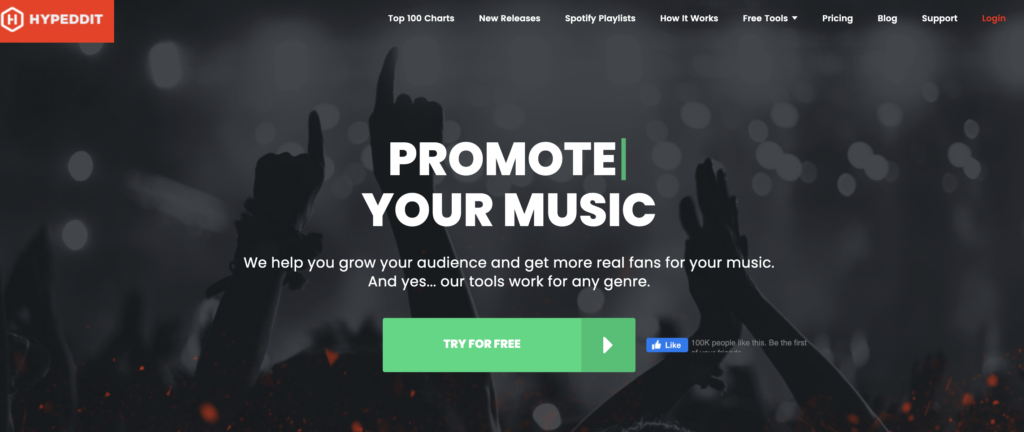 Hypeddit was born from the mind of DJ John Gold to assist other artists in reaching fans through various platforms. As an artist himself, John knows what it takes to achieve success as an independent musician and uses Hypeddit for his music to show what it can do for others.
No matter your genre, style, language, or audience's location, all music genres can benefit from using Hypeddit. Its featured tools are valuable for pretty much everyone releasing music. There are three major use cases for Hypeddit:
Create your Smart Links
Run ad campaigns
Create download gates
More on what that all means next.
How does Hypeddit work?
With Hypeddit, increasing your fans and follower base is quite simple. The first step is to create your account on Hypeddit: you start with a 7-day free trial of the Pro membership, which you can cancel at any time before the seven days trial ends if you're not interested in keeping the membership.
The second step is to start using any of Hypeddit's promotion tools, services, and features (which I'll show you in detail in a moment). Hypeddit has one of the most accessible interfaces compared to similar platforms for artists setting up campaigns and fans reaching the link gates.
The last step is to promote your music using the links you generate for pre-saves, download gates, loud links, or Smart Links. You can edit or delete them from your dashboard and see analytics to learn how to work the next step on your campaigns.
Keep in mind that Hypeddit will only do some of the work.
It definitely simplifies the creation and management of your promotion, but you still need to get those links out and, more importantly, create outstanding music that, with the help of Hypeddit, will reach a new audience.
What does Hypeddit have to offer?
As soon as you visit the Hypeddit website, you'll understand what they offer: audience and true fans growth. But Hypeddit has many more features available.
Let's start with the core offer of Hypeddit: Download and Link Gates.
Download Gates
A download gate is an exchange between an artist and a fan. You offer a download: your new release for early listening to your most engaged fans, the full track after a preview you share online, a secret song, etc. The catch is that you trade that free download for something from your fans. Usually, such actions on social or streaming platforms include likes, follows, shares, or reposts. And, of course, you can get email addresses, too.
Download Gates are ideal for attracting new audiences to platforms like SoundCloud, Spotify, YouTube, and more, where you will release new music. It could indeed bother people when they need to do too many steps to download your content, but fans who love your music will gladly support you by sharing, reposting, or giving their email addresses.
Links Gates
Link Gates work similarly to a Download Gate, except that you have more flexibility as to what to share with your fans. With Link Gates, you can share secret links with streams, discount coupons for your store, a link to show tickets, your new music video, or a private link to a Zoom hangout. It can be whatever you come up with that your fans will love.
The trade could be the same as for a Download Gate, depending on where you want your audience to grow. Post a contest, ask for likes, shares, and comments on Facebook, Instagram, or Twitter, and see your audience grow.
Smart Links
If you have your music distributed on multiple streaming platforms, you want to have a Smart Link to share it with your fans. A Smart Link lets you have your tracks and albums on a single landing page where fans can choose which streaming platform they want to listen to.
You can connect multiple streaming platforms and music stores as well. If your audience is spread between YouTube, Spotify, Apple Music, SoundCloud, or Deezer, usually, you'll need to post a link to each platform. But it could get messy to read a post with links to multiple platforms.
With Smart Links, you can share a single link that will take your fans where they can select which platform they prefer to listen to, follow or buy your music. Additionally, the Smart Link will gather statistics to discover more about your audience, such as which streaming platform or country is more prevalent among your fans. It provides you with insight into how to promote your music in the future.
Pre-Saves
Pre-saves are specific landing sites for your music that allow fans to pre-save your forthcoming release to their music collections on Spotify, Apple Music, Deezer, and other streaming platforms before the release date.
These campaigns are super helpful because once your track has been pre-saved, it will automatically be added to your listeners' music library when it releases on the streaming platform. Pre-saves campaigns help you get more streams on your release day, something that platforms like Spotify always live-track and consider for placing songs on their editorial playlists.
If you have an email list, pre-saves links can also let you collect fan email addresses to stay in touch with them for future releases.
Promotion
With Hypeddit, you get several tools that will help you promote your music. However, I want to talk about what I believe are the most valuable ones: Fan promotion and Promotion Exchange.
Fan promotion
With Fan promotion, Hypeddit offers their Top 100 Charts and New Releases features. By setting up a Fan promotion, you can reach thousands of active music listeners by placing your songs on their top 100 Charts. Very helpful when you are starting and don't have enough listeners and followers on other platforms.
You can set a campaign with a budget of as little as $5 to drive over to 2000 fans; more budget equals more fans. Plus, if you put a campaign over $50, you will receive a bonus repost for free.
Promotion exchange
Promotion exchange allows you to share your Download Gates with other artists and support them in return.
It's a win-win for both musicians: you get to connect with another artist who might give you a hand in the future. Remember, networking is essential in any line of work, and cross-promotion is an incredibly effective strategy in the creative industry.
Facebook Music Tabs
One of the Hypeddit features allows you to create a personalized music tab on Facebook to showcase your music, which lets your fans listen to your songs from your Facebook profile without redirecting them to an outside landing page. It will be more likely for your potential followers to listen to your music from within Facebook.
The only downside of these features is that you must have at least 2000 likes on your Facebook page to activate it.
Other features
Hypeddit's main feature is promotion, but it also has a few other secrets that might interest you.
Sound and samples. Hypeddit offers a free mini sample pack for you to use on your next big hit. It includes various music genres to choose from.
Analytics. Hypeddit will provide reports of your campaigns. Study and filter analytics by day, per visit, per link, or click-through rate. Also, learn from which platform you get more clicks, which countries, browsers, or devices.
Customer support. The Hypeddit team is available via chat on their website. According to several users, they're always prompt to answer and can give a quick solution to most problems.
Price Points
Now let's talk about Hypeddit prices. Hypeddit offers two types of membership: Rookie and Pro.
Rookie
The Rookie membership is the free version of Hypeddit. It's ideal for new artists who want to reach a wider audience. With the Rookie membership, you get the following:
Unlimited smart links.
Unlimited pre-saves.
Unlimited download gates.
One Promotion Exchange campaign.
Unlimited Fan Promotion campaigns.
Pro
With the Pro membership, Hypeddit promises you could get fans 300% faster than with the Rookie membership. This membership fits artist who wants to grow more quickly using multiple platforms for only $9 monthly.
It includes far more features than the Rookie, including unlimited link gates, fan email collection, custom URLs and domains, custom branding, tracking pixels, songs featured in New Releases, and unlimited Promotion Exchange campaigns.
You can upgrade or downgrade your membership anytime from your account settings. Hypeddit provides so much flexibility, and $9 is a great price compared to similar services.
Pros and Cons
Hypeddit is undoubtedly a great marketing tool for musicians, but it also has room for improvement. Let's have a look at Hypeddit's pros and cons.
Pros
Free subscription.
Affordable price.
Promotion through multiple platforms.
Easy setup for Download Gates.
Smart Links.
Good customer support.
Free sound and samples for you to use.
Blog with many tutorials and other marketing and promotion tips.
Cons
The Rookie membership offer is limited (no Link Gates, multiple social or streaming platforms, and Promotion exchange).
It does not offer multi-user login for bands and teams.
Final thoughts
In summary, Hypeddit is an excellent platform for independent artists with small to medium audiences to take full advantage of all its features.
You may find other websites with tools that better suit your needs, but I doubt you can find one for $9/month.
The user interface is pretty intuitive. When you're doing everything on your own, you want something easy to use that will give you more time to continue creating excellent songs.
I suggest you give Hypeddit a try (and yes, we're affiliated with them, so we'll get like a buck if you sign up for the paid option). If you don't want to pay, though, it's still a solid tool. Get your free account today, grab the free trial, and start growing your audience.
Good luck!