Mastering is the last step of music production and determines how your music will sound on all devices and streaming platforms, so it's not an understatement when I say it's one of the most crucial aspects of an artist's career.
While I always recommend musicians get an audio engineer to do the mastering to have a different point of view, online mastering services have become more and more popular over the years, offering increasingly good results for a fraction of the fee of a professional audio engineer.
Online mastering services offer quick mastering of your tracks using computer algorithms and AIs. One service that stands out among the others is LANDR: one of the first to offer online mastering services and still a popular choice among DIY musicians.
If you want to check it out, click here to view their Studio plan (and save $50 with our affiliate link).
If you want more details – hey, that's probably a good call. Keep reading.
In today's article, I'll review LANDR and discuss its main features, benefits, cons and pros, and I will do my best to answer the main question: is LANDR worth using to master your music?
Let's dive in!
What is LANDR?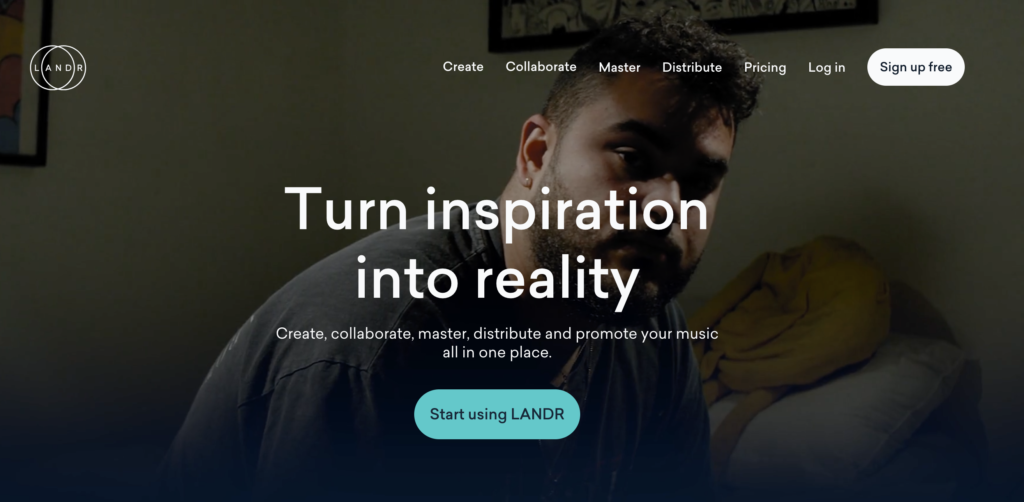 LANDR is the result of years of development by MixGenius, an artificial intelligence company based in Montreal. The team includes many tech lovers and music professionals, such as music producers, mastering engineers, and musicians. The company launched its automated mastering service in 2014, helping over 20 million musicians worldwide ever since.
In the beginning, LANDR offered exclusively online audio mastering, but soon the company started adding more services to their roster to offer subscription plans that included mastering and distribution, plugins, sample packs, and networking tools.
Hiring a professional mastering engineer could cost you up to $200 per track or even more, depending on the engineer's reputation, experience, your track's genre, and complexity. That's one of the reasons many musicians, and especially indie artists, first try to master their own tracks, then look for low-cost mastering options online. Enter LANDR.
But the truth is that anyone, even big names, can use LANDR: DJs, musicians, engineers, producers, and even record labels such as Warner Music Group, Disney, and Atlantic Records have worked with LANDR.
Are you looking for a quick service to meet your deadlines? Do you want to focus more on creating and less on post-production? Are you tight on budget? If you answer yes to one or all of these questions, then LANDR will satisfy your needs.
LANDR features and benefits
Distribution
The second most used service from LANDR is distribution. Like other popular distributors such as CD Baby or Distrokid, LANDR will help you get your music to streaming platforms and digital stores and grant you access to promo tools.
With LANDR distribution, you'll control your releases and receive guidance as labels do with their signed artist, but keeping your independence and 100% royalties. LANDR distributes and collects royalties from over 150 digital stores and streaming platforms, including Spotify, YouTube, Apple Music, and TikTok.
If you record and distribute covers, LANDR will help you with the mechanical license and collect royalties for the respective right holders for a $15 fee.
Sample packs
Around a million royalty-free samples from diverse third-party producers are hosted in the extensive LANDR library, receiving weekly updates to bring new resources for your music. You can find samples, loops, and vocals to inspire and help you create more tracks.
You can search samples by genre, instrument, BPM, and key and preview them before downloading a high-quality WAV to use on your favorite DAW.
The AI Selector helps you discover the right sounds for your genre thanks to its AI recommendation technology. It makes your creative process less arduous by showing you results that will fit your music style.
Plugins
The people behind LANDR know there can't be a good master without an exceptional mix. So, they offer a vast collection of post-production plugins included in their LANDR Studio plan.
Their plugin's library offers VST plugins for your DAW, such as vocal processors, virtual instruments, effects, synths, and much more.
With the LANDR Studio plan, you can access the LANDR FX Suite and a vocal plugin. But if you pay yearly, you could get more plugins from many top manufacturers, including Ableton's digital audio workstation Live 11 Lite.
Collaborations and networking
Another feature I like about LANDR is its Network. Here you can find other artists, producers, audio engineers, and singers to collaborate with for your next project. The Network works as a social platform for collaboration and a service marketplace.
Create your profile, find like-minded artists, and connect with them to build relationships that will help you complete projects faster or get honest feedback.
In the marketplace, you can book and sell all kinds of professional services for your music: producers, vocalists, session musicians, mixing and mastering services, promotion, photography, coaching, and more.
LANDR mastering service
Let's talk about the star among LANDR's services: Its powerful mastering AI, which imitates human engineers' techniques to master a track via machine learning.
LANDR AI focuses on more than just increasing the volume: it's been designed to listen to the song and adjust parameters. Over the years, this learning process has made AI smarter and more accurate at mastering tracks.
Today LANDR offers three mastering styles:
Warm for a rich, smooth sound, combining vintage warmth and lighter compression.
Balanced offers more controlled mastering, emphasizing harmony, precision, and depth.
The open style has a contemporary vibe, focusing on presence and punch.
And three mastering loudness settings:
Low maintain dynamic range, provide presence and accentuate finer details in your song. Choose this style for acoustic, spoken word, and orchestral compositions.
If you produce EDM and electronic music, choose the High loudness setting. It focuses on strength and volume. Select this style if you want your track louder and don't mind sacrificing dynamic range.
Medium loudness lies between the other two. It's the best option if you need a boost but want to keep your dynamics untouched.
Will online mastering get to the point where it could do a better job than human engineers?
Some producers say that will never happen. Others claim that LANDR only applies a mastering preset to the tracks and lacks "soul". And other users believe LANDR mastering is enough for digital streaming, offering a middle ground between professional mastering results and just using a preset in your DAW.
LANDR's mastering offers ready-to-be-released music in minutes at an affordable price. It allows you to upload your tracks in formats like MP3, M4A, WAV, ACC, OGG, and AIFF and listen to the preview master track. The preview lets you hear how your music will sound once mastered.
Depending on your plan, you can download your mastered track in low-quality or high-quality MP3 and WAV.
The mastering services include unique features that are hard to find in other online instant mastering services. I've divided it into four main features.
Unlimited online masters and revisions
The LANDR subscription plan allows you to master unlimited MP3 with unlimited revisions. If you're an artist releasing songs regularly, you can speed up your mastering process and release more frequently.
Many producers use the unlimited revision feature to spot issues that could appear during the mixing phase, allowing them to go back and change things and then master the track again. In my experience with "human" mastering engineers, I can guarantee this feature will save you hundreds of dollars if you're a professional artist or run a record label.
Reference mastering online
Sometimes you envisioned a specific sound for your track based on your genre or the vibe from your favorite artist. If that's the case, then you should definitely try out LANDR, as it allows you to upload a reference track that the AI will analyze and use as a "source of inspiration" when mastering your tune.
If you're using a free account, you can only use one reference track per master. For all subscription plans, you can upload up to three reference tracks to preview, compare and decide which sound you like the most.
Full album mastering
Another of the top features of LANDR is bulk upload, which you can use to upload all tracks from your upcoming album or EP and master them together to achieve the same volume and sound in your album.
With LANDR, you can simultaneously upload up to 20 tracks for album mastering.
How does LANDR's mastering engine work?
The LANDR mastering process involves three steps.
Analyze. The AI will listen to your song and compare it to similar mastered tracks.
React to music. The software will identify the genre and the previous settings used for similar tracks. It'll apply EQ, compression, and limiters, among other tools.
Deliver. The mastering will take a few minutes to complete. When ready, LANDR will provide a download link with your mastered track.
Pricing
LANDR offers different subscription plans for all budgets and needs. You can choose between the all-in-one LANDR Studio plan and alternatives depending on whether you need mastering, samples, or plugins. You can check each plan in detail on the pricing page. It's worth noting that they offer a comprehensive "Studio" plan, but I'll only talk about mastering prices here.
LANDR Studio
It's the plan that includes all LANDR products. You get unlimited MP3 masters plus 3 WAV masters per month, unlimited distribution, samples, collaboration tools, and VST plugins for $19.99 monthly or $149.99 yearly (equivalent to $12.50 monthly).
Pro mastering subscription
It includes unlimited MP3, WAV & HD WAV masters for $39 monthly. This subscription plan could be for you if you regularly release music and are interested only in LANDR mastering service.
On-demand mastering
This option might be for you if you're not releasing music often. It offers a single MP3 master for $6, a WAV master for $10, and an HD WAV master for $20. This option does not include revisions.
Pros of using LANDR
Time-saving.
Easy to use.
Cost-benefit.
Bulk upload.
Cloud storage.
Supports multiple audio formats.
Includes samples and plugins with a subscription.
Distribution services.
Speed up the post-production process for tight deadlines.
Cons of using LANDR
Limited mastering options.
Plans can be confusing at first.
No feedback like a human engineer would give.
It lacks human interaction to discuss a song's context.
The AI still struggles to understand nuances in a song.
Final thoughts
If you need music that sounds good on streaming platforms, you release regularly and have a tight budget, go for LANDR. If you need a distributor, you can take full advantage of the LANDR Studio, which is their best plan.
LANDR is especially ideal for artists who often release singles on digital streaming platforms. Most casual listeners won't notice any difference, and streaming platforms are just starting to add HD quality to their settings.
Both online mastering and professional audio engineers have their pros and cons. I spent hundreds of dollars on mastering engineers who couldn't deliver the sound I envisioned; other times, I wasted hours revisioning my master using online services, only to find out my mixing was terrible, which an audio engineer would have spotted in seconds.
I recommend listening to LANDR previews before committing to a subscription plan. And if you decide to look for a professional engineer, try listening to their work before booking them.
Good luck, and stay creative!