Playlist finding tools are kind of a niche thing.
To care about playlist finding tools, you've got to care about growing an audience on Spotify, then you have to come to the conclusion that playlists are a viable way to do that, then you've got to determine that you have the time to reach out to playlist curators yourself (but not so much time that you can dig through Spotify on your own).
It's like there's this small spectrum and on the small spectrum there's this small space for a small software offering: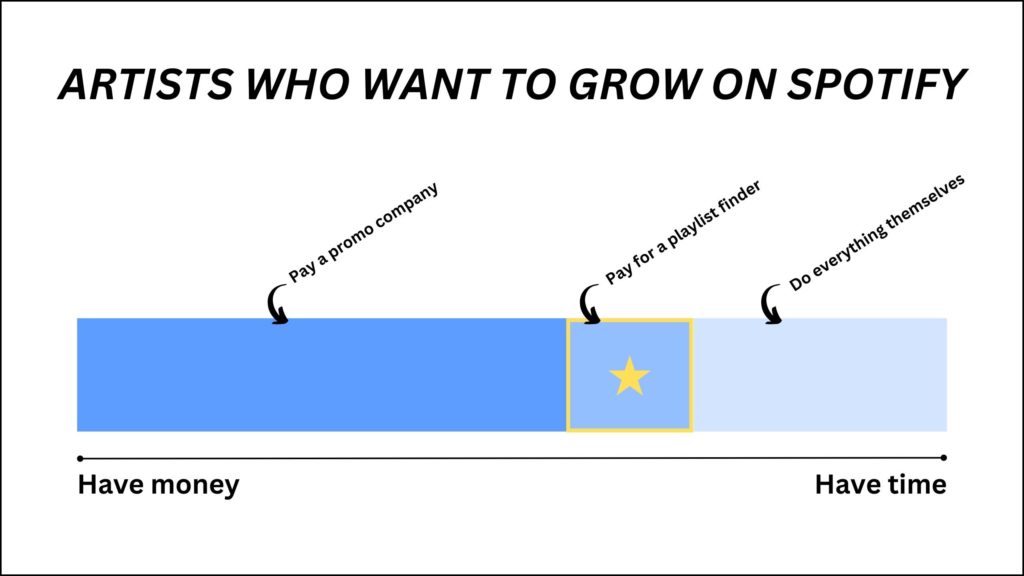 It's not the biggest market, which is one reason out of five billion why Google will never build a playlist finder into G-Suite.
But, still, if you find yourself in this space – wow, playlist finding tools are so useful. They save a ton of time and they open up relationships with curators that can play pivotal roles in getting your music heard. Because the market is so small, though, the solutions tend to be provided by smaller companies – and on first glance, they all look pretty similar. All of this can make it kind of hard to pick a provider.
In this article, I'll do my best to break down three of the top options I've found for finding playlist curators and evaluating playlists: Artist Tools, Playlist Supply, and Playlist Map. I have accounts with each of these platforms and have spent some time using each one.
Without further ado, let's get into it.
A quick breakdown of each tool
For the purpose of communicating the data quickly, I'll start with a table:
| | Artist Tools | Playlist Supply | Playlist Map |
| --- | --- | --- | --- |
| | | | |
| Paid Plan Price | $15 / month | $19.99 / month | $8.99 / month |
| Free Plan | Yes – 7 days of playlist data | No free plan | Yes – 5 searches per day, limited contact info |
| Search Method | Live crawl | Live crawl + save your own lists | Live crawl |
| Search Types | Genre, artist, keyword, playlist | Genre, artist, keyword (very advanced filtering) | Genre, artist, keyword, playlist |
| Curator Contact Info | Yes | Yes | Yes |
| Shows Follower Growth | Yes (for tracked playlists) | No | Yes |
| Quality Metrics | Yes | Limited | Limited |
| Keyword Data | Yes | No | No |
| | Try Artist Tools | Try Playlist Supply | Try Playlist Map |
If I had to give a quick synopsis of all of this, here's what I'd say:
Artist Tools is best for live-tracking playlist data
Playlist Supply is best for highly-detailed search queries
Playlist Map is the cheapest option
Honestly, all of these tools have their pros – which leads me to this…
My overarching sentiment
In general, I'm a fan of action over deliberation. Or, put another way – rather than spend the next two hours trying to figure out which tool is perfect for you, I think you should pick one and start using it. These three tools are fairly similar, and any one of them will put you miles ahead of where you'd be doing playlist research on your own.
Pick one and start using it.
If you find the tool that you pick is lacking a specific feature you want, then come back and try another option. Just don't waste time going back and forth without trying anything forever; the differences between the tools aren't enough to justify that, especially when you could spend that time making more music.
With that said, I'll get off of my soapbox and into some of the details of each option.
For each tool, I'll show you what the general search page looks like and how results are displayed.
Artist Tools is the platform I use most frequently. Relatedly, I'm an affiliate with them, so if you start using the paid version from my link, I'll get like $4 and you'll get about $4 off your subscription (forever).
I use this one for three reasons: 1) I know and like Aaron, the founder, 2) I find the UI to be easy, and 3) it has a surprising amount of playlist data available for a relatively lightweight tool.
Okay, onto the visuals.
Here's what the general search page looks like.

As noted in the table above, you can search by genre, artist, or keyword, and you can also paste a link directly to an entity on Spotify.
Here's what the search results page looks like for the term "neoclassical piano."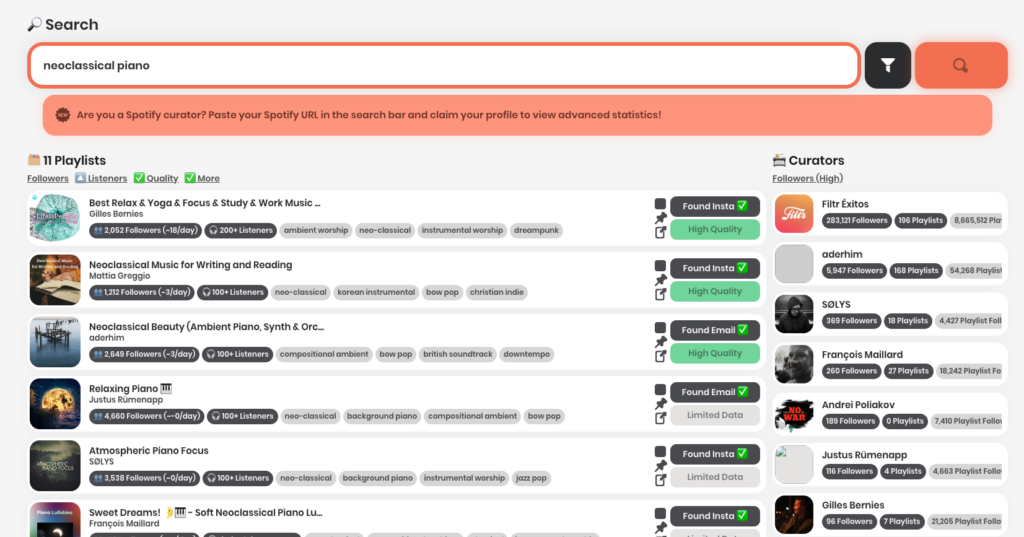 Note that the results are broken up into playlists and curators. Also, while it's showing 11 results in this image, the tool works on a lazy-load system; in other words, if you keep scrolling, more results continue to load.
And here's what a playlist detail page looks like.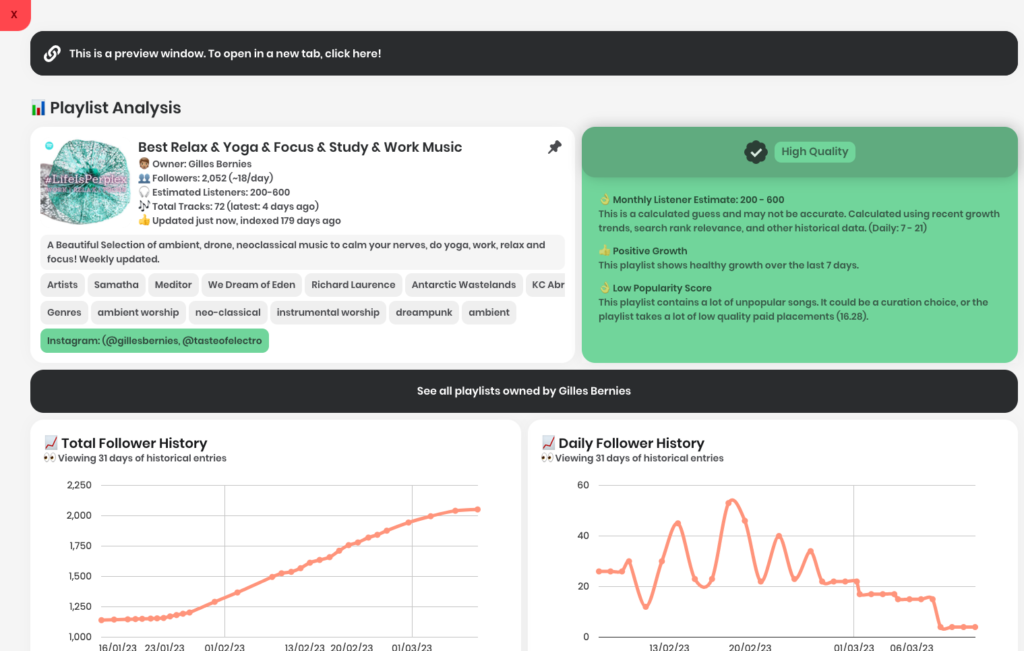 This is what you'll see if you click on a specific playlist. Note the quality score, follower growth curve, and daily follower history. There's a ton of good data here.
Here are a few more pros and cons of Artist Tools.
Pros of Artist Tools
Tons of playlist quality data. It's the most robust option out of the three in this category.
Good customer support – Aaron's very responsive.
Shows keyword search data, so you can see how a playlist ranks in Spotify's search results (a big indicator of playlist quality).
You can monitor artist profiles directly, to keep tabs of the lists they're appearing on.
Cons of Artist Tools
No way (at least that I've seen) of saving your own list of contacts.
Search queries are limited to one bar, so there aren't really options for advanced filtering.
Again, overall, Artist Tools is my favorite option due to the wealth of playlist data it shows and its friendly interface.
You can click here to check it out for yourself.
2. Playlist Supply
Playlist Supply is probably the most robust platform for searching for playlist curators.
I had a call with Ryan from their team last year, and he walked me through a demo of the product. It's pretty impressive; their search filter has some options that let you get very specific, and, as a result, this tool tends to turn up some lists that you might otherwise overlook.
The most notable feature is something they call "Organic Search." Basically, you plug in the name of any artist, and the tool will turn up all of the playlists that the artist was "Discovered on." This is a really smart way to build a relevant list of curators, especially if you can think of 10ish artists that your own music is similar to.
That said, in my opinion, this tool has two shortcomings: 1) The user interface isn't great, and 2) there isn't a ton of playlist data – so, even though you can turn up a wealth of playlists, it's hard to tell which ones are worth submitting to if you rely solely on data from the tool.
Here's what the general search page looks like.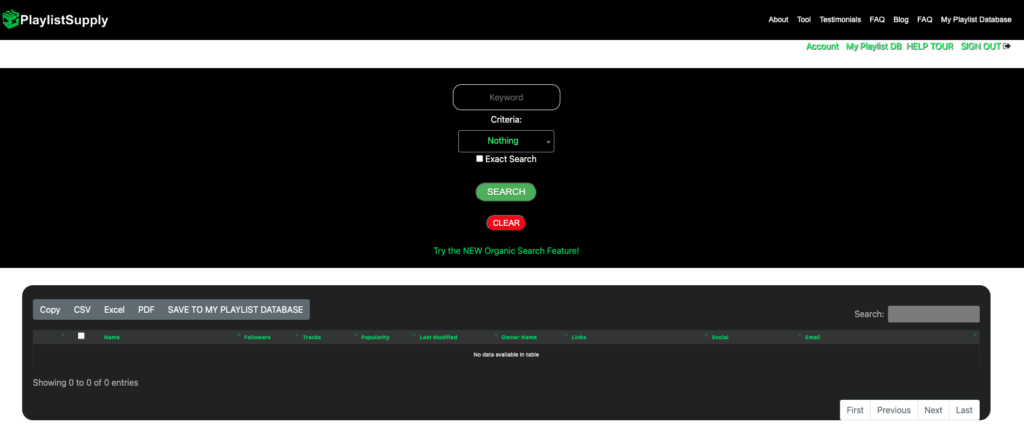 Note that second dropdown under the keyword box (the placeholder is "Nothing"). You have the option to filter results for listings that include a certain field – an email address, for example, or an Instagram handle. As a result, it's easier to turn up lists that you can actually submit to.
Here's what the search results page looks like for the term "neoclassical piano."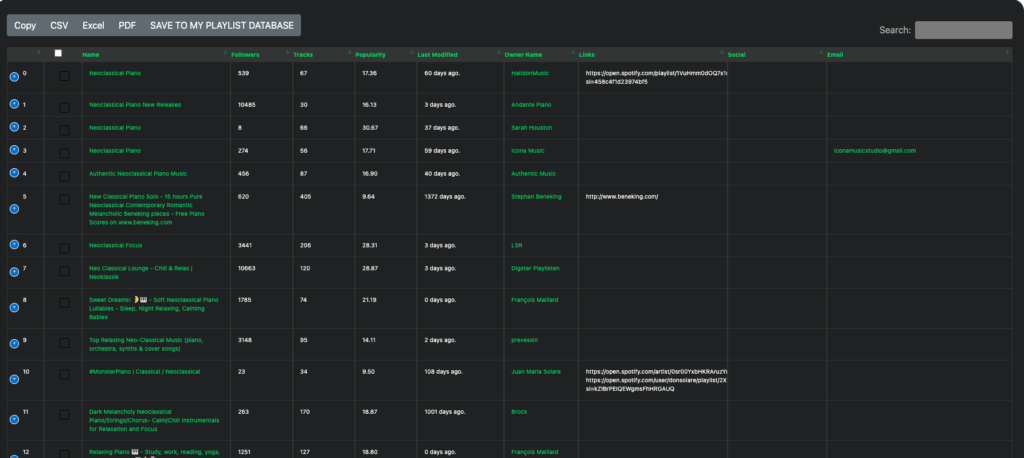 For what it's worth, this tool turned up the most results out of any of the three.
Here's the playlist details they offer.
This is where the tool falls short, in my opinion; they don't offer much in the way of actual playlist data. You can see that they pull current follower numbers and popularity score, but there's no way to see changes over time, which is a huge part of evaluating list quality.
Pros of Playlist Supply
The most robust Playlist Search engine in the game.
Organic Search is particularly cool – you can show "Discovered on" playlists for a certain artist.
You can build your own database in the tool (makes running long-term campaigns much easier).
You can easily export your data in pretty much any format you'd care to.
Cons of Playlist Supply
The user interface is kind of overwhelming.
They don't offer much individual playlist data, so it's a little hard to evaluate playlist quality relying solely on this tool.
Overall, this is a great option – especially if you're willing to supplement it with a playlist analyzing tool like Chartmetric.
You can check out Playlist Supply here.
3. Playlist Map
Last on this subjective list, I've got Playlist Map.
Playlist Map is one of the most common comparisons against Playlist Supply, for reason of its similar-sounding name. In my opinion, it's a lighter version with two advantages: 1) it's cheap, and 2) it's got a decent user interface.
In terms of functionality, though, my opinion is that this tool lags a bit behind the other two. The search filter isn't as advanced as Playlist Supply's, and it doesn't offer as much playlist data as Artist Tools. Still, if you're looking to get started with playlist research, the low cost has some appeal.
Here's what the general search page looks like.

You don't have any sort of advanced filtering options, but they do give you a bunch of "trending" suggestions, which is kind of neat.
Here's what the search results page looks like for the term "neoclassical piano."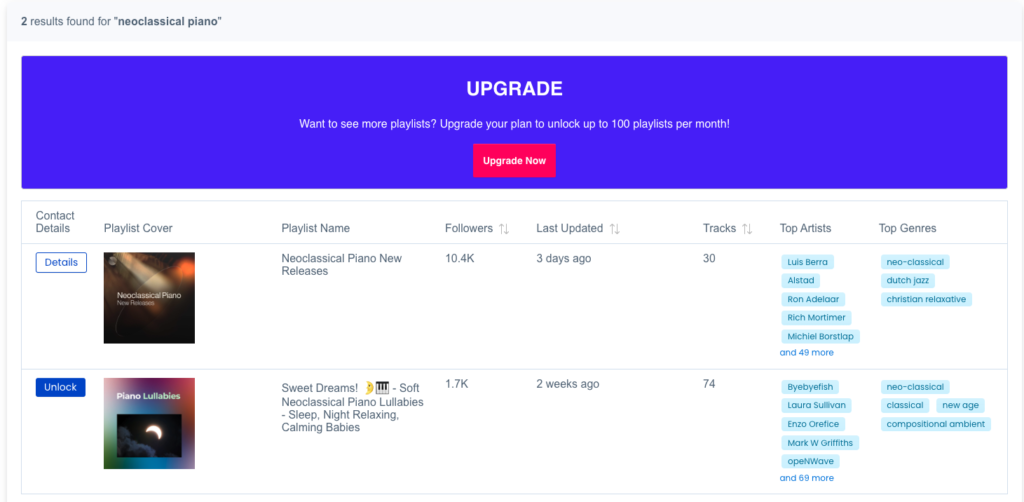 As you can tell, I'm on the free plan for this one, so they're only showing me a couple of playlists and I have to pay credits to unlock details for any of them. (The free plan gives you 3 credits per month, which essentially translates to the ability to "unlock" one playlist per month.)
Here's the playlist details they offer.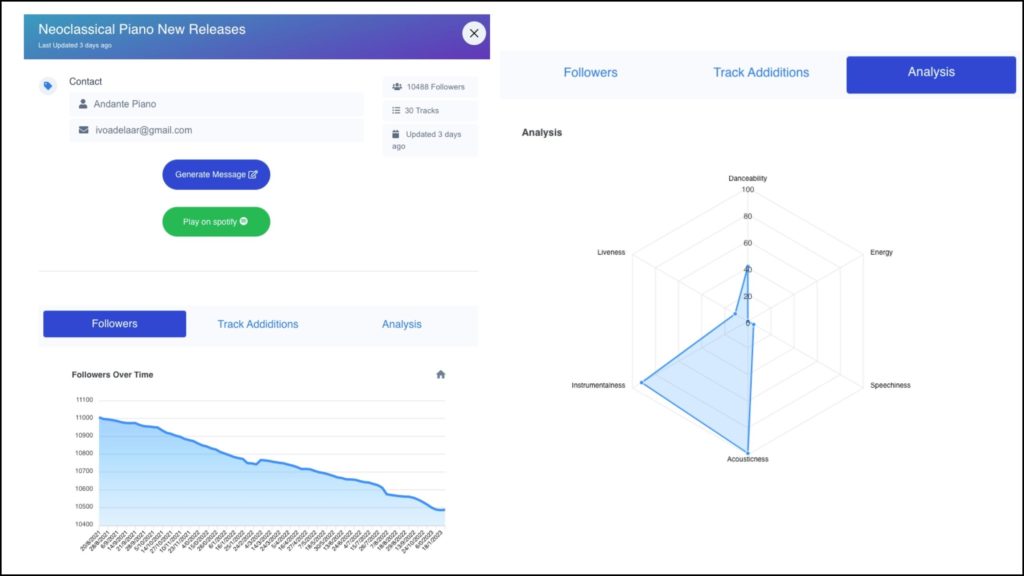 You can see that they offer contact info, followers over time, and a genre-based analysis of the track. Those data points are nice, but they're a little limited compared to Artist Tools' quality factors.
Pros of Playlist Map
They have a really clean user interface. It's easy to use.
Cost. You can get started for free and their entry-level plan is the cheapest out there.
They aren't extremely robust with search filters or data, but they cover the basics you need to get going.
Cons of Playlist Map
They're not as robust as the other two tools on this list.
If you're dipping your toes into the playlisting world, this might be the tool you go with – I mean, you can literally start for free, so you have nothing to lose.
You can check Playlist Map out here.
Final thoughts on Artist Tools, Playlist Supply, and Playlist Map
Here's my overall summary:
The best option in terms of functionality is probably to pair Playlist Supply with Chartmetric. That'll give you the most robust search and data combination, but it's a fairly pricey tech stack.
If you don't want to do that – if you're looking for a playlist finding tool solely for its own merit – I'd probably start with Artist Tools. I really like the vibe of the platform, it's constantly getting updated, and it offers an impressive array of playlist data.
Finally, if cost is the major factor, go with Playlist Map. Its features aren't incredibly robust, but there's no beating a free plan.
But don't deliberate for the next day. Remember, the most important thing is to get going – and then get back to making music.
Hope this helps, and here's wishing you good luck!