Making music is expensive. Us indie musicians are on tight budgets. Not a good combo.
Some people do all of it themselves, and if I'm honest, most of the time it shows. Writing for Two Story Melody means that I get countless email submissions from indie artists with tag-lines like "I'm completely independent! I played every instrument, did all the producing and mixing, and designed all the art." And while it's certainly impressive and I would never bash the amount of discipline and creativity it takes to do that, not everybody is Jacob Collier. In most cases, the best version of a person's music is the version that has been filtered through their community.
In more ways than one, music is made better when more people are involved in it. Working alone can be a black hole of tunnel vision. Everybody has something they're wrong about which requires input or collaboration from others to correct; musicians are no different. So, when you're making your new record, community is key.
But, because of the Joker's rule, making music with your community can be expensive.
Between booking studio time, buying and renting recording gear, paying musicians and engineers, hiring out for promotion, creating and selling merch, finding distribution, and touring costs… well, it's just a lot. It's easy to be discouraged by how expensive it can be to make music with a community.
The good news? Your community is also the solution.
Crowdfunding is becoming an increasingly popular way of helping people get the money they need to take on a project. In the music world, it has funded some amazing albums and tours.
The model is simple. You set a goal totalling how much it will cost to complete your project. Then you ask your family, friends, and fans to fund it, with everybody contributing as much or as little as they want. In some cases, you promise rewards and incentives when people give certain amounts. If your project reaches its goal, it feels like a community effort, and everybody involved celebrates.
Since 2000, multiple companies have made online crowdfunding campaigns easy to set up and run. At this point, there's plenty of information on which methods work the best.
Here are some of the most popular crowdfunding sites, and what they all do differently.
Kickstarter is the gold standard for crowdfunding music, and the one I have the most experience with.
Founded in 2009, they operate exclusively with what they have deemed "creative projects" (you can read their mission statement here), which means that their platform is designed to bring art, music, games, and books to life.
Because they exist solely for "creative projects," they have honed in on the best practices and ways to run a successful crowdfunding campaign, and offer all of their resources to creators. They also give creators fairly in-depth analytics on their campaign, which helps with marketing when progress is slow.
Here are some key facets of Kickstarter's model:
Because of how easy Kickstarter makes it to design, prepare, and think through every detail of a campaign, they boast a success rate of about 38%, with about five billion dollars raised across all successful projects. Personally, I've funded a record on Kickstarter. So have a few of my friends. I've seen it work up close, and I can say that they definitely give you everything you need to successfully crowdfund a project.
Indiegogo is an increasingly popular player in the world of crowdfunding.
Two years older than Kickstarter, Indiegogo first launched in 2007 as a place for all kinds of creations to be funded: everything from music, to tech, to clothing… basically, if it's a product, it's eligible for an Indiegogo campaign. In that way, it's guidelines are a little less strict than Kickstarter, but for the purposes of most musicians (making an album, etc.), these don't apply.
Here are some of the key facets of Indiegogo's model:
They've successfully funded about two billion dollars worth of projects, but because a lot of people tend to use Indiegogo's "flexible funding" option, their success rate is a fair bit lower at a little less than 10%. That rate does go up to 17% among everybody who uses "fixed funding." I'm not an expert, but the data suggests that there is a correlation between success rate and stricter, more specific guidelines. Indiegogo allows a wider range of projects on their site, so their rate is bound to be lower. For musicians, this doesn't really apply.
---
Want help building your fanbase? Jon wrote a book on it.
It's called How to Promote Indie Music (pretty straightforward, I know), and it's based on four years running a music blog and three years of experience doing indie PR. It covers deep strategy and tested tactics to do indie promo well on the channels that matter most. And it helps you cut out the tactics that won't work. Basically, it's a roadmap to getting your releases heard.
If you want to learn how to promote your own stuff or if you've got nothing better to do, you can download the first chapter for free via the form below.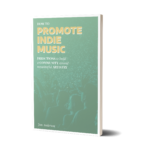 (If you want to cut to the chase and get the whole book, just click here.)
---
GoFundMe is the most common choice for general crowdfunding, though it's used less often in the music industry (it's generally favored for personal fundraising for altruistic causes).
Founded in 2010, its goal is to make crowdfunding accessible to everyone, and it's definitely done that. Their success stories are nothing short of heartwarming.
Here are some of the key facets of GoFundMe's model:
GoFundMe is by far the largest online crowdfunding platform in the world, simply because their model is all-inclusive for all kinds of fundraising. Because they don't operate on an all-or-nothing model at all, a lot of campaign goals are higher than necessary. This puts their success rate at less than 10%, but it means that they've raised over nine billion dollars for users.
Patreon is the odd one out on this list.
Founded in 2013, they revolutionize crowdfunding by going against the usual model adopted by most other crowdfunding platforms.
Here are some of the key facets of Patreon's model:
Since their launch, Patreon has paid out over a billion dollars to their users. And because they don't operate on a project-by-project basis, there's no potentially scary success rate statistics.
Honorable mentions which seem cool but were left off the list:
Small, but does pretty much everything for artists from crowdfunding to sales.
The SESAC of crowdfunding: great, but invite-only.
Smaller, UK version of GoFundMe.
So, which one is the best?
Well, it depends on a few variables:
First, are you confident you can raise the funds?
If you're confident that your community can raise the money necessary to fund your project, then Kickstarter or an Indiegogo "fixed funding" campaign are great ways to go. This is simply because all-or-nothing projects are proven to be much more successful, as well as projects that have a shorter run time. Studies show that 30 days is the sweet spot, which Kickstarter and Indiegogo both account for.
Second, how much do you need the money?
If you're only looking to ease the financial burden, or you want your community to feel like they contributed to the creation of your music, then consider GoFundMe or an Indiegogo "flexible funding" campaign. These are both unique in that you receive your funds regardless of whether or not you reach your goal. So if your mindset is "Every little bit helps," or "I'll take what I can get," one of those is probably for you.
Third, are you looking to fund a project or a career?
Obviously everybody wants to fund a career, but sometimes we need a big project, like an album or a tour, to get that career off the ground. If you're looking for monthly income, Patreon is the obvious choice. But if you want to fund an expensive project, go with one of the others.
In the end, all crowdfunding platforms do similar things. Artists and musicians are in the unique position of having access to almost all of them; and depending on who you are and what you want to do, your best choice could be any one of them. But one thing's for sure: art is made better by community, and crowdfunding is the best way to get your community involved with your artistry.