The continuous move to digital publishing is slowly eating away at print readership, and because of that, this list of the top music publications bounces back and forth between the two. If you enjoy listening to and reading about music, then you're most certainly in the right place.
Most print publications offer digital versions, along with various other kinds of digital content including reviews, interviews, cover stories, etc. While print isn't even close to being as popular nowadays as it once was, it will always hold a pertinent and important place in any music enthusiast's heart. So without further ado, please enjoy this compilation of the best music publications to read in 2023!
Yes, these are numbered, but don't pay too much attention to the rankings. These are all remarkable publications that are worth a read.
The top music magazines in 2023 are:
Ready to learn about each one? Cool. Keep reading.
"Mojo is a popular music magazine that has been circulating monthly in the United Kingdom since 1993. It primarily focuses on classic rock, but occasionally covers other acts and genres from 'left-field'."
Mojo hangs its hat on gorgeous, well-researched writing that's free of pretentious hot-takes that so often poison the well of popular opinion. Instead, the seasoned zine focuses on that rare and purified passion which only emerges when your favorite tracks scratch your soul's hard-to-reach itches.
Mojo owes its staying power to the tight-rope walk between classic, nostalgic, culture-molding artists and fresh, up-and-coming, disruptive music to which we should all bend our ears. Mojo's pages are filled with gripping stories, reviews, and interviews capable of entertaining and enlightening even the most devoted audiophiles.
Every issue of Mojo is stuffed with world-class journalism, iconic photography, and illuminating interviews. When flipping through its pages, you never get the sense that Mojo is the least bit out-of-touch, jaded, or resistant to the incoming tide of modern music. It fully embraces the prevailing sonic winds and invariably gives its readers something to think about along the way.
This grizzled vet of a publication is still cooking up compelling cover stories nearly thirty years after its maiden print, making a strong case as one of the few remaining music publication staples that's undoubtedly worth your readership.
"Pitchfork is an American online music publication launched in 1995 by Ryan Schreiber. All of the jams. None of the spam."
While Pitchfork doesn't offer a print publication, it's still one of the most prolific sources of music journalism out there. Its broad-spectrum approach covers artists and genres across the soundboard, making it a fruitful source of discovery. From the top of the charts to the nooks and crannies of streaming platforms, Pitchfork has a knack for putting new blips of sound on your radar.
One polarizing aspect of their approach is their infamous graded reviews, where they assign a subjective numerical grade between one and ten to newly released projects. While this method stokes thoughtful discourse and debate amongst fans, it can come across as favoritism instead of an objective assessment, especially when your favorite artists are plotted on the wrong end of the scale.
With that said, their team of writers is top-notch, providing a variety of styles and opinions that merge into a colorful collection of thought-provoking music journalism.
Whether you're looking for content about artists you know and love or seeking to expand your listening palette, Pitchfork has something for everyone.
I don't know about you, but I've always viewed Rolling Stone as being close to the definition of a music magazine. Their list of cover stars is absolutely iconic – literally, the first cover featured John Lennon. If you've made the cover of Rolling Stone, you've made it, you know?
As you may guess, this isn't a magazine dedicated to the underground scene or intent on discovering indie stuff. This is a magazine that takes pop culture and powers it to new heights.
The quality writing is top-notch, and has been since the beginning; legendary gonzo journalist Hunter S. Thompson was one of the first staff writers. Originally founded in San Francisco, the outlet is now (unsurprisingly) headquartered in New York City. These days, the magazine is still in print, but there's a ton of additional content online, too. And, in addition to music, they also write about movies, culture, TV, and politics – so, basically everything (except sports, I guess).
Bottom line: Still one of the best magazines out there, and still definitely worth a read.
Billboard is probably best-known for one thing: It's charts.
For over 80 years, the magazine has been publishing top 10 singles charts (fun bit of trivia: Tommy Dorsey's "I'll Never Smile Again" featuring Sinatra was the first track to land the top spot). Check out this cool little piece from the publication on a timeline to see how things developed.
Today, while the charts are still a major component of the music magazine – they've been adjusted and readjusted to account for streaming and digital plays – the magazine also features a print version and online version with detailed interviews, pieces on new music, and even cultural commentary and business news. The writing tends to be straight and to the point (this is an outlet most interested in breaking new music and music news), but there are also in-depth pieces worthy of fans of high-brow journalism.
Also worth noting, even though it's kind of obvious: this publication is most focused on high-commercial art, rather than upcoming indie stuff. You aren't going to find the best coverage of the underground here.
But all in all, if you're looking for a music magazine to stay up-to-date on the industry, Billboard is still one of your best bets.
And did we mention they have charts?
"A new rock music and pop culture website. Editorial independent music website offering news, reviews, features, interviews, videos, and pictures."
The Quietus lives up to its name beautifully. An unassuming, modest music publication with refined taste, The Quietus has a keen ability to unearth sublime tunes that have previously avoided detection. Launched back in 2008 by John Doran, the digital publication's output of stellar editorial content is impressive to say the least.
One of their featured publications is Baker's Dozen, where they'll dig into the crates of musical inspiration from artists' formative years. A recent edition of Baker's Dozen features Future Island's front-man Samuel Herring. The piece starts with a look into Herring's childhood, where the interview uncovers hidden gems of influence that have stuck by his side to this day.
Here's an example of the personal timbre these interviews can strike, where Patrick Clark writes, "[a]t times, it feels like I am in fact speaking to a college freshman. Herring excitedly reels off the names of artists, labels, tracks, and albums at a dizzying pace, and habitually raps bars – sometimes entire verses – word for word in order to illustrate the nuances of a particular MC's flow.
The insights are non-stop, the writing is smooth, and the selection is endless. Like many other publications on this list, The Quietus is a treasure-trove of music exploration.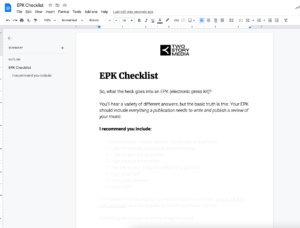 Want to get your music covered in cool publications?
I get like 9 million submissions each day from artists. Here's what you need to include in your EPK so you stand out / get covered.
"An indie music magazine that prints four issues a year is distributed across North America and internationally, and bills itself as 'The solution to music pollution.'"
While print publications are fading into the shadows of new media and digital content, some music magazines are still crushing it in print and digital simultaneously. Under the Radar is one of those zines.
Still churning out four printed issues per year, Under the Radar's cover stories have featured artists like Tame Impala, Angel Olsen, Father John Misty, Grimes, Grizzly Bear, Kamasi Washington, and so many more. The quality of the cover stories alone cover the cost of admission.
Their blog ventures out into film and literature reviews and recommendations on the digital side of things, while their music reviews can provide hours of insightful entertainment.
All in all, Under the Radar produces high-quality content regardless of the medium. See for yourself, read this interview with David Byrne or this review of the new Smashing Pumpkin's project. You won't be disappointed.
"Spin is an American music magazine founded in 1985. The magazine stopped running in print in 2012 and currently runs as a webzine."
Spin pumps out content faster than newspapers flying hot off the press, sometimes publishing three or four pieces a day. Even though the magazine stopped running in print a few years back, it's still finding ways to leave its mark on the music journalism scene.
One exciting strategy Spin's adopted since ending its print-run is republishing pieces that originally appeared in their legendary magazines in their Archive section (many of which capture snapshots of culture beyond just music). This approach keeps their readers on their toes, hitting them with seemingly random interviews from the early 90s, including an eye-catching chat with the Dalai Lama himself.
Fast forward to their modern-day movements, and you'll find loads of pertinent music news and new music ripe for the listening.
"The Fader is a magazine based in New York City that was launched in 1999 by Rob Stone and Jon Cohen. The magazine covers music, style, and culture. It was the first print publication to be released on iTunes."
The Fader has done anything but fade over its twenty-year tenure as one of the more popular publications dedicated to the leading edge of music and the culture surrounding it.
The Fader has given life to countless iconic covers over the years, "known for giving some of today's biggest artists their first magazine covers including Kanye West, Cardi B., Bon Iver, Kendrick Lamar, Frank Ocean, Outkast, Tame Impala, The Strokes, Drake, The White Stripes, Future, Travis Scott and countless others over their history."
Their balanced blend of content, ranging from fashion, to new music, to the ebb and flow of pop culture, makes The Fader one of the premier voices in modern music journalism — informative, ahead of the curve, and all about great tunes.
"Over the past 13 years, the New York and Chicago-based online publication has accrued a devoted readership in the millions for its reliability, precision, and character with regards to music, television, and film. It's a voice that wants to pat one's shoulders, not stand on them."
Consequence (originally named Consequence of Sound) is another one of those publications that like to color outside the lines of music, veering into film, television, and various other neighboring artistic industries.
As a consequence of visiting their sprawling hub of endless content, you'll never be bored again. Did I mention they produce eleven podcasts, including a Steven King Book Club and a show called The Opus, which endeavors to "learn how masterpieces continue to evolve: shaping lives, shaking rafters, and ingraining itself into our culture."
I don't know about you, but I'm intrigued.
The bottom line with this one? Consequence puts out a ridiculous, super-sized, borderline heroic amount of content, and most of it is exceptionally well-researched and entertaining.
"Stereogum is a daily Internet publication that focuses on music news, reviews, interviews, and irreverent commentary."
Stereogum is widely heralded as the first MP3 blog of its kind, laying the foundation for the next decade of music consumption. Even though they first opened their doors back in 2002, Stereogum's flavor hasn't diminished in the slightest (Get it? Oh, it's a bad joke? Got it, moving on).
I've always appreciated Stereogum because of its commitment to spreading its coverage across all genres. Fans of all kinds can gather together on Stereogum's platform as if it were a bio-diverse watering hole. Their annual top-ten lists hit country, hip-hop, rap, jazz, metal, indie, and electronic. You name it, and they cover it.
Other than that, they share quality music journalism in common with the rest of the publications on this list. Interviews, reviews, breaking news, and columns all call Stereogum their home.
"Aquarium Drunkard is an online music magazine launched in 2005 by Justin Gage, and based in Los Angeles, California. The name "Aquarium Drunkard" is a play on a lyric by the band Wilco."
Aquarium Drunkard produces daily reviews, interviews, features, podcasts, and sessions. They "dig globally," mixing present-day sound with jazz, folk, funk, and avant-garde.
AD produces content that's "for heads, by heads," and that ethos quickly becomes apparent after delving into their rich catalog. Their team of writers embeds genuine passion and care into every piece they put out, drawing in readers like moths to a light. Not to mention that their master list, of both contributing writers and artists interviewed, is something to behold.
If you're interested in receiving their printed zine, then you check them out on Patreon, where they offer patron subscriptions in exchange for exclusive music, merchandise, and their magazine.
"Gorilla vs. Bear is an MP3 blog for independent music MP3s, videos, news, and reviews from all genres. It was created by Chris Cantalini in March 2005, and David Bartholow joined as a contributor in 2006."
Gorilla vs. Bear is an ethereal and eclectic Texas-based music blog that doesn't subscribe to any one genre. Though open-minded and welcoming to all kinds of sounds, Gorilla vs. Bear does have an aura of taste-making about them, probably because their year-end playlists and rankings always seem to dump heaps of excellent new music into your lap.
Here, experience it for yourself. Their playlists are consistently and jaw-droppingly good.
They've received many awards and accolades over their 15-yeat stint and have become an influential voice in the indie music space. It's clear that Gorilla vs. Bear's sun-soaked aesthetic, combined with their refined taste and exquisite writing, make for a music lover's perfect place to escape.
"Stereophile is a monthly magazine that focuses on high-end home audio equipment, such as loudspeakers and amplifiers, and audio-related news, such as online audio streaming."
To top off our list, we're going to look at a publication that's slightly different from the others. Stereophile is for music and production equipment junkies who're always hunting down the next state of the art gear.
If you're looking for equipment reviews, recommendations, or want to hear industry insiders talk shop, then Stereophile is the zine for you. Their magazinee subscriptions (both digital and print) are affordable and offer plenty of value to their readers (you can get twelve issues for $14.99).
Stereophile also produces a bunch of regular columns, including Records to Die For, The Analog Corner, and Revynalization.
Looking for more music publications?
The music magazines above should keep you occupied for a while – but if you want more, check out a few of our other relevant lists:
Happy reading!