Wondering if Music Diffusion's Spotify promotion is worth your money? Here's my short answer:
No, it's not. Based on my experience trying an $86 campaign with this company, I'd recommend that you steer clear of them.
The song I tested was placed on five playlists. All of the lists were owned by Music Diffusion (which, as I'll get into below, isn't a good sign), and they all showed signs of bot activity. Worst of all, the streaming data that our placements generated in Spotify for Artists looked totally fake.
We ended up cancelling the campaign about a week after we started it to try to minimize the damage.
If you'd like to check out Music Diffusion's site for yourself, you can do that here – but I'd strongly recommend that you avoid running a Spotify playlisting campaign with them for the sake of your music and your sanity.
Over the rest of this post, I'll detail exactly what happened. If you want to see some sketchy playlisting results for yourself, keep reading.
The background on my Music Diffusion campaign
In an effort to update my list of recommended services, I've been testing 15 different Spotify promotion companies over the past few months. The results have been about what I'd expected; most services have provided a spike in legitimate streams, a couple of services have driven some significant longer-term growth, and, sadly, two services have seemed downright sketchy.
Music Diffusion was one of the sketchy companies.
I trialed the service with the song "Isolation" by Mori Metanoia. It's a poignant piece of songwriting that falls somewhere within the wide, wonderful world of rock. The band claims a "diverse musical palette of rock, metal, industrial, ambient, electronica, and goth" and lists Nine Inch Nails and Radiohead as references, so as you might guess, pinning down a specific genre for their work isn't exactly straightforward.
I liked the heart in this song, and I thought it could find a fit on sub-genre playlists. So we decided to give it a shot.
The results were… not good.
The results from the Music Diffusion campaign
Truthfully, I was a little wary of the service just from looking at the front side of the website. Music Diffusion claims to offer a really wide variety of promotional services, including distribution to streaming platforms, ringtones distribution for $11 (what?), and yes, Spotify playlist placements. Everything is available as a one-off product, which is kind of strange because most agencies offering a wide swath of services function as partners rather than point-and-click shops.
Still, the company lists a lot of reviews from supposed customers claiming to be highly satisfied with their services, so I decided to go ahead and see for myself.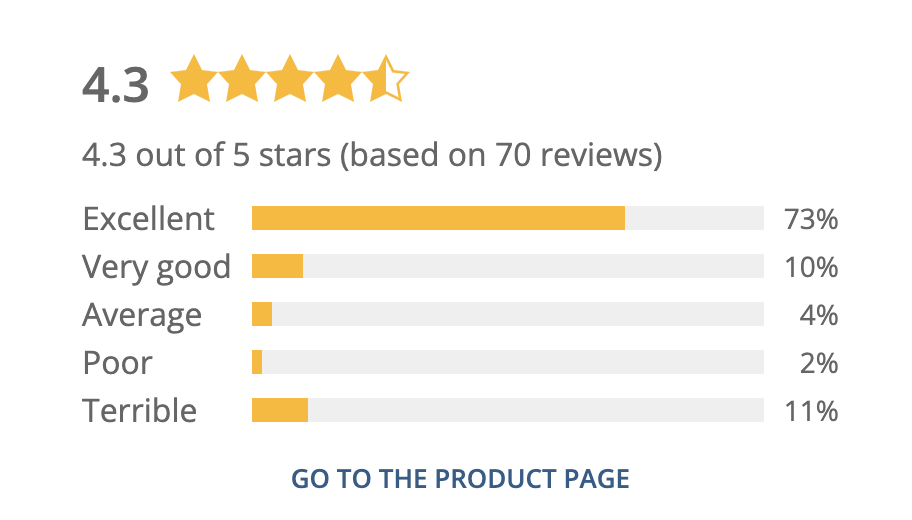 Spoiler: I would not give these guys 4.3 stars.
To get started with the promotion, I filled out the front-side order form and submitted payment: $86 for submission to Spotify playlists with a total of 50,000 followers. From there, I immediately got an email confirmation of the purchase: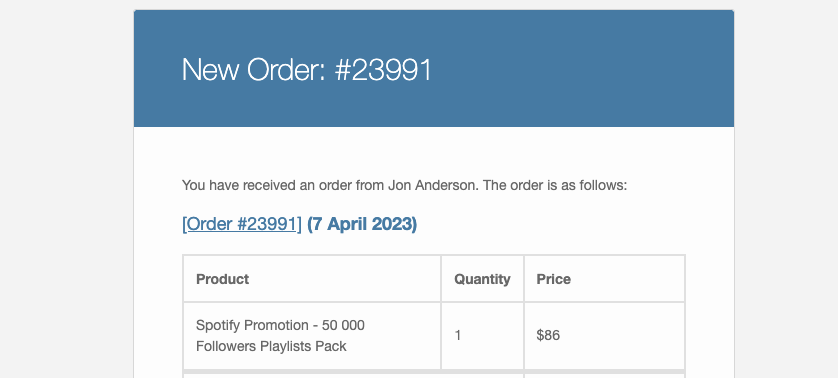 And settled in to wait for the results.
A week later, nothing had happened. I was starting to get a little antsy when I got this email:
Kind of weird, since I'd input the link to the track when I'd submitted the form. But hey, systems have glitches, so I replied with the link and they confirmed that they'd be starting the promotion.
Then, five days later, I got an email reply in the same thread letting me know that the track had been placed.
This was weird on a few levels. First of all, the email was from a gmail.com account when their previous communication had been from a musicdiffusion.com account. Second, they signed off as "Musically," which was the original name of a company that became TikTok.
But, third and worst of all, each of the playlists to which we were added looked… sketchy. Here's the full list if you want to check them out for yourself:
There are two big red flags here. The first is that each one of these lists is owned by Music Diffusion. That's a bad sign; rather than accepting payment to pitch music to curators, it's clear that Music Diffusion is accepting payment to add music to their own lists, which is dangerously close to payola. At the very least, it's against Spotify's user guidelines.
The second is that each of these lists shows clear signs of bot activity.
Check out a couple of follower graphs: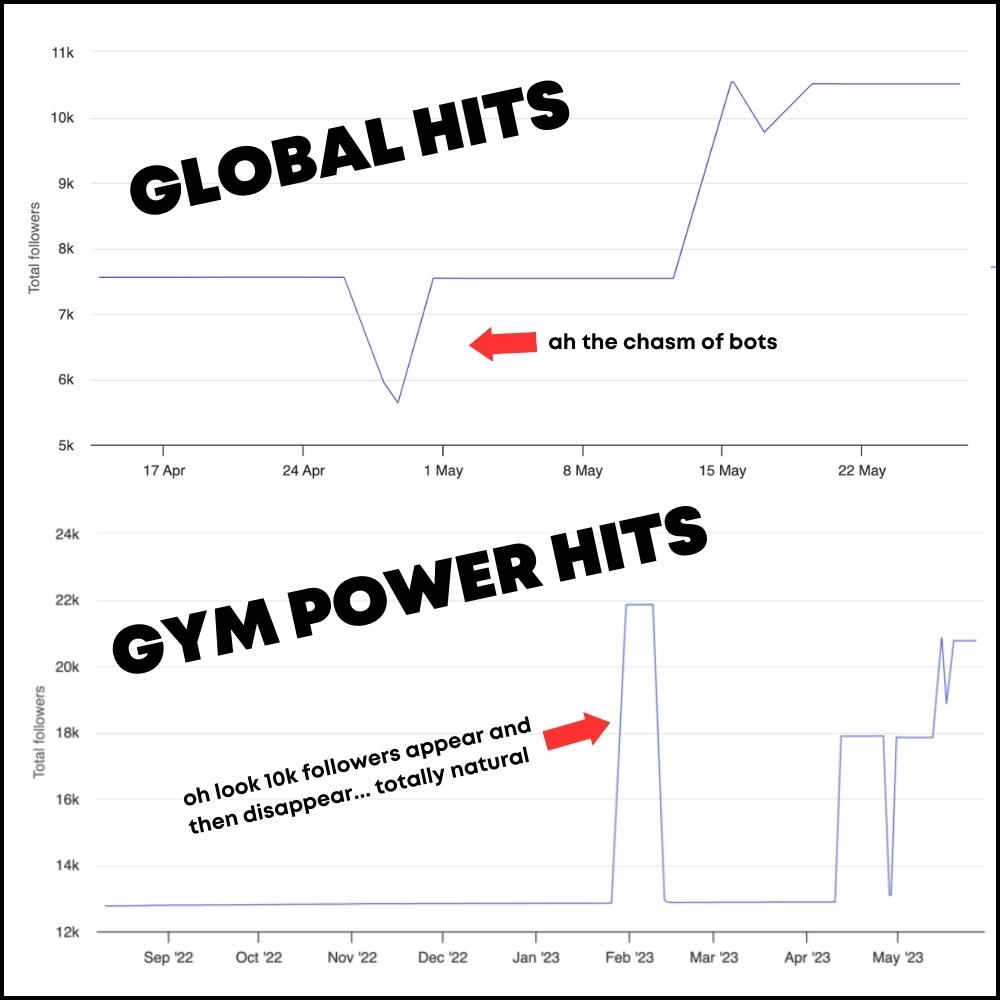 These graphs are exactly what you'd expect to see if a company was buying followers for their playlists. It's ridiculously obvious that spikes like these are not the result of normal people finding these lists through normal means.
Unfortunately, things looked just as sketchy in the Spotify for Artists account.

The track got 10,000 plays on four (non-consecutive) days. Since then, it's gotten virtually nothing. You'll also see that it got zero saves, which is absolutely absurd; playlisting campaigns do result in lower engagement rates, but I've seen enough of them to know that if 10,000 people really had streamed the song, somebody would've saved it.
Maybe weirdest of all, check out the playlists tab for the song:

I realize you can't really tell from that image because it's all white space, but here's what's happening: Spotify is saying that the song has been streamed on 10 playlists since 2015, but it's only showing Radio.
There are no playlists showing up below that. It's like the other playlists we were on never even existed.
We immediately asked to cancel the rest of the promotion.
I sent Music Diffusion an email: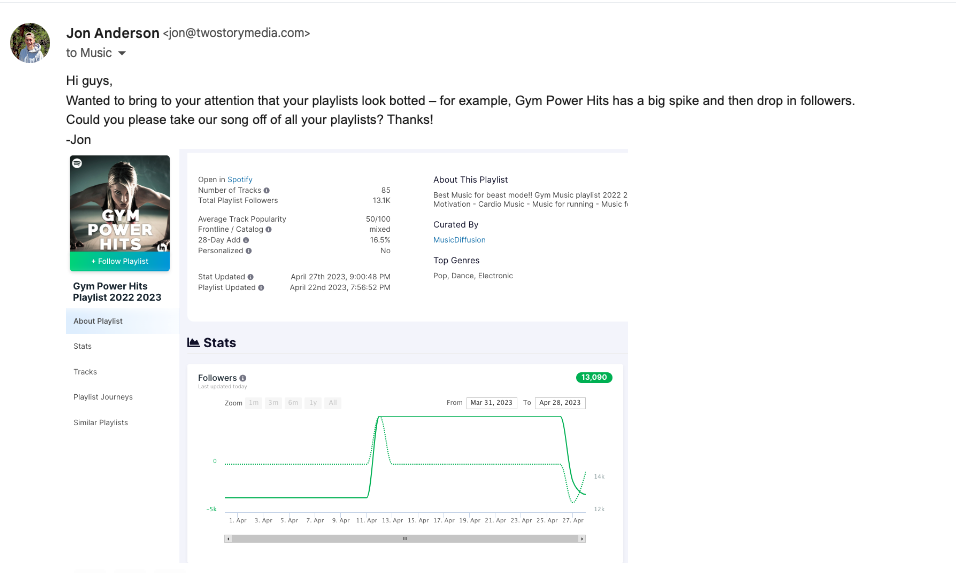 They never responded to that, but the song was removed from the playlists, and the fake streams stopped coming in. I ended up running a SubmitHub campaign for the track to try and offset some of the fake data. We only got a couple of approvals, so it didn't make much of a difference, but hey, at least they were from humans.
One interesting point is that Spotify's "Radio" list still gives the song a little bit of play.
My guess is that the bot accounts are set to autoplay certain playlists, and when they finish, they start going through "Related" songs, which would show up as Radio streams. There are no other algorithmic playlists, as you can see, so it's not like they're checking their Release Radar or running through On Repeat.
But I don't know. Mostly I'm just weirded out by it.
Final thoughts on Music Diffusion
Usually when I wrap up one of these reviews, I list out some pros and cons of the service. In this case, though, there really aren't any pros. Sadly, this is just fake Spotify promotion.
To recap my results:
I spent $86 to try Music Diffusion's Spotify playlisting promotion. The company placed the song on five playlists that were all owned by Music Diffusion and clearly built with bots. The song accumulated about 10,000 streams on four (non-consecutive) days, and then went back to near-zero streams per day immediately. The data is very obviously fake.
I'm on the record as saying that artist's overuse the word "scam," and that, for the most part, promo companies are just trying their best to market music in a difficult industry. I still think that's true, but clearly, there are still scams out there.
Music Diffusion is one of them. My advice is to steer clear of them.
If you're looking for legitimate Spotify promotion, I have a whole list of companies that provide real results (or, at least, do their best to put your music in front of real curators). You can check that out here.
Whatever you do, here's wishing you well as you look for real human people who will like your music.
Your music matters. Good luck.